---
Learn how to start issuing gift certificates Staff-side, including changing the theme, editing the gift certificate, previewing the gift certificate, and finally sending the gift certificate.
New to Gift Certificates? Read the first article in this series for an introduction to the Gift Certificates feature.
---
X Soho | ✓ Pro | ✓ Plus | ✓ Enterprise | ✓ Flex |
Where can I find this feature using the top menu?
Manage > Gift Certificates
What prerequisites are there?
A plan that includes Gift Certificates.
The Gift Certificates feature is activated within your account (Manage > Integrations).
Admin or restricted permissions to Manage Gift Certificates and Manage Gift Certificate Templates.


Which Checkfront version supports this feature - classic, new, or both?
The Gift Certificates feature is available to both those using items (Inventory > Items), a key feature of our classic version of

Checkfront, and those using products (Inventory > Products), a key feature of our newest version

of

Checkfront.
New to Checkfront - Products ✨

Products (Inventory > Products) is the successor feature to (Inventory > Items) and is available in our newest version of Checkfront.

Not yet on our newest version and interested in upgrading? Please contact our Technical Support team for more information.

Discover more product-related help articles here: Products (New).
---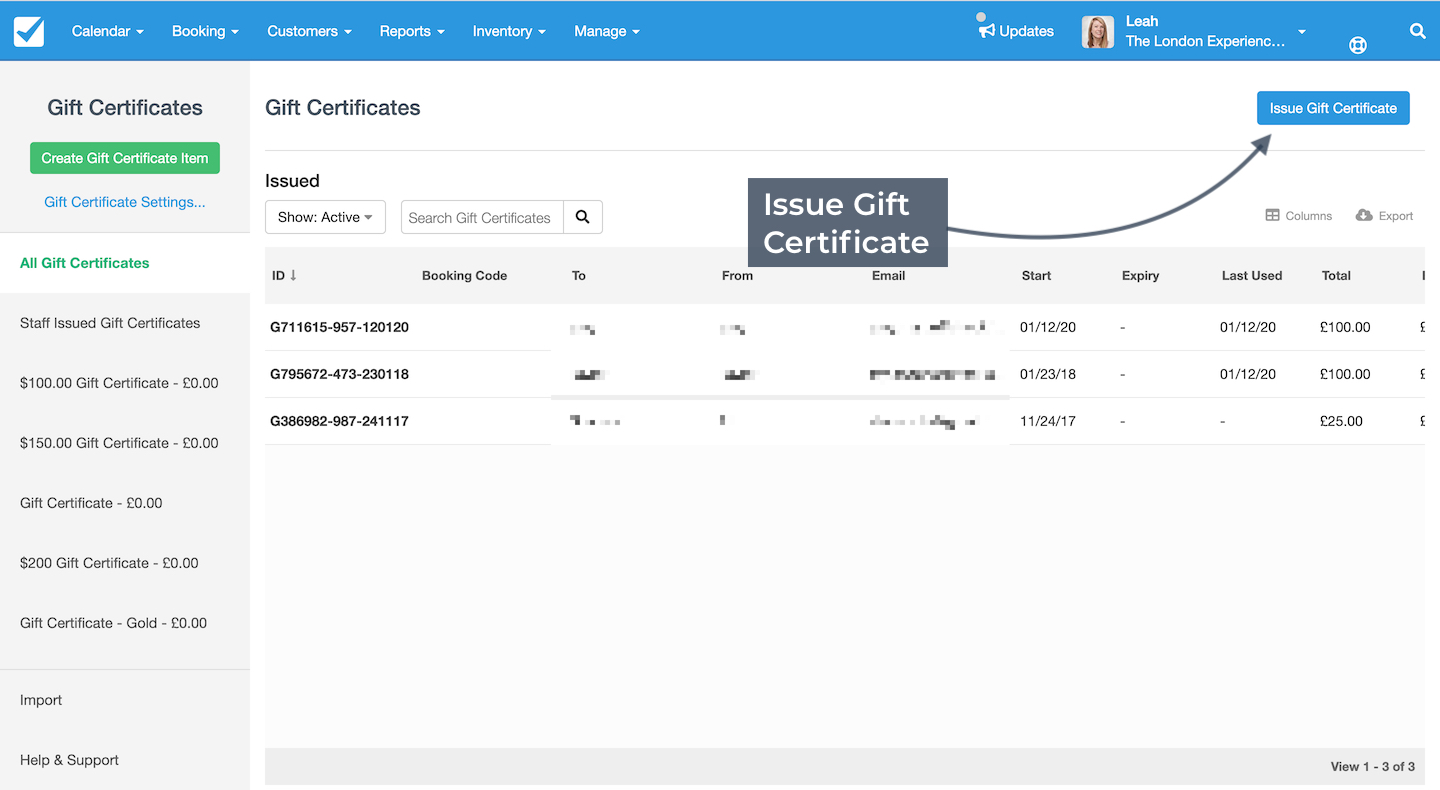 Staff can Issue gift certificates to be sent to specific recipients via email.
Click on the Issue Gift Certificate button to get started.
The Customer cannot pay for Staff Issued gift certificates, as they are complementary. They are not included in Sales reports.

Operators generally issue gift certificates as gifts for patronage or as special promotions.

If you would like to offer gift certificates for sale to your Customers, please consider Creating a Gift Certificate.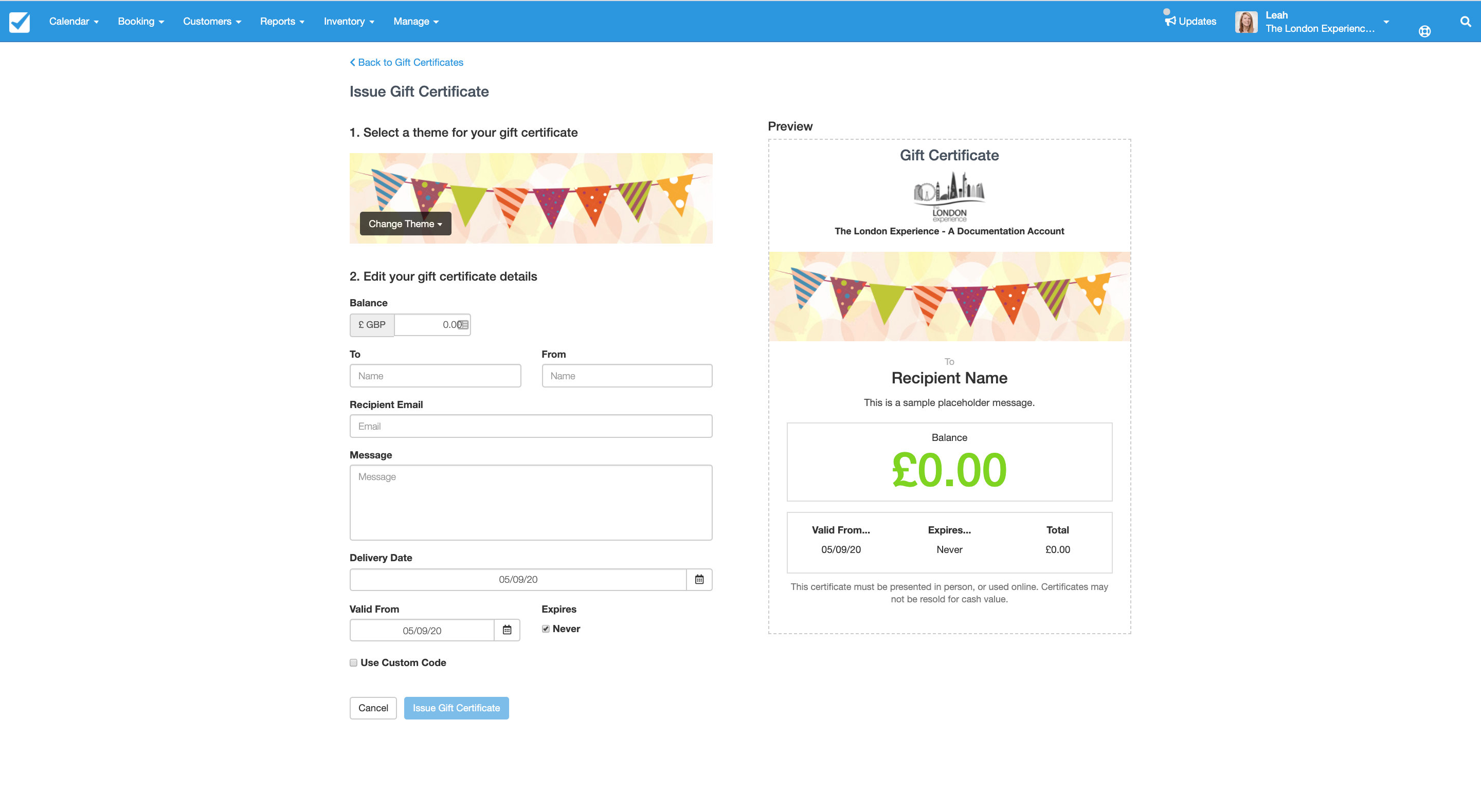 Click the Change Theme drop-down button and hover your mouse over the choices to see a live preview. Simply click on the one you wish to use, for example, Celebration, Seasonal, Summer, or No Theme.
Enter an Amount for the gift certificate, and specify the recipient (To), sender names (From), the Recipient Email address, and a message.
The Delivery Date allows you to specify the date to send the gift certificate by email if you don't want it issued immediately.
The Valid From date determines when the gift certificate is activated and can be applied to purchases.
Choose to Hide Amount on PDF, if you don't want amounts to display to recipients. This only affects the attached PDF; the amount may still be shown in the notification body, depending on the variables in your notification template.
De-select or select the Never check box to determine whether and when the gift certificate Expires.
A Preview of the gift certificate displays at the right of the page. Note that the Logo can be changed within Gift Certificate Settings (Manage > Gift Certificates).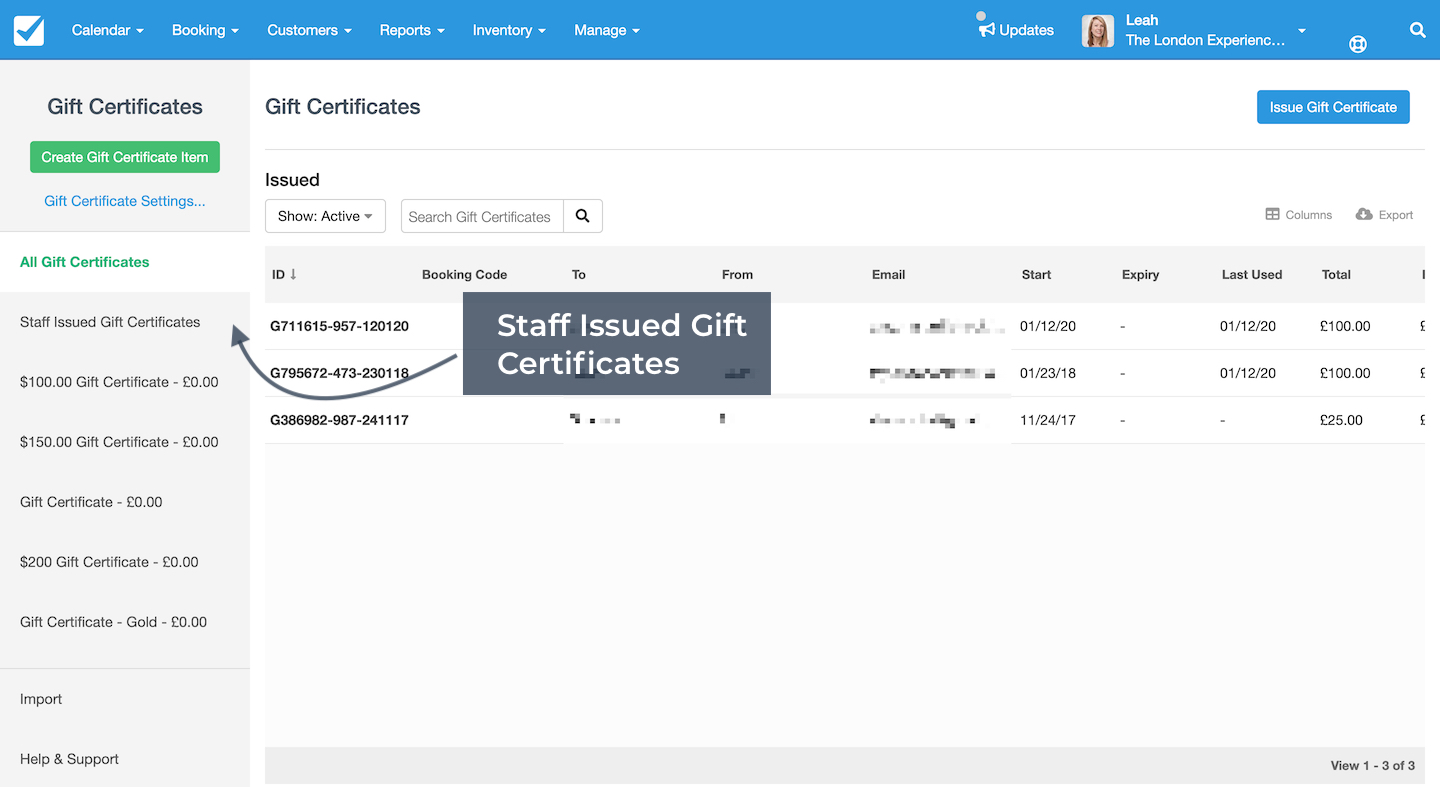 When satisfied with your gift certificate, click Issue Gift Certificate to send it! The gift certificate is sent using notifications.

From the Gift Certificates home page, you can now click on the Staff Issued Gift Certificates link in the left sidebar to view the details of this gift certificate.
| | |
| --- | --- |
| | To learn more about configuring gift certificate notifications, check out the following article: |
---
Can Gift Certificates be issued in bulk by Staff?

At this time, it is not possible to issue Gift Certificates to Customers in bulk.
---
< Purchasing gift certificates | Paying for bookings with gift certificates >
---