---
---
To enable Google Analytics tracking in Checkfront, you first need to find your Google Analytics ID. This can be found by clicking on the Tracking Info link under the Property column in your Google Analytics dashboard.
Select Tracking Code and then look for the ID at the top of the page. It will look something like: UA-555555-1.
All you have to do then is log in to your Checkfront account and activate the add-on at Manage > Add-ons > Google Analytics. Supply your Google Analytics ID, check the box to Enable Universal Analytics, click Activate and you are done!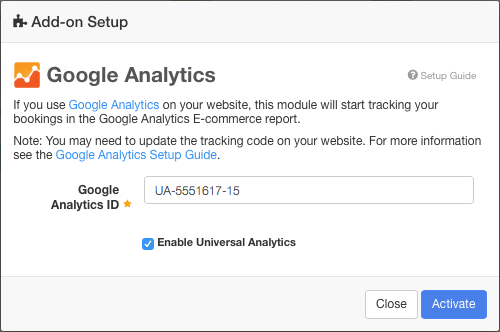 ---
Note: You won't see any reporting when first enabling e-commerce tracking. It may take up to 24 hours after the first booking to appear in your analytics data. Reporting will show in the E-commerce section of Google Analytics. Your Checkfront inventory will be represented as products and your bookings as transactions.
Note: no personally identifiable information on your customers is sent to Google. Google Analytics reporting should be used as a guide, but should not be relied upon as accurate financial reporting or accounting. Only bookings made by your customers from your website will be included in these reports, not bookings made from within Checkfront.
---
Cross-domain tracking is a useful feature that can help you determine where your bookings are coming from and helps you attribute your bookings to the correct source in your Google Analytics profile. To get cross-domain tracking set up you will need to do it in three parts; in Checkfront, in Google Analytics, and in your own website.
To set up this feature in Checkfront, log into your Checkfront dashboard and navigate to Manage > Add-Ons. Scroll down and select the Google Analytics tile and in the Parent Page Domain field add your top level domain.  That means your website URL after http://www. and up to .com, .co.uk, etc.  For example. yourwebsite.com is good.  These are incorrect: http://www.yourwebsite.com and yourwebsite.com/book_now.
Now click Update and cross-domain tracking will be set up in Checkfront!
Please ensure you have also set up cross-domain tracking as instructed in the previous page Google Analytics: Setup in Google.
From here you will have to activate cross domain tracking on your own website. See the tip below to find instructions.
Checkfront Tip: The Right Documentation for You!

Google Analytics documentation has two pages. The page you need depends on the way your Google Analytics code uses Analytics.js or Gtag.js. If you're not sure which one your website uses, please consult your web developer.

The links for each type are below.
---
< Google Analytics: Setup in Google
---