---
Plan Availability: X Soho | ✓ Pro | ✓ Plus | ✓ Enterprise | ✓ Flex |
Locate: Customers > Customer Booking Page or Booking Widget
Prerequisites:
A plan that includes Gift Certificates.
Gift Certificates activated within your account (Manage > Integrations).
Need to activate Gift Certificates for your account? Be sure to read the first article in this series: Gift Certificates: Setup.
---
Using Gift Certificates to pay for a booking is very easy. All the Customer has to do is select the item for booking as normal and fill out their booking details.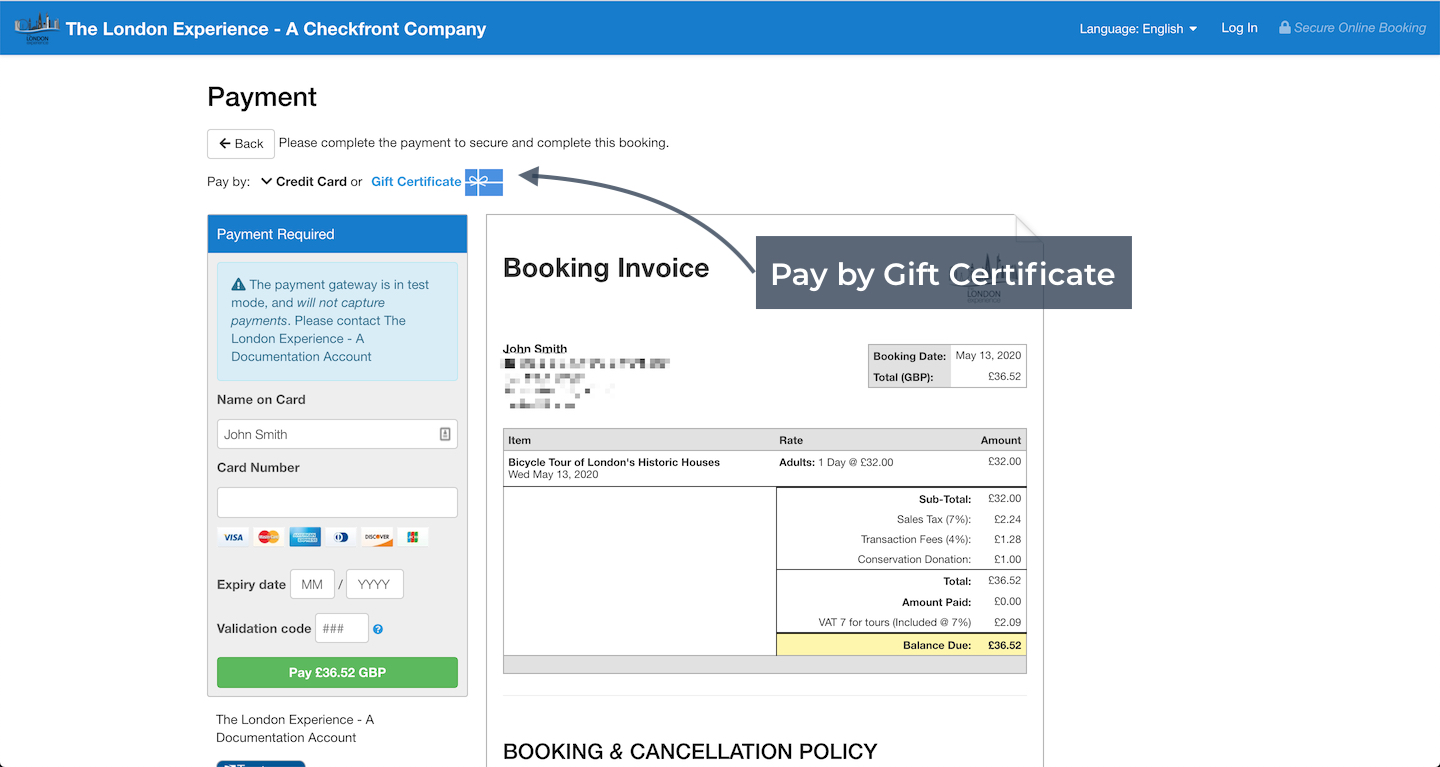 When it comes time to pay, the payment screen defaults to Credit Card. There is an option at the top of the screen labelled Gift Certificate.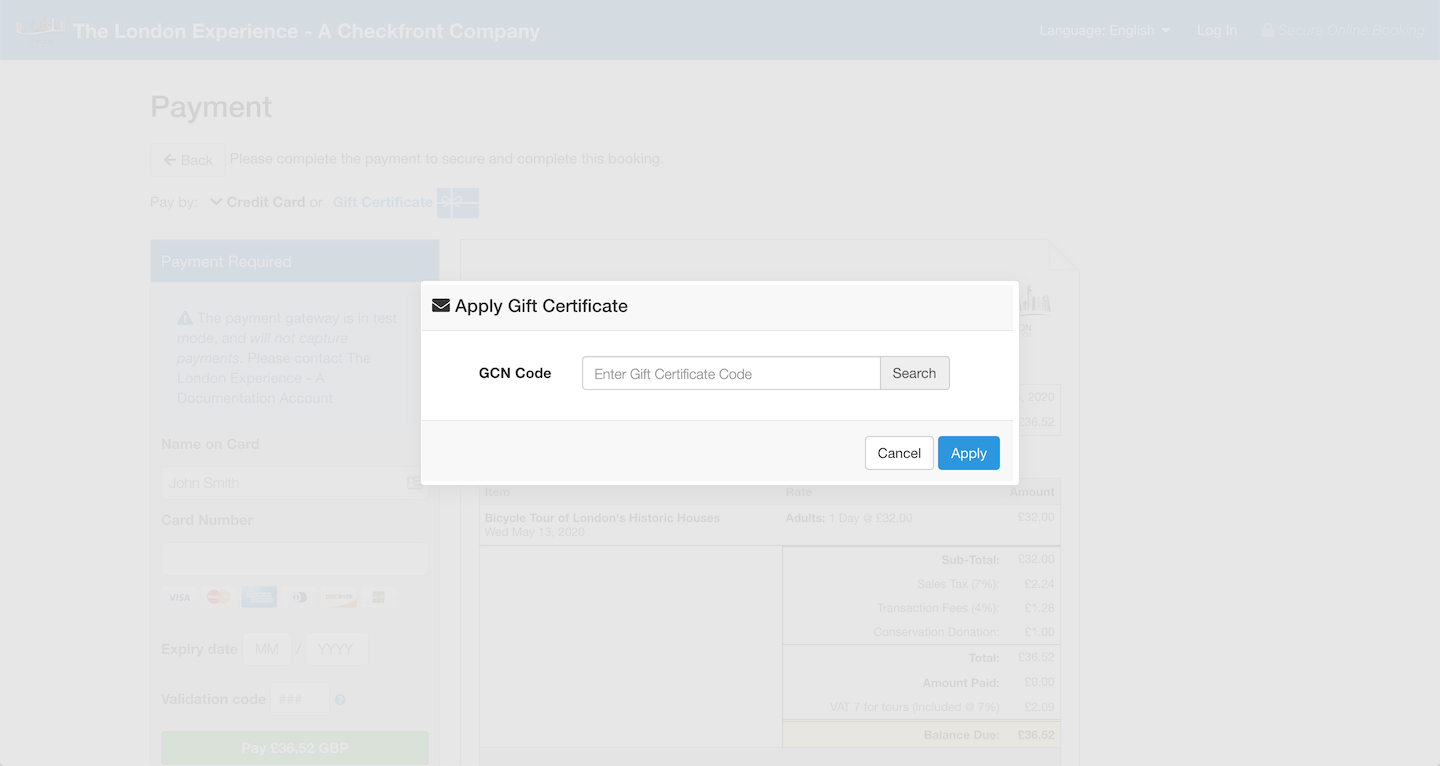 Clicking on Pay by Gift Certificate opens a pop-up window into which the Customer can enter their Gift Certificate Number/Code. This is the number beneath the barcode on their Gift Certificate PDF.
The Customer enters the Gift Certificate Number, including the dashes, into the GCN Code field. Once the system recognizes the code, the Gift Certificate in question displays below the GCN Code field.
Clicking the Apply button deducts the invoice total from the Gift Certificate balance.
The Customer might then have a balance remaining, which can be used at a later date. If the Gift Certificate balance was not enough to cover the transaction, the Customer can enter another Gift Certificate number, or make a payment via credit card.
A Pre-Booking is a booking initiated by a Customer that has not yet been completed.
If the Customer has entered a Gift Certificate number as partial payment for that Pre-Booking, then the Gift Certificate, including any balance remaining on the card, is held until the booking is completed.
If the Customer backs out of the booking, this hold remains on the Gift Certificate for a period of 30 minutes and the Customer is not able to use the card again until that time is up.
A Staff member, however, can pull up the Gift Certificate in the back-end and manually remove the hold by following these steps...
Select Gift Certificates from the Inventory menu.
Find the Gift Certificate on hold in the Issued list.
Click on the record to view the Edit Gift Certificate page.
Find the Remove Manually button.
Click to remove the hold! The hold is removed immediately.
The Gift Certificate on hold can also be accessed via the Activity Log by clicking on the associated Pre-Booking record and then the Gift Certificate Number within the related Booking Invoice as shown in the screenshot above.
---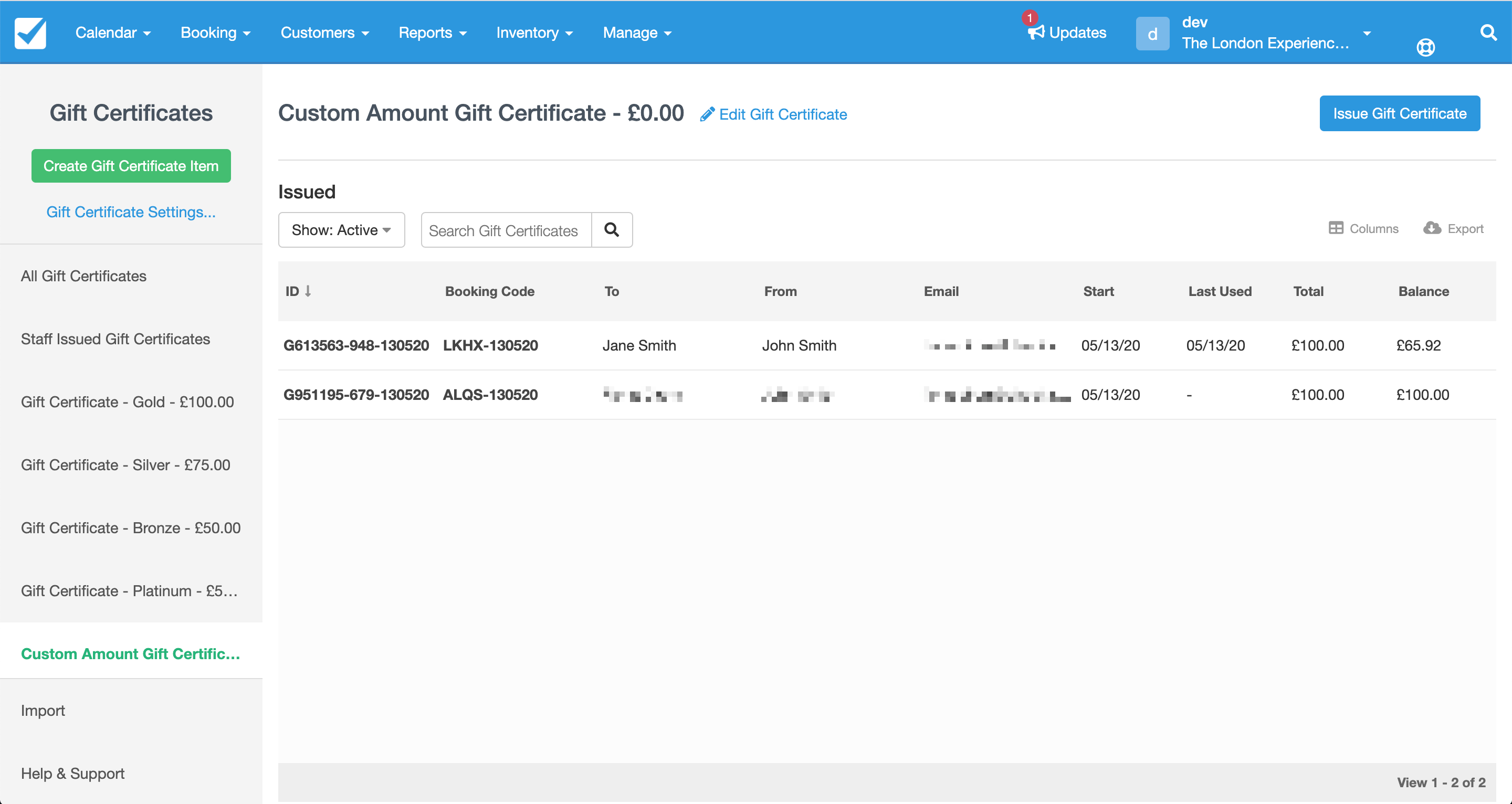 Gift Certificate activity can be viewed via the Gift Certificates page (Inventory > Gift Certificates). Simply select All Gift Certificates or choose a particular Gift Certificate from the left-hand menu to view the list of Issued Gift Certificates.
Choose which information you need to display within the Columns modal. Optionally, you can Export the list of Issued Gift Certificates.
---
< Gift Certificates: Staff Issued via Email | Gift Certificates: Settings >
---