---
Learn how to access general gift certificate settings, including adding a logo, using default themes, listing terms and conditions, refund information, adding messages, and choosing an expiry date.
New to Gift Certificates? Read the first article in this series for an introduction to the Gift Certificates feature.
---
Which plans include this feature?
Legacy:  Pro, Plus, Enterprise, Flex
New:  Available with Growth (Subscription), Growth (Per Booking), and Managed plans only. Not available with Starter plans.
→ Learn more about our new plans or how to change your plan.

Where can I find this feature using the top menu?
Inventory > Gift Certificates > Gift Certificate Settings

What more do I need to use this feature?
The Gift Certificates feature is activated within your account (Manage > Integrations).
Admin or restricted to Manage Gift Certificates and Manage Gift Certificate Templates.


Which Checkfront version supports this feature - classic, new or both?
This feature is available in both our classic version using items (Inventory > Items) and our newest version using products (Inventory > Products).  → Learn more about products
---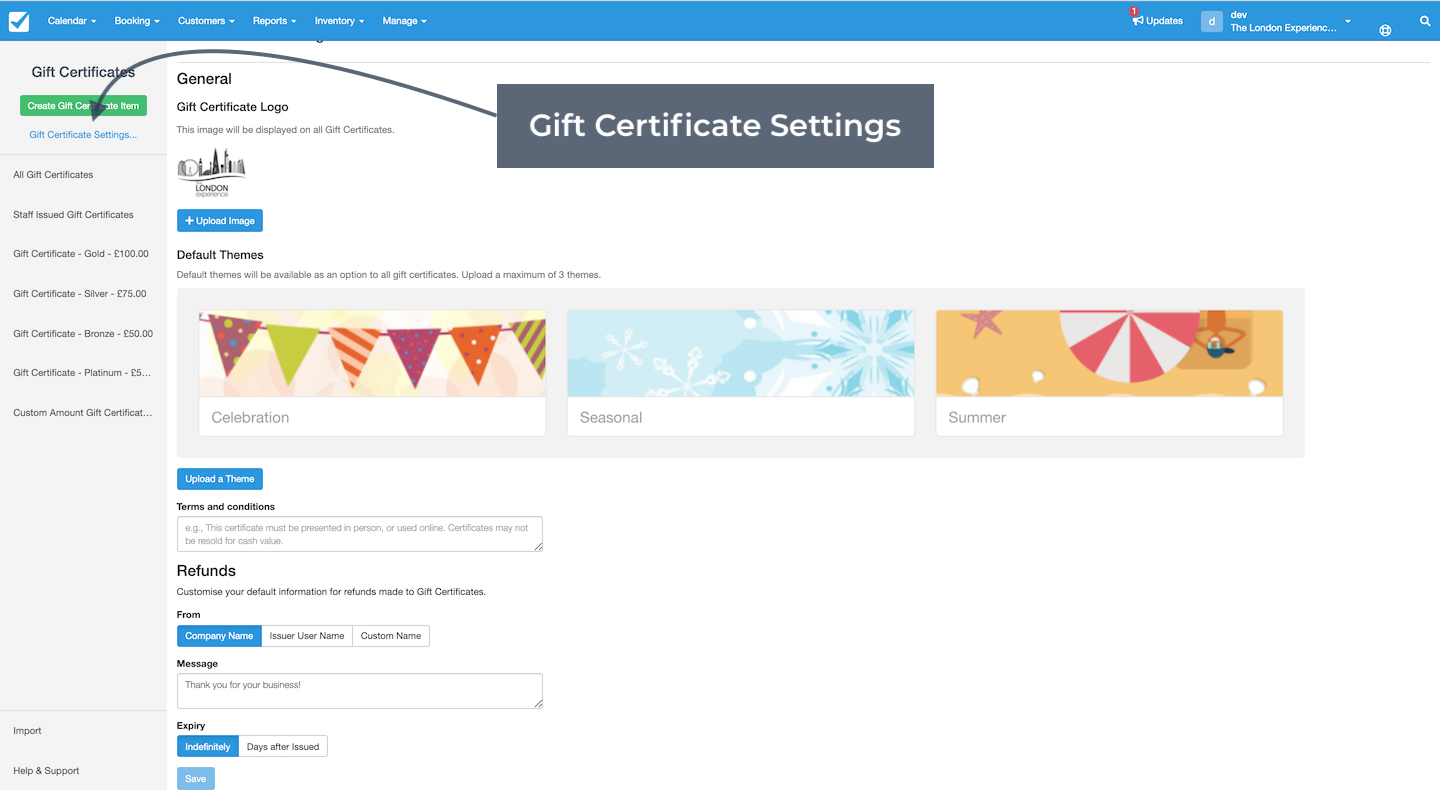 There are some default settings you can apply to your gift certificates. You can find these via the Gift Certificate Settings link in the left sidebar of the primary Gift Certificates page. 
You can add a company logo to display on gift certificates, edit your default gift certificate themes, add some terms and conditions, customize who refunds are sent from, and specify a default expiry date.
To display your company logo at the top of each gift certificate, click the + Upload Image button.
To remove any logo you currently have in place, hover over it with your mouse and click on the white trashcan icon in the top-right corner.  
Gift Certificate Settings is the place to manage your default gift certificate themes. If you are unlikely to use the default themes provided by Checkfront, then you can replace them here with your designs.
Follow these steps:
Click on the Upload a Theme button.
Next, a warning message states that uploading a theme permanently removes the default themes provided by Checkfront. Simply continue with your upload.
Finally, select a theme from your computer and repeat the process as often as necessary until you have uploaded all your themes. You can upload three default themes, after which the upload button disappears.  
Hover over a theme and click the Edit Image button to crop, as seen earlier in this guide.  
Click on the white trashcan icon to remove the theme.
If you'd like to add any terms and conditions to your gift certificates, please enter them here in the text box provided.  
You can customize the default information for refunds made to gift certificates. You can choose the name of the person providing the refund - the Company Name, Issuer Name, or Custom Name to be entered into the text field provided.     
If you want to print a message on each gift certificate, for example, thanking the Customer for their business, input the text in the box provided.
Finally, you can choose a select expiry date for the gift certificates. This can either be an indefinite expiry date, which means the gift certificates are open-ended, or you can enter a set number of days after issue that the gift certificates expire.
In the following article of this series, we look at setting up gift certificate notification emails.
---
< Viewing and editing gift certificates once created     |     Setting up email notifications for use with gift certificates >
---