---
Plan Availability: ✓ Soho | ✓ Pro | ✓ Plus | ✓ Enterprise | ✓ Flex |
Locate: Manage > Integrations > Email > Mailchimp
Prerequisites: Mailchimp account with API Keys and Merge Tags created.
---

Activate and setup the Mailchimp integration in your Checkfront account with these simple steps...
Log into your Checkfront account, navigate to search for the MailChimp extension among the other Checkfront integrations.
Hover your mouse over the MailChimp

tile and click on the

SETUP link.



In the pop-up window, paste the API Key

you created within the step: Mailchimp: Setup & API Key.

Ignore the List ID field for now. We will address this once connected.
Enter the Opt-in Label you would like to appear on your booking form. This is the text that appears next to the check-box in your booking form, which allows the Guest to opt into subscribing to your communications. You can also edit the text to suit your needs!
Check the box below the Opt-in Label, if you would like to activate the double opt-in option. This requires the user to click on the link in a verification email to confirm their opt-in to the list. This will help cut down on SPAM email addresses. The contents of the email can be edited within the Mailchimp interface.
Click Activate

to complete.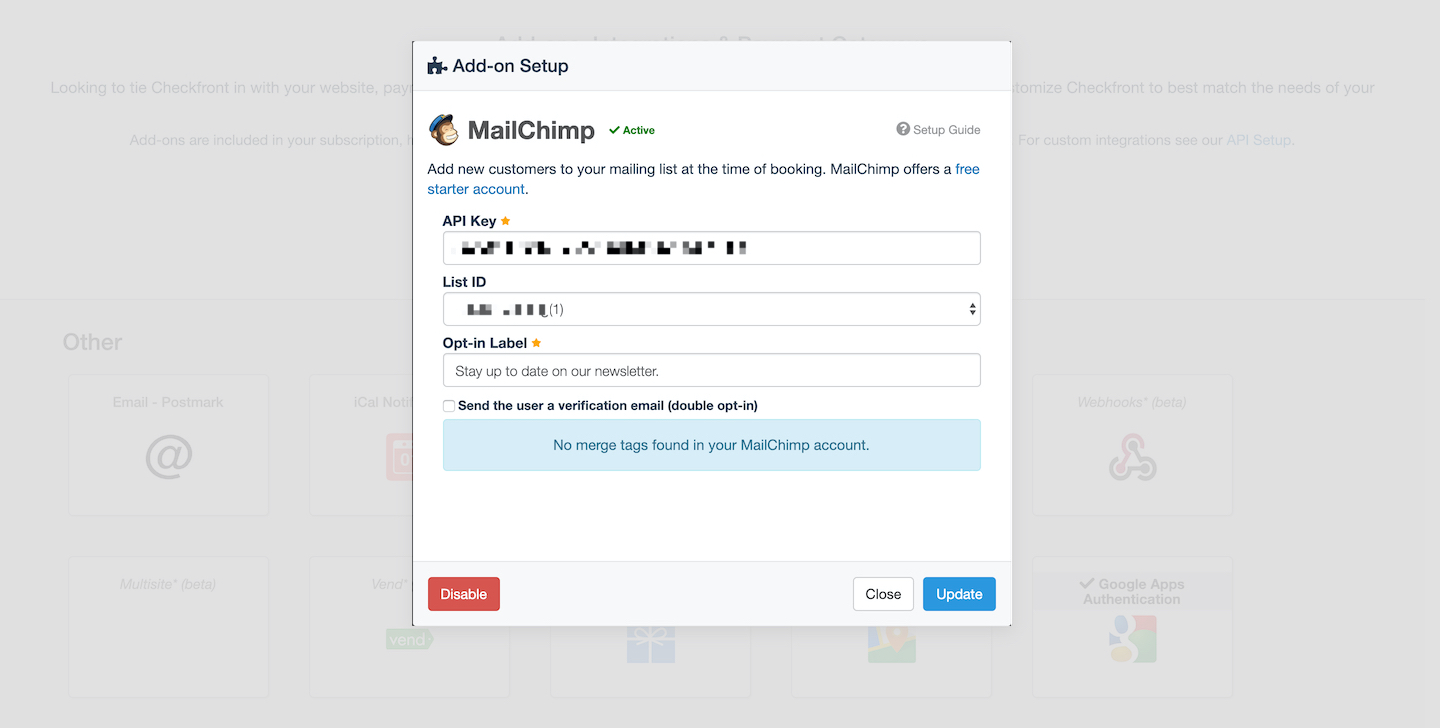 The modal will then re-open. This time, you'll be able to select an Audience (formerly named List) from within your Mailchimp account. If you only have one list, it will be selected for you automatically next to List ID. The number displayed in brackets shows the number of email addresses that are already assigned to the list.
Finally, you must map the merge tags between your booking form at Checkfront and the mailing list at Mailchimp. If you see the message No merge tags found in your Mailchimp account, then click Update and re-open the modal to re-sync your account and the Merge Tags section should display.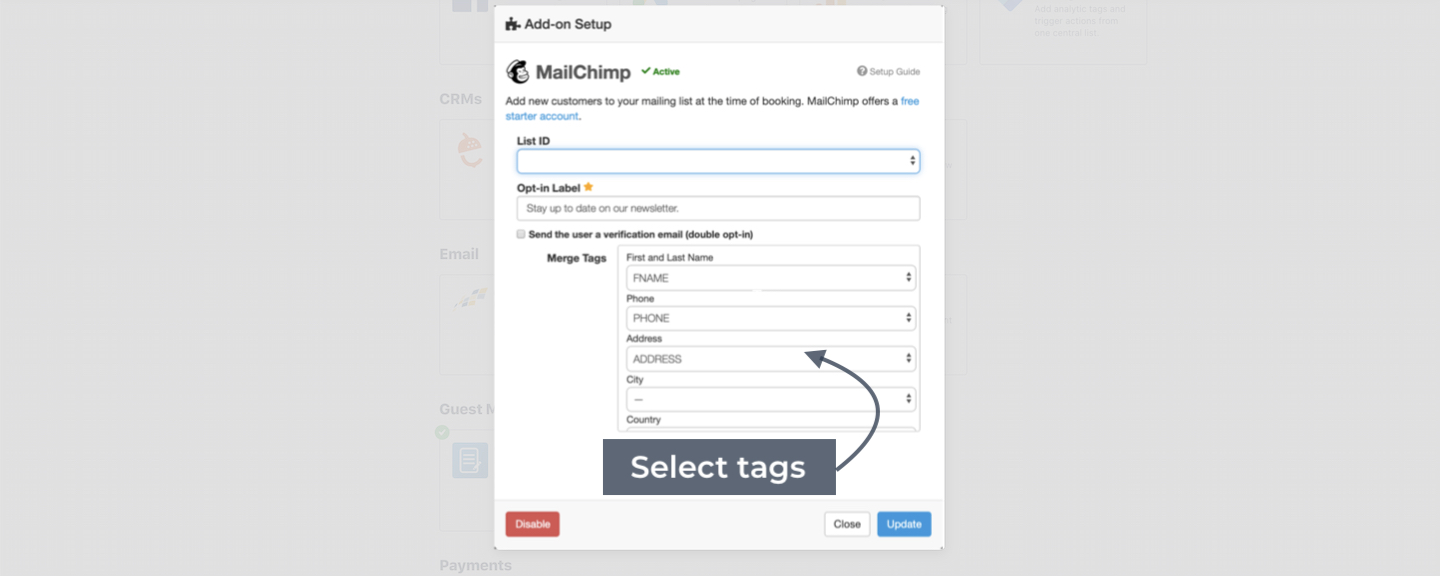 The list of fields you see in the pop-up window under Merge Tags are from your Checkfront account. Click on one of these to pull up a drop-down menu of fields from Mailchimp. When you've completed the mapping, click Update.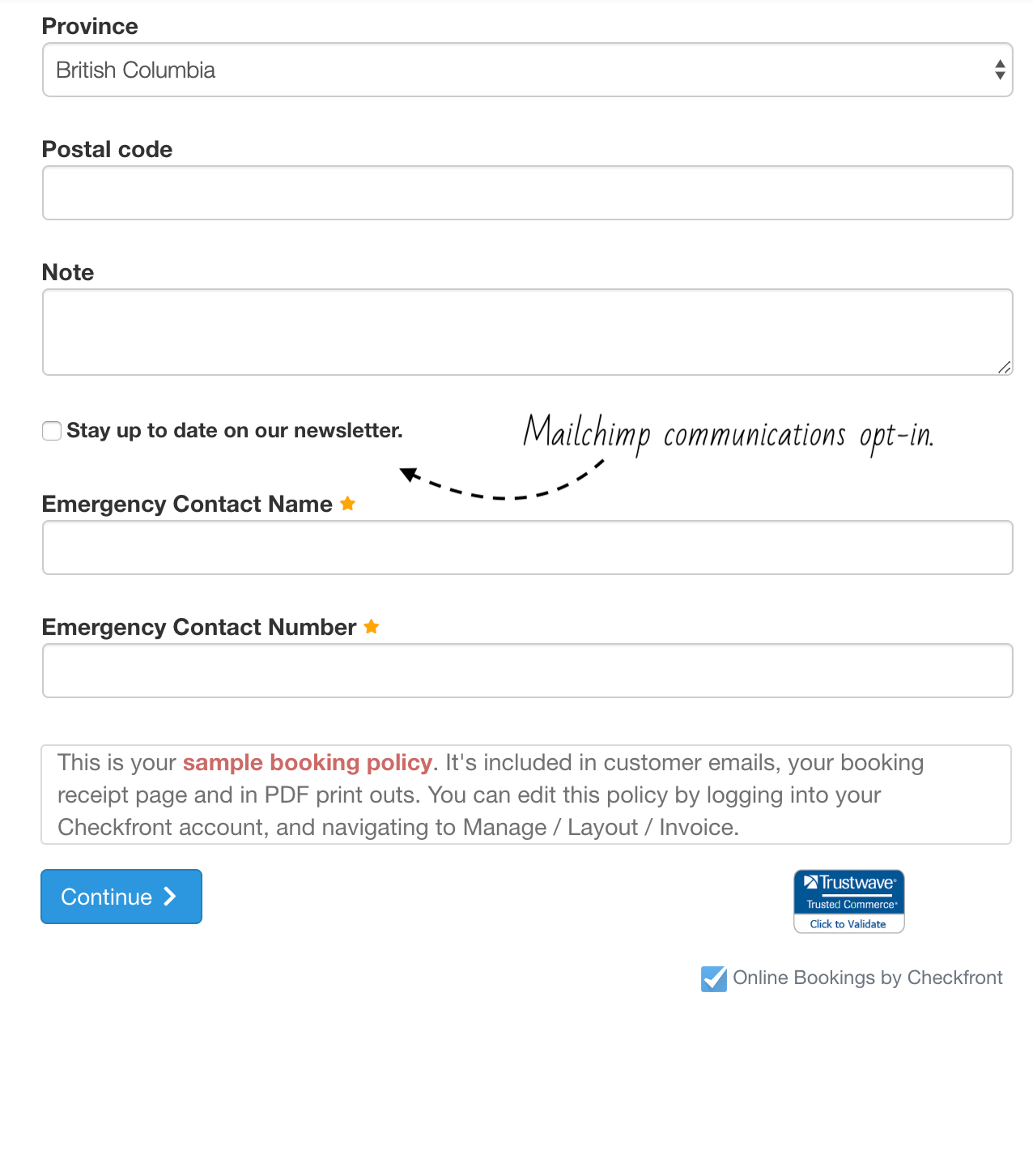 That's it! The MailChimp extension is now ready to be used. A new field will be added to the end of your booking form and if checked, the customer's email address will be added to your MailChimp database once they have completed their booking.
---
Sync Your Customer Details
To ensure that at a minimum, the Name and Email Addresses of your customers sync to your MailChimp account properly, the two booking form system fields for the Name and Email Address of your customers must be active. The two system field IDs must be customer_name and customer_email.
---
< Mailchimp: Managing Merge Tags
---