---
Once you've located the booking you're searching for in the iOS Mobile Booking App, simply tap on it from the list to open up the booking details screen.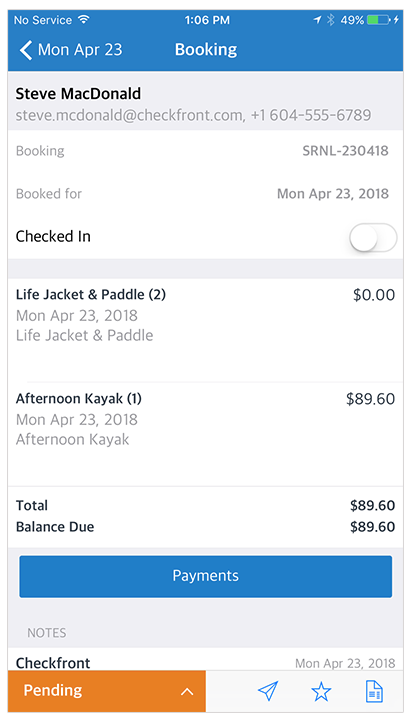 At the top of the booking screen, you will see the name of the customer, their contact information, the booking ID and the date of the booking. Directly below that is the Checked In status. 
---
The check-in/out status of a booking is controlled by a switch on the right. By default, the switch will be turned off, indicating an open booking. Tapping on the switch will cause it to slide across and turn green. This indicates that the customer is currently checked in.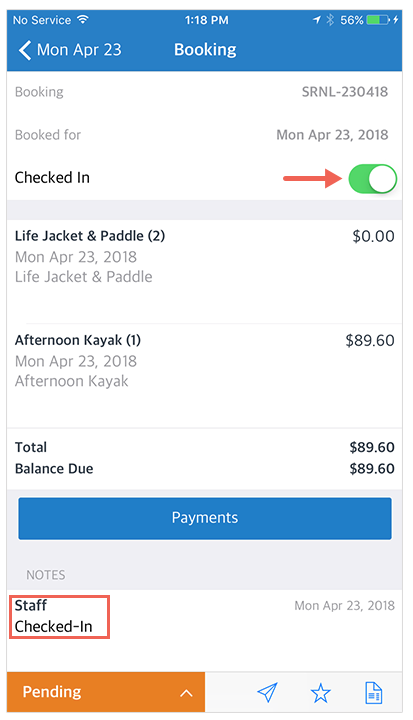 Further evidence of this can be found in the notes section towards the bottom of the screen. The notes are updated whenever a customer is checked in or checked out. These notes include the name of the staff member who made the change and the date it occurred. Incidentally, notes can be also be recorded manually by tapping on the Add Note button and then typing out the message you wish to leave. This can be viewed by any other staff members who view the booking.  
Auto Check-In
There is an auto check-in feature available through the settings menu at the bottom right side of the app home screen. If the switch is turned on, a customer will be checked in automatically when the QR code on their invoice is scanned.  
---
< iOS App: Navigating the App     |     iOS App: Recording a Payment >
---