---
Prerequisites:
The iOS app is available to those using items (Inventory > Items), a feature of our classic version of Checkfront.
Interested in using the iOS app with products (Inventory > Products)? Your account must be a member of our

Early Access Program. Please reach out to

Checkfront Technical Support

to learn more. Important: Only the QR Code Scanner feature of the app, used to check-in Guests via QR Barcodes on invoices, is supported with products at this time.
Early Access Program

Products and the Product Builder are the successor features to Items and the Item Builder and are currently part of our Early Access Program. This means that the features are available to select Customers to try out and provide us with feedback.

To learn more about becoming part of our Early Access Program check out our related blog post or contact our Technical Support team.

Find our complete set of help articles related to the Early Access Program here: Early Access Program.
---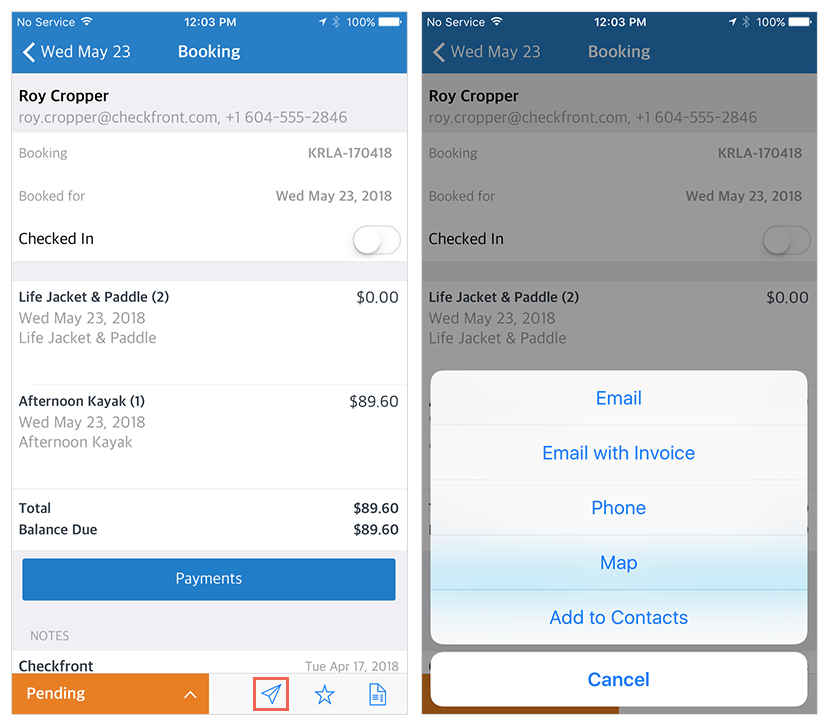 Next to the status button in the bottom left corner of the screen is the Contact Customer button, with a paper airplane icon. Tapping on this brings up a menu of possible customer interactions.
Select the one you want from the list and your device automatically performs the required function.
For example, if you select Email, your device's default email app is opened, ready for your input. The email is pre-populated with the customer's email address and a subject that includes the booking ID. For example... Booking: XXYT-190815
---
< iOS App: Changing the Booking Status | iOS App: Bookmarking a Reservation >
---