---
Prerequisites:
The iOS app is available to those using items (Inventory > Items), a feature of our classic version of Checkfront.
Interested in using the iOS app with products (Inventory > Products)? Your account must be a member of our

Early Access Program. Please reach out to

Checkfront Technical Support

to learn more. Important: Only the QR Code Scanner feature of the app, used to check-in Guests via QR Barcodes on invoices, is supported with products at this time.
Early Access Program

Products and the Product Builder are the successor features to Items and the Item Builder and are currently part of our Early Access Program. This means that the features are available to select Customers to try out and provide us with feedback.

To learn more about becoming part of our Early Access Program check out our related blog post or contact our Technical Support team.

Find our complete set of help articles related to the Early Access Program here: Early Access Program.
---
The final button at the bottom of the reservation page is to view the original invoice, just like you would on the desktop site. Click on this to view a PDF copy of the invoice.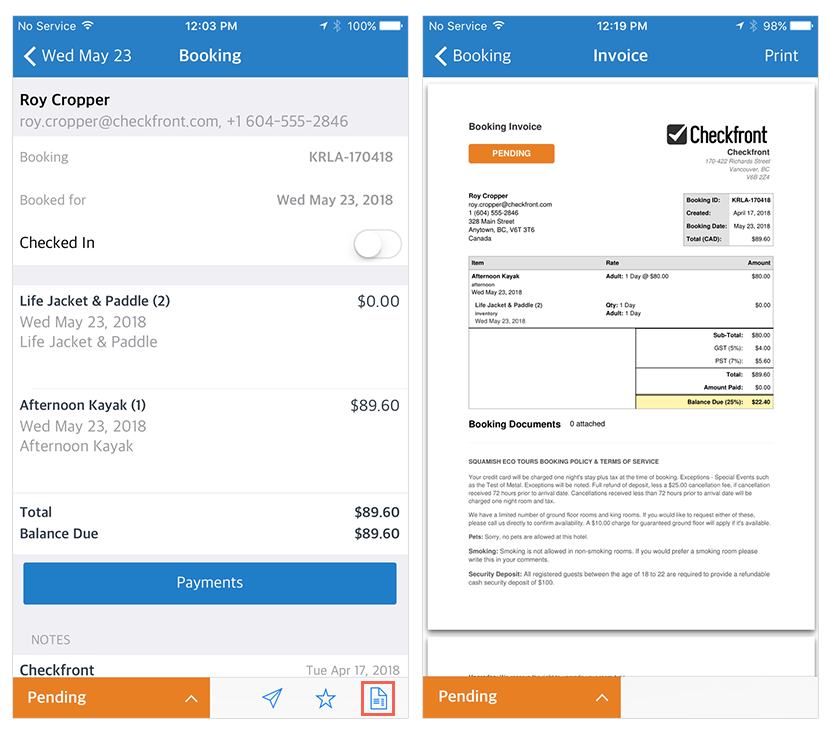 You can then click on the Print link, top right, to save a copy of the invoice as a PDF file for printing later.
---
< iOS App: Bookmarking a Reservation | iOS App: QR Barcode Scanner >
---