---
Plan Availability: ✓ Soho | ✓ Pro | ✓ Plus | ✓ Enterprise | ✓ Flex |
Locate: Manage > Integrations > Account > QuickBooks
Prerequisites:
Admin permissions or restricted permissions to access Reports & Booking Data to View Invoice and Transaction Log.
QuickBooks Online integration enabled.
QuickBooks Online is available to those using items (Inventory > Items), a feature of our classic version of Checkfront.
Interested in using QuickBooks Online with products (Inventory > Products)? Your account must be a member of our

Early Access Program. Please reach out to

Checkfront Technical Support

to learn more.
Early Access Program

The new product feature mentioned in this article is currently part of our Early Access Program, which means it is available to select Customers to try out and provide us with feedback.

To learn more about becoming part of our Early Access Program check out our related blog post or contact our Technical Support team.

Find our complete set of help articles related to the Early Access Program here: Early Access Program.
Need to activate QuickBooks Online within your account? Be sure to read the first article in this series: QuickBooks Online: Setup.
---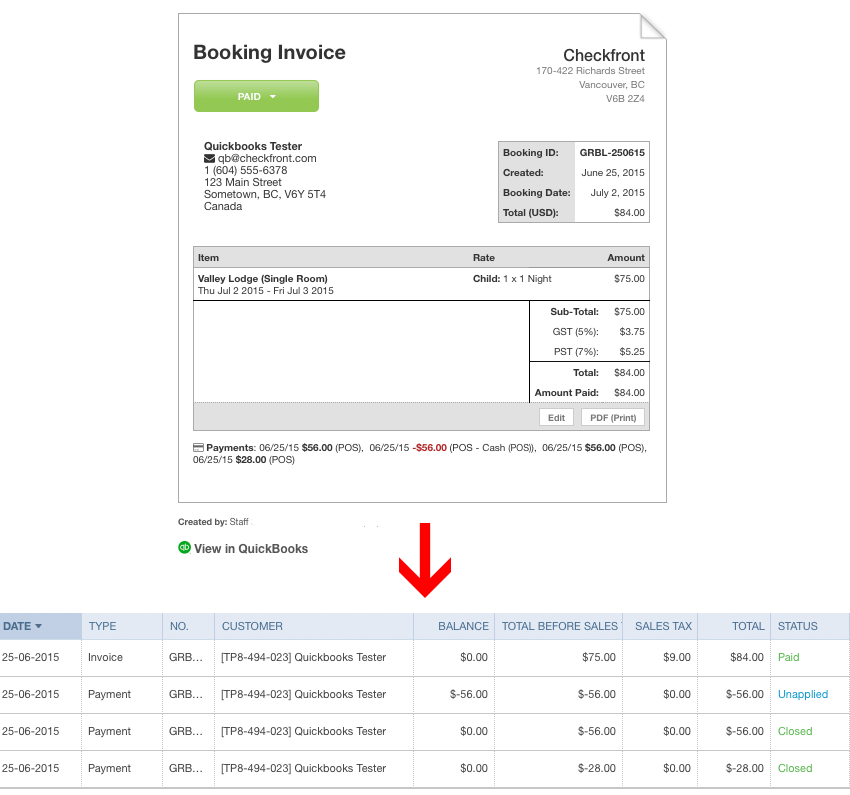 The QuickBooks Online integration is now activated and configured for use in your account. Based on the settings we used in the previous step when a Customer makes a reservation or payment is added to a booking, an invoice and transaction will be automatically created in QuickBooks Online.
The integration is a one-way connection; information is synced from Checkfront to QuickBooks Online. All changes to transactions and bookings should be done in Checkfront.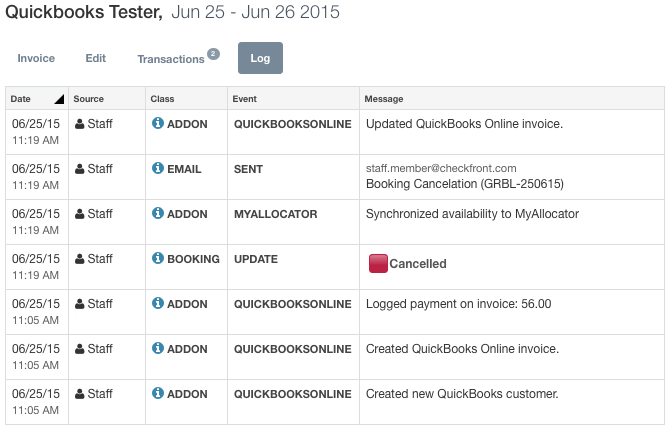 You can check the Log in Checkfront at any time to make sure these transactions are going through successfully, without needing to check every time in QuickBooks Online.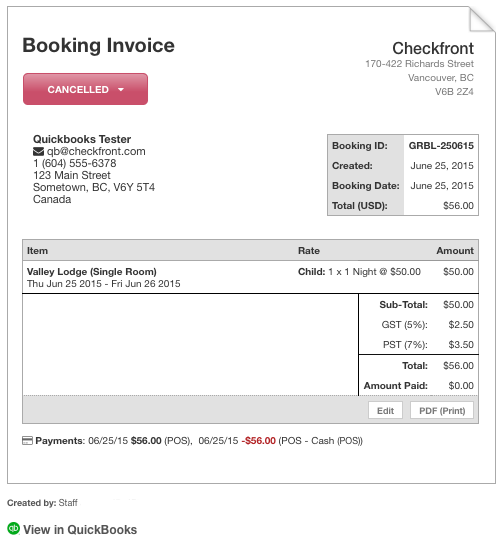 When viewing an invoice in Checkfront, you can quickly access the associated invoice in QuickBooks Online by clicking on the View in QuickBooks link below.
---
Bookings are created in QuickBooks Online as Invoices. The invoice will be populated with the item or product information and booking total.
Please note that the taxes that are used on the invoice are calculated by QuickBooks; in order to ensure that the invoice total is accurate, you need to ensure that the taxes configured in the two systems are the same.
Each invoice in QuickBooks Online is associated with a Customer. When creating the invoice, Checkfront also creates a new customer the QuickBooks account.
QuickBooks Online requires that all customers have a unique display name; in order to ensure all customers have unique names, a unique identifier is added to the customer's display name. Otherwise, unrelated customers with the same name could be incorrectly associated with each other.
When a payment is added to a booking in Checkfront, a matching payment is added to the invoice in QuickBooks Online. If you would like to stop payments from being created, then you can enable the 'Don't synchronize transactions' option.
Payments refunded in Checkfront are synchronized to QuickBooks Online. By default, refunds are created as Credit Notes. If this is not appropriate for your business, then you can enable the option to instead use Refund Receipts. There is also an option to not synchronize refunds at all if that is preferred.
---
Listed here are common errors or situations you may come across when using Quickbooks Online:


Error creating invoice: Invalid Reference Id (Invalid Reference Id: Categories cannot be used in transactions).

This error is caused if a sales item is synced to a QuickBooks Online category. While QuickBooks Online categories show in the sales item dropdown menu, make sure to sync to a product or service in QuickBooks Online instead of a category.


The refund (CreditNote or RefundReceipt) does not match the amount that was refunded

This situation can occur if a single booking has multiple items or products with different tax amounts. When creating a refund, only a single tax amount can be used. So when the taxes are calculated in QuickBooks Online, the taxes for the booking may not match the taxes for the refund.

These situations will need to be manually corrected by editing the CreditNote or RefundReceipt in QuickBooks Online.
---
< QuickBooks Online: Setup | QuickBooks Online: Editing an Invoice >
---