---
Learn how to map your Checkfront items to room types in myallocator, so that your inventory is synched.
New to myallocator? Read the first article in this series for an introduction to myallocator.
---
Which plans include this feature?
Legacy:  Soho, Pro, Plus, Enterprise, Flex
New:  Starter, Growth (Subscription), Growth (Per Booking), Managed
→ Learn more about our new plans or how to change your plan.

What industry does this feature apply to?
✓ Accommodations | X Activities  | X Tours  | X Rentals  | X Adventures | X Escape Rooms | Learn More


Where can I find this feature using the top menu?
Manage > Integrations > Channels > Myallocator


What more do I need to use this feature?
Admin permissions to manage integrations.


Which Checkfront version supports this feature - classic, new or both?
This feature is available in both our classic version using items (Inventory > Items) and our newest version using products (Inventory > Products).  → Learn more about products
| | |
| --- | --- |
| | Is your account on our latest version, which supports products (Inventory > Products)? Instructions on synching products to room types can be found in the following help article. |
---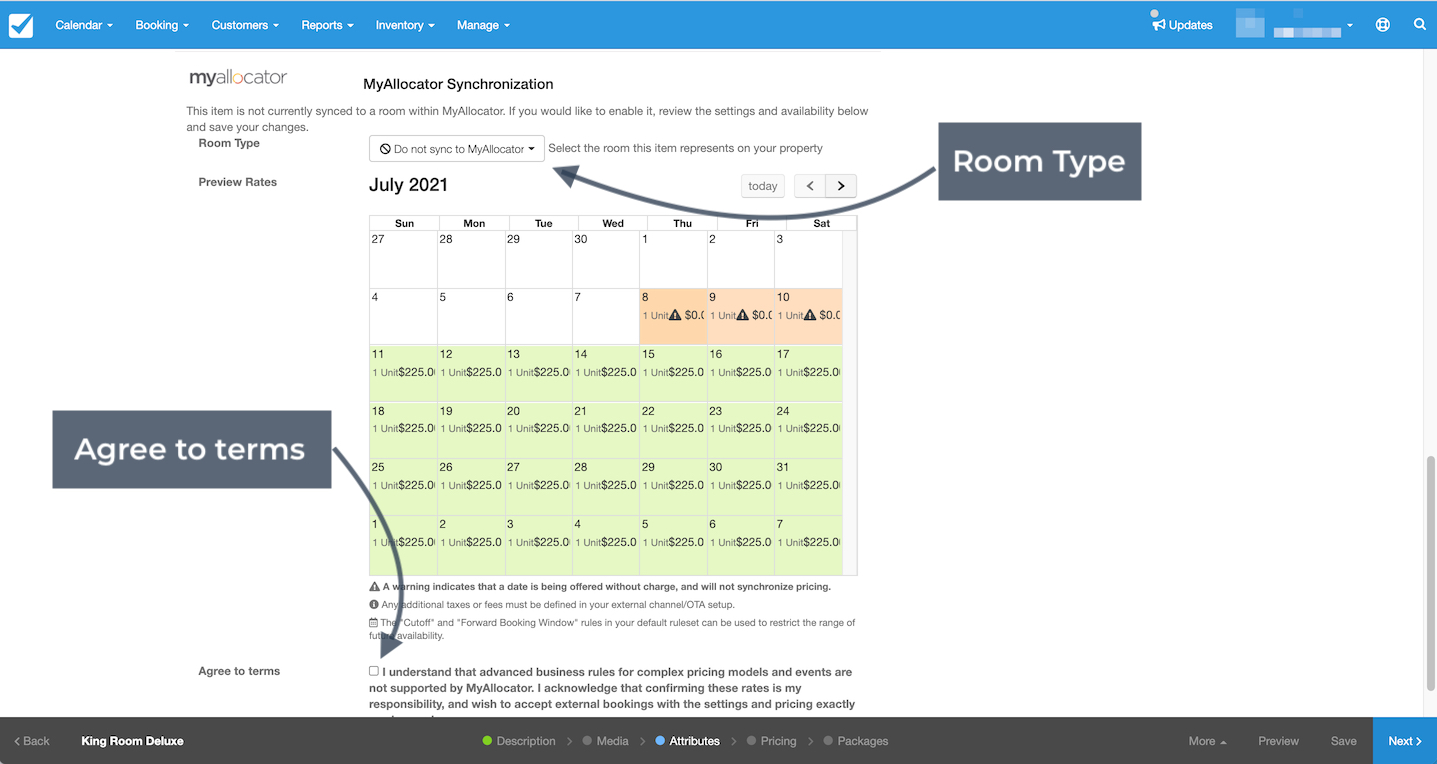 Sync the items in Checkfront that you are offering via myallocator. To get started...
Edit the item (Inventory > Items) and go to the Attributes tab.
At the bottom of the Attributes tab, you should see the MyAllocator Synchronization

section.

Open the room type drop-down menu to choose the room type you want to map to your item, for example, King Room Deluxe.
Before your changes can be saved, you must Agree to the terms outlined. By accepting the disclaimer, you agree that it is your responsibility to confirm and manage your rates.
Once saved, your item is synced with myallocator. Repeat this process for every item you need to be mapped.
You can also preview prices and availability via the calendar provided. As your prices and availability change, the calendar updates.
---
Do I have to map one myallocator room type to one Checkfront item, or can I connect a room type with multiple quantities to an item with multiple quantities?

Yes, we support mapping room types with multiple quantities to items with matching quantities in Checkfront.

No need to create a room type or item for each room unless each is unique and this mapping suits your business model!
---
< Setting up the myallocator integration     |     Synching products to room types >
---