---
Plan Availability: ✓ Soho | ✓ Pro | ✓ Plus | ✓ Enterprise | ✓ Flex |
Locate: Manage > Integrations > Channels > myallocator
Prerequisites:
Admin permissions to manage integrations.
Your account must have access to items (Inventory > Items), which is a key feature of our classic version of Checkfront.
This integration is not yet supported with products (Inventory > Products), which is a key feature of our newest version of Checkfront.
New to Checkfront - Products ✨

Products (Inventory > Products) is the successor feature to (Inventory > Items) and is available in our newest version of Checkfront.

Not yet on our newest version and interested in upgrading? Please contact our Technical Support team for more information.

Discover more product-related help articles here: Products (New).
With this article, we cover mapping your items in Checkfront to room types in myallocator, so that your inventory is connected.
---
As soon as you've successfully activated the myallocator add-on, it's time to sync your items in Checkfront.
You don't need to sync all your items, just the ones you are offering across multiple channels.
To get started with the sync, select your first item in your Checkfront inventory and go to its Attributes tab.
At the bottom of the attributes tab contents, you should now see the myallocator Synchronization section.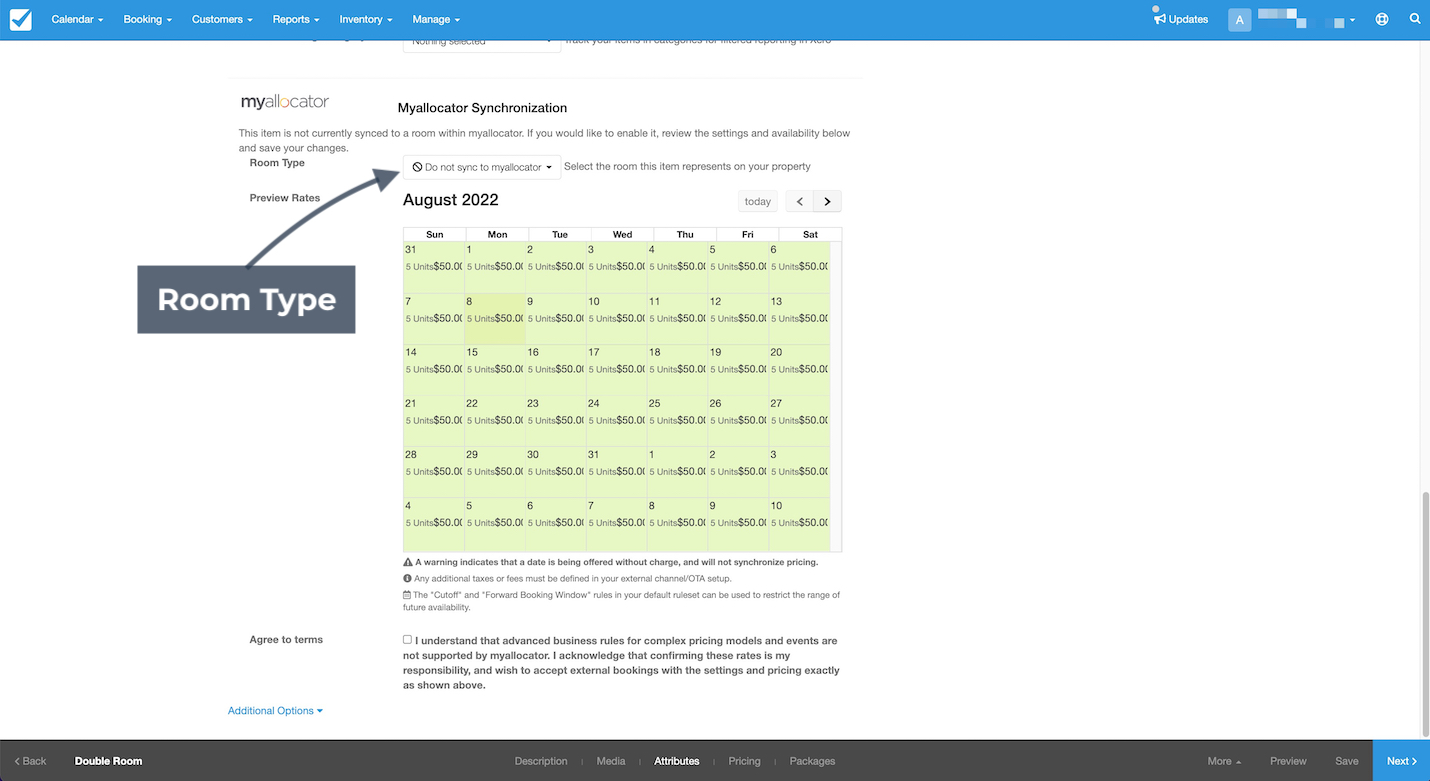 Simply click on the Room Type dropdown menu to choose the room type you would like to map your item to. This is the room type you created in myallocator during the previous steps.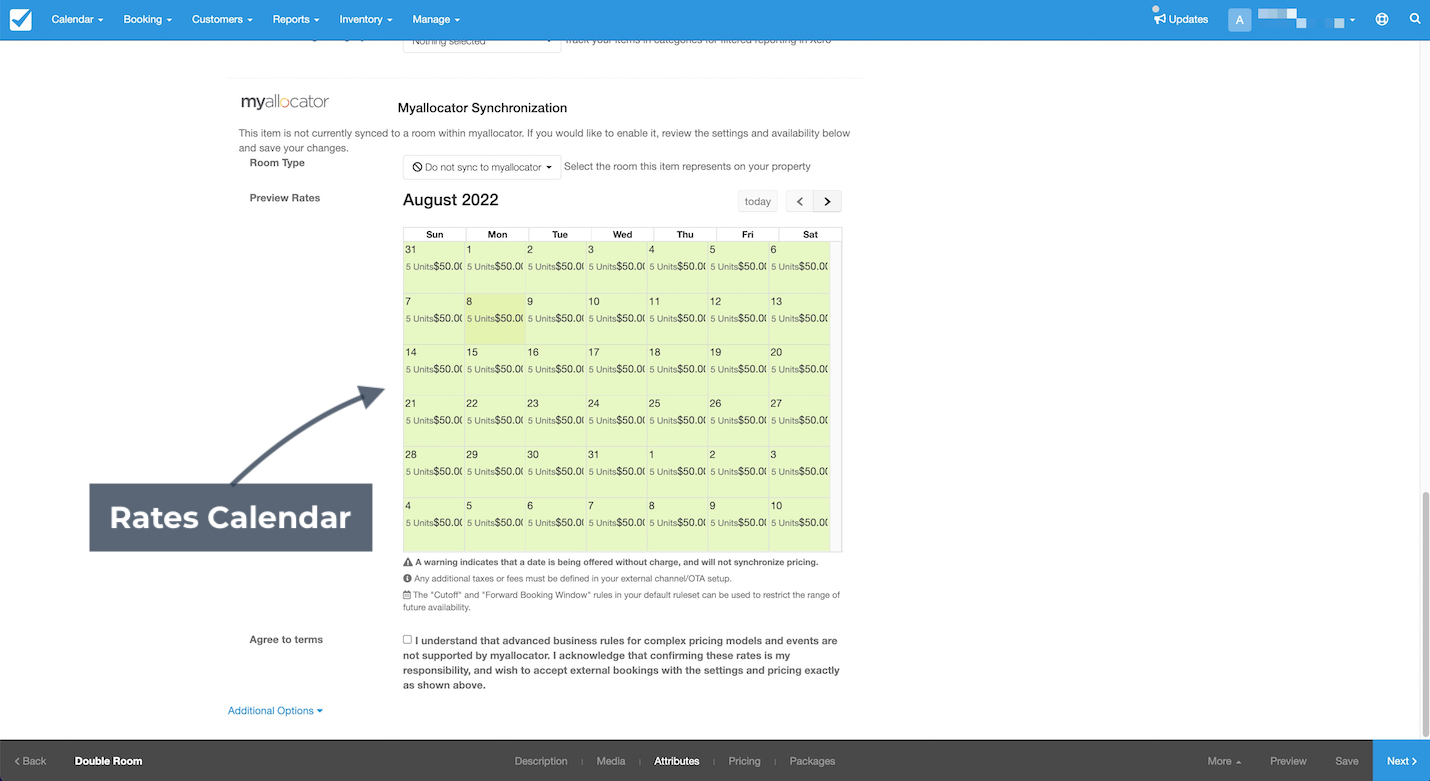 After making your selection, you will see a calendar appear underneath, with a live snapshot of the availability and rates assigned to the room type. As your rates and availability change, you will see this updated on the calendar.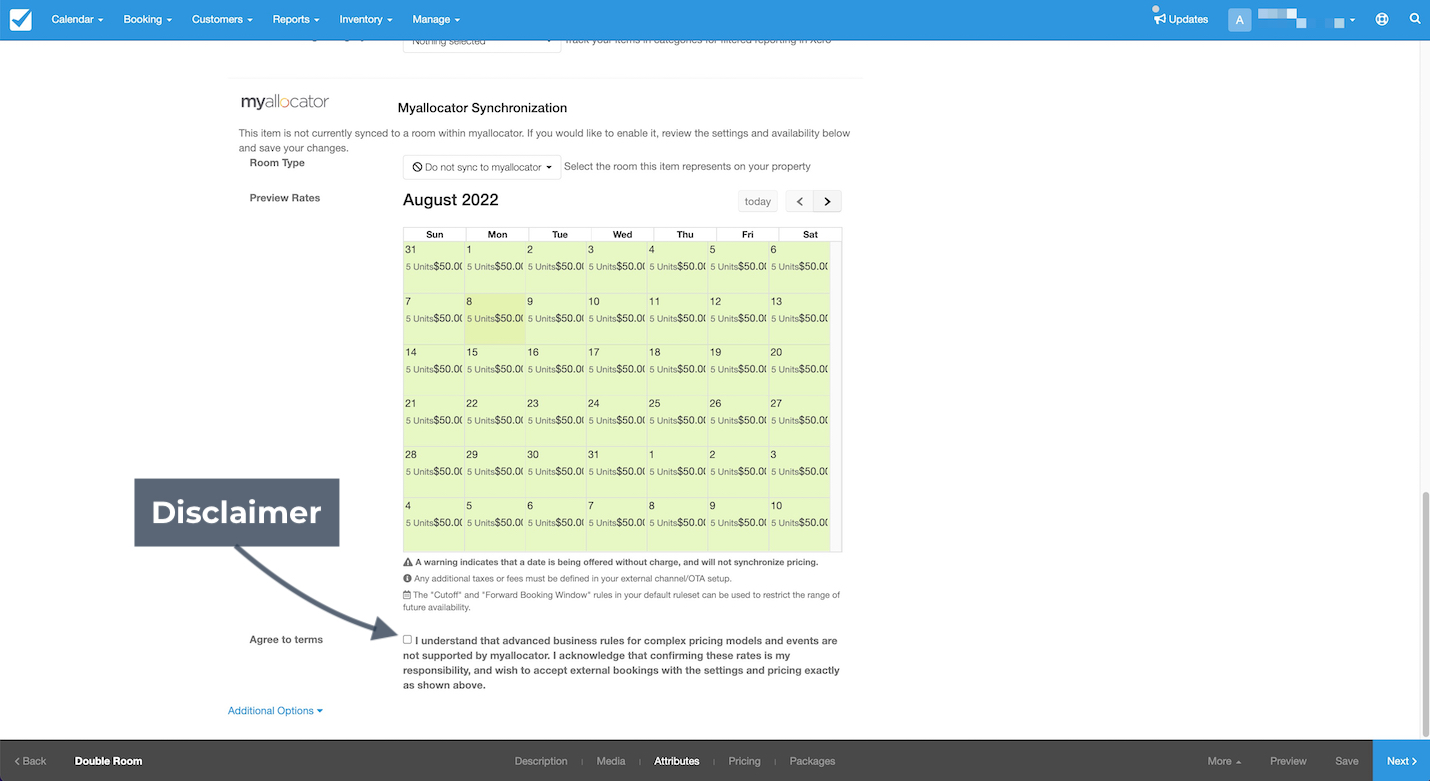 You will see in the screenshot above a disclaimer which must be accepted before you can save the changes to your configuration. By accepting the disclaimer, you are agreeing that it is your responsibility to confirm and manage your rates going forward. Once saved, your item in Checkfront is now synced with myallocator.
Note


Only Per Item Discounts (not Per Booking) sync to myallocator
---
< Myallocator: Setup in Checkfront | Myallocator: Reviewing External Bookings >
---