---
Plan Availability: ✓ Soho | ✓ Pro | ✓ Plus | ✓ Enterprise | ✓ Flex |
Locate: Manage > Integrations > Channels > Tripadvisor Connect
Industries: ✓ Accommodations | X Activities | X Tours | X Rentals | X Adventures | X Escape Rooms | Learn More
Prerequisites:
Business must be an Accommodation Provider
Admin permissions to manage Integrations.
Your account must have access to items (Inventory > Items), which is a key feature of our classic version of

Checkfront.
This feature is not yet supported with products (Inventory > Products), which is a key feature of our newest version of

Checkfront.
New to Checkfront - Products ✨

Products (Inventory > Products) is the successor feature to (Inventory > Items) and is available in our newest version of Checkfront.

Not yet on our newest version and interested in upgrading? Please contact our Technical Support team for more information.

Discover more product-related help articles here: Products (New).
TripConnect Availability

TripConnect is currently only available to Accommodation Providers.

Your property must be listed on Tripadvisor as a 'Hotel'. Other listings, such as 'Vacation Rentals', are not eligible.

Although we'd love to include our many tours and attraction Operators, at this time it's limited to accommodation providers (hotels) on Tripadvisor.



In this article, we cover how to sync Checkfront items with Tripadvisor Connect.
New to Tripadvisor Connect? Read the first article in this series for an introduction and information on how to activate the integration.
---
Including Checkfront items
Once you input your details into the setup fields and activated the integration, it's configured and ready to use.
The next step is to include any Checkfront items you wish to advertise on Tripadvisor.
To do this, open the item in your Checkfront Booking Manager from the Inventory area (Inventory > Items) and select the Attributes tab.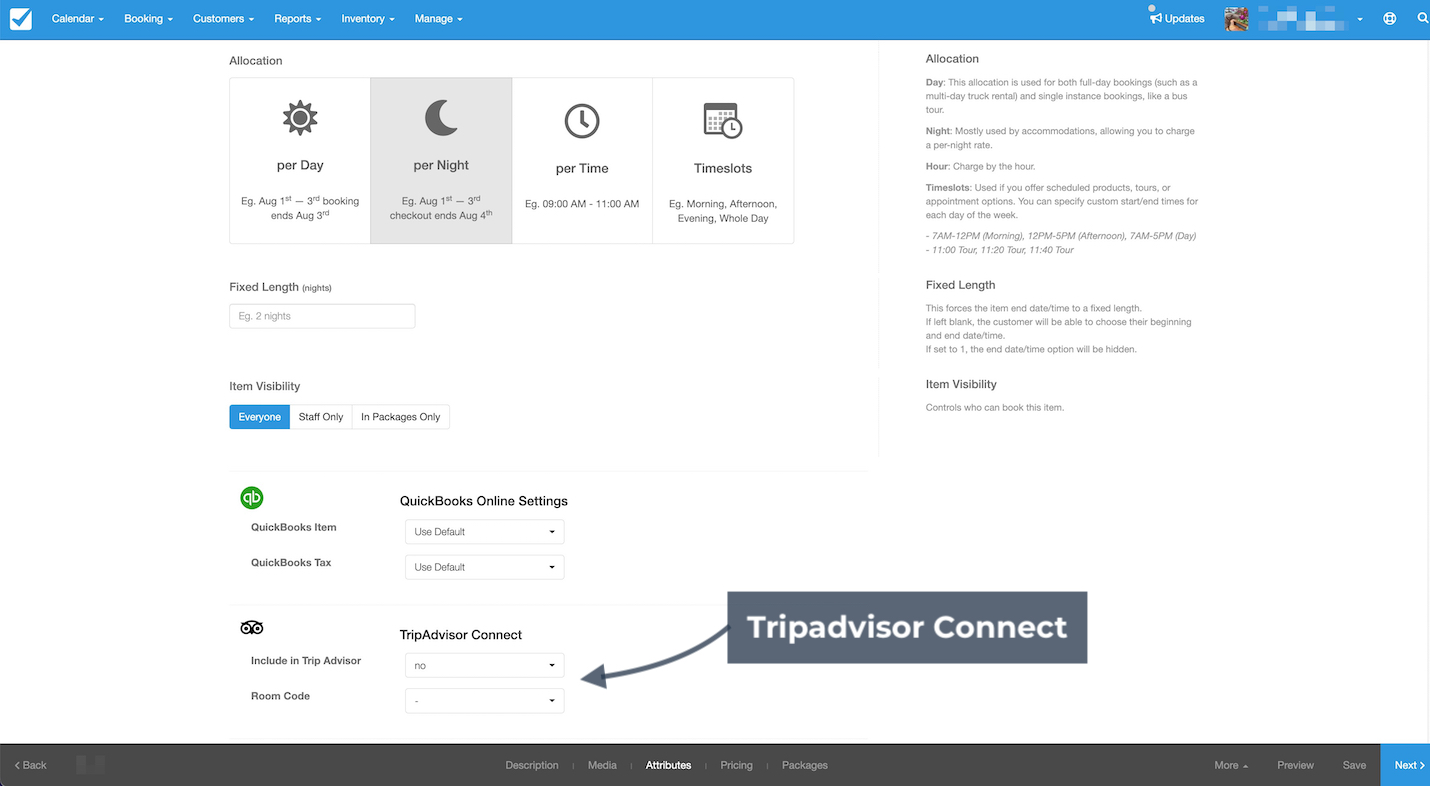 At the bottom of this tab, you see a section labelled Tripadvisor Connect.
From here you can select yes from the dropdown menu labelled Include in Tripadvisor if you wish to sync the item. By default, this is set to no.
Next, select the room type from the dropdown menu labelled Room Code. Choose the Tripadvisor option that most closely resembles the type of room you are offering.
When ready, save your item and the sync occurs automatically.
And that's it! You are now set up with Tripadvisor Connect and can hopefully watch your booking rate start to increase.
| | |
| --- | --- |
| | In order for your items to be picked up by Tripadvisor Connect, your business address listed in your Checkfront Booking Manager must match exactly the address provided in your Tripadvisor Connect account. |
| | |
| --- | --- |
| | Tripadvisor Connect is not able to recognize parent items from Checkfront. Parent items are not mappable between Checkfront and Tripadvisor as they are not the end booking item. |
---
< Setting up Tripadvisor Connect
---