---
Plan Availability: X Soho | X Pro | ✓ Plus | ✓ Enterprise | ✓ Flex |
Locate: Manage > Integrations > Popular > Waivers > Create/Edit Template > More > Copy
Prerequisites:
Subscriptions to the appropriate plan (see plan availability above).
Admin permissions or restricted permissions for Waivers & Documents.
The Waivers & Documents feature is available to both those using items (Inventory > Items), a key feature of our classic version of

Checkfront, and those using products (Inventory > Products), a key feature of our newest version

of

Checkfront.
New to Checkfront - Products ✨

Products (Inventory > Products) is the successor feature to (Inventory > Items) and is available in our newest version of Checkfront.

Not yet on our newest version and interested in upgrading? Please contact our Technical Support team for more information.

Discover more product-related help articles here: Products (New).
In this article, we review how to copy your document.
New to Waivers & Documents? Be sure to read the first article in this series for an introduction to this feature!
Please read the full series of articles, accessed at the side and bottom of this page, to learn more about Waivers & Documents.
---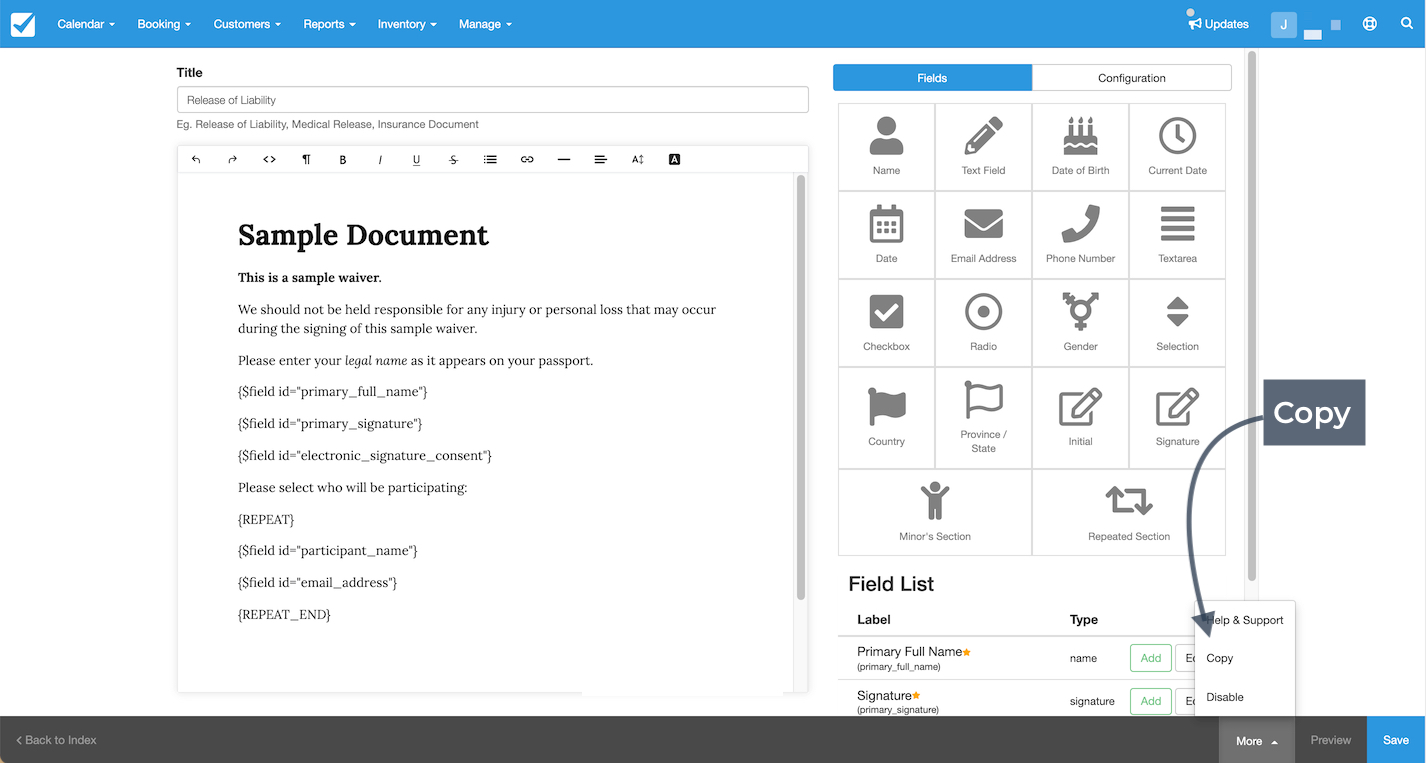 If you have a number of items or products in your inventory, then you may wish to use a different document template for each one. These templates may be very similar to each other, but perhaps the wording is slightly different.
To copy a document template...
Open up the template you wish to duplicate and look for the More menu at the bottom right of the page.
Click on the More

link to display additional options.

Then, click on the

Copy

option to start the duplication process.
This process creates an exact copy of the template you were working on with the copy open in edit mode.
Notice the title of the template is the same as before, preceded by Copy of.
Make the changes you need including updating the title and then click Save to retain your changes and the new copy!
---
< Previewing waivers & documents | Disabling waiver & document templates >
---