---
Plan Availability: X Soho | X Pro | ✓ Plus | ✓ Enterprise | ✓ Flex |
Locate: Manage > Integrations > Popular > Waivers
Prerequisites:
Subscriptions to the appropriate plan (see plan availability above).
Admin permissions or

restricted permissions

for

Waivers & Documents.
The Waivers & Documents feature is available to both those using items (Inventory > Items), a key feature of our classic version of

Checkfront, and those using products (Inventory > Products), a key feature of our newest version

of

Checkfront.
New to Checkfront - Products ✨

Products (Inventory > Products) is the successor feature to (Inventory > Items) and is available in our newest version of Checkfront.

Not yet on our newest version and interested in upgrading? Please contact our Technical Support team for more information.

Discover more product-related help articles here: Products (New).
In this article, we review how to sort, filter, and search your signed documents.
New to Waivers & Documents? Be sure to read the first article in this series for an introduction to this feature!
Please read the full series of articles, accessed at the side and bottom of this page, to learn more about Waivers & Documents.
---
When viewing the All Documents home page, there are various ways to find your documents.
- Filtering by date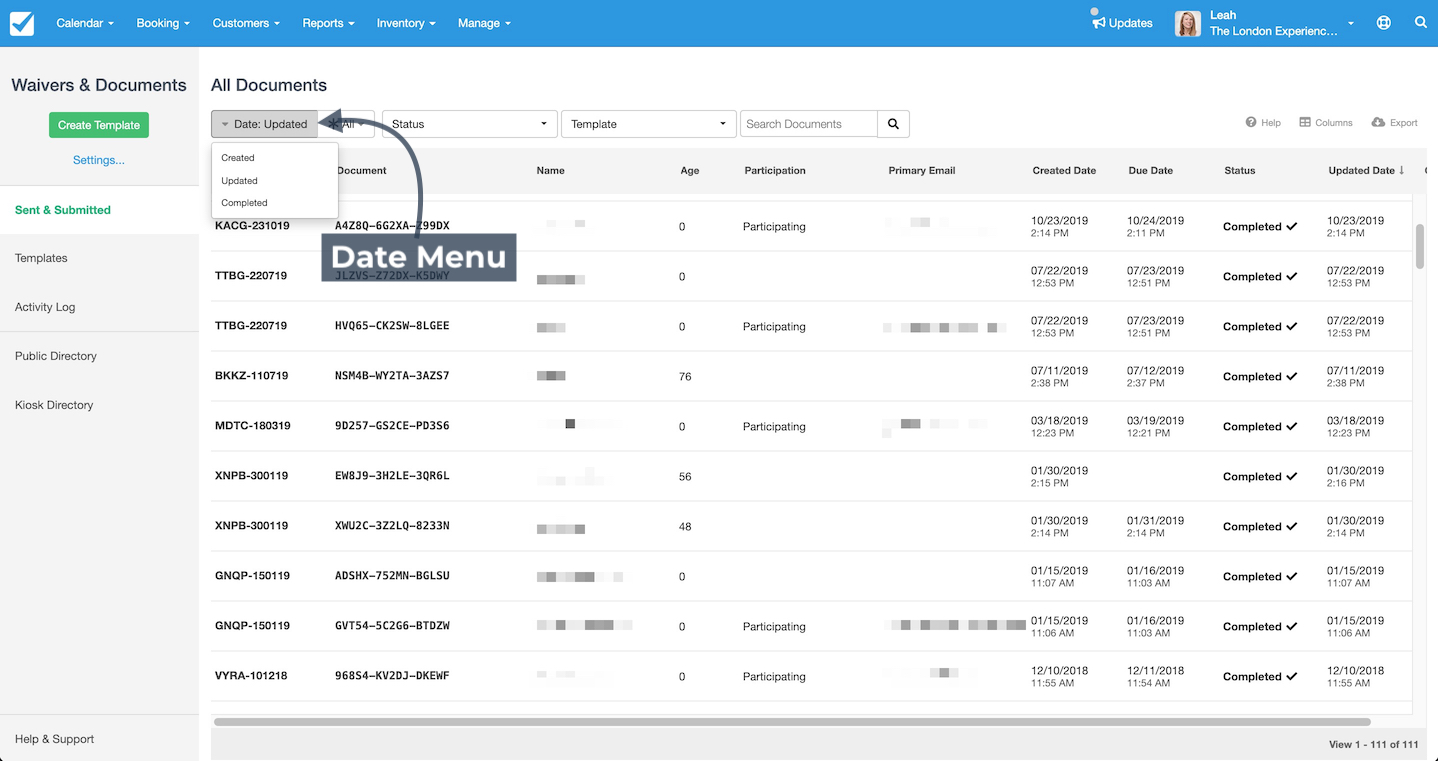 The Date dropdown field allows you to sort the documents by Created, Updated, or Completed.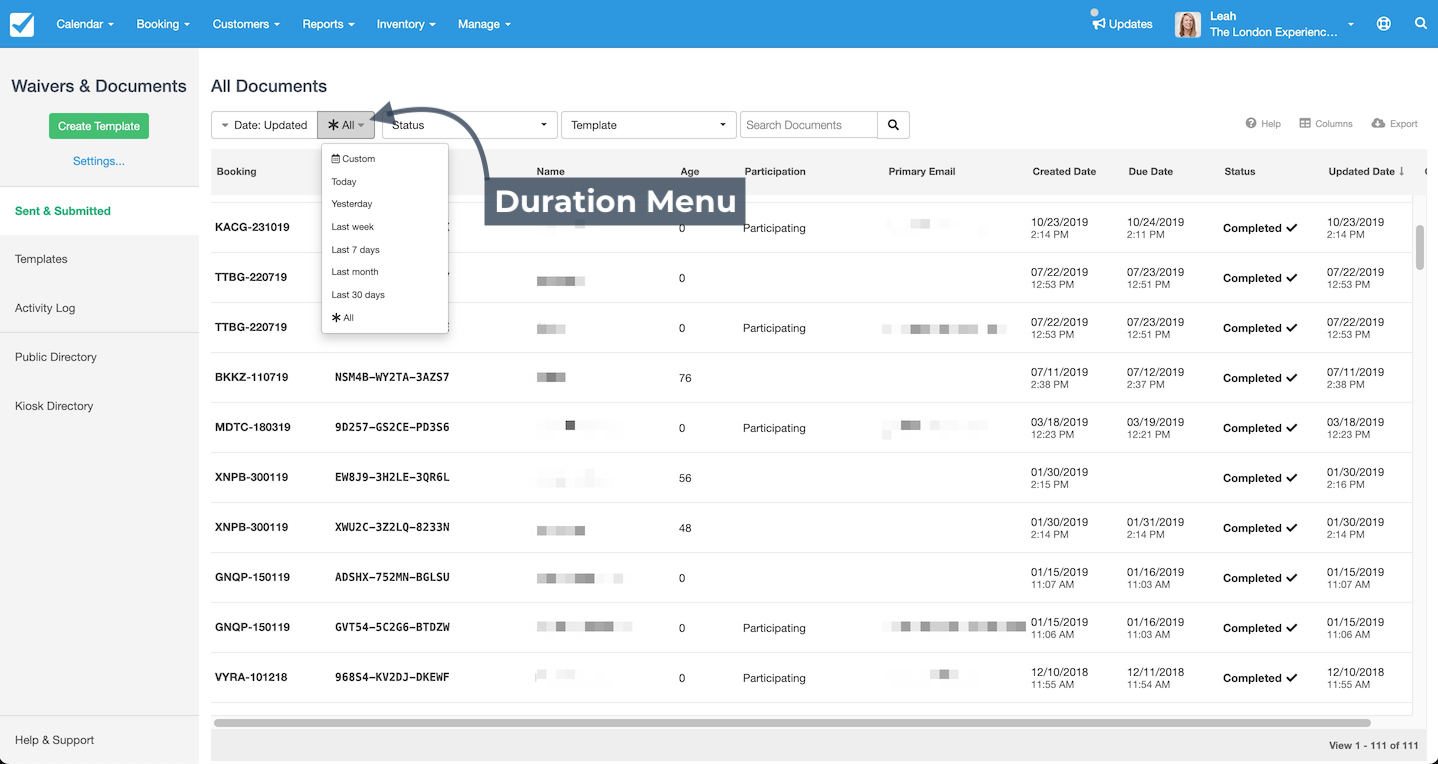 You can take that further by showing results from a set period of time, such as the last 7 days.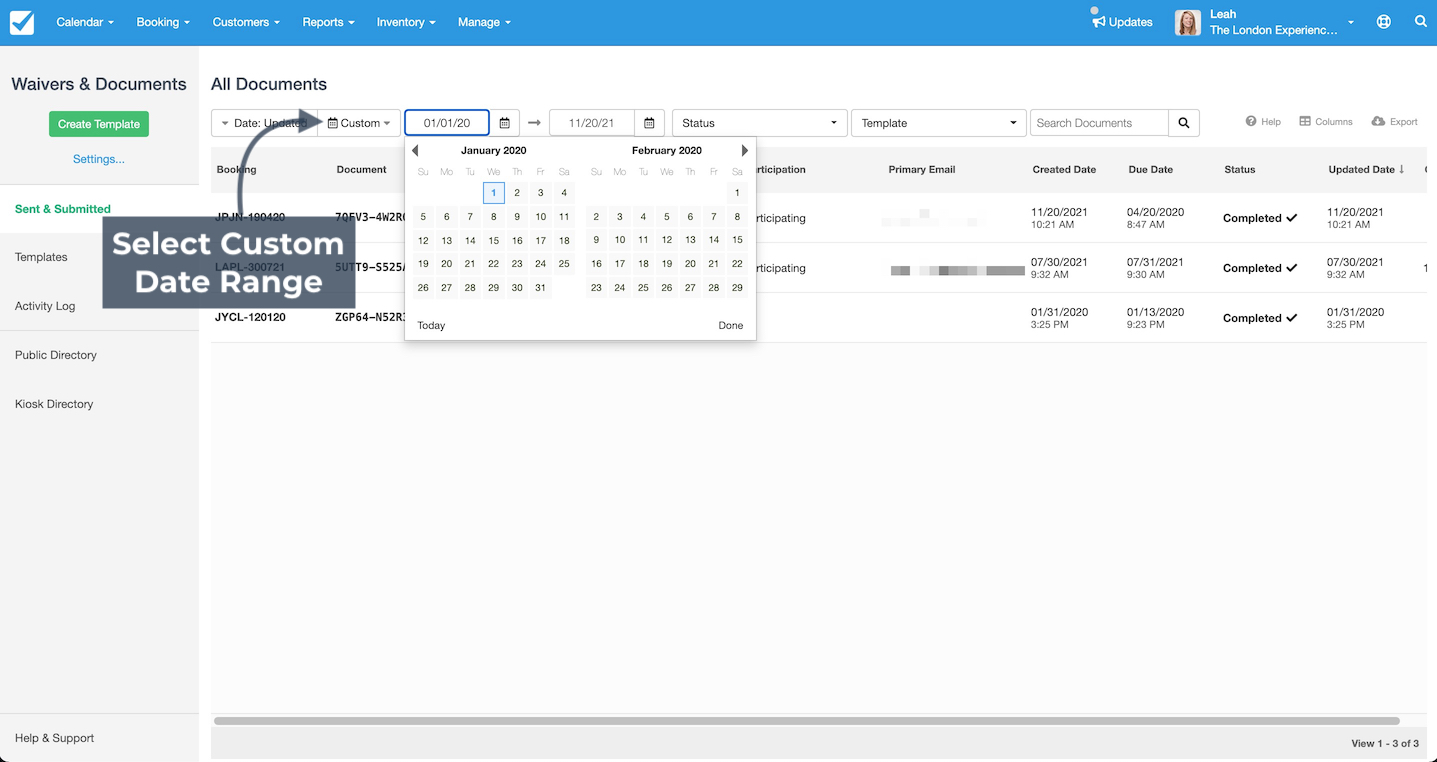 If you're looking for a more specific date range, then you can choose the Custom option and select a beginning and end date from the calendars supplied.
- Filtering by status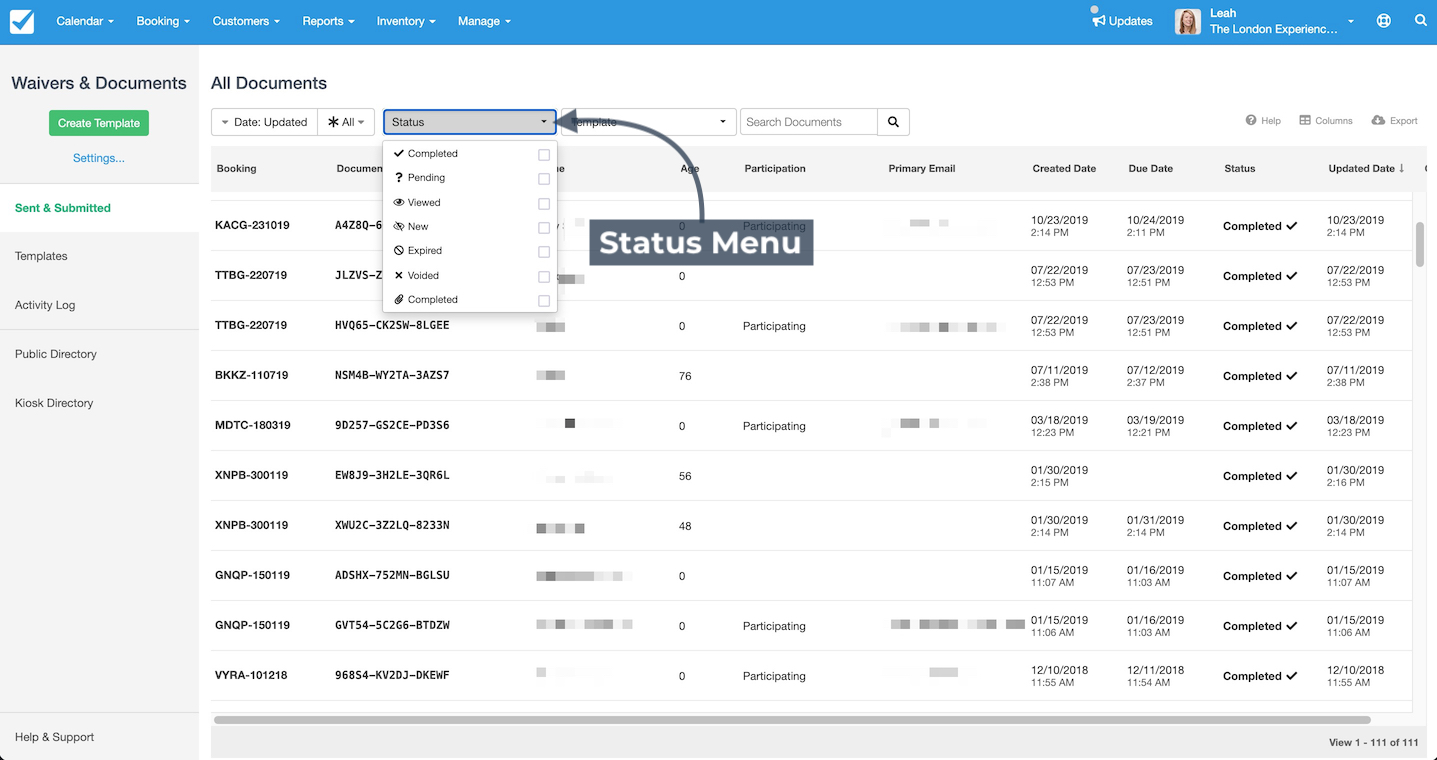 In addition to searching your documents by date, you can search by Status.
There are various statuses to choose from and all you need to do is check the box next to the required status. You can choose more than one status if you wish.
- Filtering by template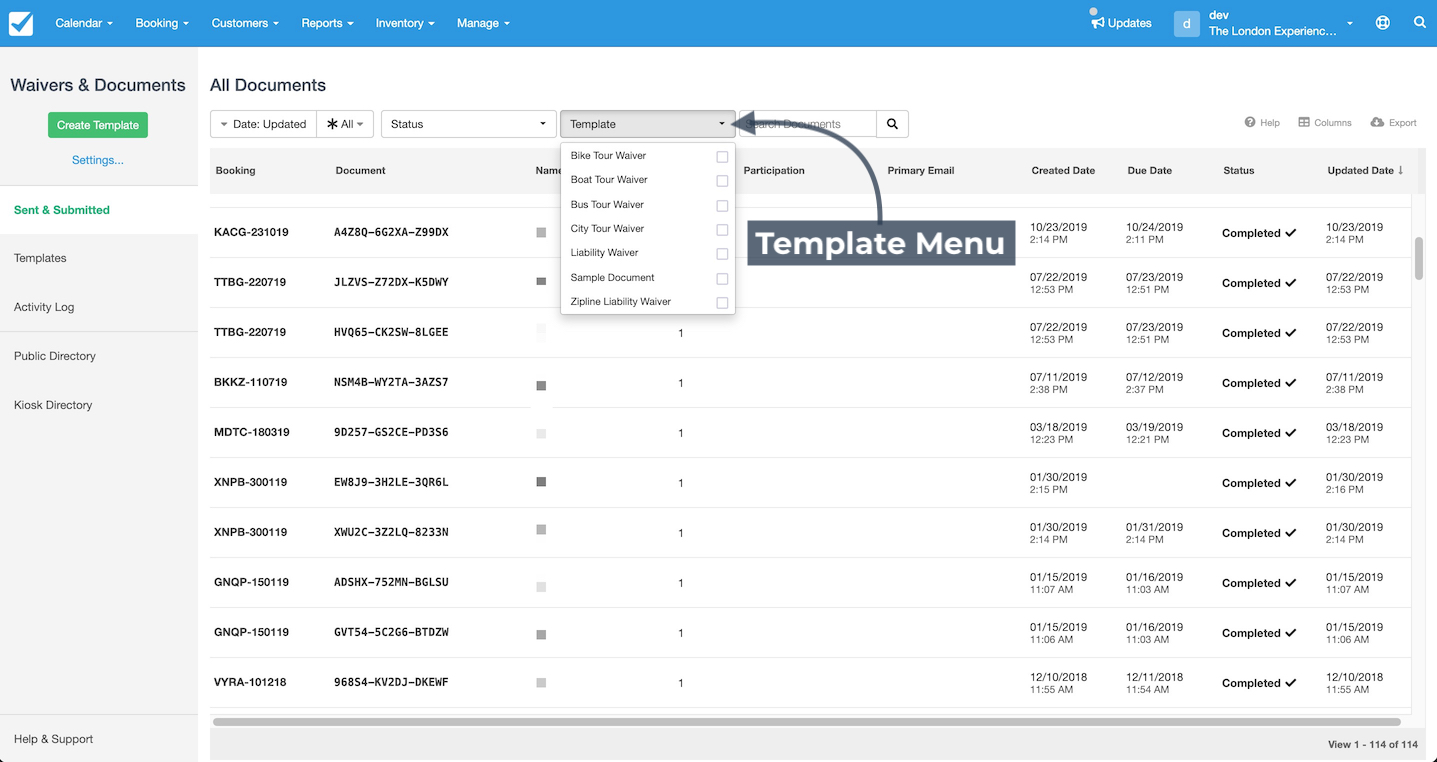 In the same way as searching by Status, you can also search by Template. Check the box next to the template you wish to search by. You can select more than one if you wish.
- Searching by keyword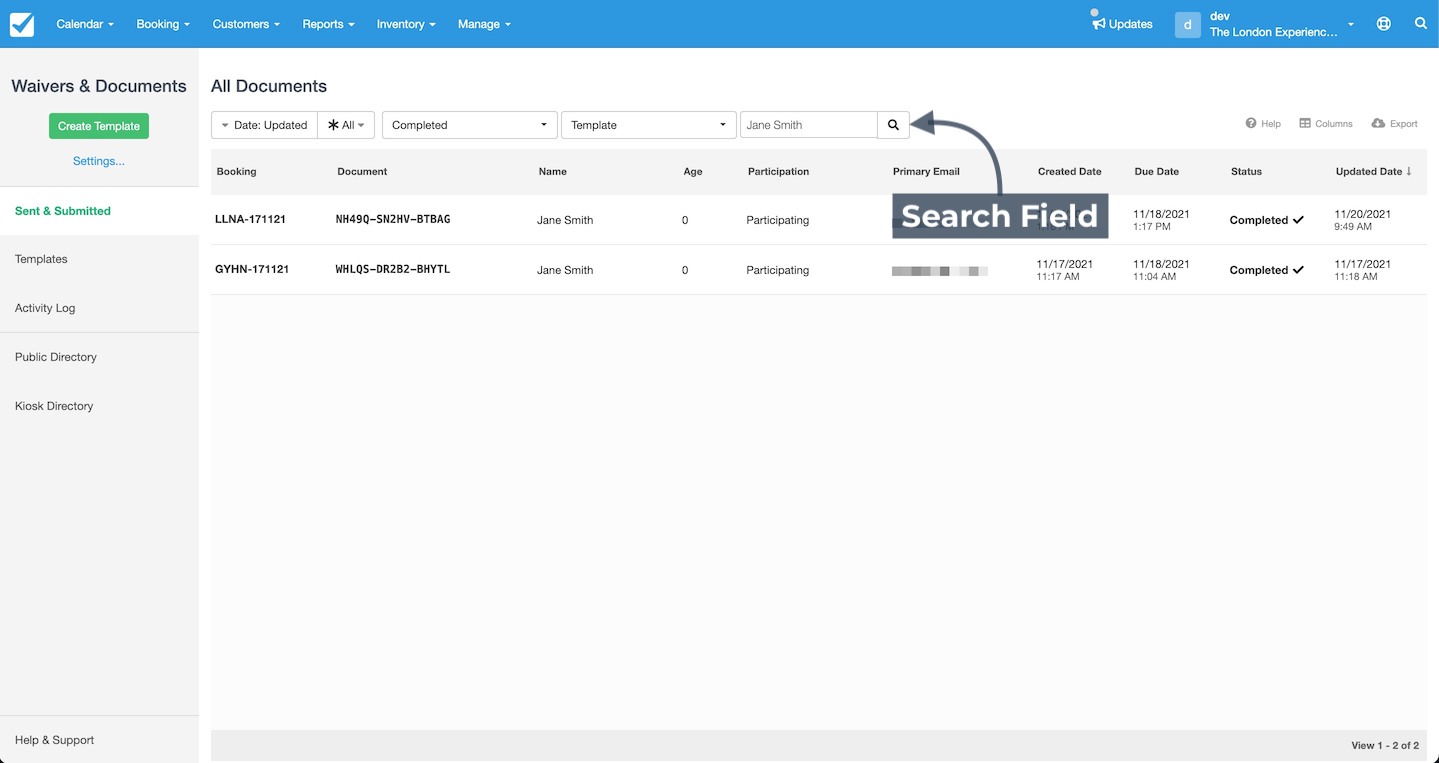 Finally, you can search for a specific document(s) by typing your search term into the field provided. In this example, we are looking for documents relating to the Customer Jane Smith.
Available search terms for documents include Name, Email, Booking ID, and Document ID.
How long are waivers/documents kept in the system?

Waivers are kept until you manually delete the document. They can be attached to bookings or stand on their own if a booking is deleted.
---
< Using the public document & kiosk directories | Working with sent and submitted waivers & documents >
---