---
Plan Availability: X Soho | X Pro | ✓ Plus | ✓ Enterprise | ✓ Flex |
Locate: Bookings > Waivers & Documents
Prerequisites:
A plan that includes Waivers & Documents.

Waivers enabled for your account (Integrations > Guest Management)

Admin permissions or restricted permissions to View Documents.
Waivers & Documents are available to those using items (Inventory > Items), a feature of our classic version of Checkfront.
Interested in using Waivers & Documents with products (Inventory > Products)? Your account must be a member of our

Early Access Program. Please reach out to

Checkfront Technical Support

to learn more.
---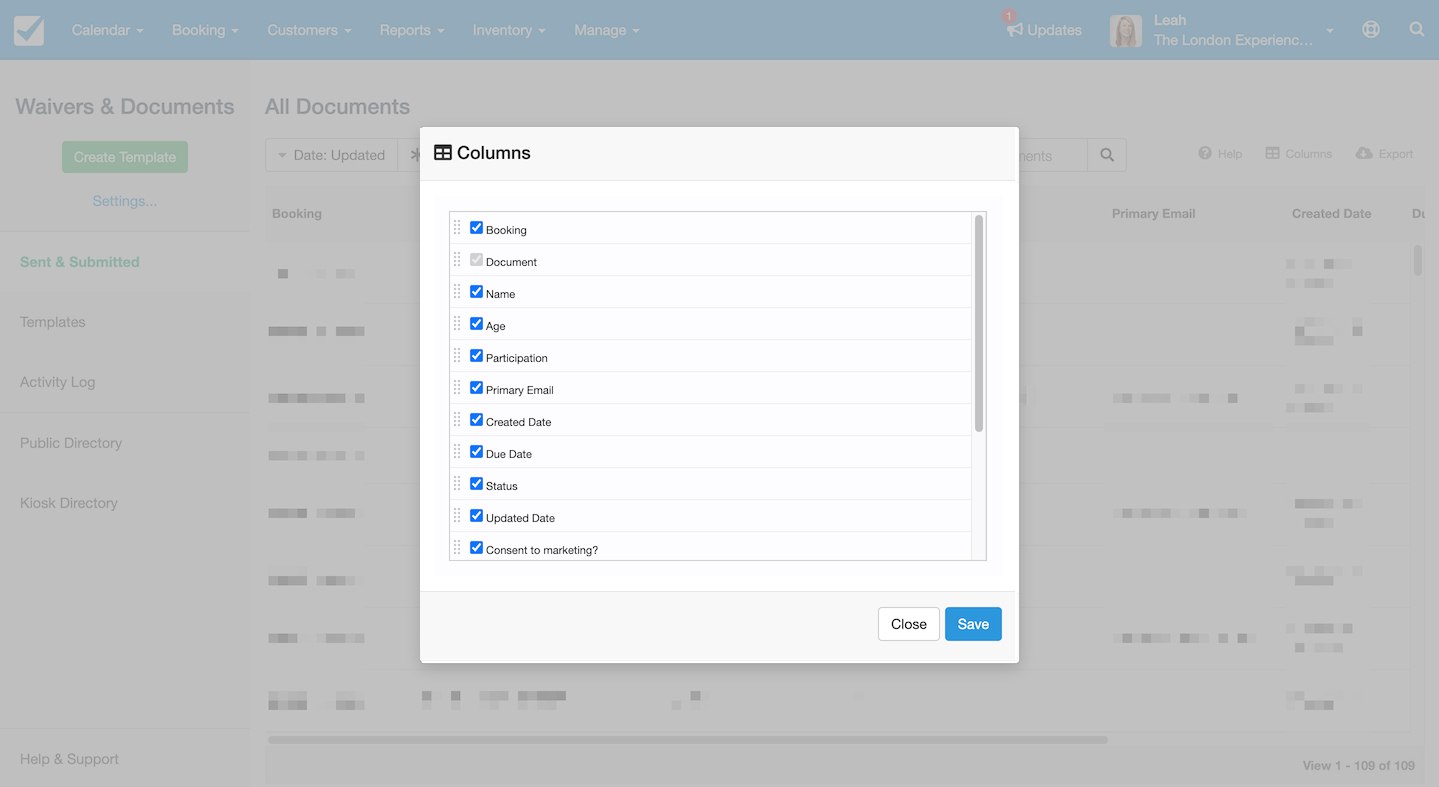 If you wish to customize the information displayed on the Waivers & Documents list, you can do so by adding, removing, or re-arranging the data Columns.
Click on the Columns link to get started. This opens the Columns edit window. Check the box next to each data field you wish to view. If you don't wish to see it, make sure it is unchecked.
Re-order the Columns by clicking on the pattern of dots to the left of each label and moving it up or down.
---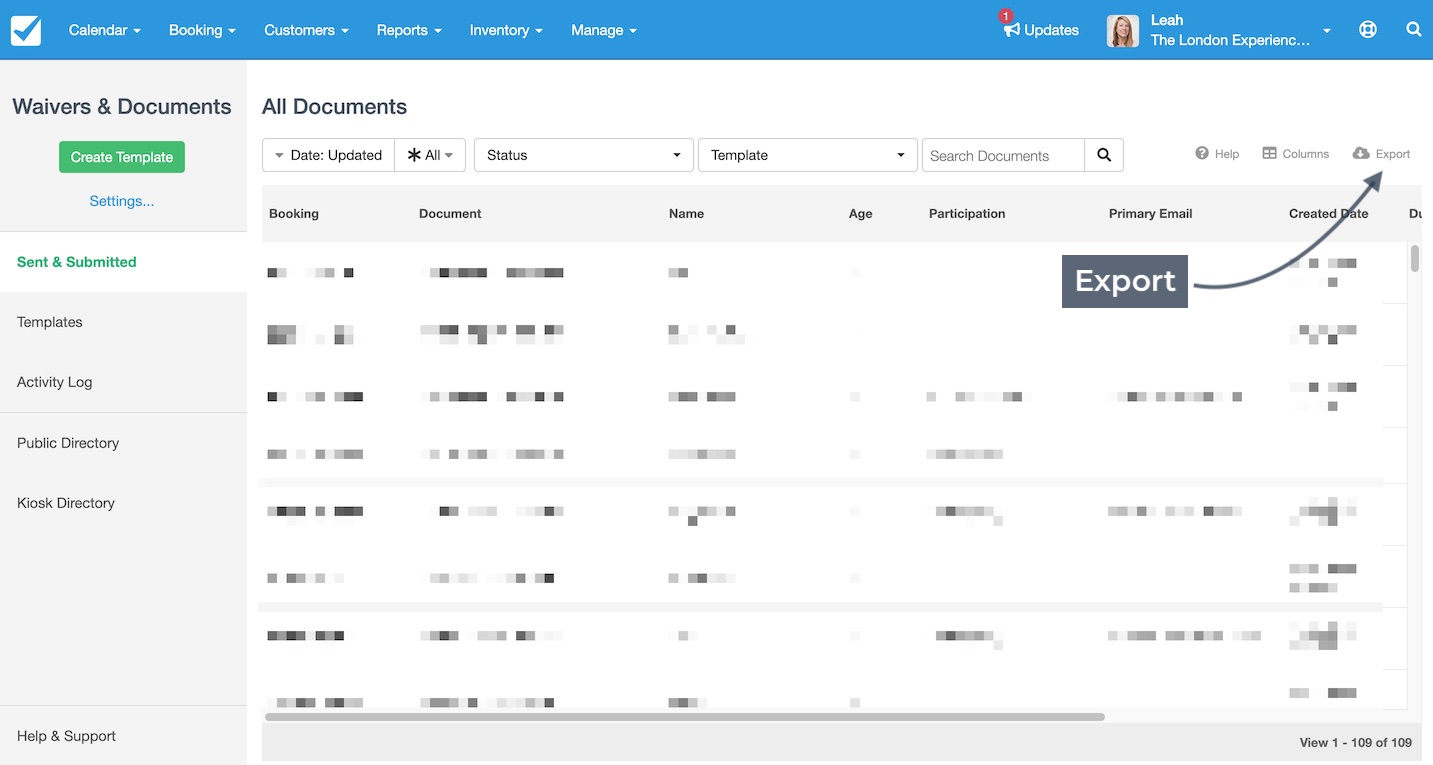 If you would like to export a copy of your Document Index, you can do so by clicking on the Export icon about the list of All Documents.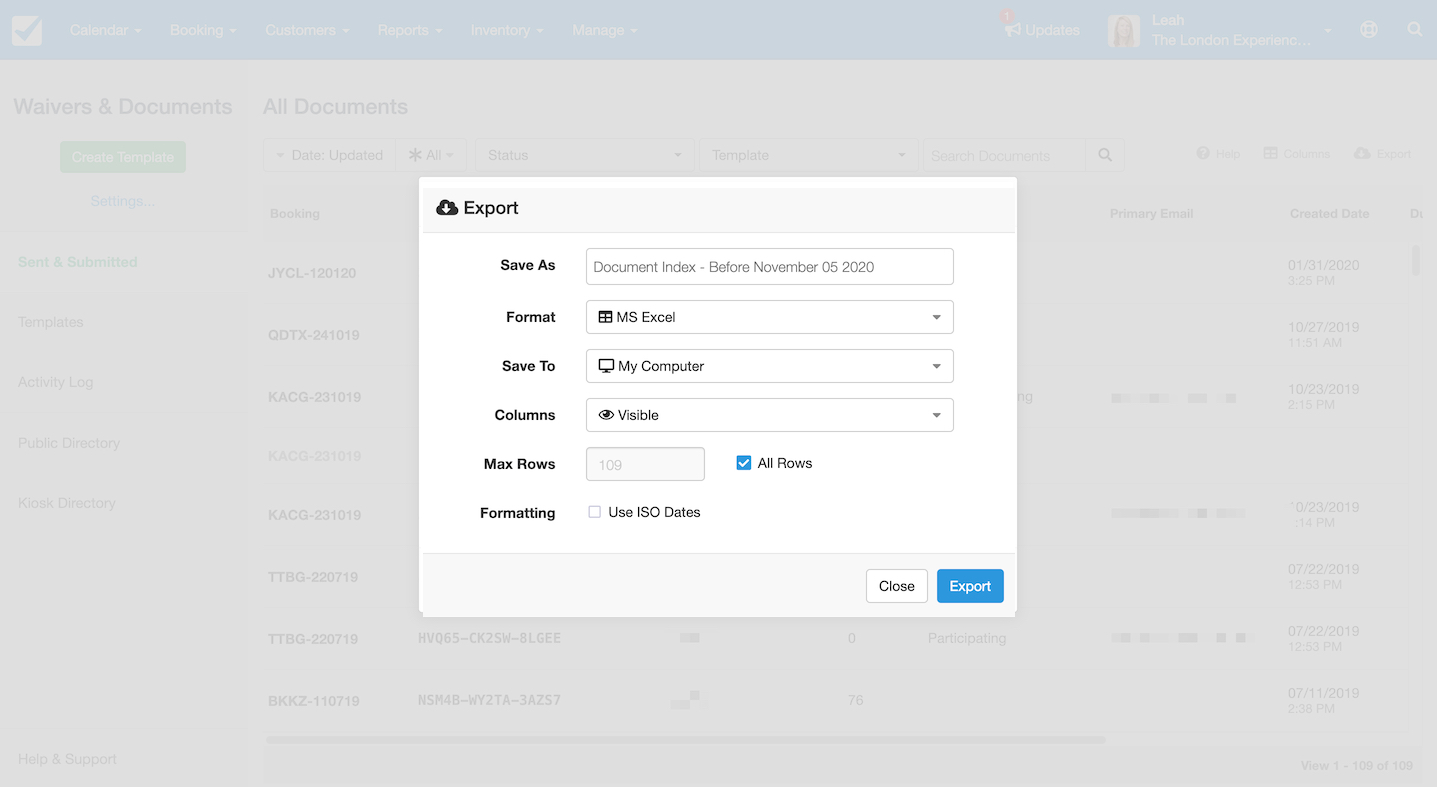 The Export modal allows you to choose your preferences for the file.
- Save As
Specify the name of the Export file. By default, the file name is Document Index appended by the applicable date range. You can edit the name of the file if needed by placing focus on the Save as field and entering the desired name.
- Format
Export report to MS Excel (XLSX), CSV (Comma-separated Value), PDF (Portable Document Format) or XML (eXtensible Markup Language).
- Save To
The report can be saved to your My Computer, Email, or Google Drive.
| | |
| --- | --- |
| | Emailed Exports are sent as links to the files securely hosted in Google Cloud Storage. |
- Columns
Choose to Export Visible columns or All columns (if there are columns that you have chosen to hide in the online report view).
- Max Rows
Choose to limit the maximum number of rows to Export (Max Rows) or Export All Rows.
- Formatting
Use ISO Dates allows you to choose the format of dates within the Export.
When selected, you see the format YYYY-DD-MM, for example, 2020-06-09.

When not selected, you see the format as configured with the Date Format setting (Manage > Setup > Locale).
---
< Waivers & Documents: Searching for Documents | Waivers & Documents: Activity Log >
---