---
Learn how to use the Xero integration, as well as view frequently asked questions.
Are you new to Xero? Read the first article in this series for an introduction to the Xero integration.
---
Which plans include this feature?
Legacy:  Soho, Pro, Plus, Enterprise, Flex
New:  Starter, Growth (Subscription), Growth (Per Booking), Managed
→ Learn more about our new plans or how to change your plan.

Where can I find this feature using the top menu?
Manage > Integrations > Accounting > Xero


What more do I need to use this feature?
Admin permissions to Manage your account and Integrations.
Your account must have access to items (Inventory > Items), a key feature of our classic version of

 

Checkfront. 


Enable Two Factor Authentication

Xero requires all Checkfront & Xero users to set up Two-Factor Authentication (2FA) to bring Checkfront into compliance with mandated security protocols.

To continue using the Xero integration, you must enable 2FA on your Checkfront accounts by February 14, 2023, or you will be instructed to set up 2FA upon your next log-in. 

Instructions for enabling 2FA can be found here.

Questions? We're here to help. Contact us.
Which Checkfront version supports this feature - classic, new or both?
Your account must have access to items (Inventory > Items), a key feature of our classic version of Checkfront. 
This feature is not available for use with products (Inventory > Products), a key feature of our newest version of Checkfront. → Learn more about products
---
Once the Xero integration is successfully activated and linked to your Checkfront account, it should pretty much take care of itself. If you create an invoice or update a payment in Checkfront, the changes automatically update in Xero.
Once a partial or full payment is applied, the Xero invoice can no longer be edited.

For example, if an item/product is added to an invoice in Checkfront, the edit does not sync with Xero, as the Xero invoice is locked.

If a partial payment is applied, the status in Xero changes to 'Awaiting Payment'. Once the booking is fully paid, the invoice changes to 'Paid'.
Xero doesn't currently support refunds to applied payments on invoices. You need to log in to Xero and cancel the payment.

Once payments are cancelled (or if no payments are applied), you can VOID or CANCEL the booking in Checkfront, and it VOIDs or DELETEs the invoice in Xero.
The Customer must fill in the system Name or Email Booking Form field for the booking to sync to Xero successfully.

If that information is missing, Staff need to manually add the information for the booking to sync.
Overriding the default account code in Xero (Items only)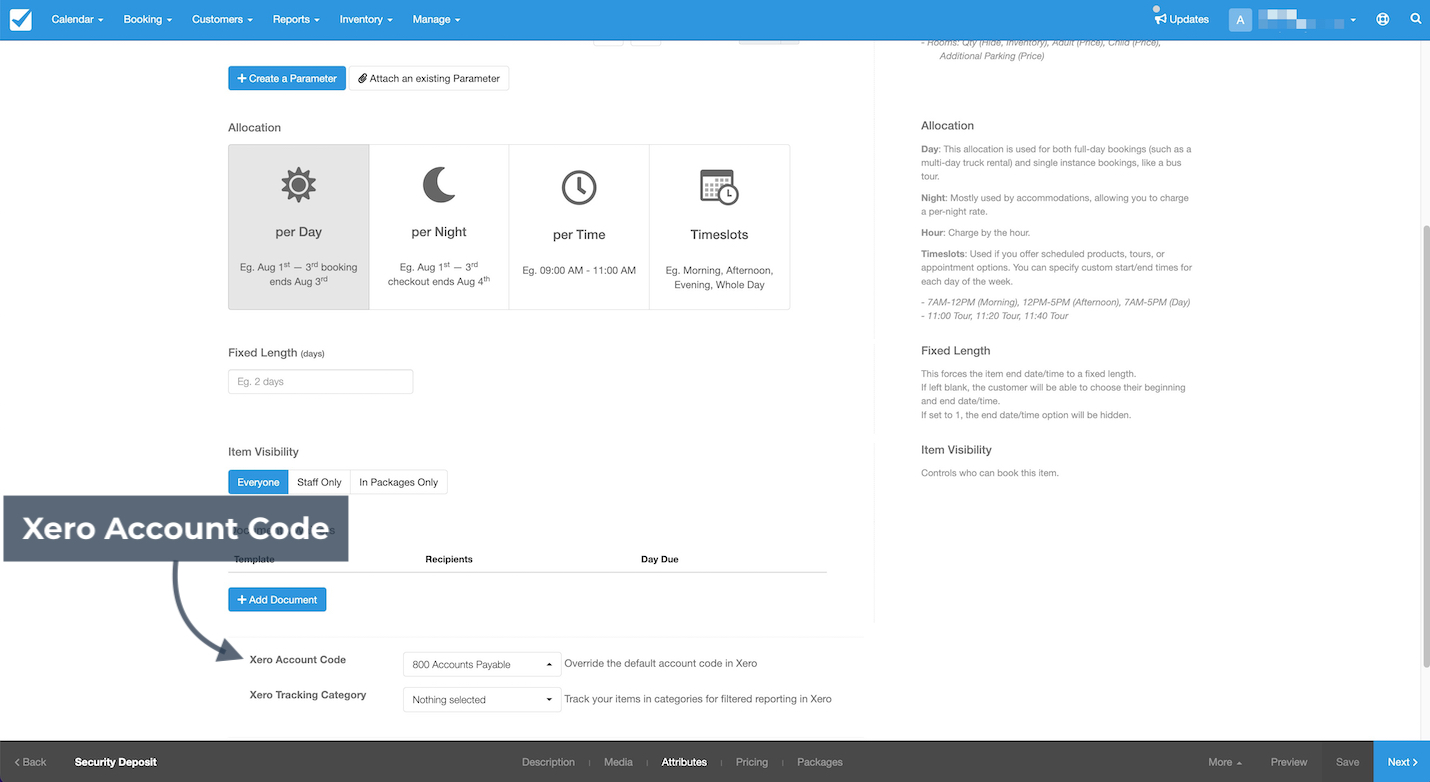 | | |
| --- | --- |
| | Xero override settings on a per-product basis are not currently supported with products. |
If you don't use the same revenue account for all your items, it is possible to override the default setting on a per-item basis.
To do this, open the item's Attributes tab (Inventory > Items). You see a field for the Xero Account Code just above the Advanced Options, and you can make the new account selection here.
A tax item can be added in Xero to sync with multiple taxes set up in Checkfront.

Note that Xero only supports one tax item. However, as long as any taxes/fees are expressed as percentages (%) in Checkfront, there can be multiple components to the tax item in Xero to match what is in Checkfront.

Find out more about adding, editing, or deleting tax rates in Xero here:
---
I've activated the integration, but I'm not seeing any information in Xero?

Please check your Account Activity log (Reports > Account Activity) for errors or via the Log tab while viewing a booking.



Do my Customers get two invoices, one from Checkfront and one from Xero?

Xero does not automatically email invoices or receipts. You have to do this manually from within Xero if needed.



What happens if a contact already exists in Xero for a new booking?

Checkfront tries to find an existing contact based on the email address and uses that first before creating a new one.



Can we supply different Xero account codes based on the items booked?

Yes. See the Attributes tab in the item setup to supply a different account code for that item.



When a Customer uses a Gift Certificate to make a payment, does that get synchronized with Xero?

Currently, payments with Gift Certificates are not synced to the Xero invoice. This is because the payment for the Gift Certificate has already been accounted for, and we want to let you decide how best to handle and track payments made with them.



We are transitioning to Xero Online Accounting, can we sync past Checkfront bookings with Xero automatically?


No, you cannot sync past bookings with Xero automatically. Find more information about importing Customer Invoices within Xero's online Support Center.



How is data transferred to Xero?

When a booking is made, the price, item/product names, and dates are sent to Xero, and an invoice is created.

The price Checkfront sends to Xero does not include taxes. Instead, Xero automatically calculates taxes based on the taxes set up for that Sales account.

An invoice code is then sent back to Checkfront, and we tie it to the booking. Afterwards, if a supported adjustment is made to the booking, that information along with the code is sent to Xero and the invoice is updated to reflect the change.



Can I connect multiple Checkfront accounts to the same Xero account?


Yes, you can log into your existing Xero account from multiple Checkfront accounts using the normal setup with no additional steps.


---
< Setting up Xero Online Accounting
---