---
Plan Availability: ✓ Soho | ✓ Pro | ✓ Plus | ✓ Enterprise | ✓ Flex |
Locate: Reports > Booking Index
Prerequisites: Admin permissions or restricted permissions to View all reports (or the Booking Index) and Export Reports.
---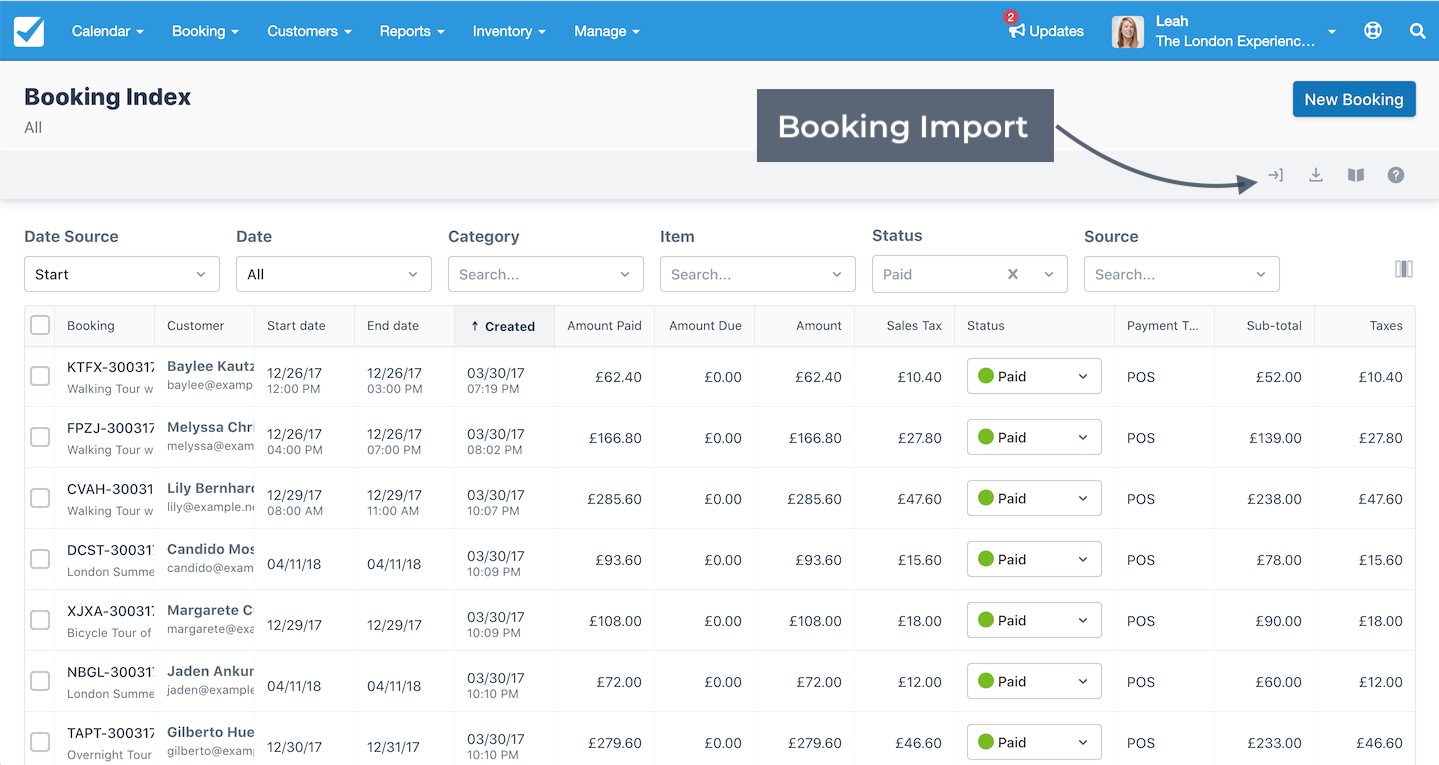 Access our Booking Import feature by clicking on the Import option at the top-right of the page.
From there, you can Download our Template to help you prepare your data for upload. Choose the CSV file for upload and then Submit your file for validation and import!
Each row in the CSV file corresponds to one booking and requires an Item ID/SKU, Start Date, and Customer Name.
Importing bookings automatically creates and assigns Customer Profiles to the Customers associated with the bookings.
| | |
| --- | --- |
| | Learn more about Importing bookings and Customer account management here... |
---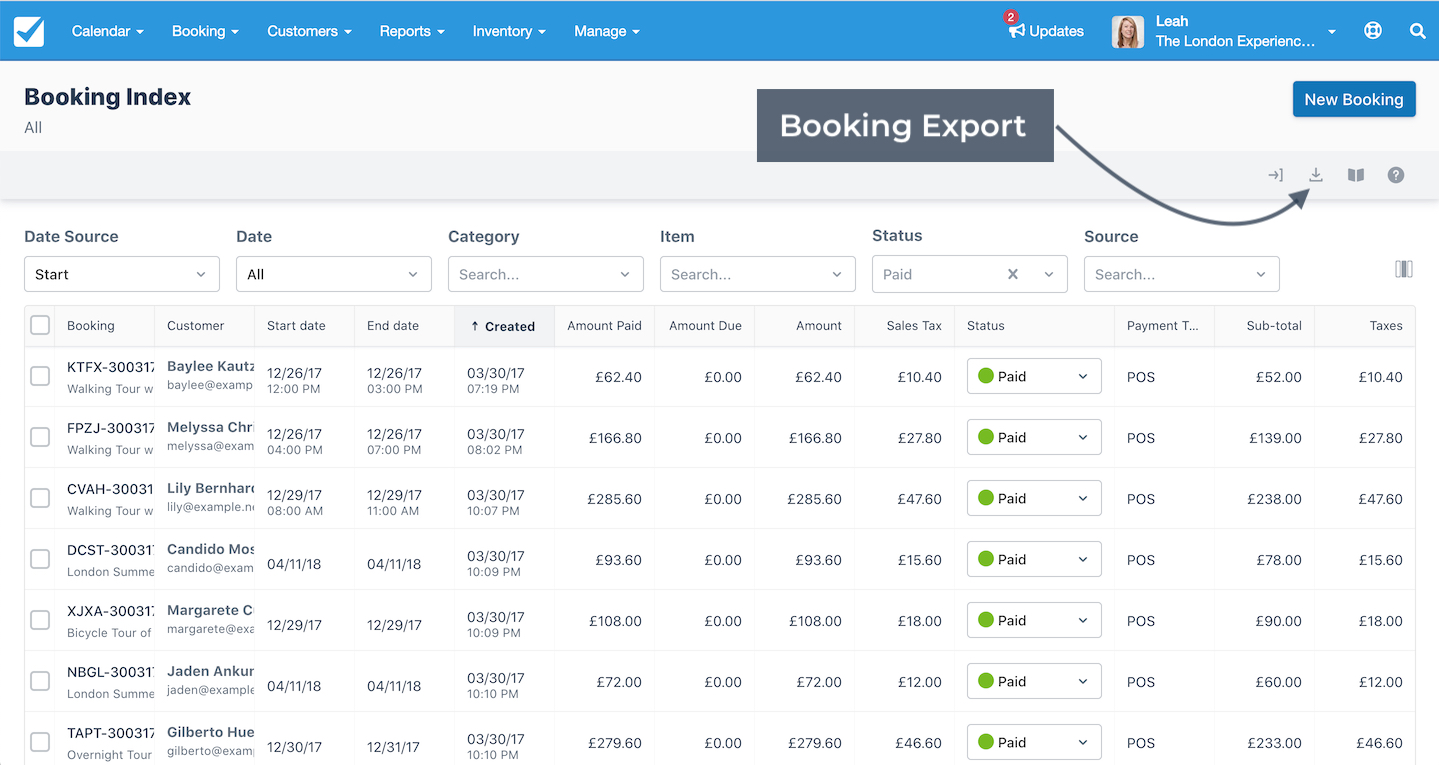 Start the Export process from the icon at the top-right of the page.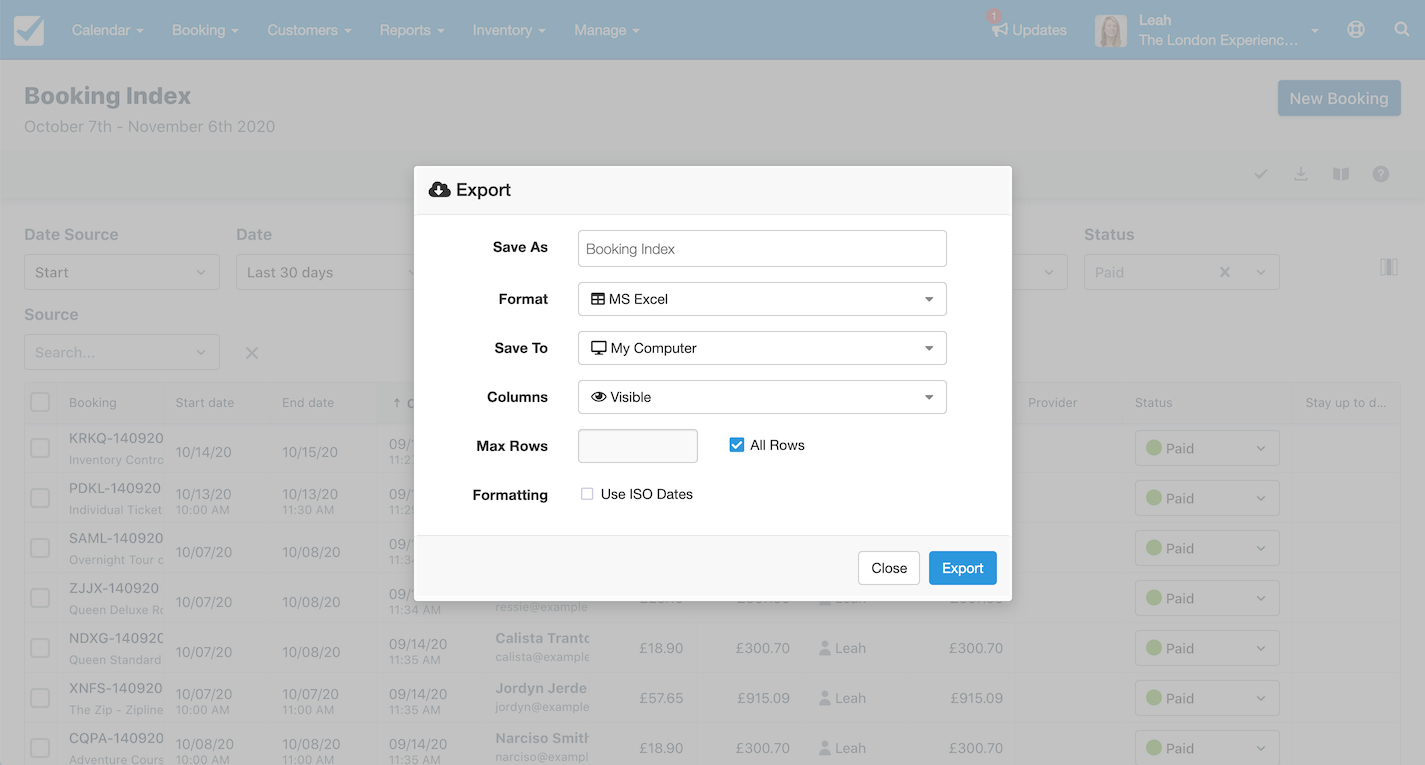 The Export modal allows you to choose your preferences for the file Exports.
- Save As
Specify the name of the Export file. By default, the file name will include the name of the report, plus the applicable date range. You can edit the name of the file if needed by placing focus on the Save as field and entering the desired name.
- Format
Export report to MS Excel (XLSX), CSV (Comma-separated Value), PDF (Portable Document Format) or XML (eXtensible Markup Language).
- Save To
The report can be saved to your My Computer, Email, or Google Drive.
- Columns
Choose to export Visible columns or All columns (if there are columns that you have chosen to hide in the online report view).
- Max Rows
Choose to limit the maximum number of rows to export (Max Rows) or export All Rows.
- Formatting
Use ISO Dates allows you to choose the format of dates within the Export.
When selected, you see the format YYYY-DD-MM, for example, 2020-06-09.

When not selected, you see the format as configured with the Date Format setting (Manage > Setup > Locale).
---
< Booking Index: Filters | Booking Index: Booklet >
---