---
Plan Availability: X Soho | X Pro | ✓ Plus | ✓ Enterprise | ✓ Flex |
Locate: Waiver or Document
Prerequisites:
Subscriptions to the appropriate plan (see plan availability above).
The Waivers & Documents feature is available to both those using items (Inventory > Items), a key feature of our classic version of

Checkfront, and those using products (Inventory > Products), a key feature of our newest version

of

Checkfront.
New to Checkfront - Products ✨

Products (Inventory > Products) is the successor feature to (Inventory > Items) and is available in our newest version of Checkfront.

Not yet on our newest version and interested in upgrading? Please contact our Technical Support team for more information.

Discover more product-related help articles here: Products (New).
In this article, we walk through the experience of filling out the document. In addition, we cover the options where the Booker can share or email the document to other Participants.
New to Waivers & Documents? Be sure to read the first article in this series for an introduction to this feature!
Please read the full series of articles, accessed at the side and bottom of this page, to learn more about Waivers & Documents.
---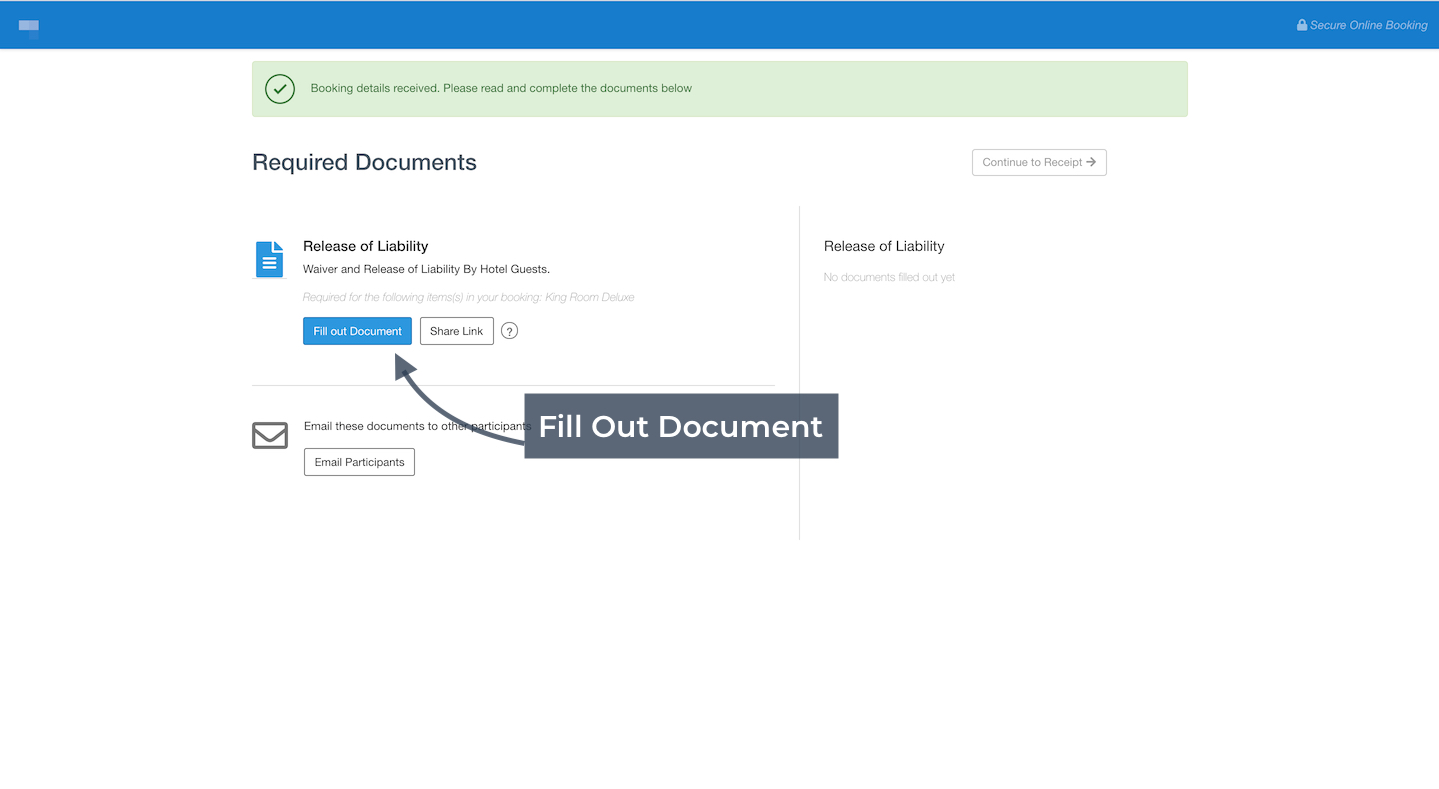 After the Booker completes the Payment step of the booking process, they are taken to the Required Documents page. From here they can click on the Fill out Document button to start the process of filling out and signing the document.
The Booker also has the option to return to this step when they finish filling out their document so that they can fill out more documents, share them with, or email them to others!
If the Booker chooses to continue to the receipt, then instead of filling out the document, they are given a warning and the option to Fill out Now or Continue and fill out the document later.
---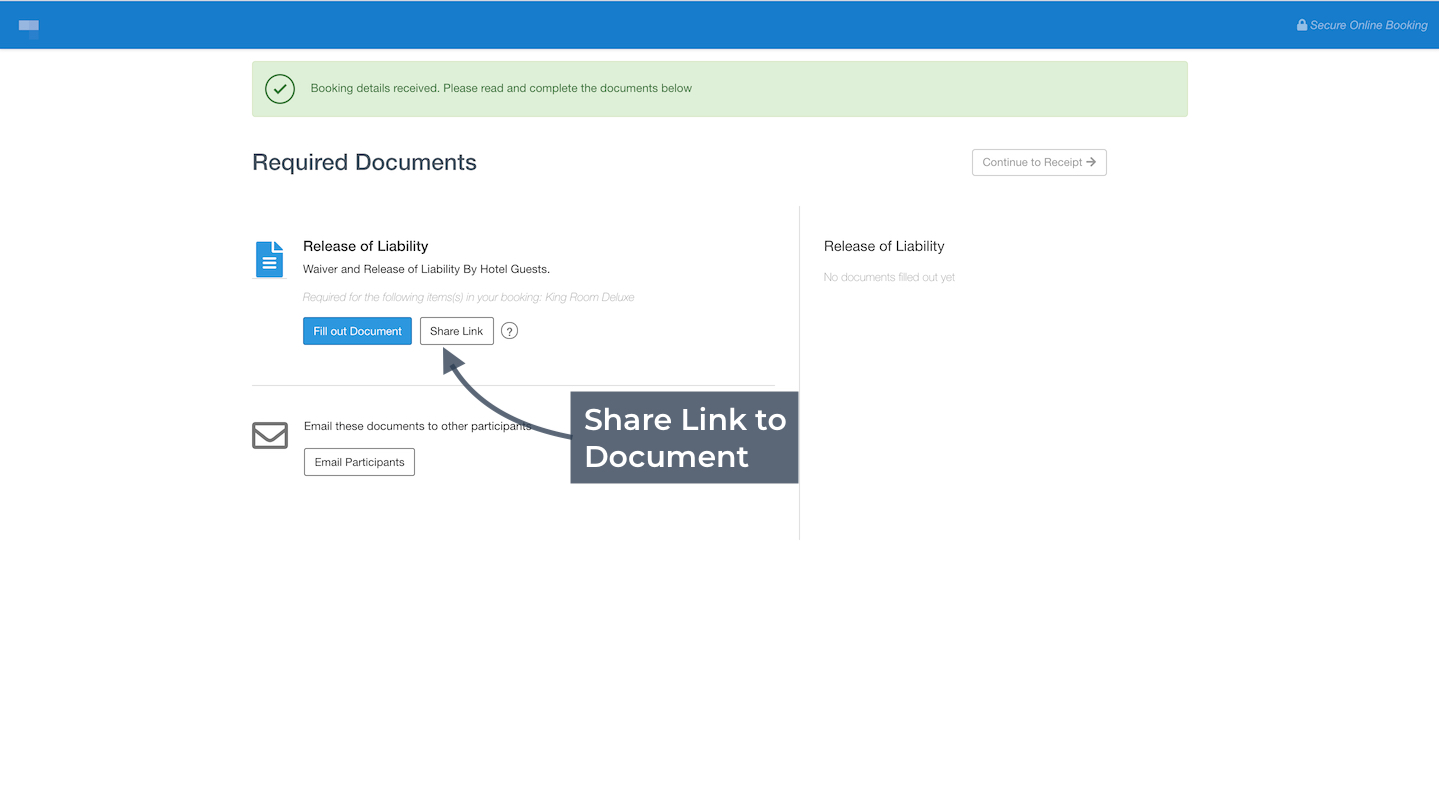 The Share Link button opens the option to Copy a private URL to share with others via their preferred method of communication.
Clicking on the private URL opens the document in a browser window, ready to fill out and sign.
---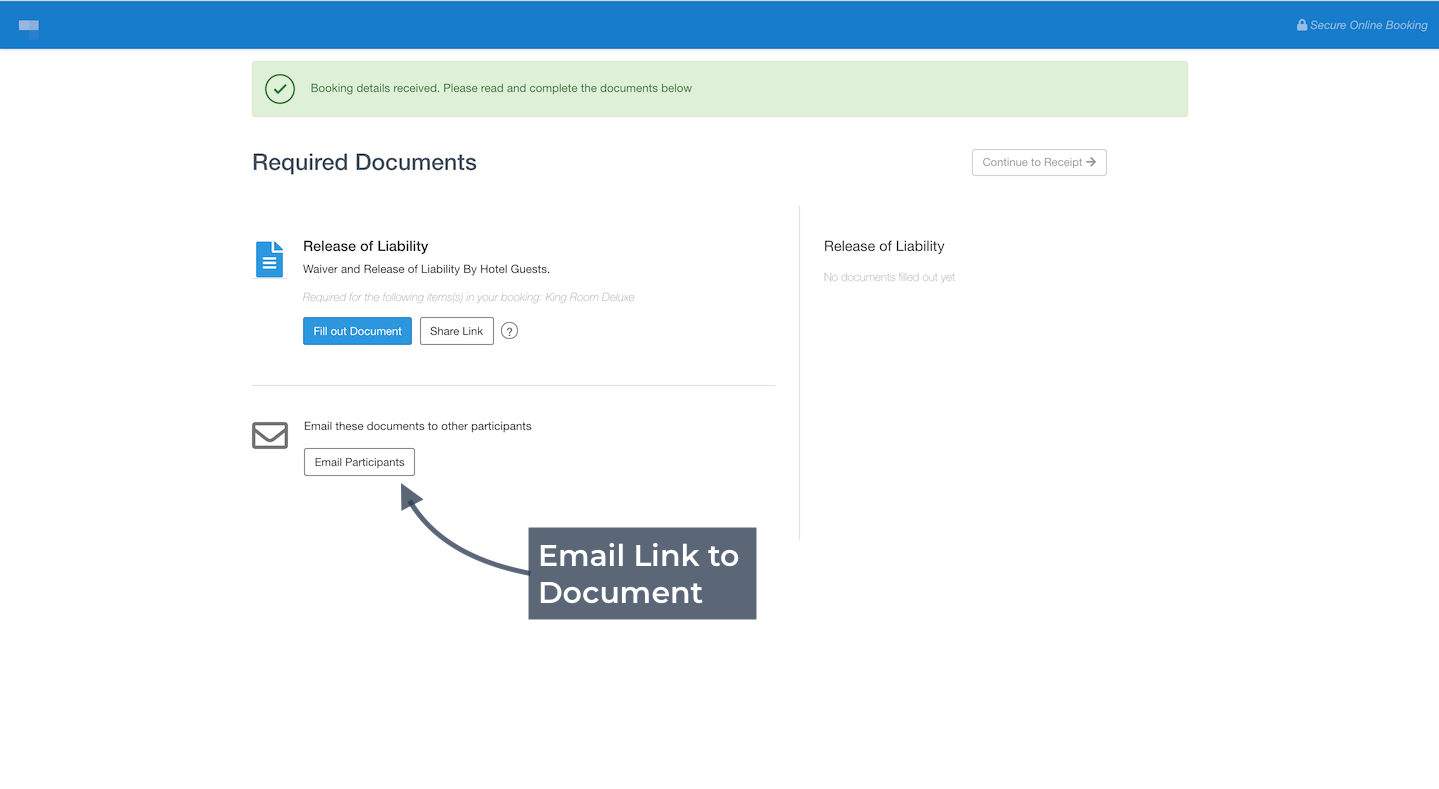 The Email Participants button opens the option to email the listed documents to other Participants.
The Booker then needs to provide the Name and Email address of each Participant and select the documents to Send. There is an option to + Add as many Participants as needed.
---
< Disabling waiver & document templates | Signing waivers & documents >
---