---
Learn how to configure general and notification settings for waivers and documents.
New to Waivers & Documents? Read the first article in this series for an introduction to Waivers & Documents.
---
Which plans include this feature?
Legacy:  Soho*, Plus, Enterprise, Flex
New:  Starter**, Growth (Subscription), Growth (Per Booking), Managed
*A 14-day trial of the waivers add-on is available to those on the legacy Soho plan.
**Starter plans include one active waiver template.
→ Learn more about our new plans or how to change your plan.

Where can I find this feature using the top menu?
Bookings > Waivers & Documents > Settings


What more do I need to use this feature?
Which Checkfront version supports this feature - classic, new or both?
This feature is available in both our classic version using items (Inventory > Items) and our newest version using products (Inventory > Products).  → Learn more about products
---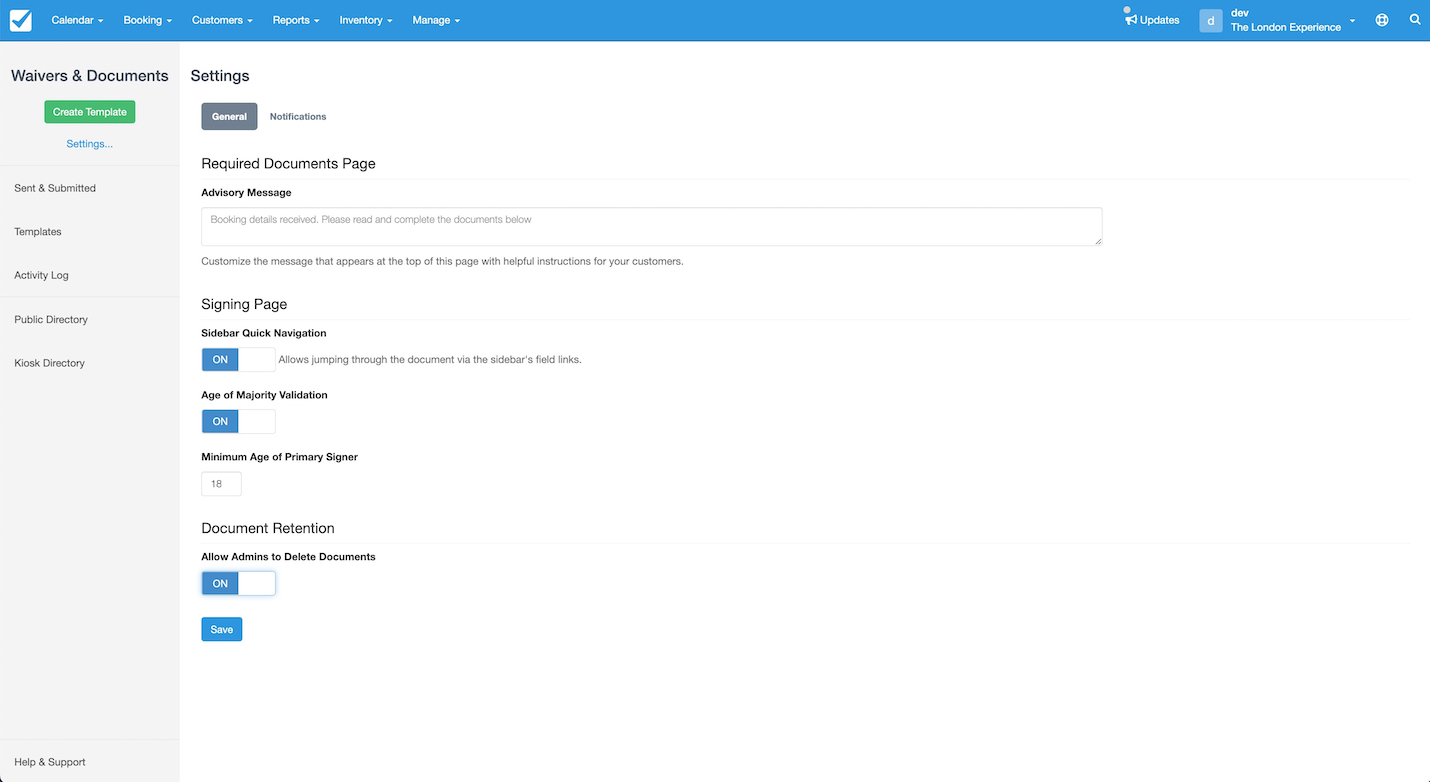 There are a few general settings available in the documents feature.
Required Documents Page
You can customize the Advisory Message at the top of the Required Documents Page.
You can use this area to give your Guests any helpful instructions you might have.
Signing Page
There are two settings you can configure for the signing page.
Sidebar Quick Navigation
This setting refers to the right sidebar visible when a Guest is filling out and signing a document.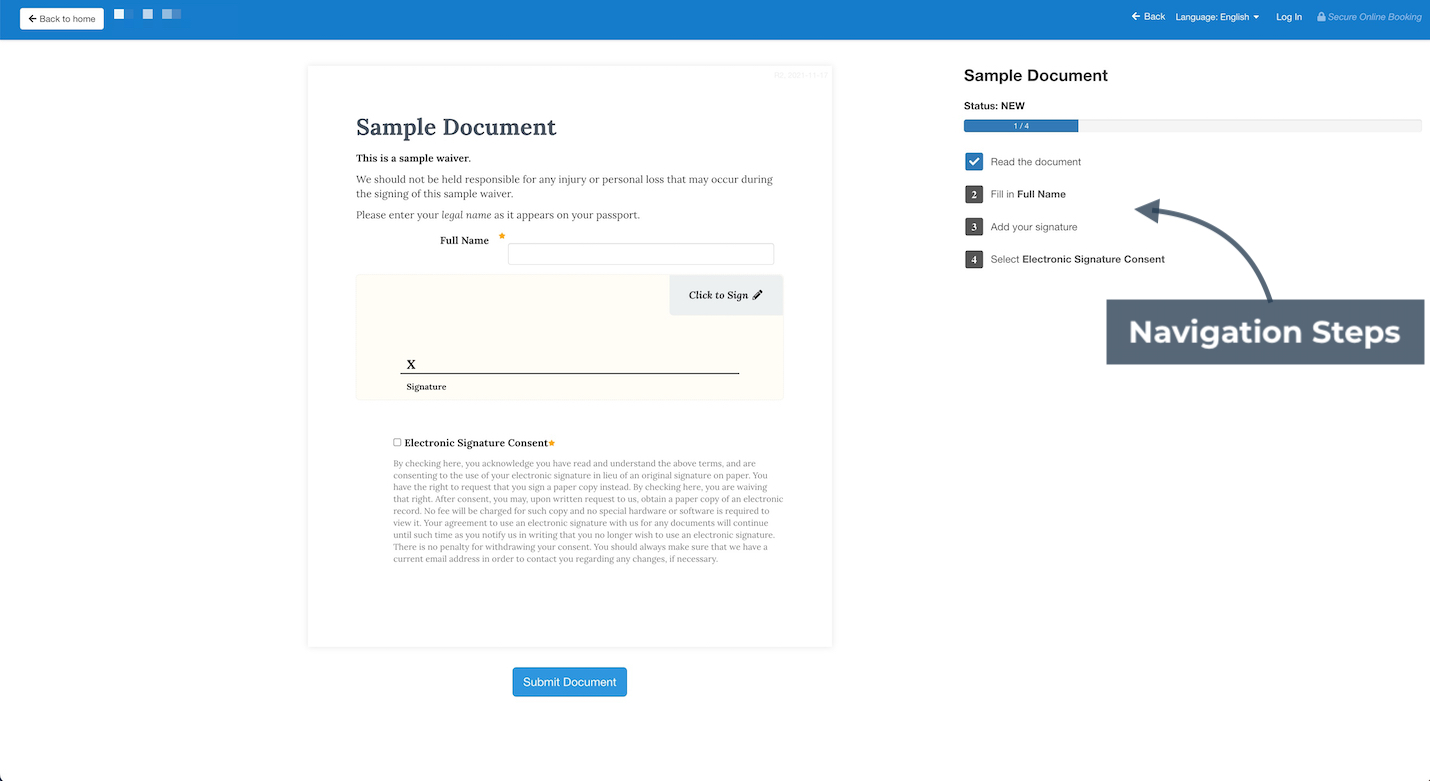 If this setting is turned on, the Guest can jump to a step later than the current one by clicking on it in the list, as shown above.
If turned off, however, this functionality is removed, and the Guest must fill out the fields in order.  
Age of Majority Validation
With this option turned on and when including the Date of Birth field type, the system checks the participant's date of birth against the minimum age you specified.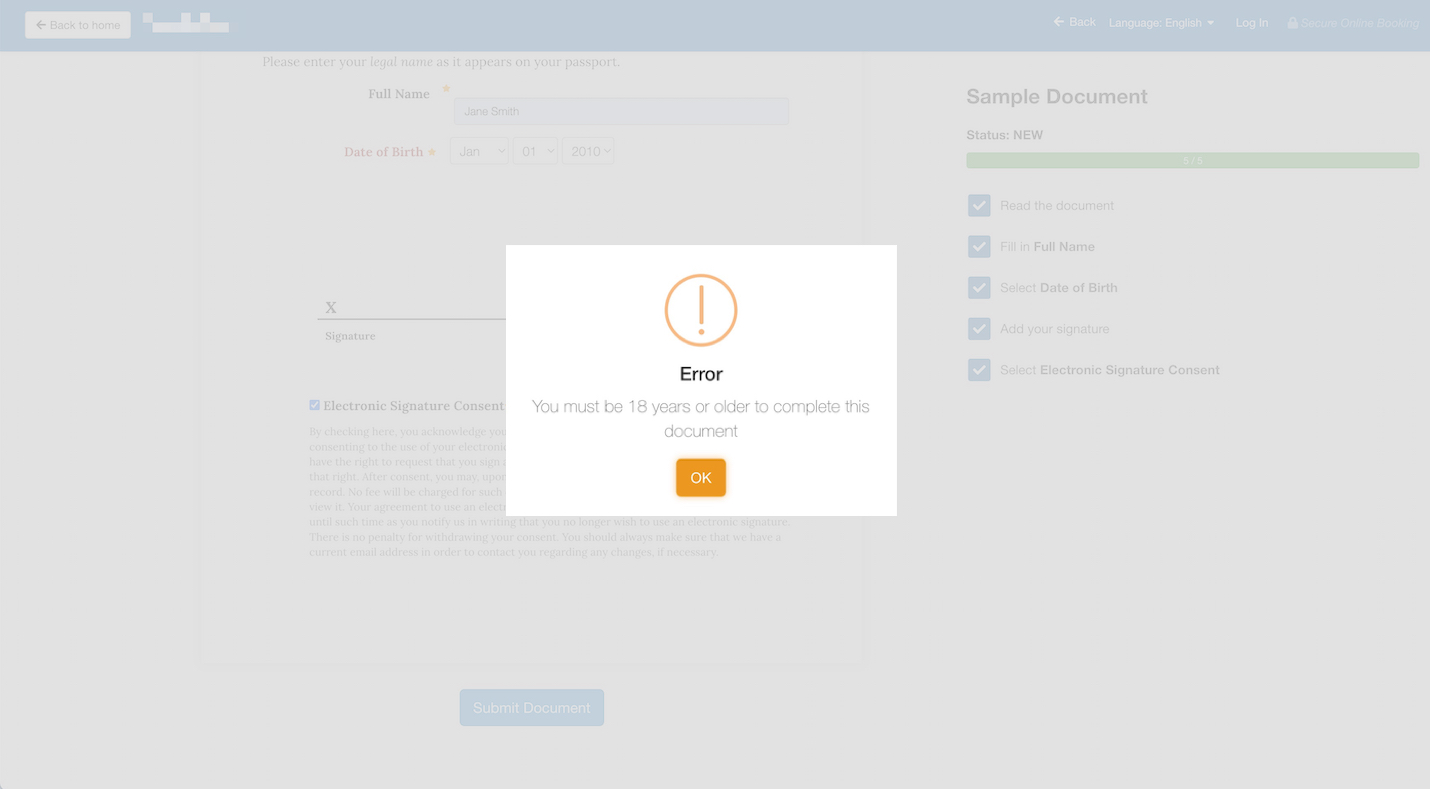 If they are not of age, the submit button is disabled, and the Guest is advised that they are not old enough to complete the document.
If you add a Minor's Section to your waiver, you can collect the minor's information in addition to the primary signature of the adult on the booking.

With a Minor's Section, the minor's age is recorded in your system and is not rejected by the system if the child is underage.
| | |
| --- | --- |
| | Learn more about adding a Minor's Section to waivers here: |
Document Retention
There are two settings you can configure for the signing page.  
Allow Admins to Delete Documents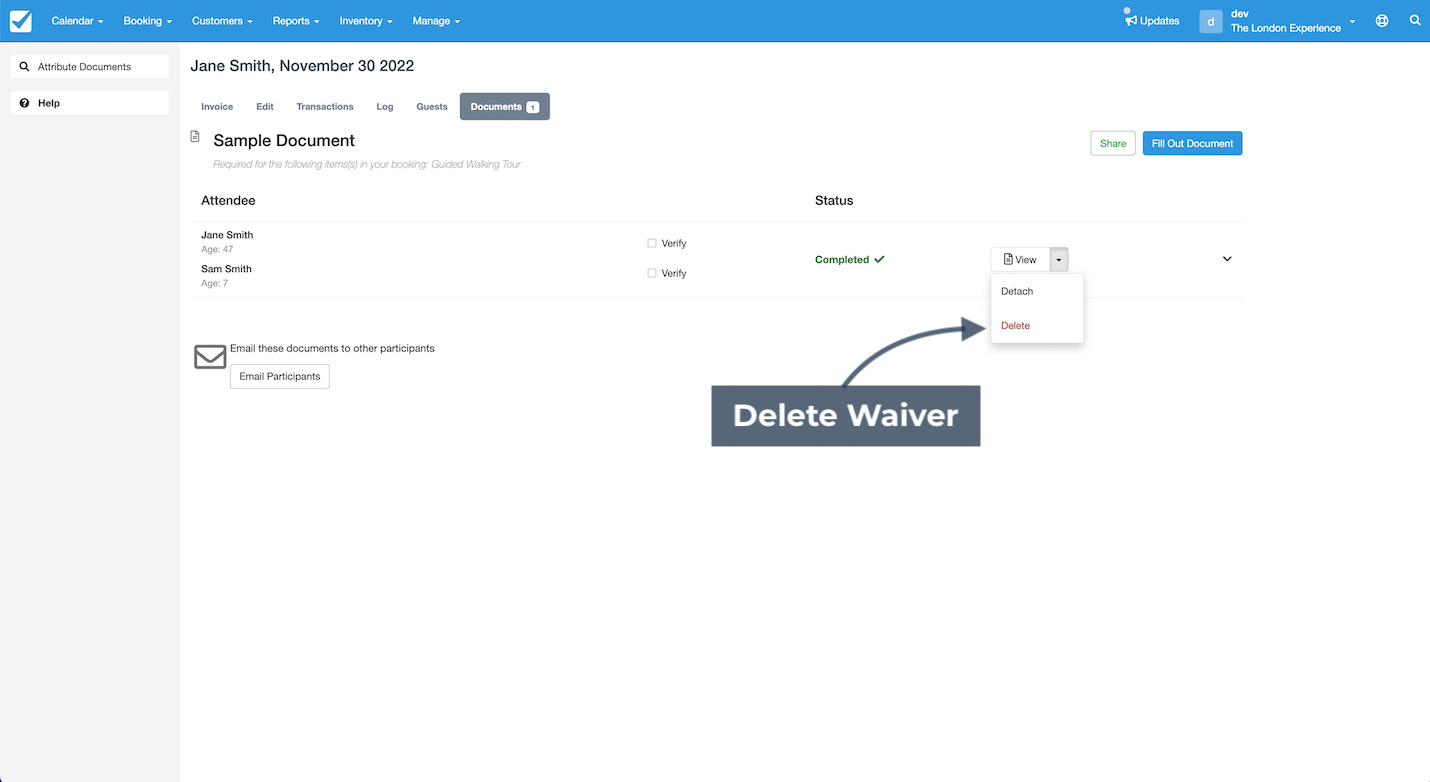 If you'd like to allow account Admins to delete documents from the system, turn this option on.
Once activated, you can delete the document via the dropdown menu in an invoice's Documents tab, as seen above, or when purging records via the Customer Directory.
Upload New Documents to Google Drive
Use this setting to upload documents to Google Drive. If you have the Google Drive integration active in your account, this setting becomes available.  
When a Guest completes a document, it is automatically uploaded to your Google Drive account.
---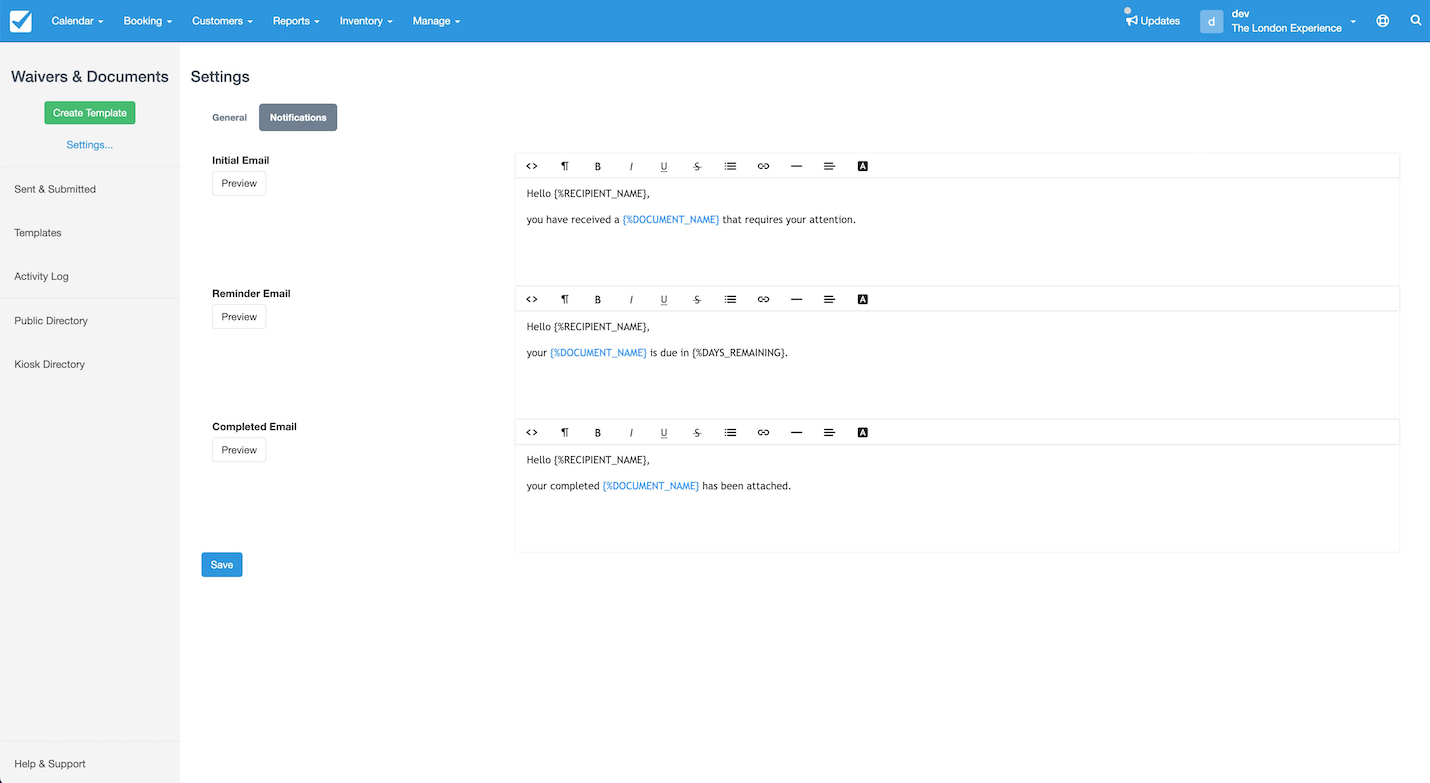 Notifications are the emails that go out to your Guests when they need to fill out a document. There's an Initial Email, a Reminder Email (if you've configured that), and a Completed Email.  
You can edit these templates as you'd like; however, click Save at the bottom before leaving the screen.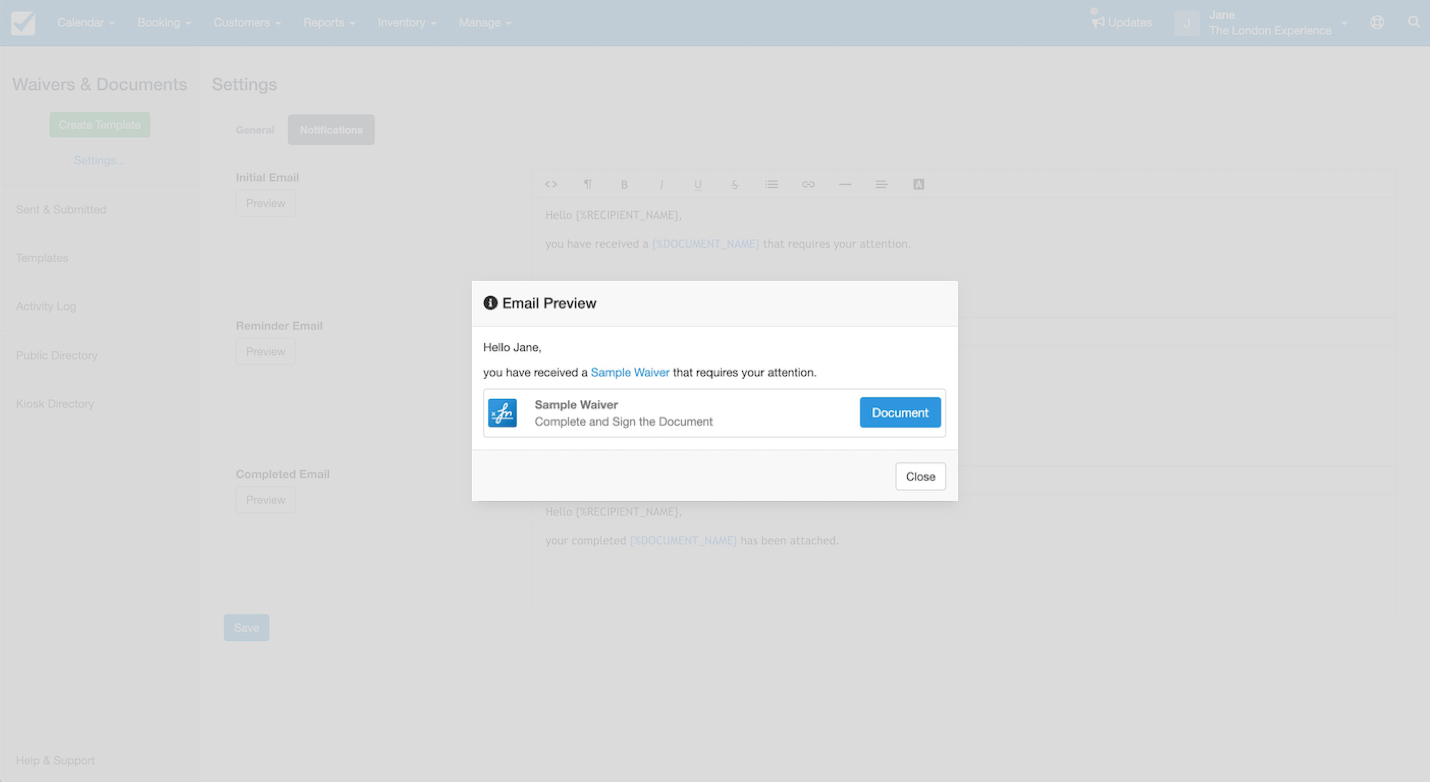 Clicking the Preview button next to each notification gives you an idea of how the email looks to the Guest.
| | |
| --- | --- |
| | If the Waivers & Documents integration is disabled, waiver notifications are not sent to Guests. |
---
< Creating Waivers & Documents templates (configuration)     |     Previewing Waivers & Documents >
---