---
Learn how to activate and authorize the Xero integration and how to configure settings, use discounts, and connect multiple Checkfront accounts.
Are you new to Xero Online Accounting? Start by reading the first article in this series for an introduction to the Xero integration.
---
Which plan do you need to use this feature?
✓ Soho | ✓ Pro | ✓ Plus | ✓ Enterprise | ✓ Flex |


Where can I find this feature using the top menu?
Manage > Integrations > Accounting > Xero


What prerequisites are there?
Admin permissions to Manage your account and Integrations.
Your account must have access to items (Inventory > Items), a key feature of our classic version of

Checkfront.


Enable Two Factor Authentication

Xero requires all Checkfront & Xero users to set up Two-Factor Authentication (2FA) to bring Checkfront into compliance with mandated security protocols.

To continue using the Xero integration, you must enable 2FA on your Checkfront accounts by February 14, 2023, or you will be instructed to set up 2FA upon your next log-in.

Instructions for enabling 2FA can be found here.

Questions? We're here to help. Contact us.
Which Checkfront version supports this feature - classic, new, or both?
This integration is not yet supported with products (Inventory > Products), a key feature of our newest version of

Checkfront.
New to Checkfront - Products ✨

Products (Inventory > Products) is the successor feature to (Inventory > Items) and is available in our newest version of Checkfront.

Not yet on our newest version and interested in upgrading? Please contact our Technical Support team for more information.

Discover more product-related help articles here: Products (New).
---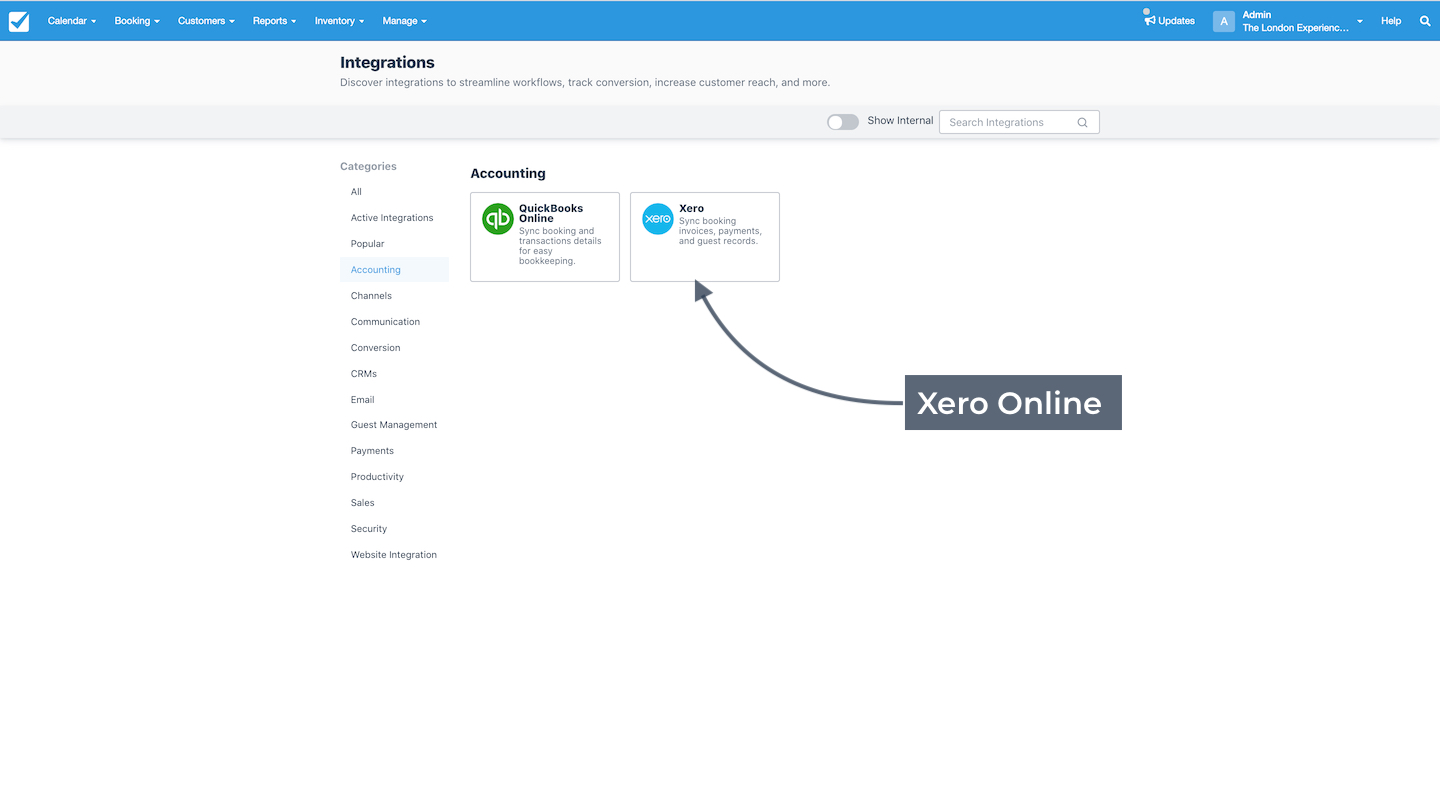 Once you're logged in to Xero, sign in to Checkfront and navigate to the Integrations area (Manage > Integrations). From there, a list of available integrations displays.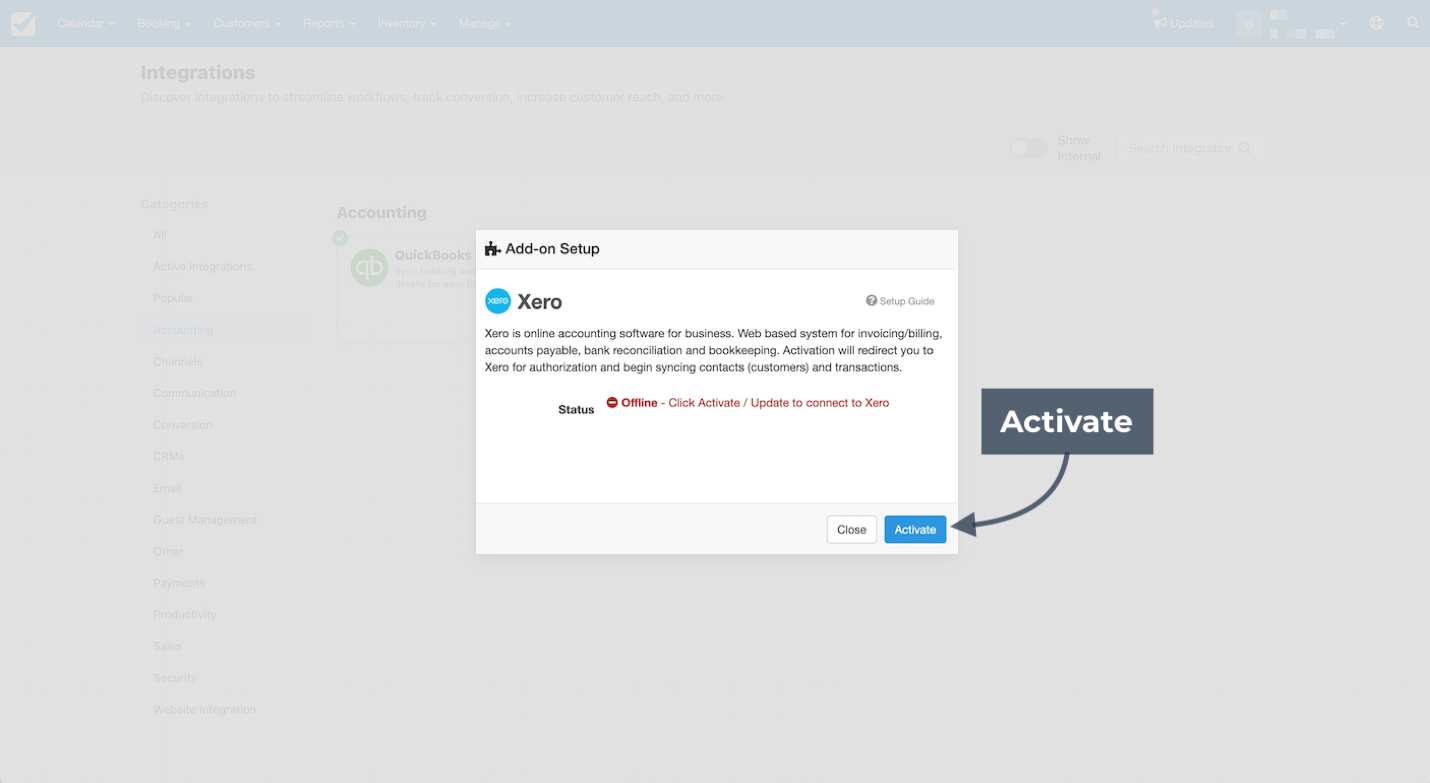 Select the Xero tile from the Accounting category and then click on the blue Activate button to connect with Xero.
---
Authorizing the connection between accounts
Back to top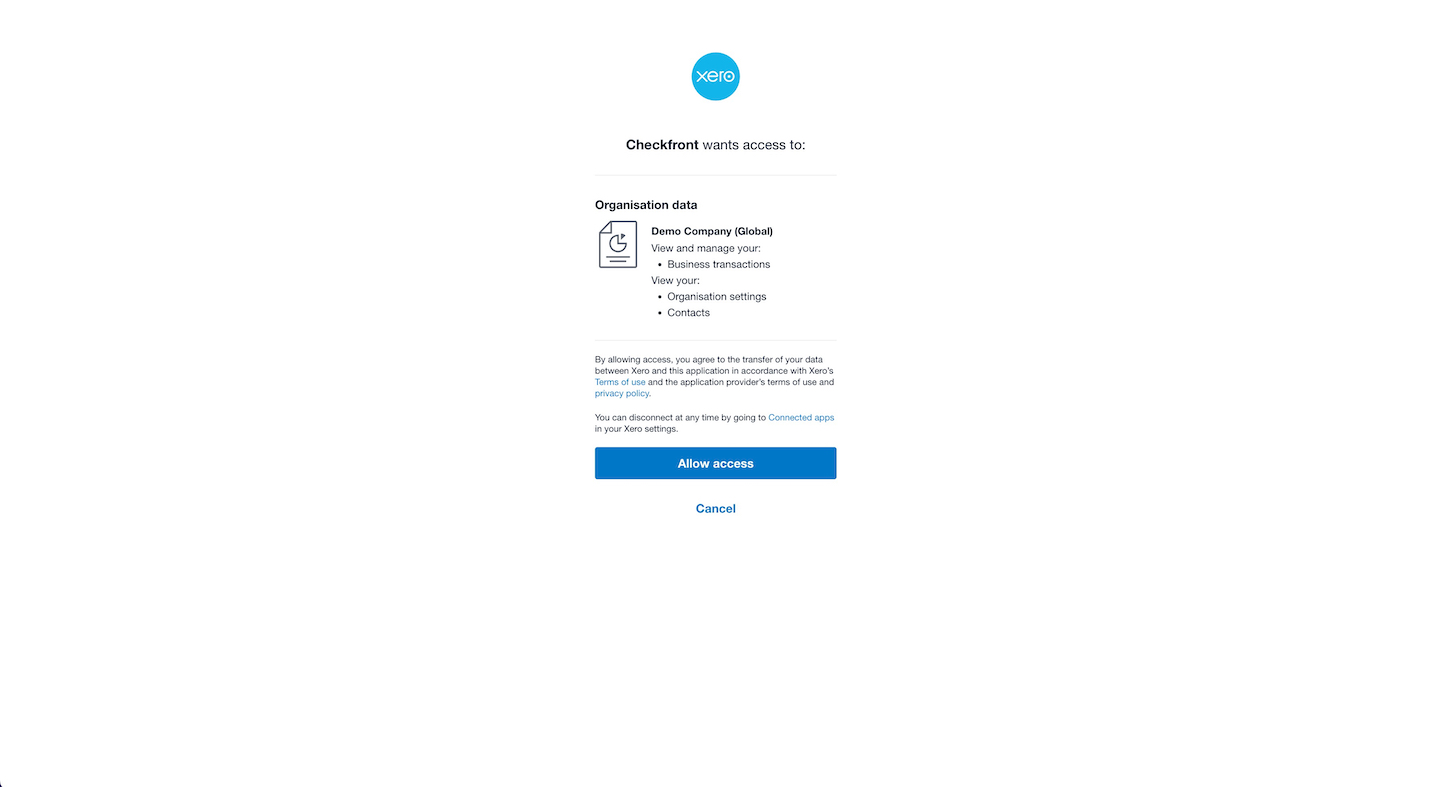 At that point, you need to authorize the connection between your accounts. Click on the blue Allow access button to continue.
If you still need to log into Xero (or sign up for an account), you are asked to do so now; otherwise, you need to allow Checkfront to access your organization's data in Xero.
If you have multiple organizations, then you are given the option to choose the one you want to use.
Once authorized, you are returned to Checkfront, where you can go ahead and configure your Xero settings.
| | |
| --- | --- |
| | Need an account with Xero? You can sign up for a 30-day trial or from the Xero store during the activation process. |
---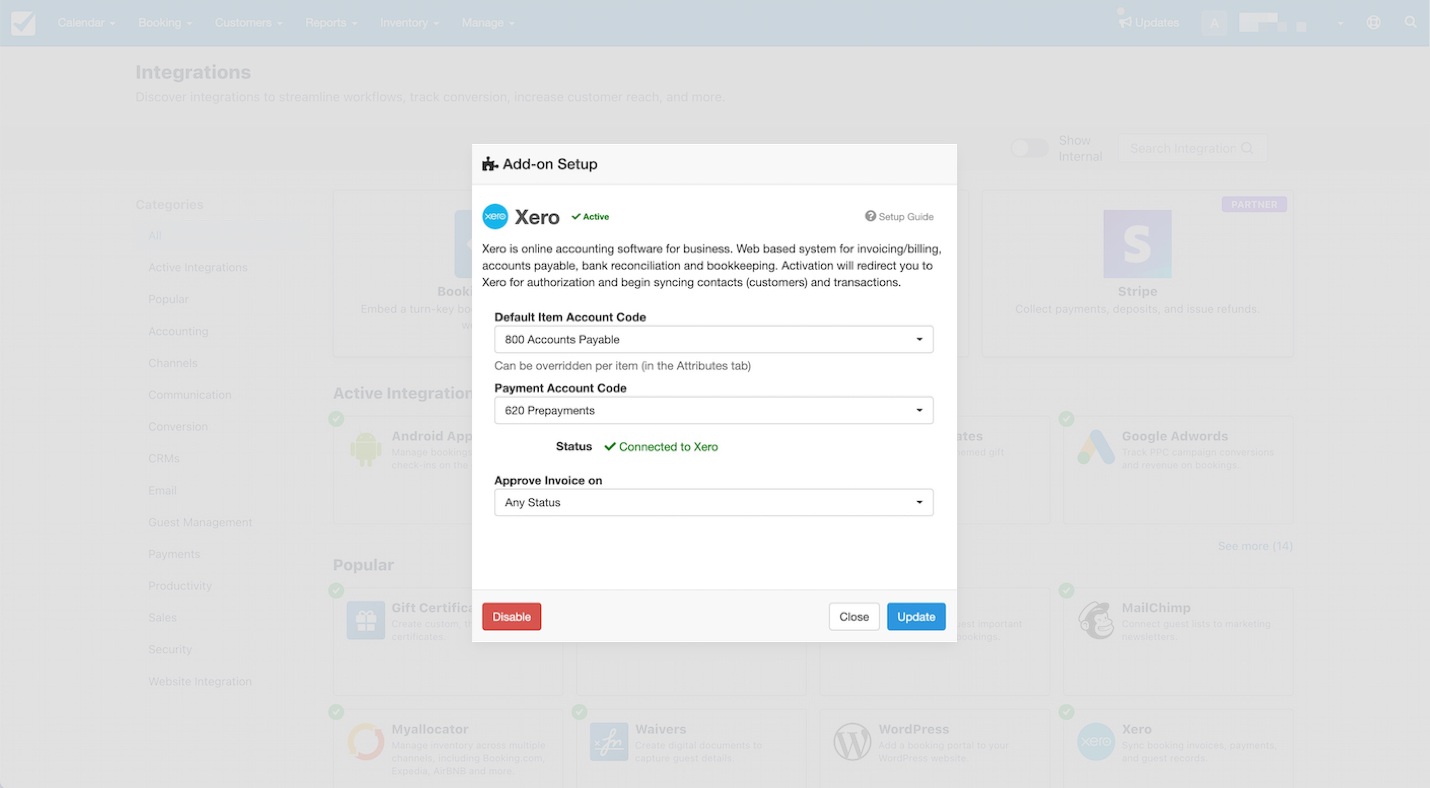 Once activated and authorized, the Add-on Setup modal displays with the following settings.
This setting determines the Xero Account Code for invoice items or products (for example, 200 Sales). When a booking is created in Checkfront, it immediately syncs to this code in Xero.
All items/products on the Xero invoice use the default item account code (unless a different account has been selected on the item's Attributes page/product's Advanced page).
Choose the Xero Payment Account Code to make payments to (620 Prepayments).
You can find a list of your accounts in Xero under Accounting > Advanced > Chart of accounts. Your invoice items account should be a REVENUE account, and your payments account should be a BANK account, most likely 620 Prepayments.

Make sure you edit the account details in Xero for both accounts, checking the box labelled Enable payments to this account.

Once you do this, the 620 Prepayments account appears in Checkfront with an asterisk next to it.
This read-only message communicates the status of your connection to Xero. If everything is hooked up properly, then this displays as connected.
Select the status your invoice should be set to in Checkfront to be approved in Xero.
When a booking is made, the information, including price, item names, and dates, is sent to Xero. Xero then creates an invoice, regardless of the status of the booking.

It is impossible to prevent a new booking invoice from being created in Xero when connected.
---
Discounts add to the Xero invoice as an additional line item. Because of this, discounts need to have their item code.
Item discount codes pulled from the Xero integration's selected Default Item Account Code. If you do not have this code set up, or the code is not active, you first need to configure this within your Xero account.
---
Do you have multiple Checkfront accounts that you want to connect to Xero? Then, please get in touch with our Technical Support team for assistance.
---
You can disable Xero Online Accounting by navigating to the Setup modal (Manage > Integrations > Xero), and clicking the Disable button.
Please note that by disabling

Xero Online Accounting

:

Invoices no longer generate in Xero while it is disabled, and they do not automatically resync once the integration is re-enabled.
You may also experience the loss of "per-item" settings, such as overrides to the default account code in Xero and the Xero Tracking Category.
---
< Introduction to Xero Online Accounting | Using the Xero Online Accounting Integration >
---