---
Plan Availability: ✓ Soho | ✓ Pro | ✓ Plus | ✓ Enterprise | ✓ Flex |
Locate: Manage > Integrations > Accounting > Xero
Prerequisites: Admin permissions to manage Integrations.
---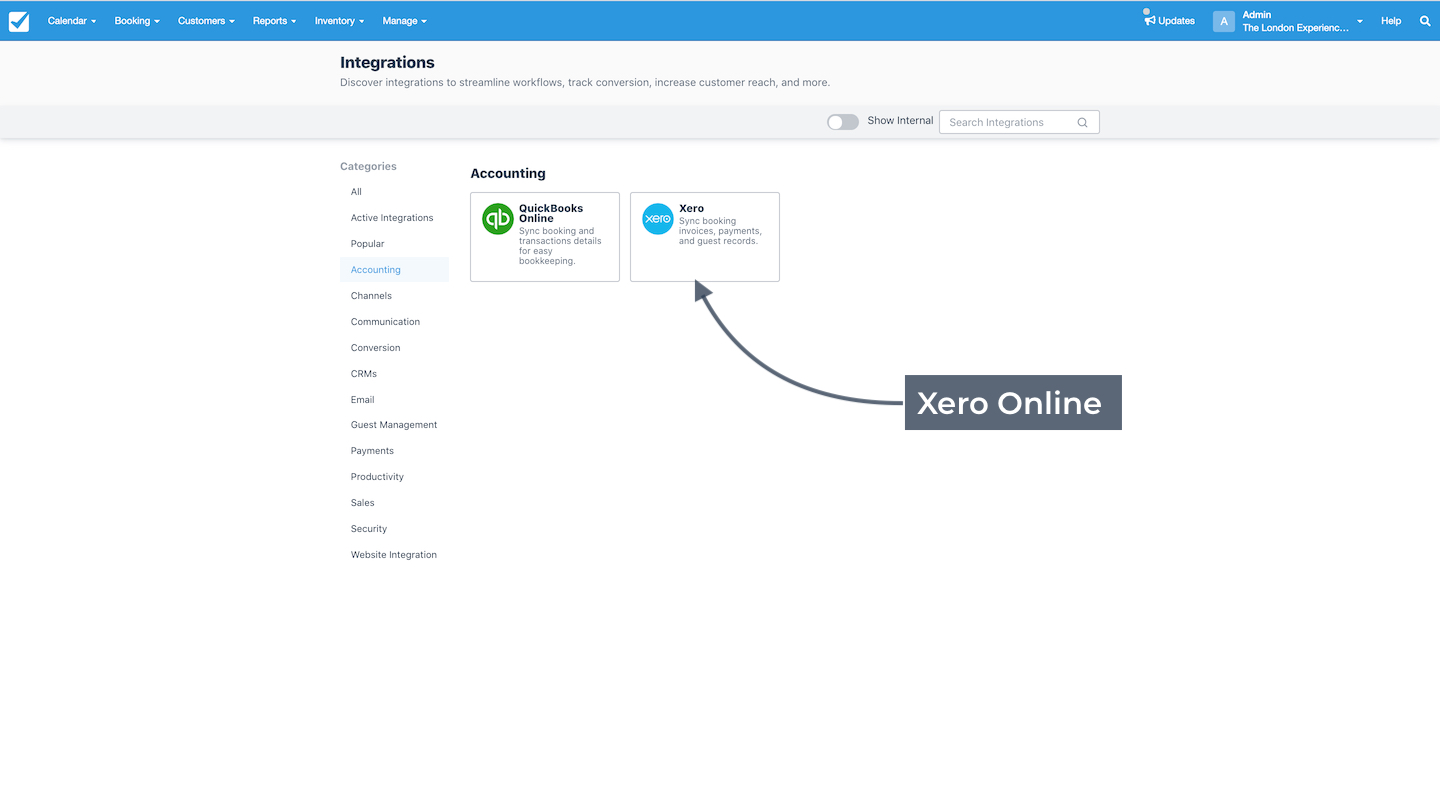 If you don't already have a Xero account, head over to www.xero.com and sign up. They offer a free trial and are well priced. Once signed up, make sure you are logged into your Xero account before proceeding.
Once you're logged in to Xero, sign into Checkfront and navigate to Integrations under Manage in your top menu. From there, you will see a list of available modules.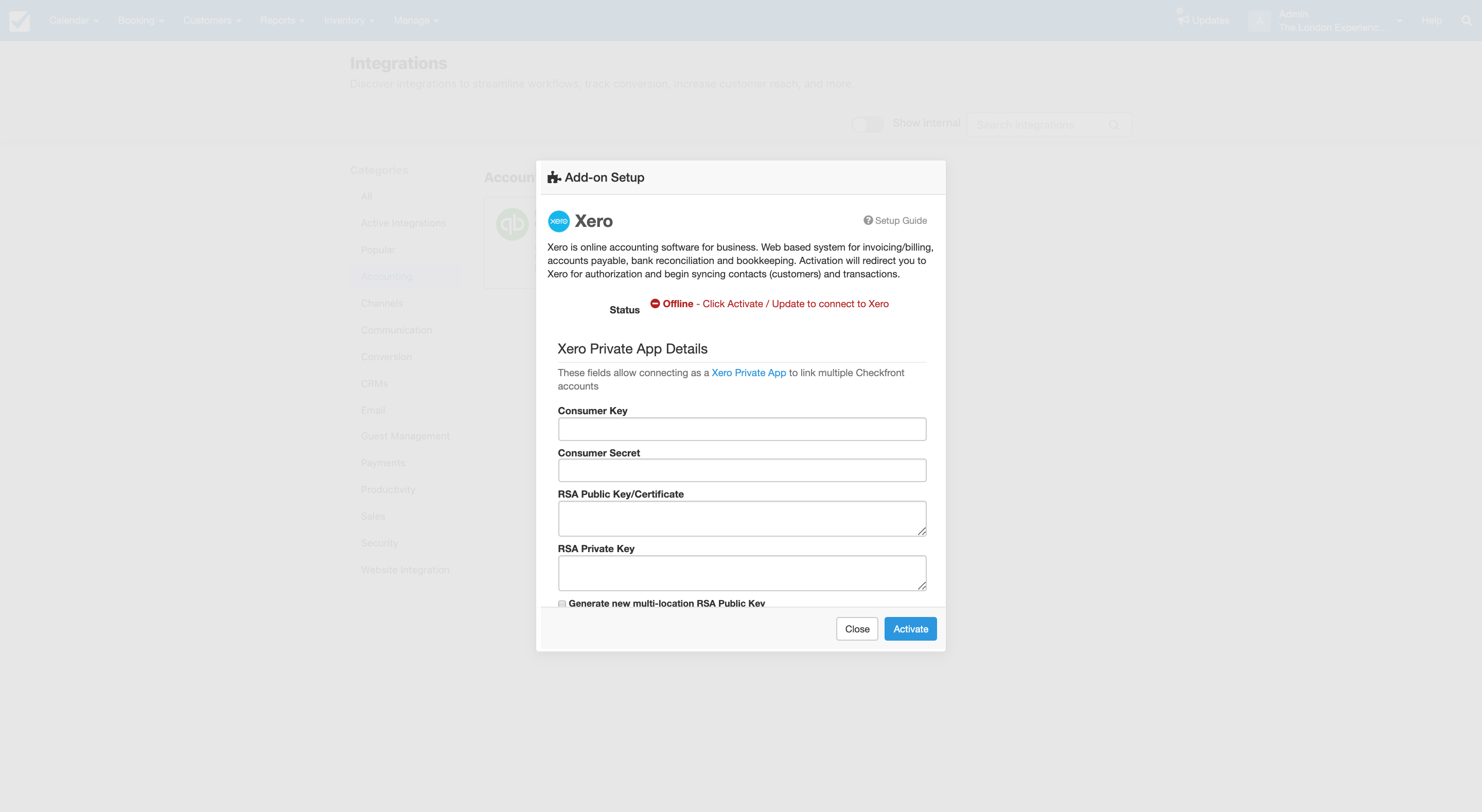 Select the Xero tile and then click on the blue Activate button to connect with Xero.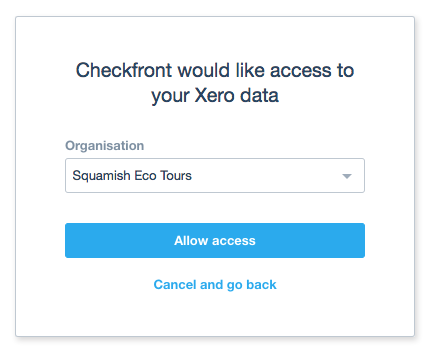 At that point, you will need to authorize the connection between your accounts. Click on the blue Allow Access button to continue.
If you haven't already logged into Xero, you will be asked to do so now; otherwise, you will need to allow Checkfront to access your organization's data in Xero.
If you have multiple organizations you'll be given the option to choose the one you want one to use. Once authorized, you will be returned to Checkfront where you can go ahead and configure your Xero settings.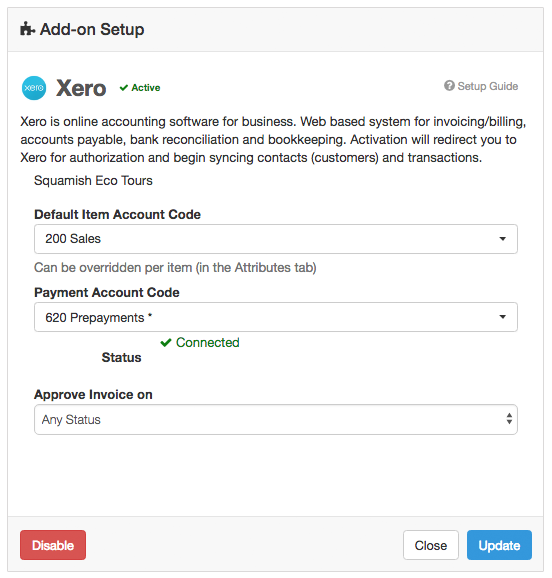 The Setup modal then displays with the following settings.
The Xero Account Code to assign to invoice items (for example 200 - Sales).
When a booking is created in Checkfront, it should immediately sync to Xero. All items on the Xero invoice should use the Default Item Account Code (unless a different account has been selected on the item's Attributes page).
The Xero Payment Account Code to make payments to (620 - Prepayments).
You can find a list of your accounts in Xero under Settings and Chart of Accounts. Your invoice items account should be a REVENUE account and your payments account should be a BANK account, most likely 620 - Prepayments.

Make sure you edit the account details in Xero, for both accounts, checking the box labelled Enable payments to this account.

Once you've done this, the 620 Prepayments account will appear in Checkfront with an asterisk next to it, as seen in the screenshot above.
Status of your connection to Xero. If everything is hooked up properly, this will say Connected.
The status your invoice should be set to in Checkfront in order to be approved in Xero.
---
If you have multiple Checkfront accounts, that you would like to connect to Xero, then please contact Customer Support for assistance.
---
< Xero Online Accounting: Introduction | Xero Online Accounting: Using the Add-on >
---