---
Plan Availability: ✓ Soho | ✓ Pro | ✓ Plus | ✓ Enterprise | ✓ Flex |
Locate: Reports > Booking Index > Booking Details > Invoice
Prerequisites:
Admin

permissions or

restricted permissions

to Bookings.
Booking Details are available to those using items (Inventory > Items), a feature of our classic version of Checkfront.
Interested in using the Booking Details with products (Inventory > Products)? Your account must be a member of our

Early Access Program.
In this article, we walk through the process of deleting a booking by changing the status of the Booking Invoice.
New to the Booking Invoice and booking details? Be sure to read our overview, Booking Details: Introduction, before starting!
Please read the full series of articles, accessed at the side and bottom of this page, to learn more about the full management capability of the Booking Details features.
---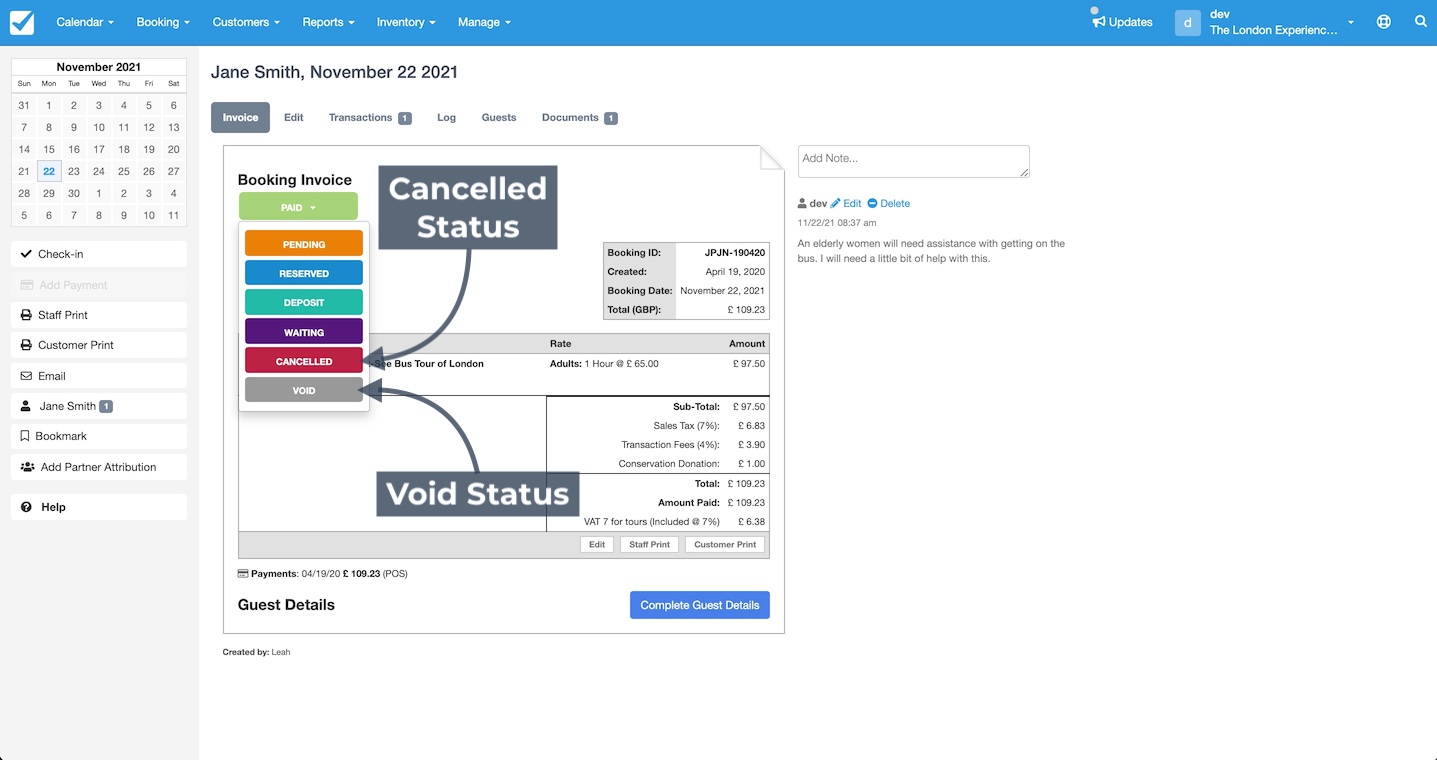 To delete an individual booking from the system, you must update the status of your booking to either Cancelled or Void.
Once you've pulled up the booking you wish to remove in your Checkfront account, click on the booking status button to reveal a dropdown menu of statuses.
Choosing Cancelled removes the booking from your calendar and makes the designated inventory available again. A pop-up window reminds you to refund any payments through the Transactions tab.
When cancelled, the booking remains in your system for future reference. If you choose Void, then the booking is purged from the system within 30 days and is not searchable in the future.
Please be aware that you cannot void a booking that has any live transactions applied to it. Bookings that include only test transactions made with our Test Payment Provider e-commerce integration can be voided, however.
If live transactions are applied to a booking, then the Void option is not listed in the status dropdown. In this case, you should choose the Cancelled status option instead.
---
< Booking Details: Adding/Editing Items or Products | Booking Details: Bulk Edit >
---