---
Plan Availability: X Soho | X Pro | ✓ Plus | ✓ Enterprise | ✓ Flex |
Locate: Reports > Booking Index > Booking Details > Bookmark Invoice > Documents
Prerequisites:
Waivers & Documents require a subscription to the appropriate plan (see above).
Admin

permissions or

restricted permissions

for Waivers & Documents and Bookings.
Booking Details are available to those using items (Inventory > Items), a feature of our classic version of Checkfront.
Interested in using the Booking Details with products (Inventory > Products)? Your account must be a member of our

Early Access Program.
In this article, we review the Documents tab of the Invoice, including how to email the document to participants, delete or detach a document manually, allow reuse of the document, and view documents details, such as the signature.
New to the Booking Invoice and booking details? Be sure to read our overview, Booking Details: Introduction, before starting!
Please read the full series of articles, accessed at the side and bottom of this page, to learn more about the full management capability of the Booking Details features.
---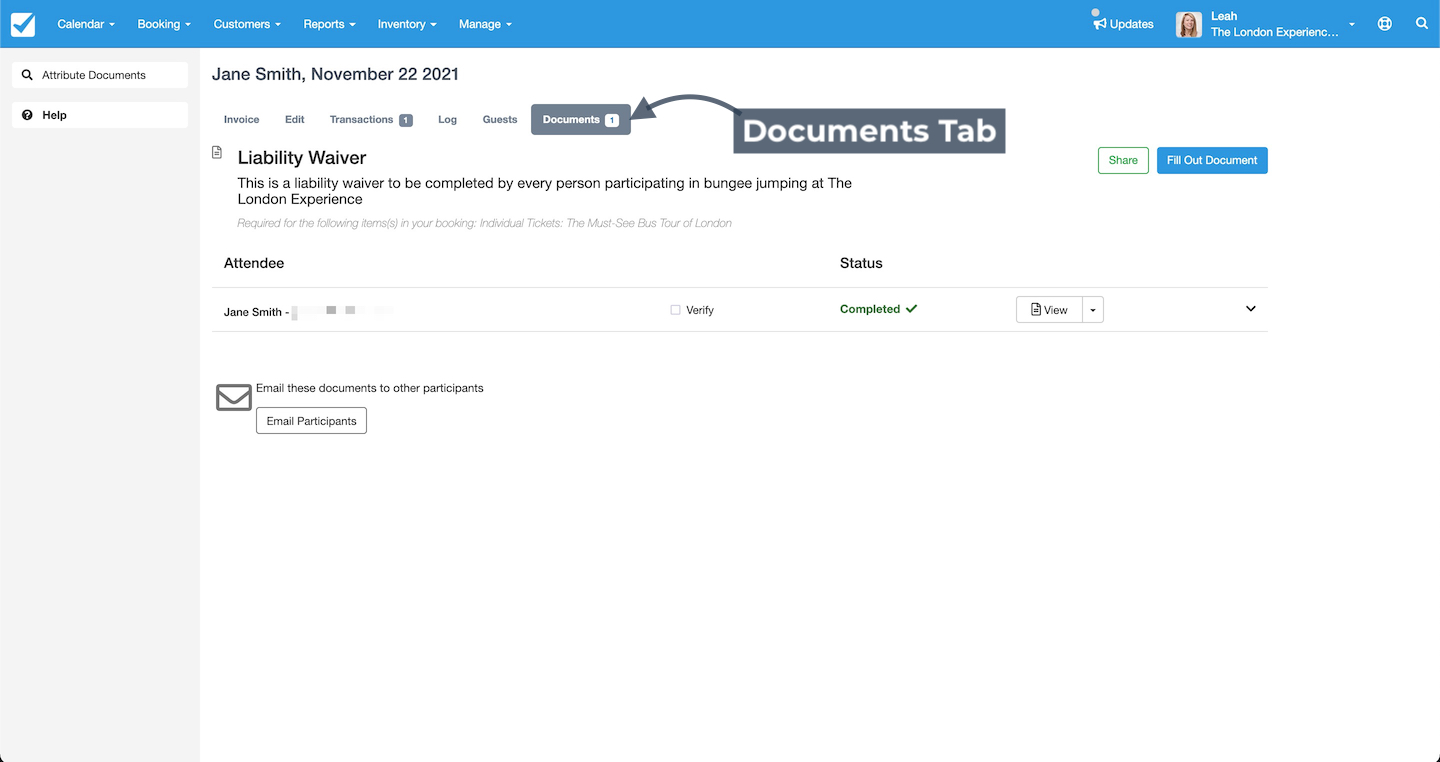 The Documents tab contains any waivers or documents that are assigned to the booking.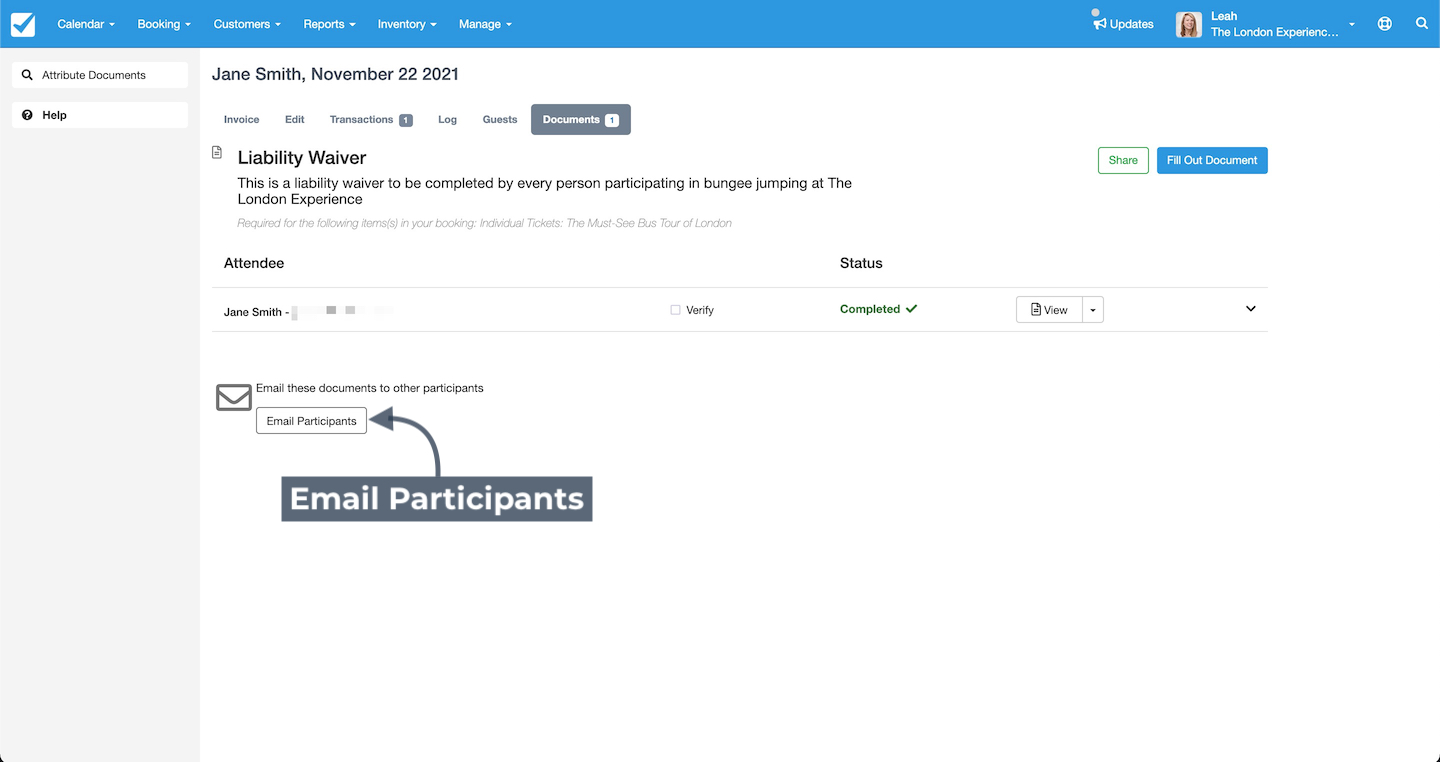 If any Guests are coming along for the tour, then click on Email Participants to assign a specific waiver(s) to each Guest.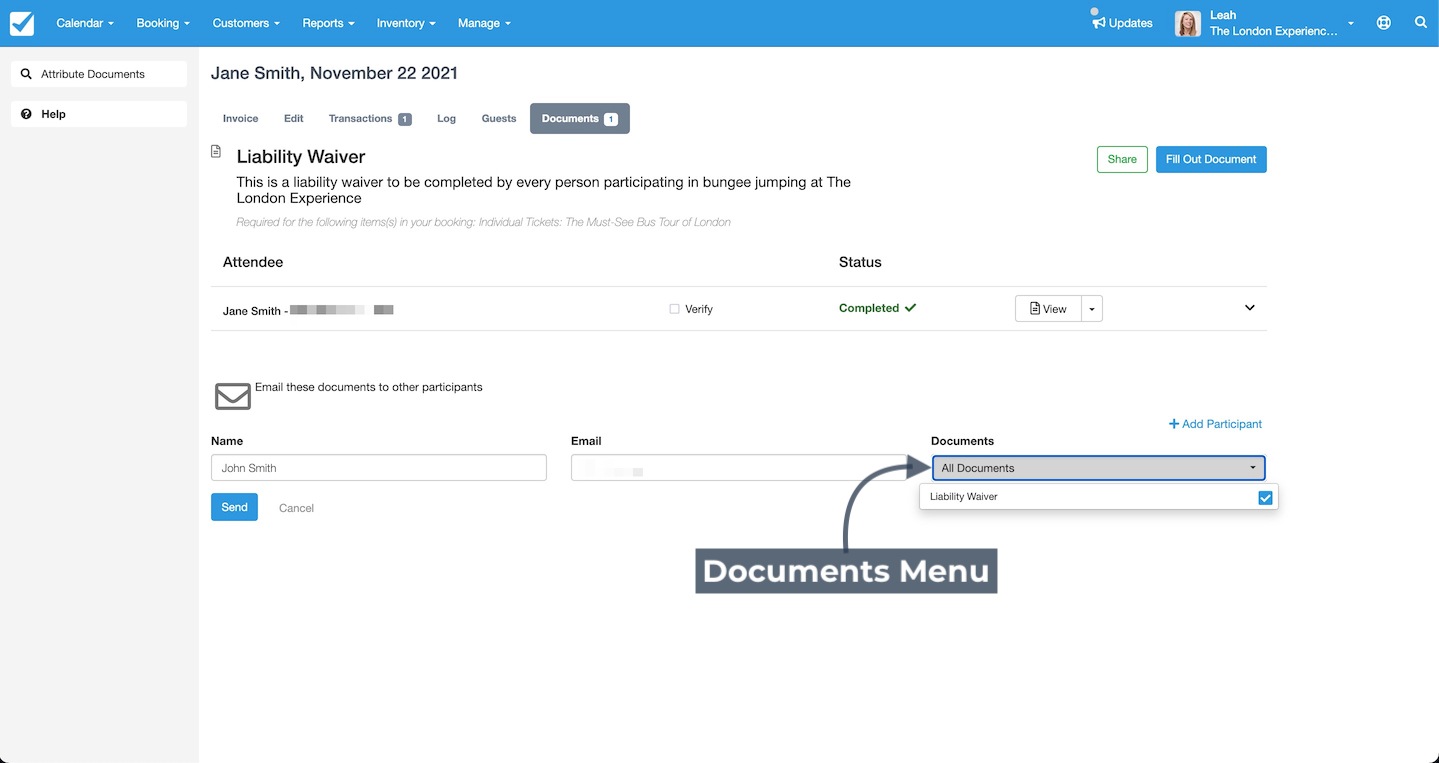 Next, enter in the Guest's name and email and select the waiver(s) you would like to send to that Guest from the Documents dropdown menu.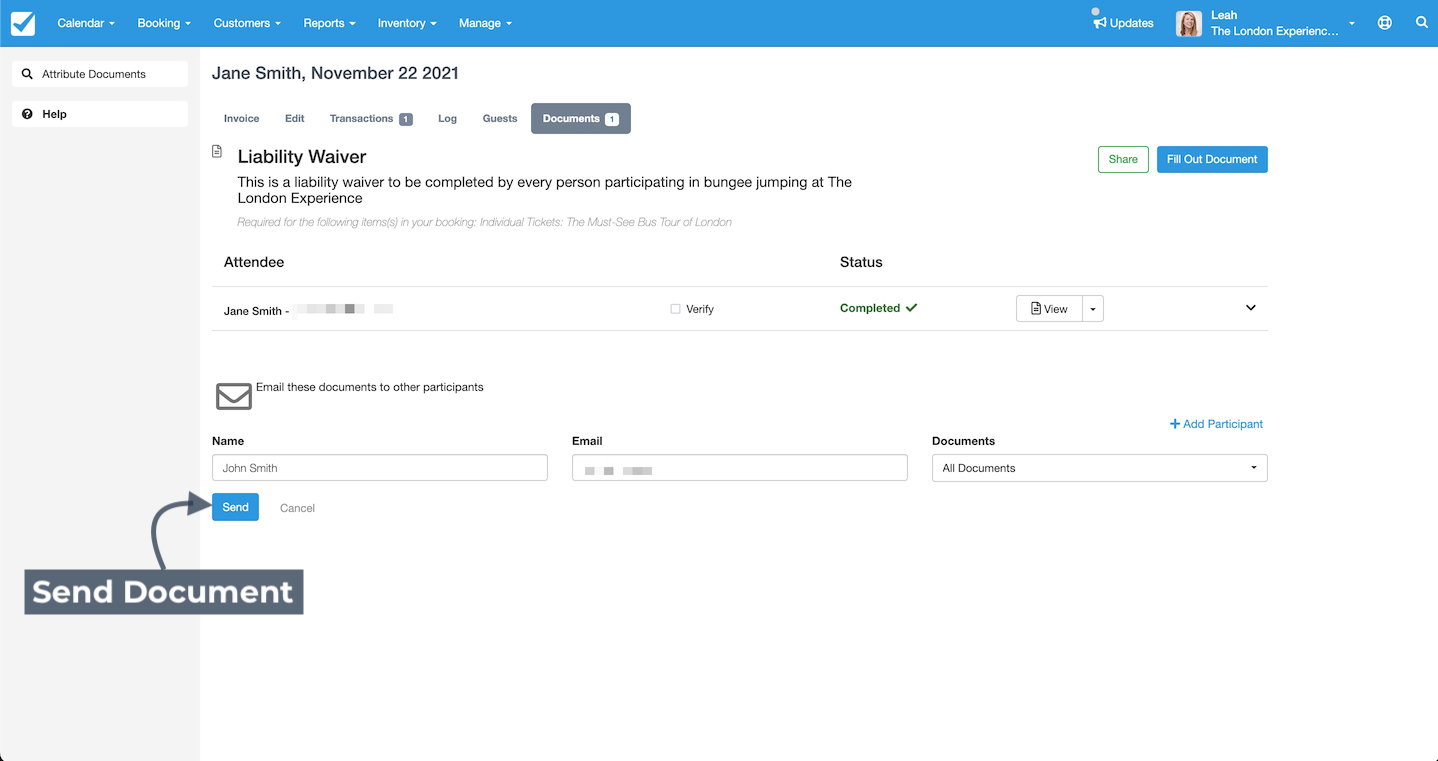 Once you have added all of your participants and selected the specific waivers for each Guest, you can send them off by clicking the Send button.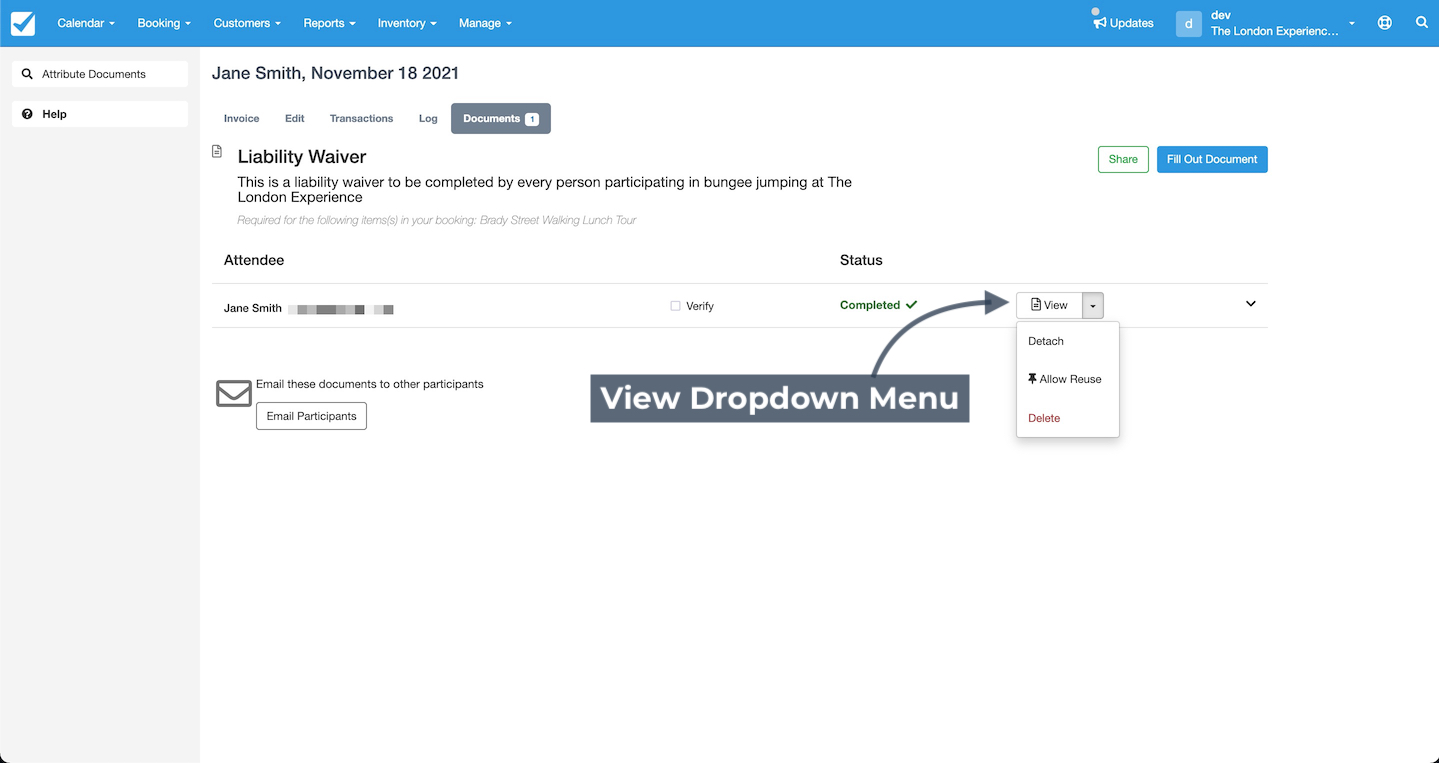 Expand the View dropdown menu to Detach or Delete the signed waiver manually. From here, you can also choose for the waiver to Allow Reuse should you have previously set the document to apply to multiple bookings.
In addition, a signed document can show to be verified by checking the Verify option to the right of the Attendee details. If the option is checked, then the label changes to Verified.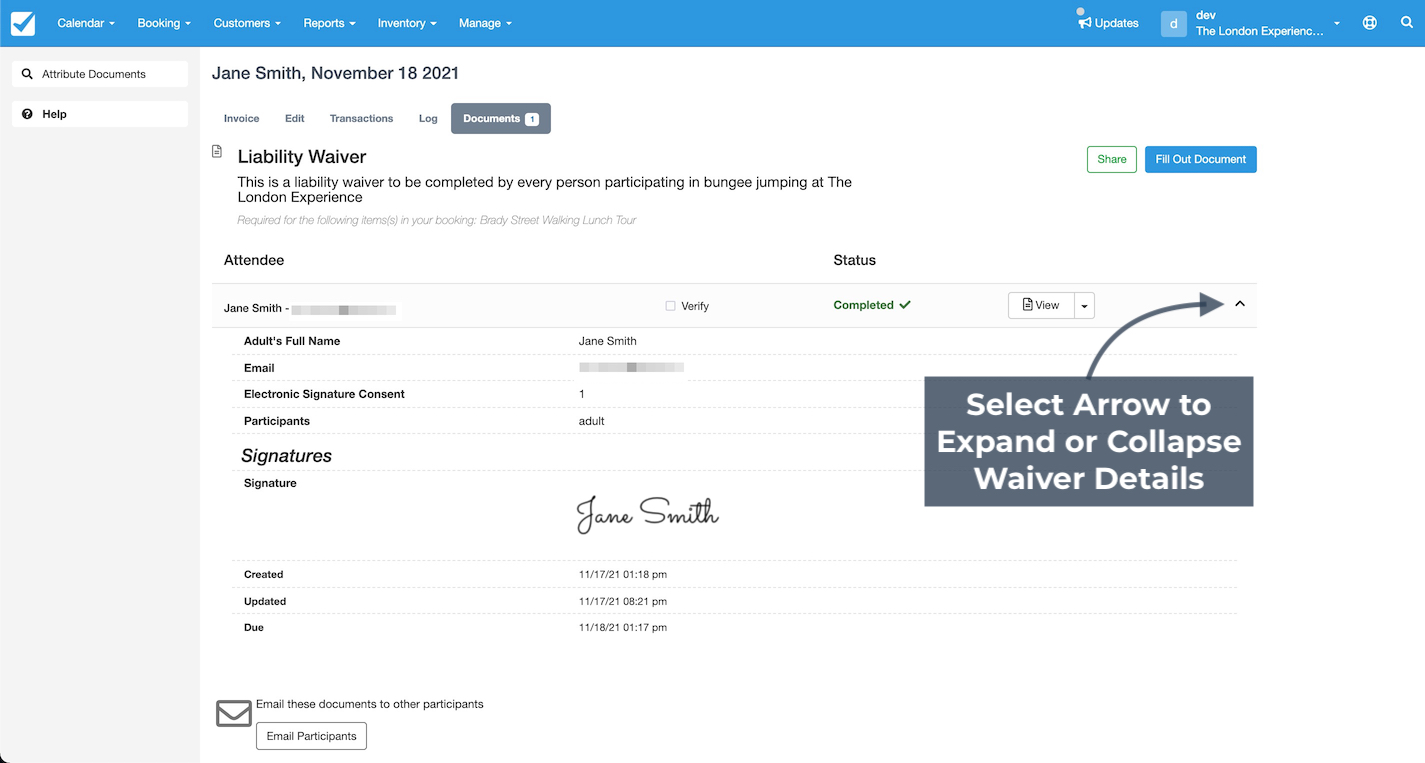 Click on the downward-facing arrow on the right-hand side to view additional information regarding the waiver in question. This includes document signatures and the creation/updated dates.
| | |
| --- | --- |
| | For detailed documentation on Waivers and Documents, please see the following: |
---
< Booking Details: Log | Booking Details: Check-in/Check-out >
---