---
Learn how to check-in and check-out the booking, including the option to reset the check-in status.
New to the Booking Invoice? Read the first article in this series for an introduction to the Booking Invoice.
---
Which plans include this feature?
Legacy:  Soho, Pro, Plus, Enterprise, Flex
New:  Starter, Growth, Managed  |  Learn more about our new plans or how to change your plan.

Where can I find this feature using the top menu?
Reports > Booking Index > Booking Details > Check-in/Check-out


What more do I need to use this feature?
Which Checkfront version supports this feature - classic, new, or both?
The Booking Details feature is available to both those using items (Inventory > Items), a key feature of our classic version of

 

Checkfront, and those using products (Inventory > Products), a key feature of our newest version

 

of

 

Checkfront.
New to Checkfront - Products ✨

With our newest version of Checkfront, we have added Products (Inventory > Products) as the successor to items (Inventory > Items).

Are you interested in migrating to our newest version? Please reach out to our Technical Support team for more information.
---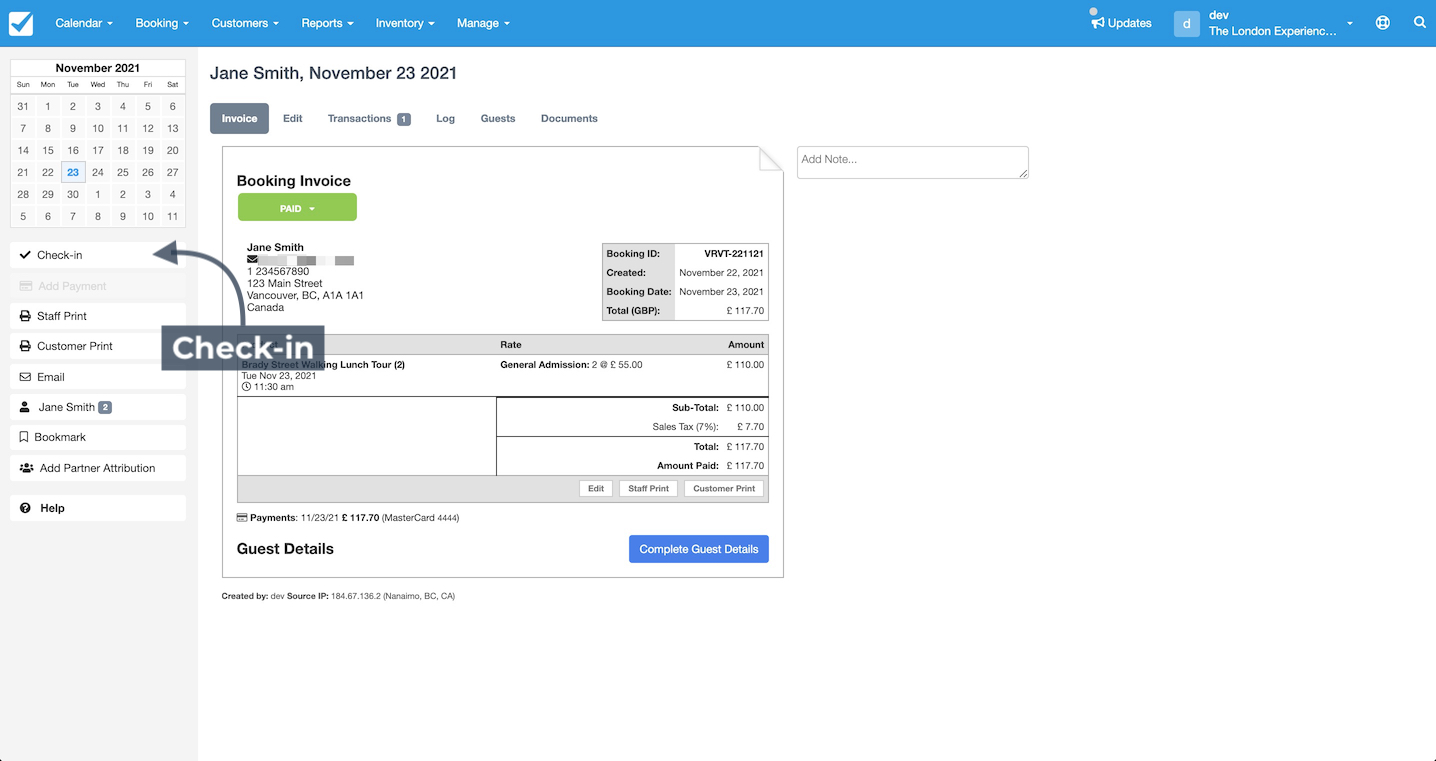 You see a Check-in button in the left sidebar next to the invoice.
When clicked, this updates the Customer as Checked-in and adds an invoice note on behalf of the logged-in Staff account.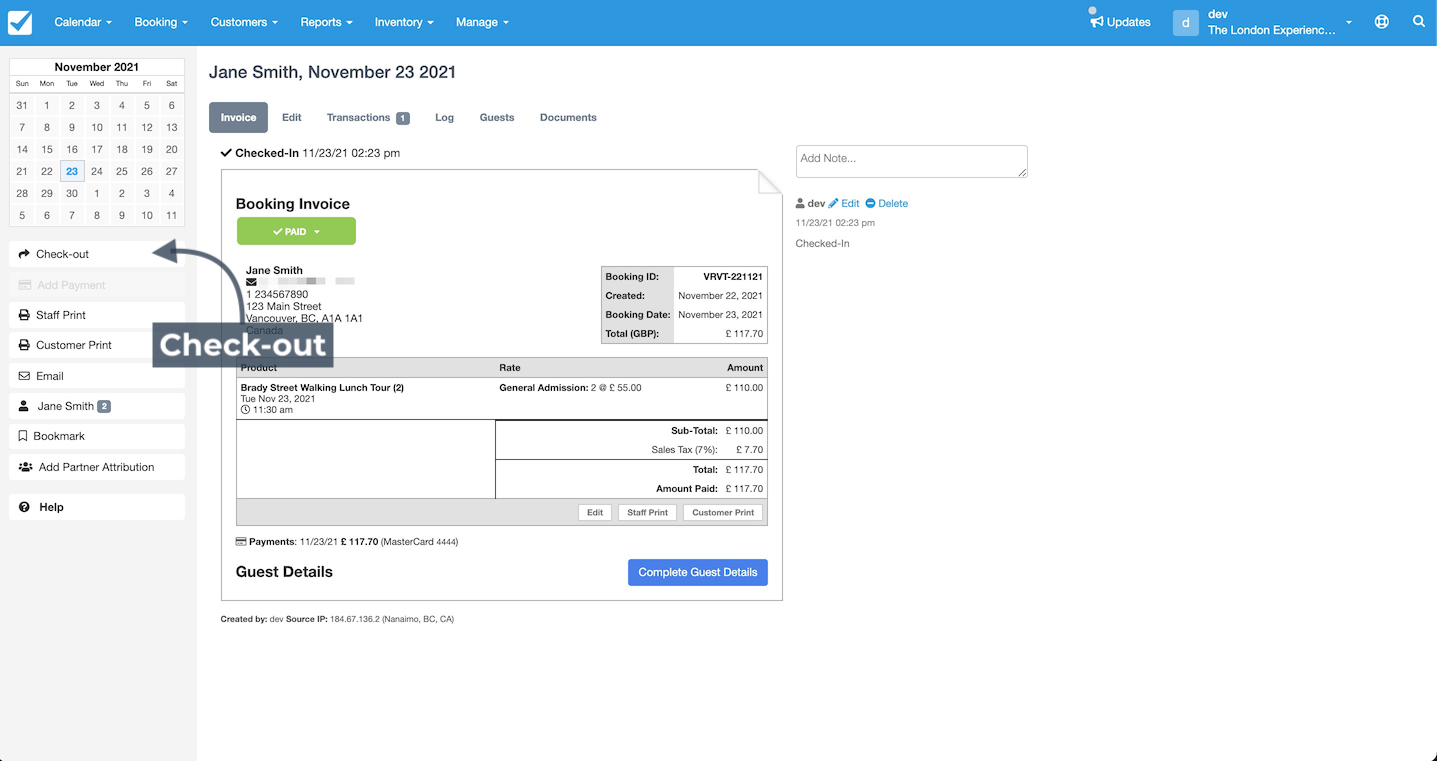 A checked-in booking can also be checked out by clicking the same button, now labelled as Check-out.
When either option has been selected, an icon is added to the booking status label showing a checkmark (checked-in) or forward arrow (checked-out) as part of the status.
This can be seen in several areas throughout the system, including the Booking Calendar and Customer Calendar.
When checking-in or checking-out a booking, these actions are logged in multiple areas in the system.

For example, you see log entries about these actions in the Log tab of the booking, the Account Activity report, and the Booking Log widget in the Dashboard.
---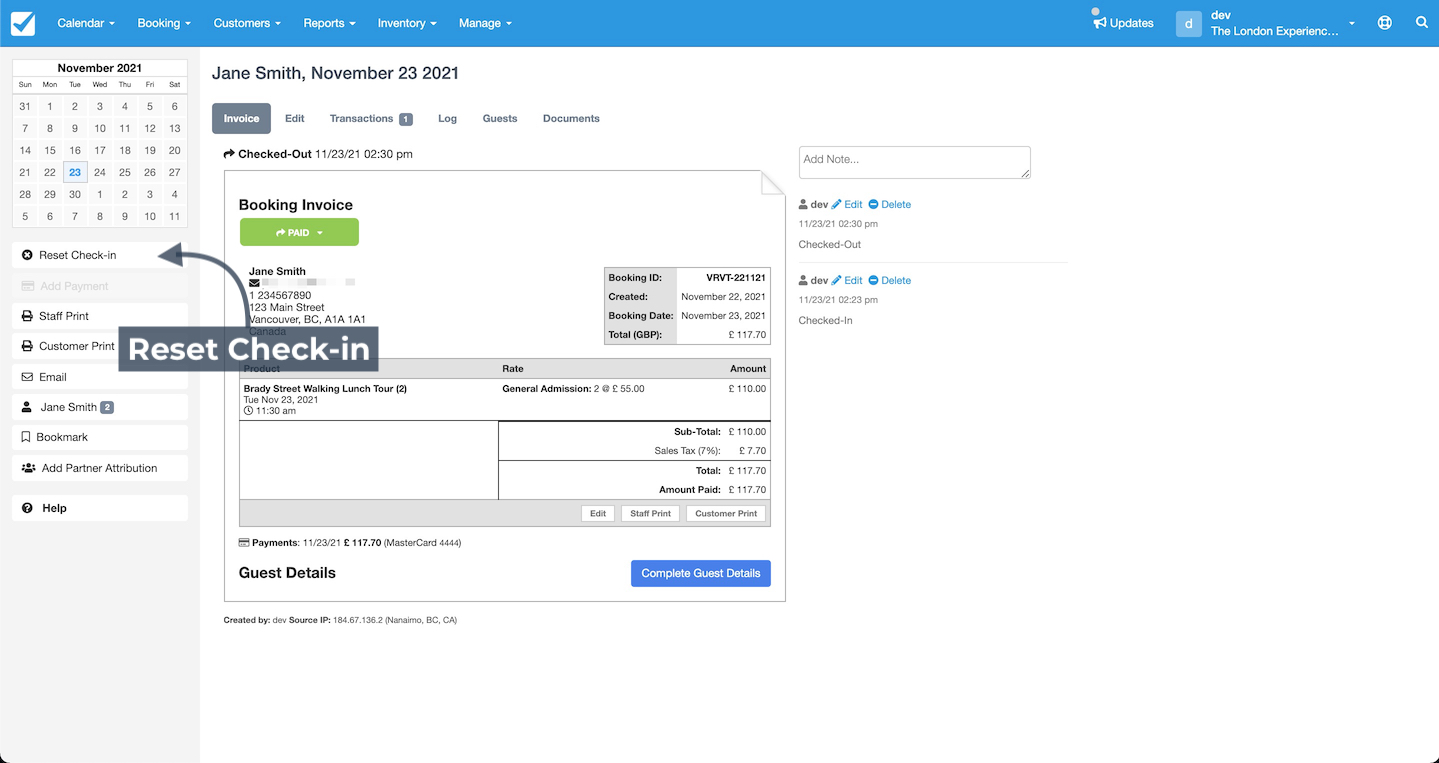 You can reset the check-in status for a booking by clicking on the Reset Check-in button in the left sidebar. This button only appears once a Customer has been checked out.
Once reset, any checked-in or checked-out notes from before remain in the notes section of the invoice. The Customer can now be checked in again, should you so wish.
It's not necessary to use the check-in feature. However, it does provide greater insight into your inventory availability, arrivals, and no-shows.  
In the next article of the series, we look at printing a Booking Invoice.
---
< Managing documents from booking invoices     |     Printing booking invoices to PDF >
---