---
Plan Availability: ✓ Soho | ✓ Pro | ✓ Plus | ✓ Enterprise | ✓ Flex |
Locate: Reports > Booking Index > Booking Details
Prerequisites: Staff account and permissions.
---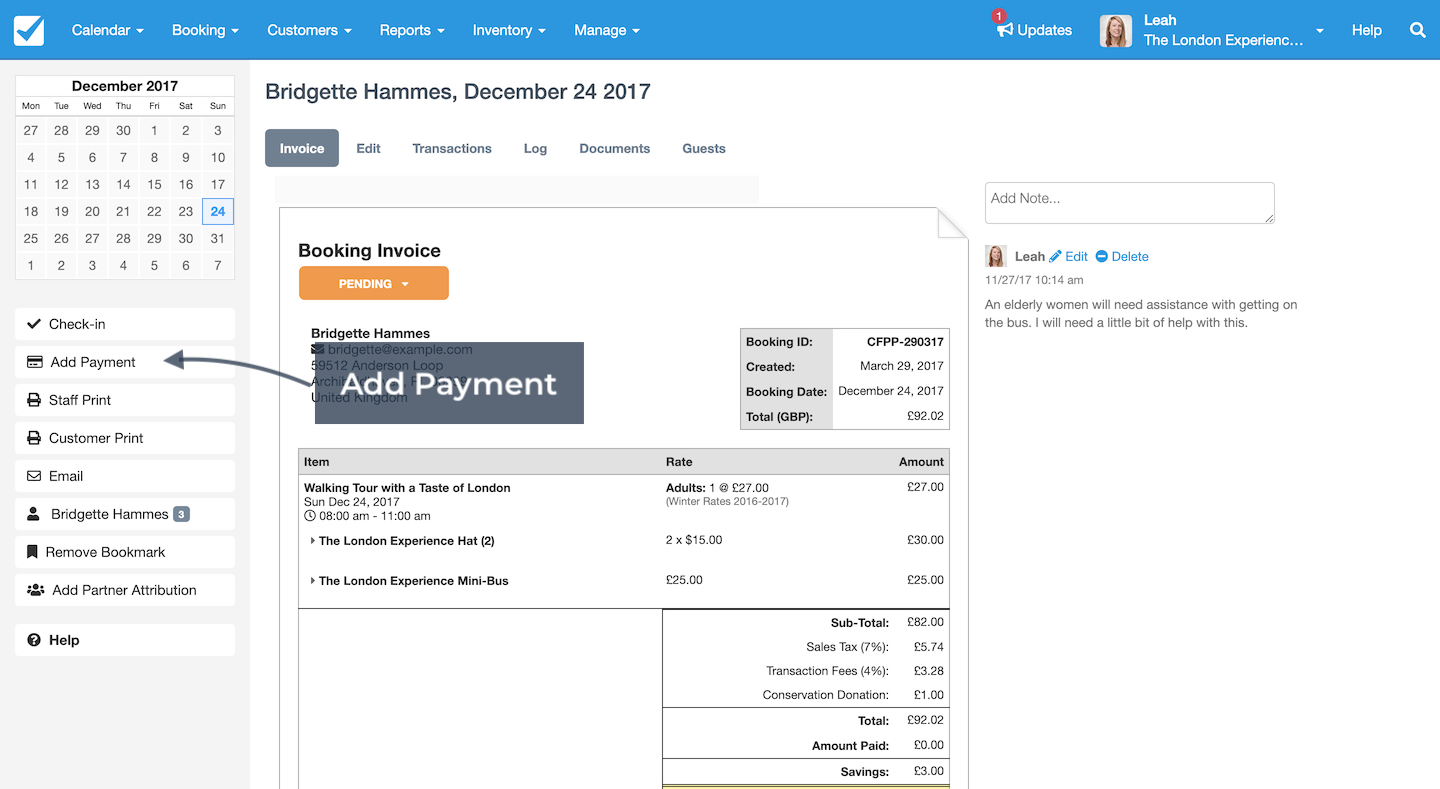 You can manually apply a payment to a booking by clicking on the Add Payment button in the left sidebar.

The payment dialog allows you to make a full or partial payment towards the invoice.
If you have a capable Payment Provider setup you can supply Credit Card details and automatically bill the Customer.
Alternatively, you can add a manual payment (POS). Manual payments will still create a transaction, but do not collect any funds. From the Payment Type field, you can select the type of POS transaction to apply.
If you've just created your Checkfront account and need to add a pre-existing booking to your system, that has a Credit card payment already applied, you can choose POS - Credit card from the POS Payment Type menu. This enables you to manually enter that previous payment and add any notes below that may be applicable to the transaction.
A third payment type is Gift Certificate. Simply enter the Gift Certificate number (GCN Code)and the payment amount due will be deducted from the balance of the Gift Certificate.
When a payment is made, a transaction will be applied to the Invoice and the Balance Due will be updated. If the full payment is supplied, the booking status will automatically be set to PAID, otherwise, it will be set to DEPOSIT.
If you have notifications enabled for either of those statuses, the corresponding email will be triggered. You can skip any configured notifications by unchecking the notification option.
To add a note along with the payment, you can use the notes field provided. Checking off Show on invoice will also include the note on the Customer Invoice.
| | |
| --- | --- |
| | Due to Payment Card Industry (PCI) compliance issues, you absolutely must not store any credit card details within your Checkfront account. If you apply a POS payment, which was paid for with a Credit card, DO NOT add the Credit card details to the notes section of the invoice. Failure to comply can result in the suspension of your account until such issues are rectified. |
---
< Booking Details: Check-in/Check-out | Booking Details: Print (PDF) >
---