The customer status filter enables you to display all customers in your system, or only those who are either active or archived. A customer can be archived from within their profile and removed from your list of active customers.

If you'd like to filter your customers based on country, you can do so using the Countries button. Just click on that to reveal a drop-down menu of all the countries from which you have a customer. Make your selection to filter the list of results.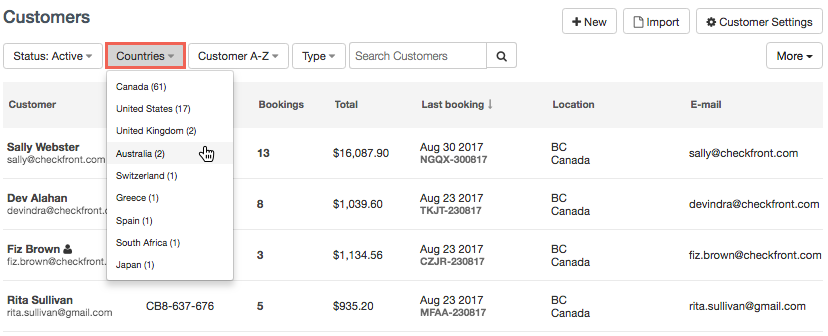 Another way to filter your customer list is by name. Click on the Customer A-Z button to open a drop-down list of the alphabet letters. Any letter you choose corresponds to the first letter of the customer's first name. In the image below, we selected the letter 'D'.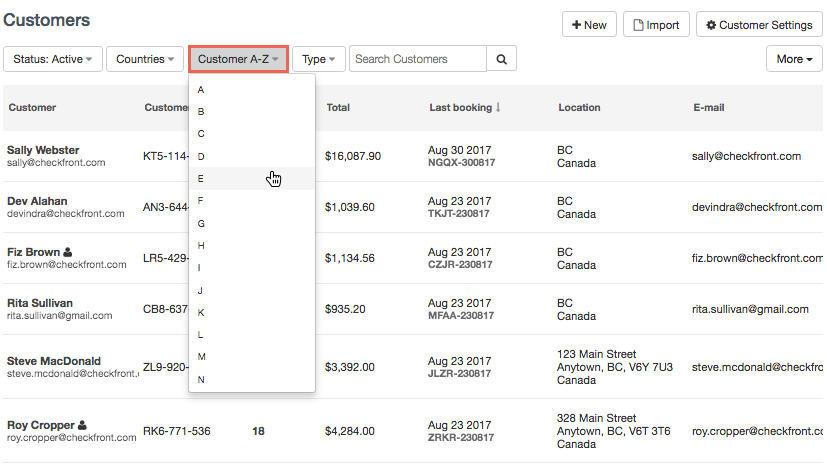 The type drop-down menu enables you to filter your view to display all profile types or just the claimed/unclaimed accounts. Remember, a customer profile is created when the customer makes a booking on your system. If they then choose to create a customer account, that profile becomes claimed. Switching this view enables you to see which customers have the taken the step of creating an account.

The final way to filter your customer list is to search by name. You can enter the first or last name as both will find the result you're looking for. Type in the name, hit 'enter' and the list will be displayed.  

Locked Booking Statuses

If a new customer creates a booking in your system and that booking status is not locked, the new customer will not be added to your Customer Directory. If you are experiencing issues with missing customers in your directory, double check your booking statuses to make sure they are locked as expected.
---
< Customer Directory: Introduction     |     Customer Directory: Customer Details >
---