---
Learn how to filter the Customers Directory, including by status, country, Customer first initial, profile type, and keyword search.
New to the Customers Directory? Read the first article in this series for an introduction to the Customers Directory feature.
---
Which plan do you need to use this feature?
✓ Soho | ✓ Pro | ✓ Plus | ✓ Enterprise | ✓ Flex |


Where can I find this feature using the top menu?
Customers > Directory


What prerequisites are there?
Admin permissions or restricted permissions to View Customer List and Edit Customers.


Which Checkfront version supports this feature - classic, new, or both?
The Customers Directory feature is available to both those using items (Inventory > Items), a key feature of our classic version of

Checkfront, and those using products (Inventory > Products), a key feature of our newest version

of

Checkfront.


New to Checkfront - Products ✨

Products (Inventory > Products) is the successor feature to (Inventory > Items) and is available in our newest version of Checkfront.

Not yet on our newest version and interested in upgrading? Please get in touch with our Technical Support team for more information.

Discover more product-related help articles here: Products (New).
---

The Customer status filter enables you to display all Customers in your system or only those who are active or archived. A Customer can be archived from within their profile and removed from your list of active Customers.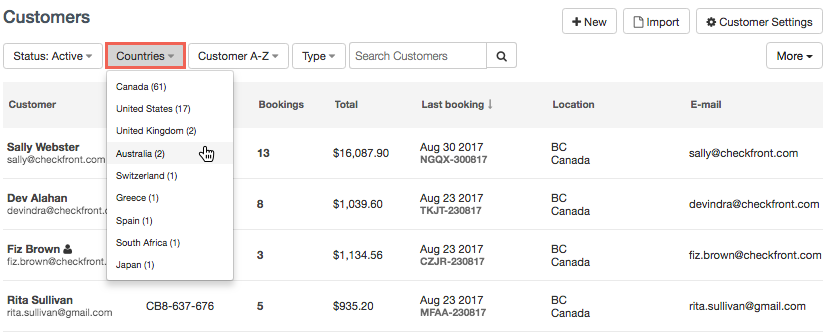 Do you need to filter your Customers based on country? Then, you can do so using the Countries filter. Just click on Countries to reveal a dropdown menu of all the countries from which you have a Customer. Make your selection to filter the list of results.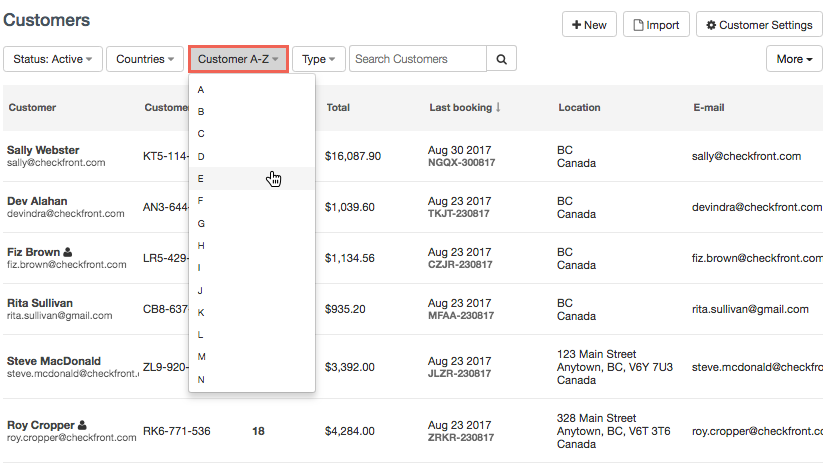 Another way to filter your Customers list is by name. Click on the Customer A-Z option to open a dropdown list of the alphabet letters. Any letter you choose matches the first letter of the Customer's first name.

The type dropdown menu lets you filter your view to display all profile types or claimed or unclaimed accounts.
Remember, a Customer Profile is created when the Customer makes a booking on your system. A Customer Profile becomes claimed once the Customer creates a Customer Account.
This filter enables you to see which Customers have taken the step of creating an account.

The final way to filter your Customers list is to Search Customers by name. You can enter the first or last name. Type in the name, then enter it on your keyboard, and any matching results are displayed.
Locked Booking Statuses

If a new Customer creates a booking in your system and that booking status is not locked, then the new customer is added to your Customer Directory.

If you are experiencing issues with missing Customers in your directory, then double-check your booking statuses to make sure they are locked as expected.
In the next article in this series, we look at accessing and managing Customer Profiles from the Customers Directory.
---
< Intro to the Customers Directory and Profiles | Managing Profiles from the Customers Directory >
---