---
Prerequisites:
The Customer Directory feature is available to both those using items (Inventory > Items), a key feature of our classic version of

Checkfront, and those using products (Inventory > Products), a key feature of our newest version

of

Checkfront.
New to Checkfront - Products ✨

Products (Inventory > Products) is the successor feature to (Inventory > Items) and is available in our newest version of Checkfront.

Not yet on our newest version and interested in upgrading? Please contact our Technical Support team for more information.

Discover more product-related help articles here: Products (New).
---
In order to comply with GDPR rules and regulations, you have the ability to redact all customer information, should you receive such a request. After archiving a customer, a new button appears in the left sidebar labeled Redact Personal Info.
CUSTOMER INFORMATION REDACTION CANNOT BE UNDONE.

Clicking this button presents you with a list of all the information that can be redacted for that customer.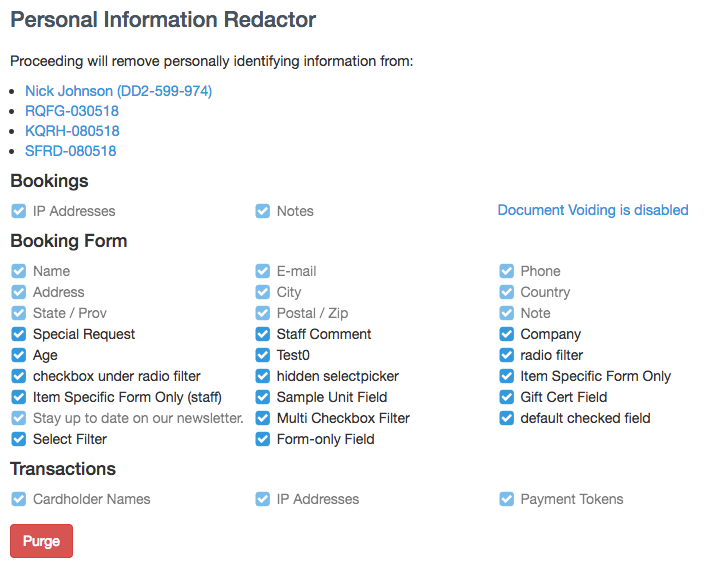 At the top is a list of the customer's bookings and below that, a list of booking form fields and transaction information.
All system fields are deleted and you do not have any control over that. Custom fields can be unchecked and are be included in the purge.
Any waivers and documents attached to the customer are also voided and no longer accessible, although there is an option to turn off that feature in the waivers settings page. You can reach that page easily by clicking on the document voiding link shown in the screenshot above.
---
< Customer Directory: Archiving a Record | Customer Directory: Duplicate Customers >
---