---
Plan Availability: ✓ Soho | ✓ Pro | ✓ Plus | ✓ Enterprise | ✓ Flex |
Locate: Customers > Directory > Customer Profile
Prerequisites:
Admin permissions or restricted permissions to View Customer List and Edit Customers.
The Customer Directory feature is available to both those using items (Inventory > Items), a key feature of our classic version of

Checkfront, and those using products (Inventory > Products), a key feature of our newest version

of

Checkfront.
New to Checkfront - Products ✨

Products (Inventory > Products) is the successor feature to (Inventory > Items) and is available in our newest version of Checkfront.

Not yet on our newest version and interested in upgrading? Please contact our Technical Support team for more information.

Discover more product-related help articles here: Products (New).
In this article, we look at how to permanently remove personal information from the Customer Profile when requested by the Customer or to meet privacy regulations.
New to the Customers Directory and Customer Profiles? Be sure to read the first article in this series for an introduction!
Please read the full series of articles, accessed at the side and bottom of this page, to learn more about the full capabilities of the Customers Directory and Customer Profile features.
---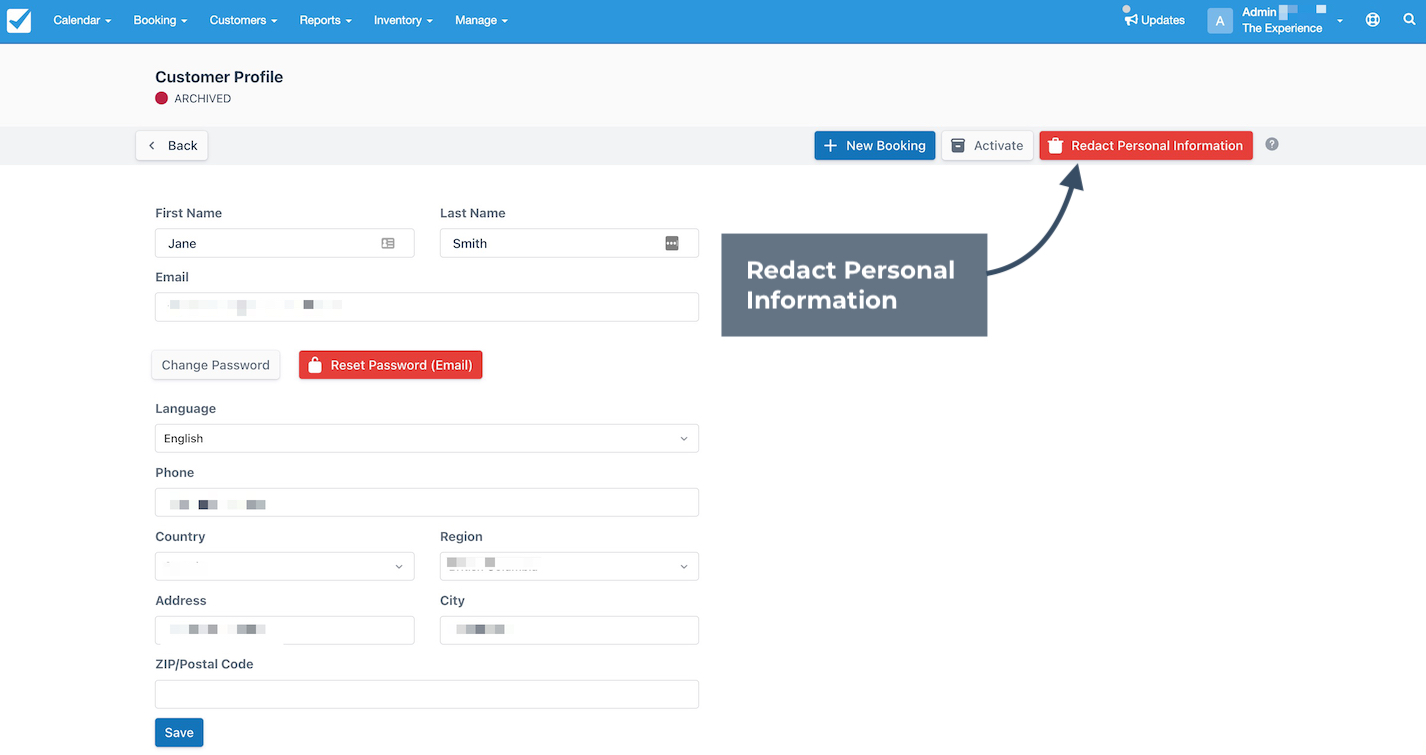 In order to comply with personal privacy requests and regulations such as the General Data Protection Regulation (GDPR) in the European Union, you have the ability to redact all Customer information associated with a Customer Profile.
After archiving a Customer, a new button appears in the left sidebar labelled Redact Personal Information.
Warning!

Customer information redaction CANNOT be undone.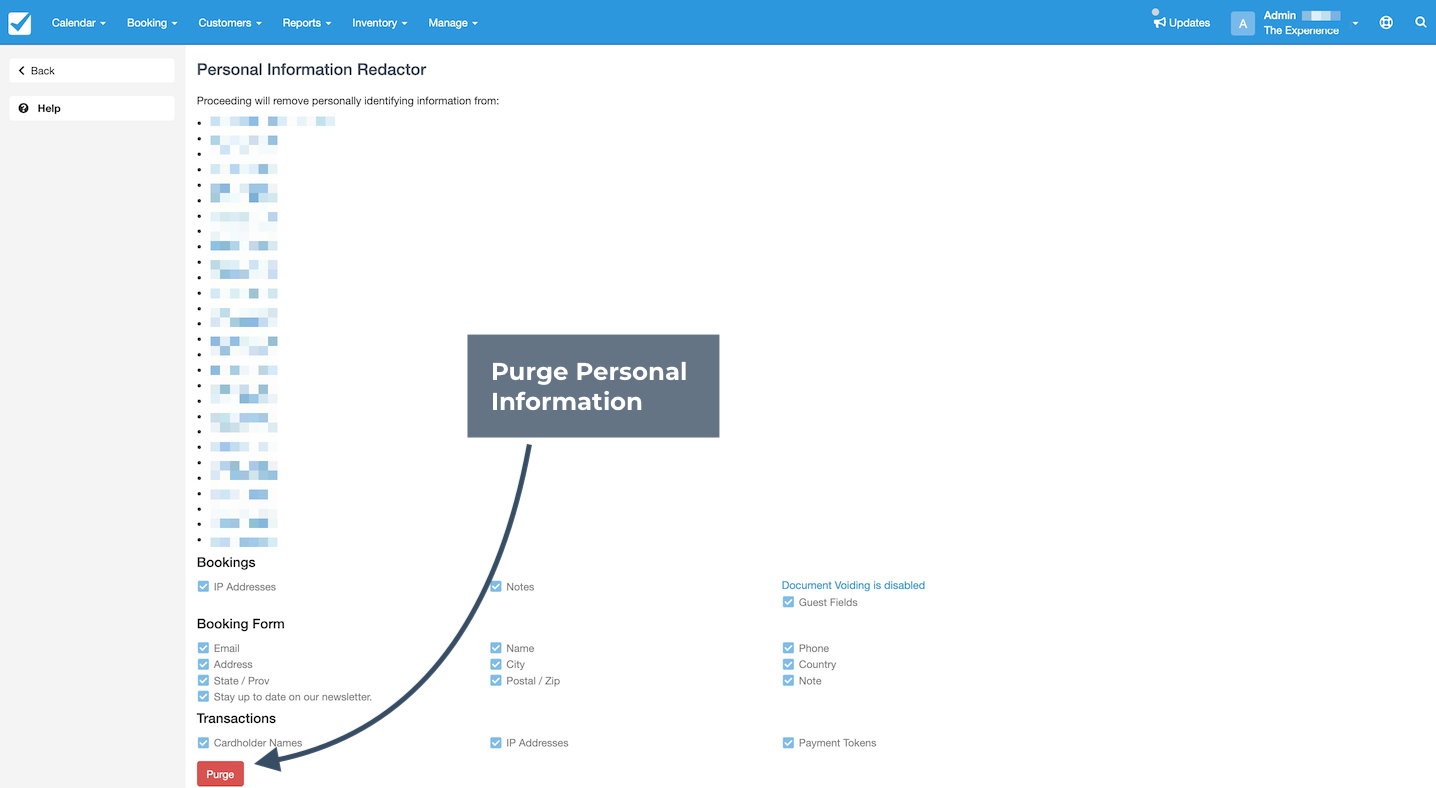 Clicking the Redact Personal Information button presents you with the Personal Information Redactor page.
At the top is a page is a list of all the Customer's bookings. Click on the Booking ID to access and review the associated Booking Invoice.
Next, is a list of booking form fields and transaction information associated with the Customer. Select the fields you need to purge.
All system fields are deleted with the purge, you do not have any control over that, but custom fields can be excluded or included.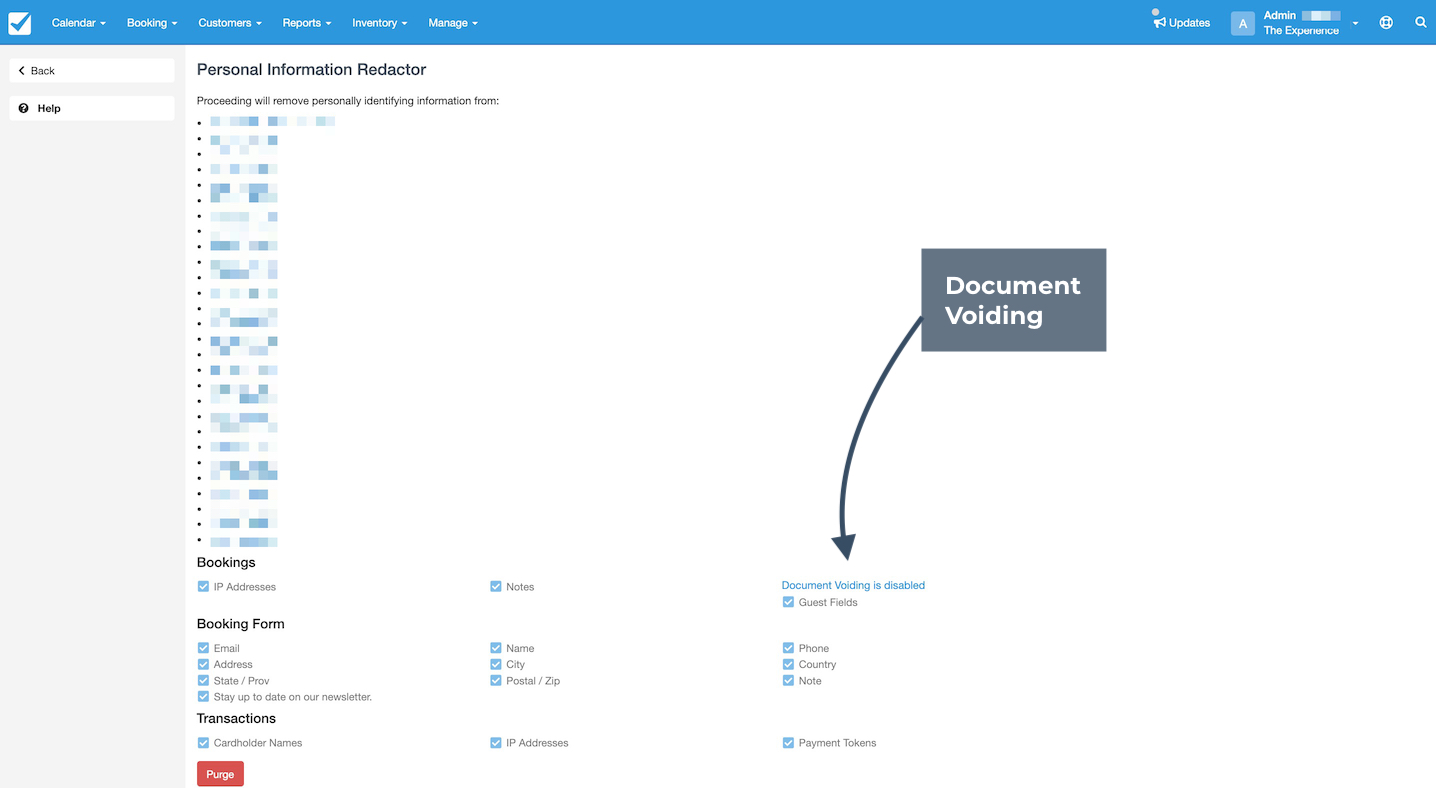 Do you have Waivers & Documents enabled for your account? Any waivers and documents attached to the Customer are preserved during the purge if the Waivers & Documents setting Allow Admins to Delete Documents is turned OFF. This can be confirmed by the Document Voiding status message displayed.
Document Voiding is disabled means that the Allow Admins to Delete Documents setting is turned OFF. Waivers and documents are not included in the purge.
Do you see the option to Delete Waivers? this means that the Allow Admins to Delete Documents setting is turned ON. Check this box to include any associated documents in the purge.
| | |
| --- | --- |
| | Learn more about Waiver & Document settings here: |
- Viewing redacted Customer Profiles and bookings
Back to top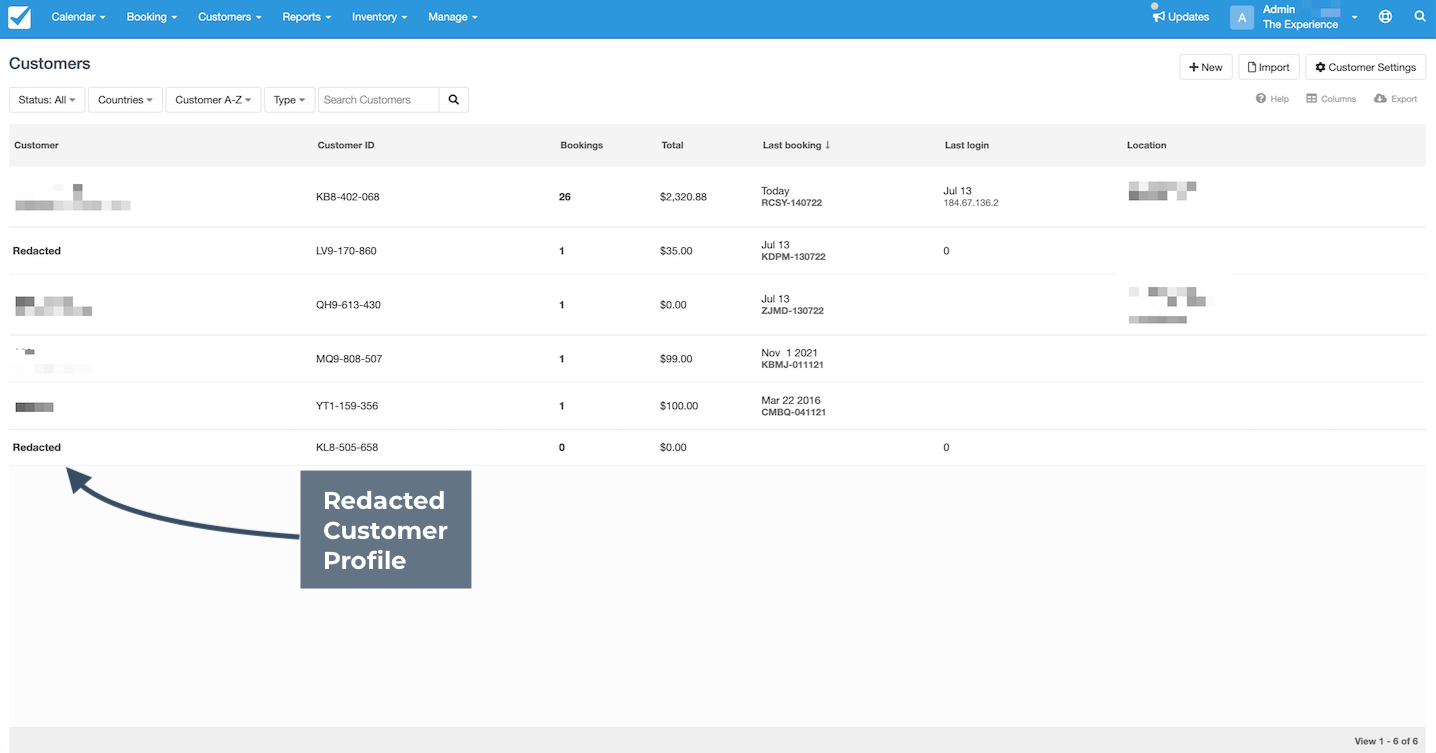 Once the Customer Profile has been redacted, the Customer is marked as redacted throughout the system within the Booking Invoice and reports. Customer information redaction cannot be undone!
In the next article within this series, we look at how to reconcile related bookings to Customer Profiles.
---
< Archiving Customer Profiles | Reconciling duplicate Customer Profiles >
---