---
Prerequisites:
The Customer Maps feature is available to both those using items (Inventory > Items), a key feature of our classic version of

Checkfront, and those using products (Inventory > Products), a key feature of our newest version

of

Checkfront.
New to Checkfront - Products ✨

Products (Inventory > Products) is the successor feature to (Inventory > Items) and is available in our newest version of Checkfront.

Not yet on our newest version and interested in upgrading? Please contact our Technical Support team for more information.

Discover more product-related help articles here: Products (New).
---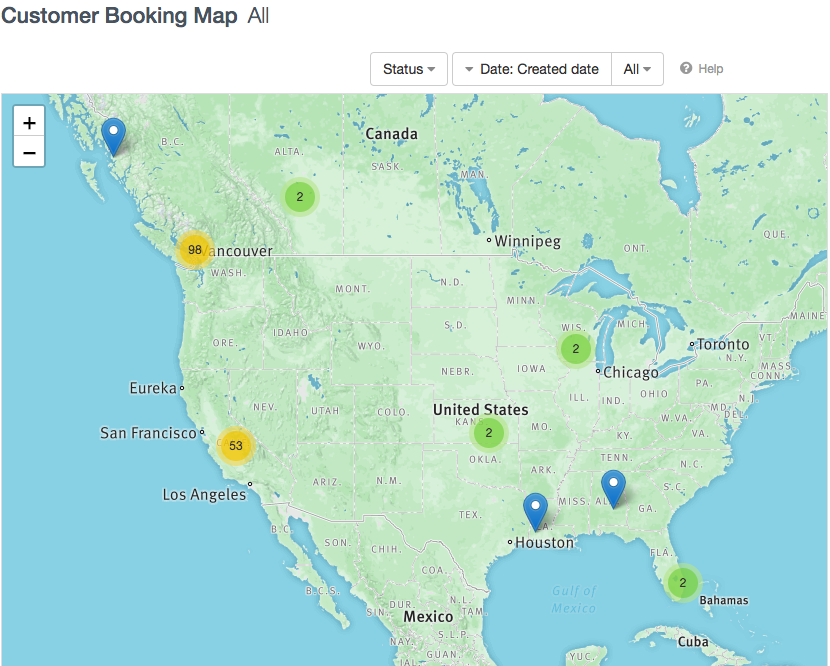 When you have a lot of customers based in the same region, it can become a bit of a hot mess trying to display a marker for each one in a zoomed-out view. So, multiple markers like this are displayed collectively in one cluster.
The number specifies how many markers have been grouped together under any one cluster. Clicking on one of these clusters opens up a more zoomed-in view, so you can view the individual markers properly.
A blue cluster means that there are less than 10 customers based in that area. The yellow cluster means 10-99 customers in an area, while the red means 100+ customers in the region.
---
< Interactive Customer Maps: Setup | Interactive Customer Maps: Viewing Filters >
---