---
Plan Availability: ✓ Soho | ✓ Pro | ✓ Plus | ✓ Enterprise | ✓ Flex |
Locate: Inventory > Categories
Prerequisites:
Admin permissions to manage inventory or restricted permissions to View items, products, and assets and Manage items, products, and assets.
Categories are available to those using items (Inventory > Items), a feature of our classic version of Checkfront.
Interested in using Categories with products (Inventory > Products)? Your account must be a member of our

Early Access Program. Please reach out to

Checkfront Technical Support

to learn more.
Early Access Program

The new product feature mentioned in this article is currently part of our Early Access Program, which means it is available to select Customers to try out and provide us with feedback.

To learn more about becoming part of our Early Access Program check out our related blog post or contact our Technical Support team.

Find our complete set of help articles related to the Early Access Program here: Early Access Program.
In this article, we describe how to edit and archive a product or item category.
New to categories? Be sure to read the first article in this series for an introduction!
---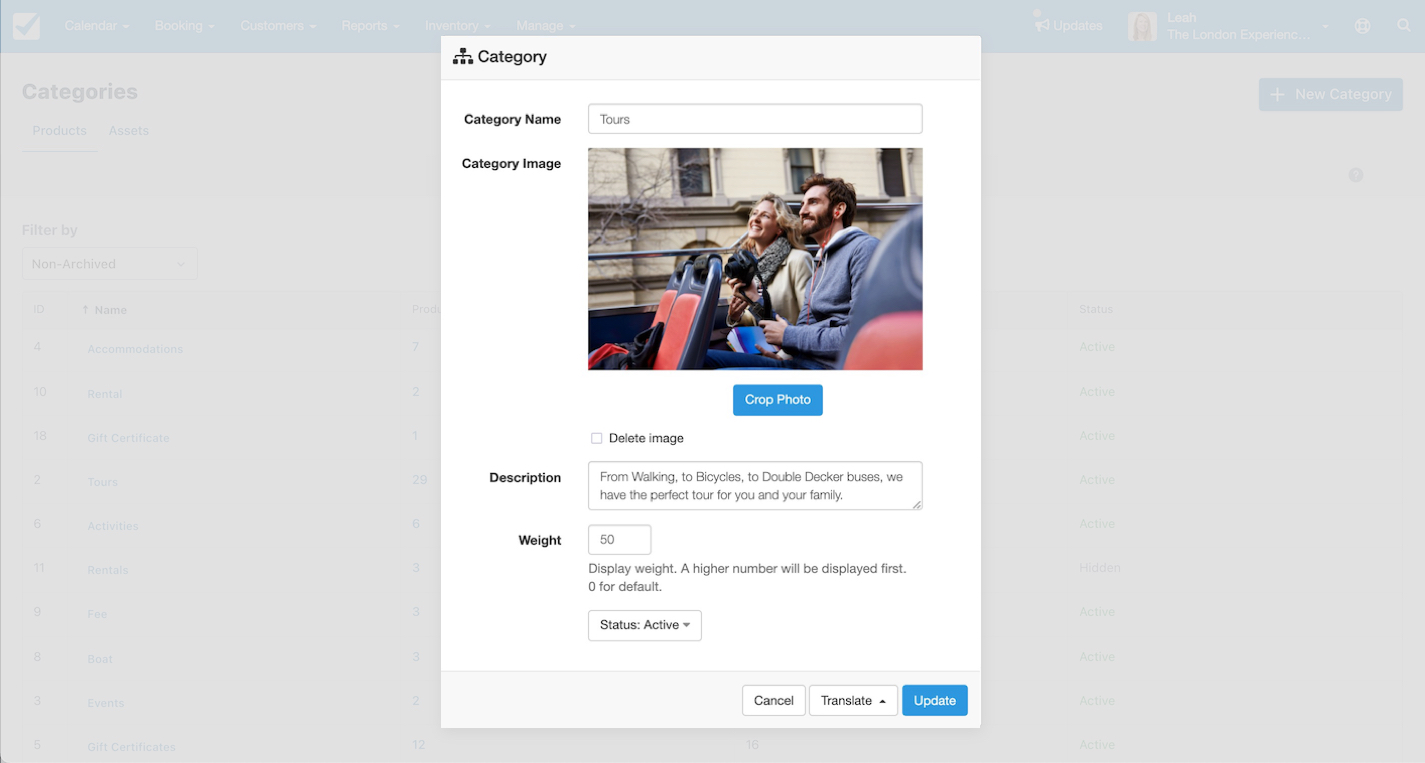 To edit an existing product or item category, click on its name in the category list and update the details as necessary. When ready, click the Update button to confirm your changes.
Enter a new unique name for the category if you would like to change your current category name.
If you would like to crop your image, then click on the Crop Photo button.
Using your mouse cursor, click and drag out an area on your photo which you would like to use for the final image.
Once you have dragged out a box, you can then click and hold it with your mouse cursor to further reposition the area, if required.
Any changes you make are reflected in the thumbnail preview, directly below the main image you are working on.
You can delete the image by selecting the Delete Image checkmark option, and clicking Update to remove.
Change the description for the category that is displayed to the Customer in the booking portal.
Category weight determines the order in which the categories are displayed in your booking portal.
A higher number places the category closer to the front of the list. Each category must have its own unique weight.
In a scenario where multiple categories share the same weight, they are then sorted into alphabetical order, while maintaining the position among the weights of the other categories.
---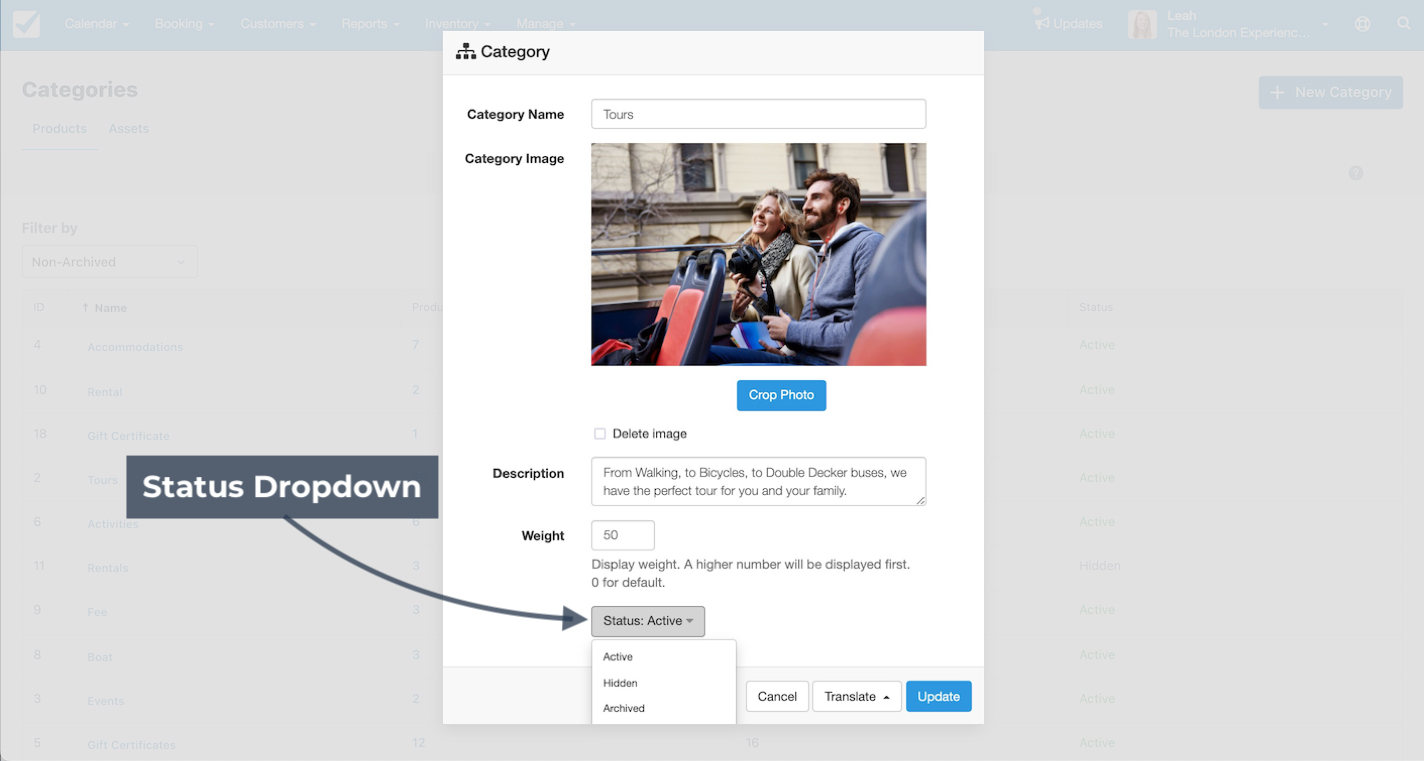 Click the Status dropdown menu to select a new category status.
The category is visible to your Customers for booking.
The category is visible to your Staff in the back-end for booking but is not available to your Customers on the system front-end.
The category is not available to either Staff or Customers for booking.
If you wish to use the category again, then you need to change the status to Active or Hidden.
Conversely, if at a later date you decide to un-archive the category, then you can do so in the same way. Just change the status to Active after selecting the category from the main category screen.
Archiving a category does not permanently delete it from the system. Permanent deletion of individual categories is not currently supported in this area.

If you no longer wish to use a category, then you should simply archive it and leave it at that.

If you are coming to the end of your free trial and would like to reset your system before going live, then you can do a system purge which permanently deletes all categories and whatever else you deem necessary.
---
< Categories: Creating a New Category | Categories: Category Translation >
---