---
Plan Availability: ✓ Soho | ✓ Pro | ✓ Plus | ✓ Enterprise | ✓ Flex |
Locate: Inventory > Import
Prerequisites:
Admin permission to manage Inventory.
Your account must have access to items (Inventory > Items), which is a key feature of our classic version of

Checkfront.
This feature is not yet supported with products (Inventory > Products), which is a key feature of our newest version of

Checkfront.
New to Checkfront - Products ✨

Products (Inventory > Products) is the successor feature to (Inventory > Items) and is available in our newest version of Checkfront.

Not yet on our newest version and interested in upgrading? Please contact our Technical Support team for more information.

Discover more product-related help articles here: Products (New).
---
Mapping your item data to fields in Checkfront
Back to top
On the next screen, you see an empty table with the Checkfront data fields as the column headers (A). In the sidebar on the left, you see a list of the same fields, each with a dropdown box next to it (B).
These dropdown boxes contain a list of the field names you used to create the column headers in your spreadsheet.
It's now just a simple case of going down the list of fields and selecting the matching one from your spreadsheet (C).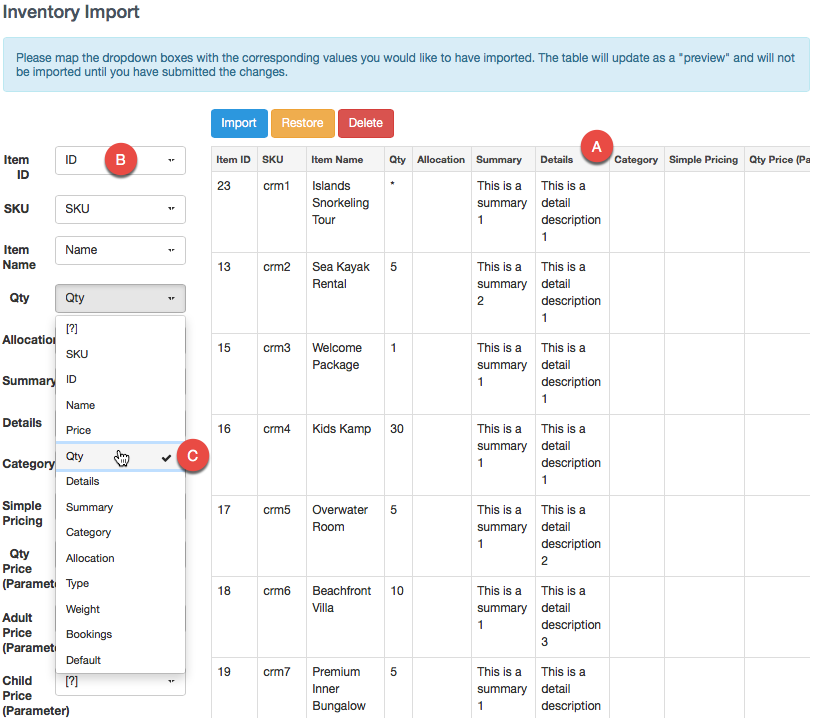 When you have done this, click on the blue Import button at the top of the page.

You should see a pop-up asking you to confirm the import.
If you're having doubts about what you just did, then click on the No, I need to fix something! button. Otherwise, click Import Now!.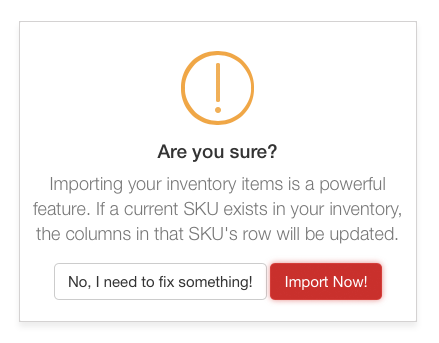 Assuming everything went according to plan, you should now see a confirmation of your latest success: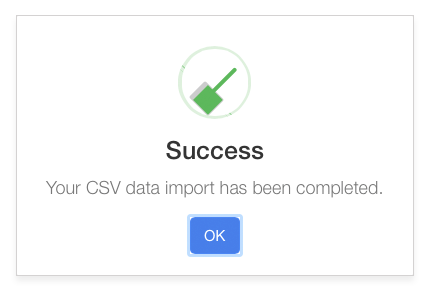 At this point, you can hurry over to view your imports at Inventory > Items, but before you do, let's have a quick look at some of the other options available to you from the import screen.
---
< Import Inventory: Importing items into Checkfront | Import Inventory: Restoring item inventory >
---