---
Plan Availability: ✓ Soho | ✓ Pro | ✓ Plus | ✓ Enterprise | ✓ Flex |
Locate: Manage > Integrations > Guest Management > Guest Forms
Prerequisites:
Admin permissions to manage Integrations.
The Guest Form feature is available to both those using items (Inventory > Items), a key feature of our classic version of Checkfront and those using products (Inventory > Products), a key feature of our newest version of Checkfront.
New to Checkfront - Products ✨

Products (Inventory > Products) is the successor feature to (Inventory > Items) and is available in our newest version of Checkfront.

Not yet on our newest version and interested in upgrading? Please contact our Technical Support team for more information.

Discover more product-related help articles here: Products (New).
In this article, we look at configuring Guest Form fields.
New to the Guest Form? Be sure to read the first article in this series for an introduction!
Please read the full series of articles, accessed at the side and bottom of this page, to learn more about the full capabilities of the Guest Form feature.
---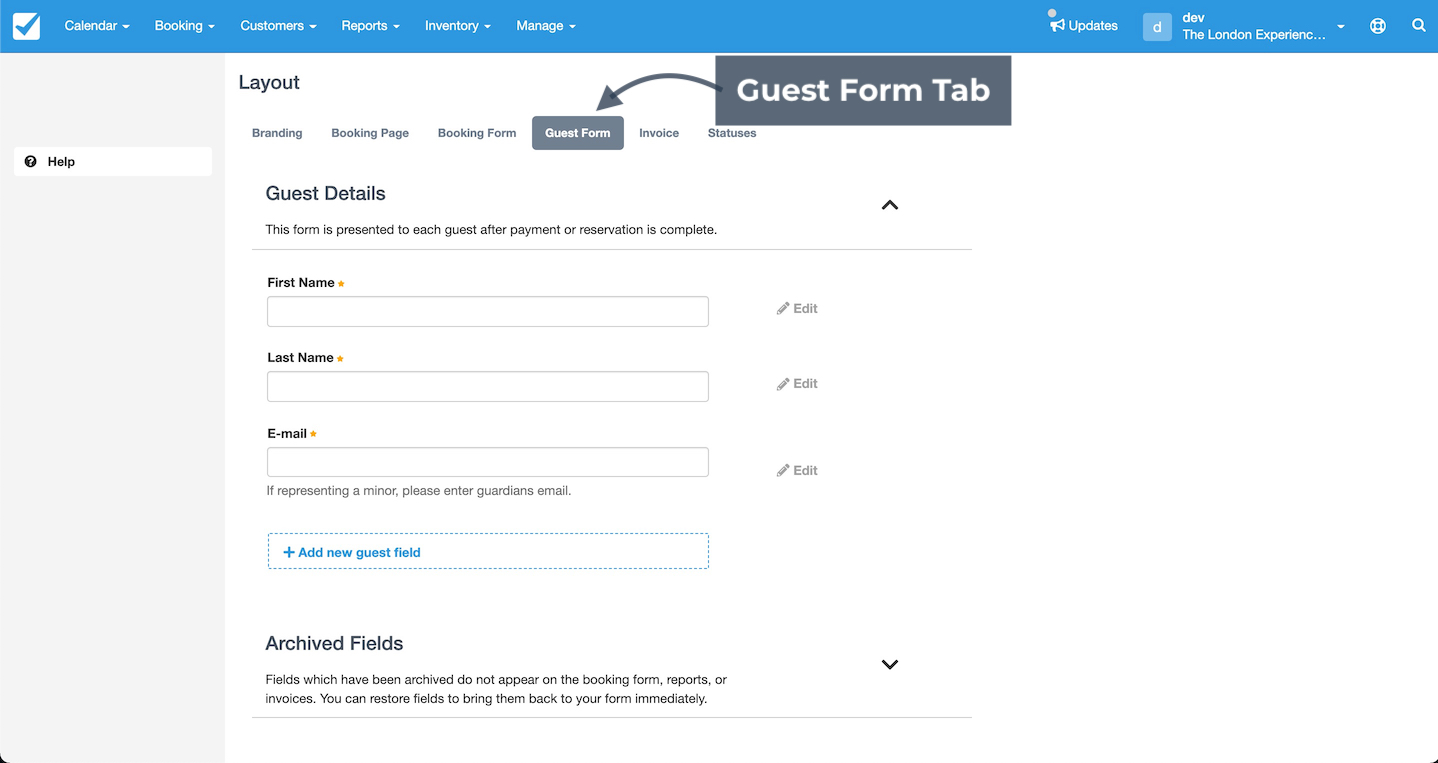 Upon activation, you are transferred to a new tab in the Layout area (Manage > Layout) of your Booking Manager.
This tab is labelled Guest Form and sits between the Booking Form and Invoice tabs.
The Guest Form tab is divided into two sections, Guest Details and Archived Fields, which we look at in greater detail later in this series.
---
Starting with the Default Guest Form Fields
Back to top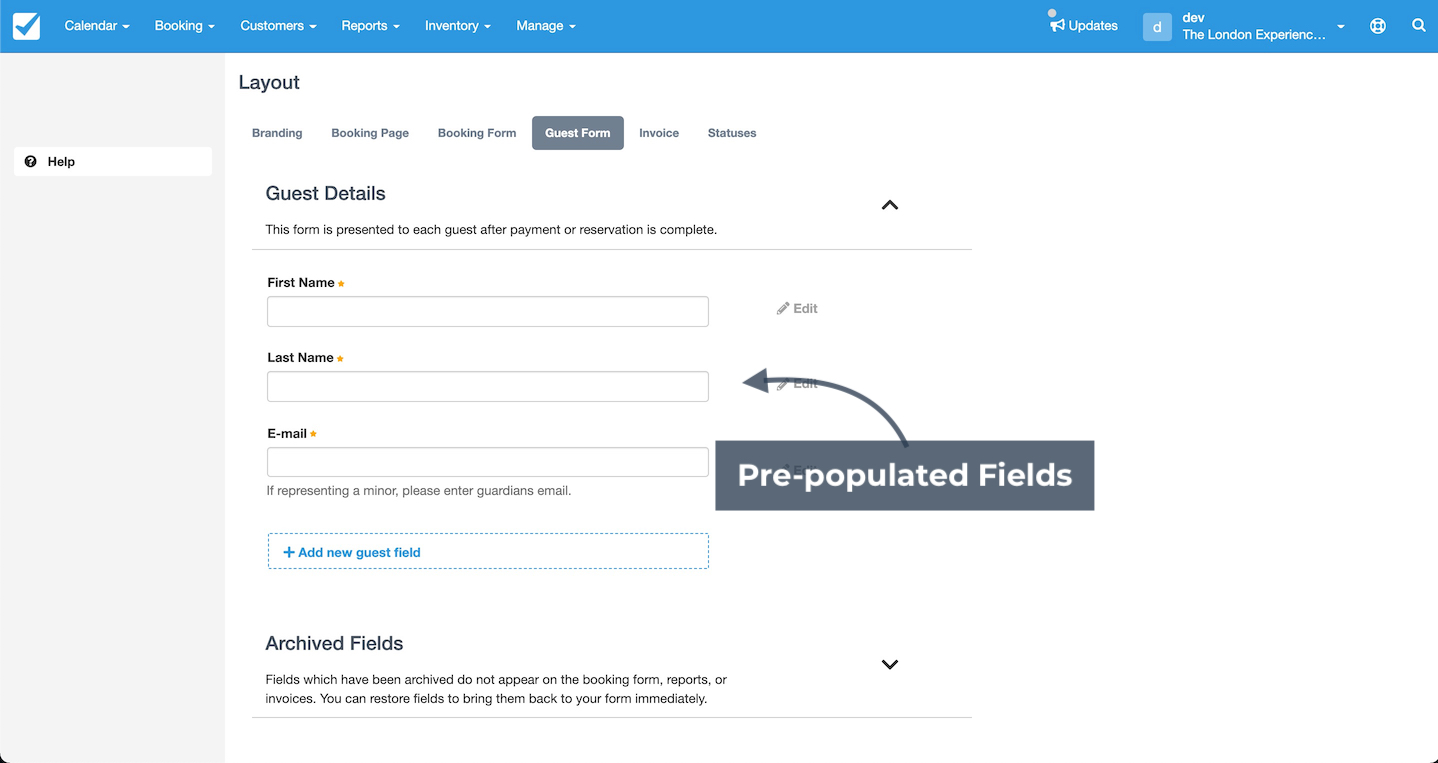 By default, the Guest Details section comes pre-populated with three required fields - First Name, Last Name, and E-mail.
| | |
| --- | --- |
| | The name and email fields can be set to not be required. In the absence of a name field being required, the booking form inserts the word "Guest" for the Customer's name. |
---
The forms used for adding new Guest fields and editing existing fields are similar with the exception of how they are created. Whichever option you chose, you are presented with the same pop-up modal enabling you to configure the field for use with your Guest Form.
- Editing a Field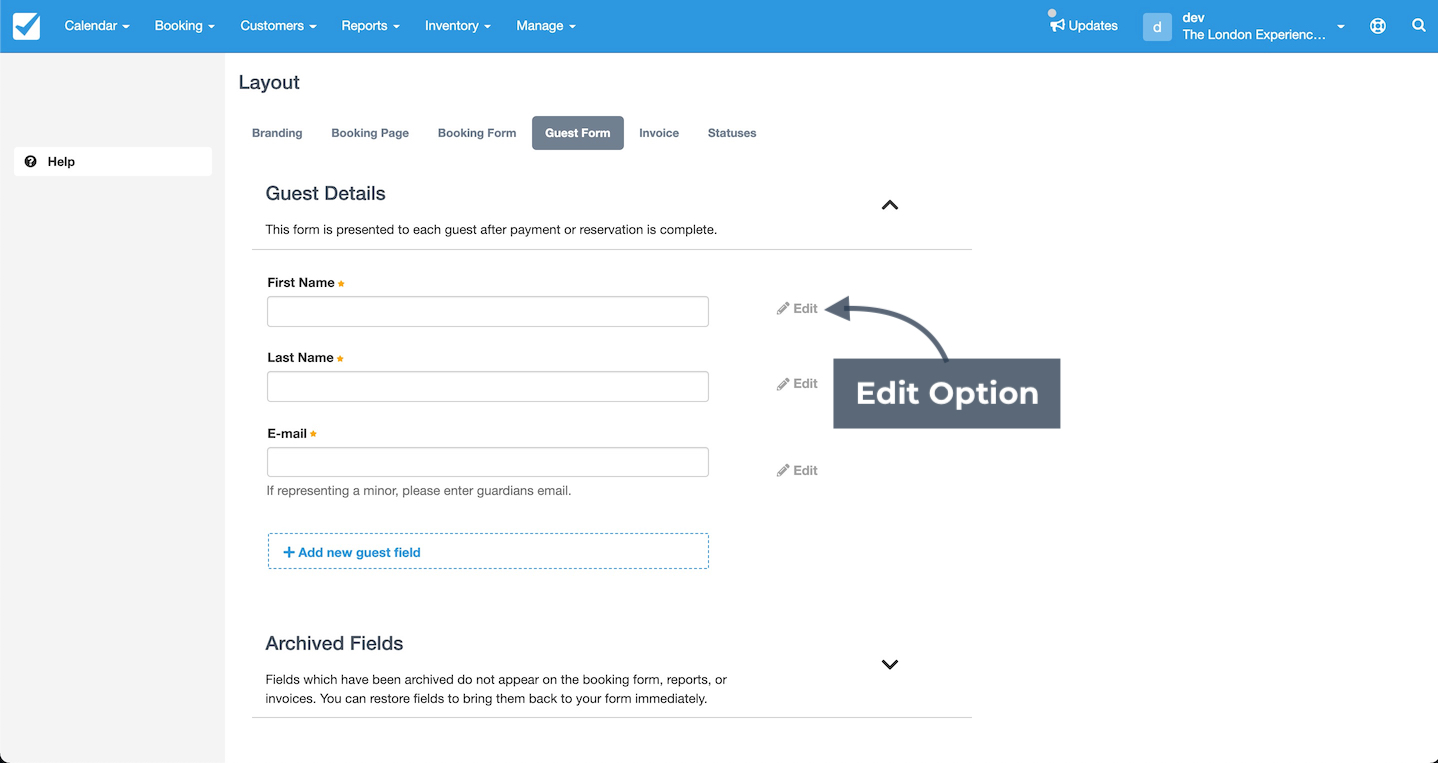 To edit an existing Guest field, click on the Edit link to the right of the field in question. This opens the Guest Form field editor in edit mode.
- Adding a New Field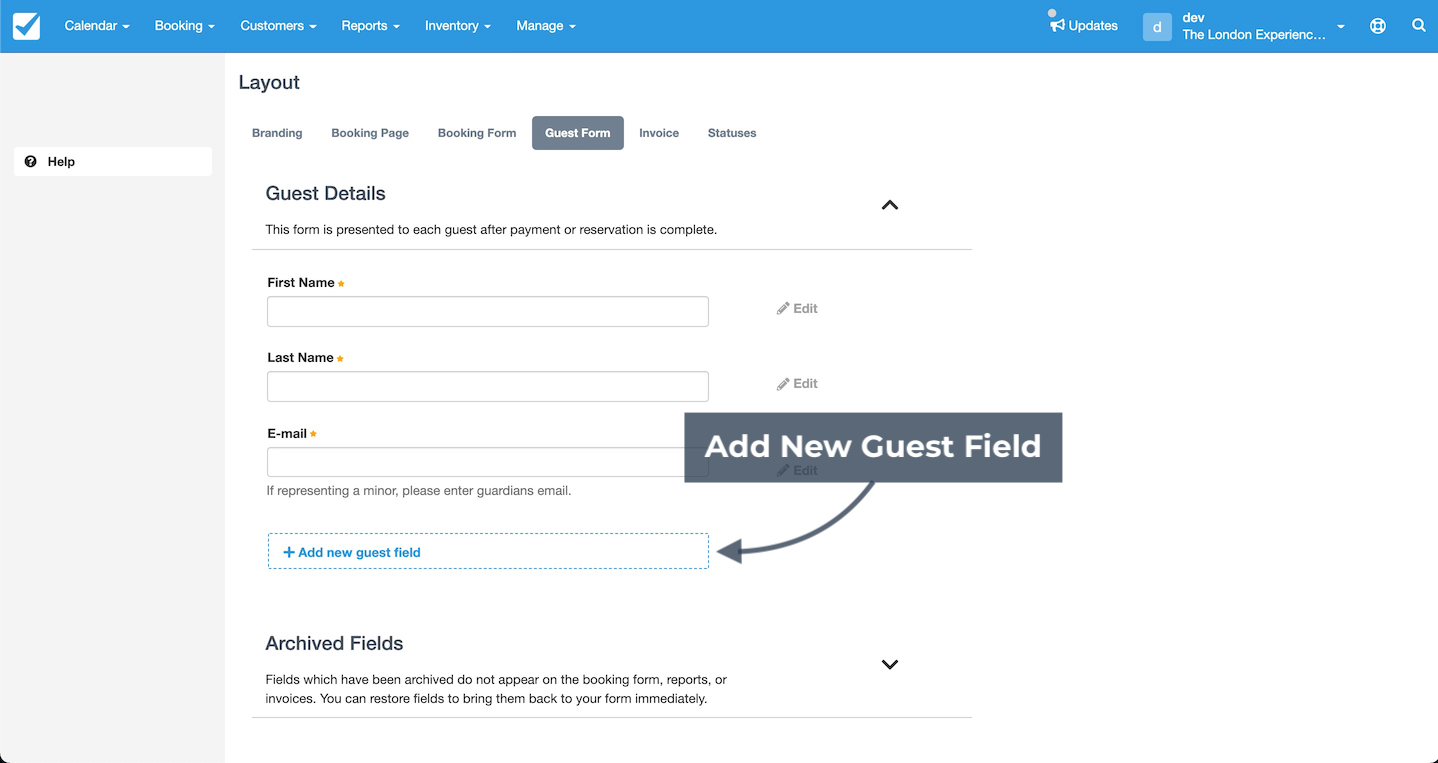 To add a brand new Guest Form field, click on the link labelled Add new guest field below the list of current fields. This opens the Guest Form Field editor in create mode.
Whether creating a new field from scratch or editing a field that already exists, there are various options you can configure that define the appearance and functionality of the field.
The field editor modal is divided into three tabs: General, Options, and Advanced.
In the next article in this series, we start with the general settings.
---
< Guest Form: Integration Setup | Guest Form: Working with General Field Settings >
---