---
Upon activation, you will be transferred to a new tab on the Manage > Layout page of your Booking Manager.

This tab is labeled Guest Form and sits between the Booking Form and Invoice tabs.
The Guest Form tab is divided into two sections, which we will look at in greater detail below. Those sections are Guest Details and Archived Fields.
---
By default, the Guest Details section comes pre-populated with three fields - First Name, Last Name, and E-mail.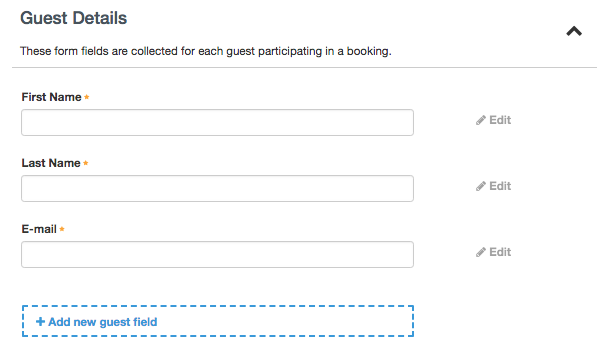 Please note: The name and email fields can be set to not required, in the absence of a name field being required the booking form will insert the word "Guest" for the customer's name.
---
The process for adding new guest fields and editing existing fields is the same, other than the initial trigger.
Editing a Field
To edit an existing guest field, click on the Edit link to the right of the field in question.

Creating a New Field
To create a brand new guest field, click on the link labeled Add new guest field below the list of current fields.

Whichever option you chose above, you will be presented with the same pop-up modal enabling you to configure the field for use with your Guest Form.
---
When creating a new field from scratch, or editing a field that already exists, there are various options you can configure that define the appearance and functionality of the field.
The field editor modal is divided into three tabs: General, Options & Advanced
The currently active tab will be highlighted with a blue line beneath it.
---
< Guest Form: Add-on Setup     |     Guest Form: General Tab >
---