---
Learn how to rearrange, archive, and restore form fields in the Guest Form.
New to the Guest Form? Read the first article in this series for an introduction to the Guest Form feature.
---
Which plan do you need to use this feature?
✓ Soho | ✓ Pro | ✓ Plus | ✓ Enterprise | ✓ Flex |


Where can I find this feature using the top menu?
Manage > Integrations > Guest Management > Guest Form


What prerequisites are there?
Admin permissions to manage Integrations.


Which Checkfront version supports this feature - classic, new, or both?
The Guest Form feature is available to both those using items (Inventory > Items), a key feature of our classic version of Checkfront and those using products (Inventory > Products), a key feature of our newest version of Checkfront.
New to Checkfront - Products ✨

Products (Inventory > Products) is the successor feature to (Inventory > Items) and is available in our newest version of Checkfront.

Not yet on our newest version and interested in upgrading? Please get in touch with our Technical Support team for more information.

Discover more product-related help articles here: Products (New).
---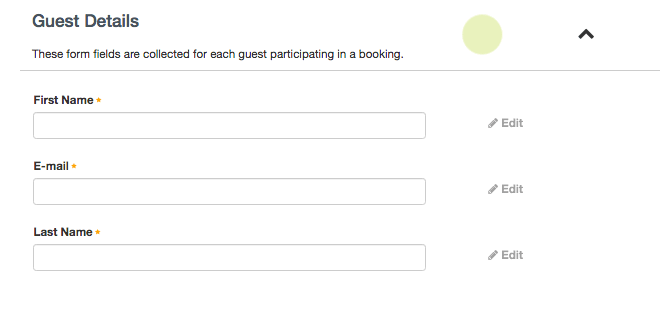 You can change the order in which fields display by hovering your mouse over the field you wish to move, holding down your left mouse button, dragging the field into its new position, and releasing it.
---
If you no longer wish to use a field on your Guest Form, you can archive it. In doing so, you remove the field from the booking form, reports, and invoices.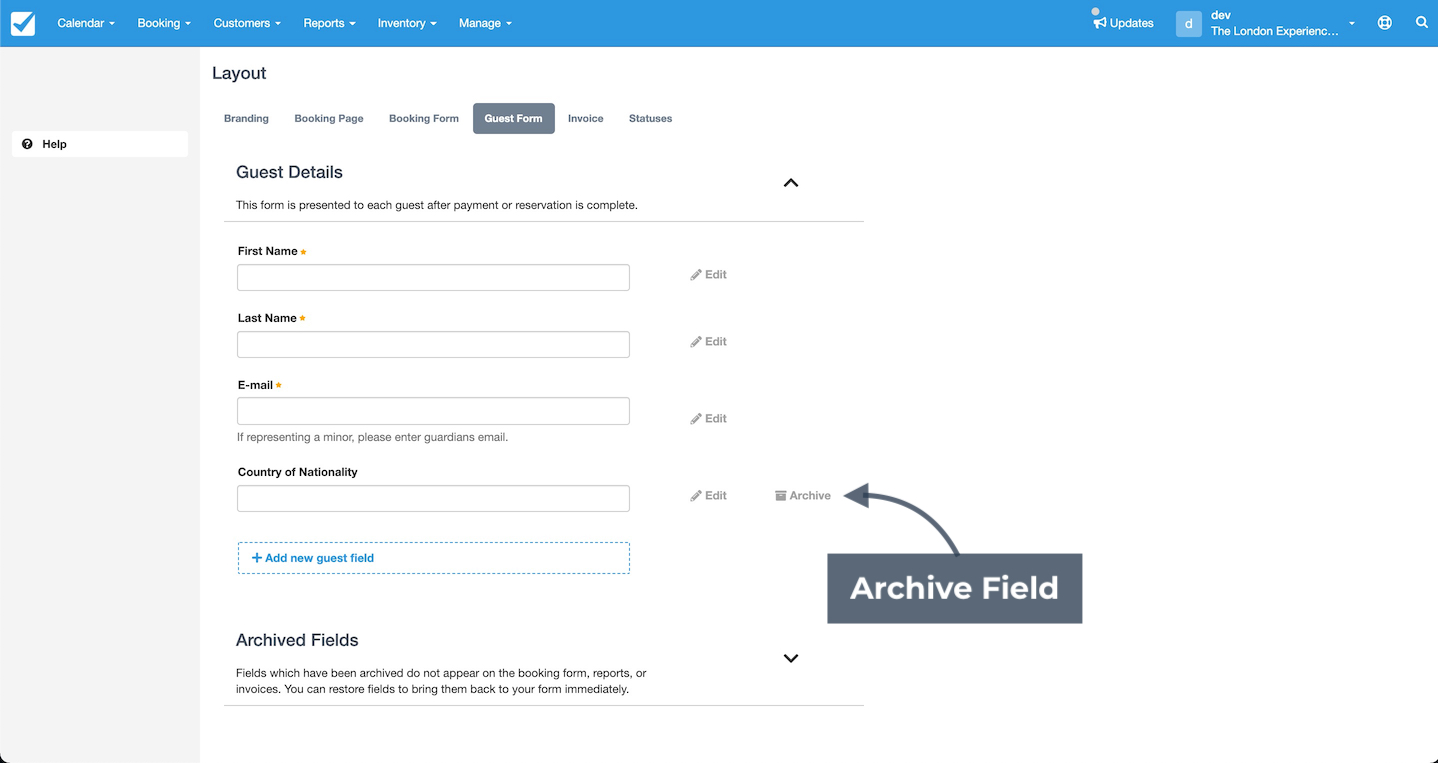 An Archive button displays to the right of any fields you have created yourself.
System fields, such as name and email address, cannot be archived, so the button does not appear next to those fields.
Click on the button to archive the field and remove it from your Guest Form.
---
Restoring archived fields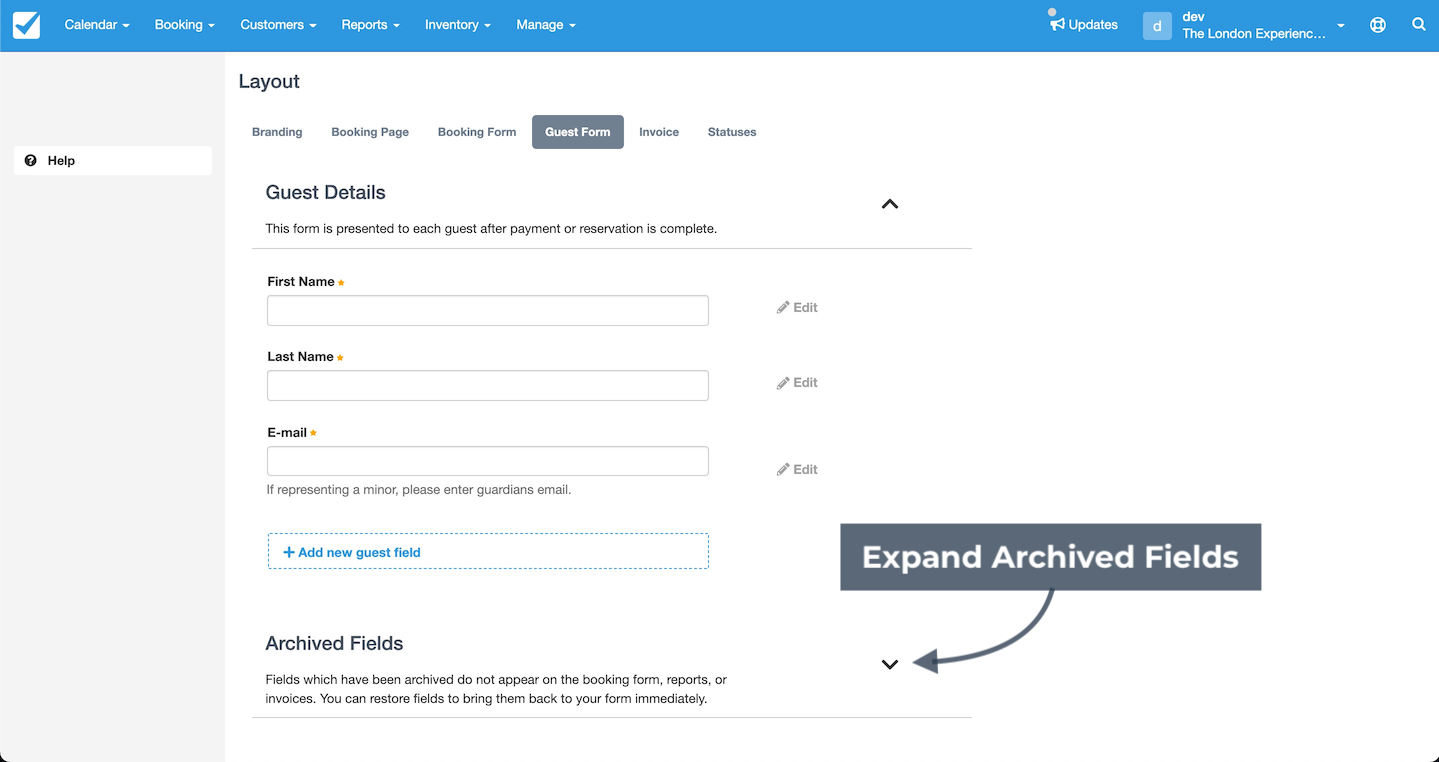 In the Archived Fields section of the Guest Form edit page, you see an arrow icon on the right side. Click on this to slide out a list of your archived fields.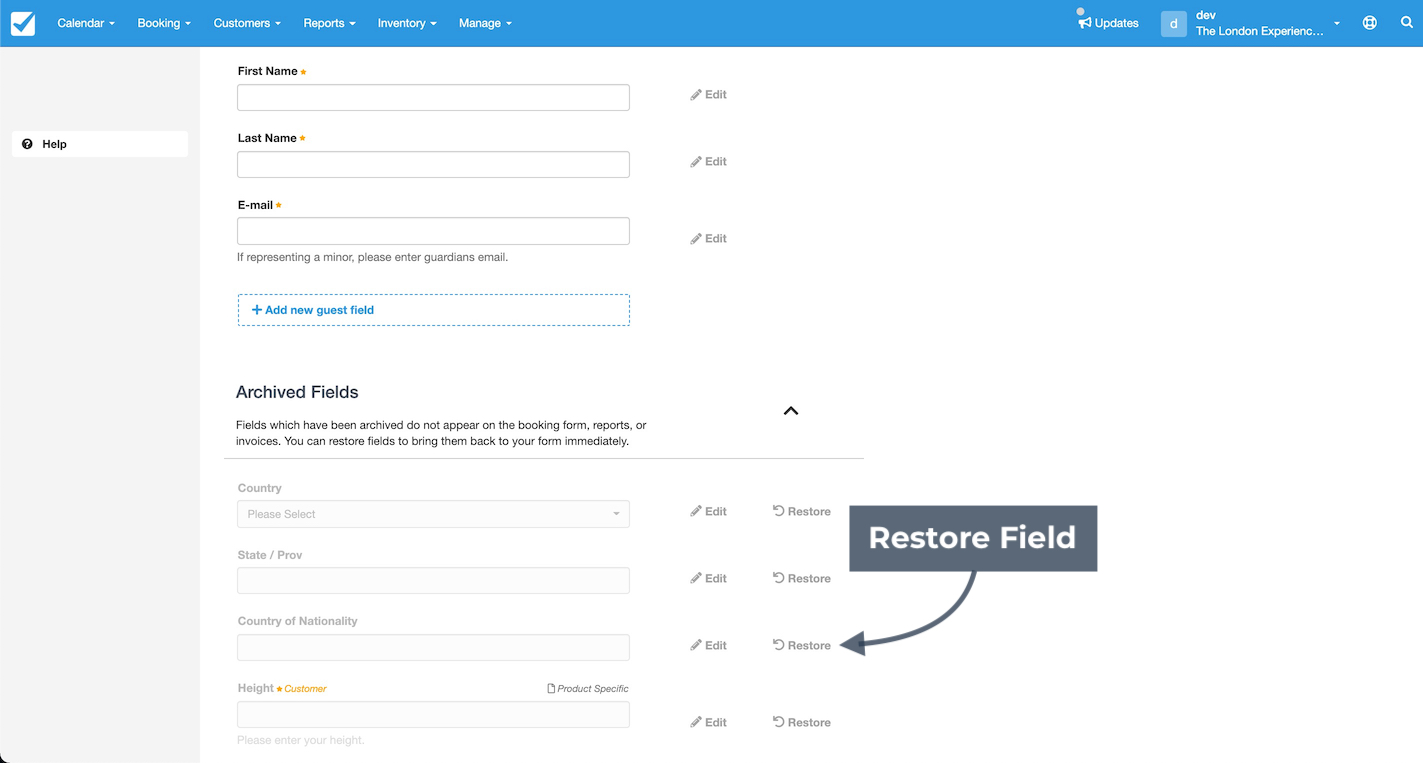 Clicking the Restore button to the right of the field you need to restore immediately returns the field to your Guest Form.
Archiving a field or any data collected via that field from the system does not delete it. Archiving removes the field from the booking form, keeping your data intact.

If you disable the Guest Form integration entirely, any previously filled-in field information is hidden. The field information is available again once you re-enable the Guest Form.
---
< Working with advanced guest form field settings | Taking a look at guest forms within the booking flow >
---