---
Prerequisites:
Your account must have access to items (Inventory > Items), a key feature of our classic version of

Checkfront.
New to Checkfront - Products ✨

Products (Inventory > Products) is the successor feature to Items (Inventory > Items) and is available in our newest version of Checkfront.

Not yet on our newest version and interested in upgrading? Please reach out to our Technical Support team for more information.

Discover more product-related help articles here: Products (New), including how to manage product rules under the Availability tab of the Product Builder.
---
To create a new rule set, click on the +New Rule Set button in the left sidebar.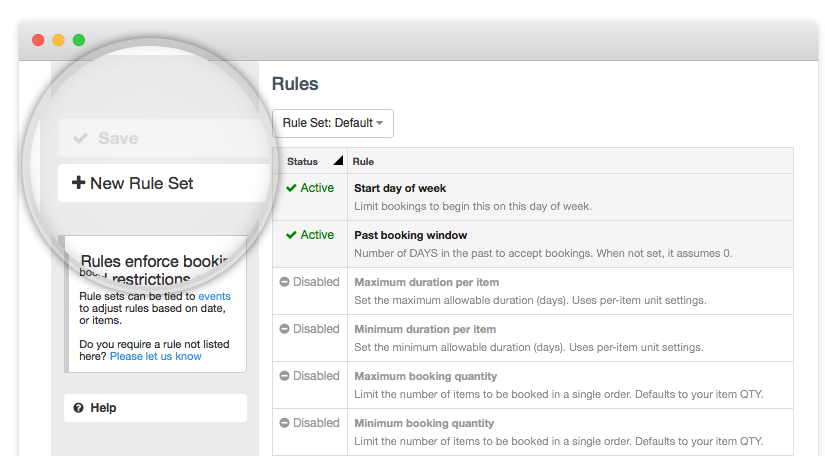 You can create as many new rule sets as you like. If you have created an item event or maybe even a discount event, you may wish to create a specific set of rules to help govern that event in your system.
| | |
| --- | --- |
| | A new rule set applied to an item by an item event does not override a previous rule set that applies to the same item. Instead, the rule sets would apply at the same time. |

For example, you may wish to create an event that provides a 10% booking discount on a hotel room during a certain period of time. However, to qualify for the discount, the customer must purchase a minimum stay of 3 nights.
In this case, you activate the Minimum Duration Per Item rule, with a value of 3. When creating the event in your system, you attach the new rule set to trigger the 3-night minimum requirement.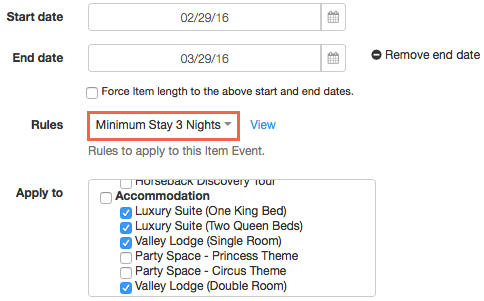 The customer receives a 10% discount only if a minimum of 3 nights are selected for the booking. You should use the default rule set to define rules that are applied generally across your inventory.
For example, if you offer only accommodation and always require a minimum 3-night stay, then the default rule set can be used to control this requirement.
Custom rulesets are to be used for a more customized booking experience.
| | |
| --- | --- |
| | If you decide to use a custom rule set, disable the matching rule in the default rule set first, as these automatically override the custom rules. |
---
< Rules: Activating/Disabling | Rules: Definitions >
---