---
When creating a new field from scratch, or editing a field that already exists in your system, there are various options you can configure that define the appearance and functionality of said field.
The field editor modal is divided into three sections: General, Options & Advanced
The currently active tab will be highlighted with a blue line.
---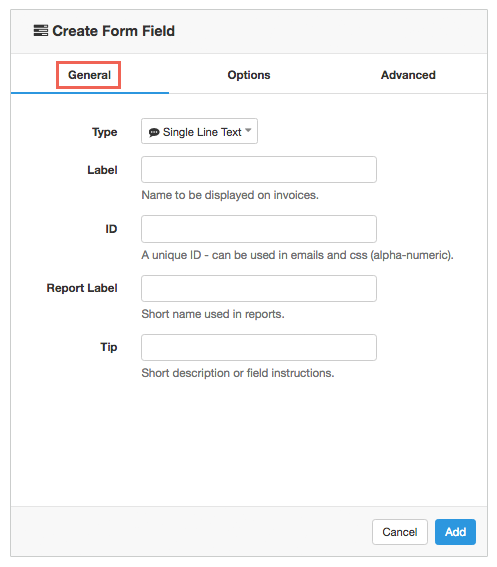 Type:
Common HTML input elements including text, select, radio buttons, and checkboxes.
Some of the fields require the input of additional options which can be chosen by the customer during checkout. An example would be a drop-down menu of choices. Selecting the Drop-down Select field will allow you to ask your customer a question and provide them with a list of possible answers to choose from.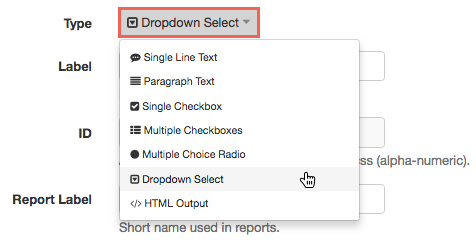 Depending on the type of field you select, the Options tab will update to enable further customization. In our example of a drop-down field, you will now be presented with a list of three options in the field's Options tab. These options can be edited to reflect your requirements. See below for more details on the options tab.
The HTML Output field allows you to add simple read only text to the booking form field. This can be used informing guests of important notices or information about what they will be filling out on the form.
Label:
This is the label which will be displayed next to the field on your booking form and on your invoices. Examples of commonly used labels are Name, Email or Phone.
ID:
A unique ID - can be used in email notifications and CSS (alpha-numeric). Prefixing the ID with 'customer_' causes the field to be shown in the top section of invoices with the rest of the customer information.
Report Label:
Field name to be displayed in internal reports.
Tip:
This is an optional, short description that is displayed underneath the field. Use this to provide your customers with instructions on how you want them to fill out the field.
---
---
< Booking Form & Field Editor: Edit/Reposition    |     Booking Form & Field Editor: Options Tab >
---