---
Plan Availability: ✓ Soho | ✓ Pro | ✓ Plus | ✓ Enterprise | ✓ Flex |
Locate: Manage > Layout > Booking Form
Prerequisites:
Admin permissions to manage your account.
The Booking Form is available to those using items (Inventory > Items), a feature of our classic version of Checkfront.
Interested in using the Booking Form with products (Inventory > Products)? Your account must be a member of our

Early Access Program.
Early Access Program

The new product feature mentioned in this article is currently part of our Early Access Program, which means it is available to select Customers to try out and provide us with feedback.

To learn more about becoming part of our Early Access Program check out our related blog post or contact our Technical Support team.

Find our complete set of help articles related to the Early Access Program here: Early Access Program.
---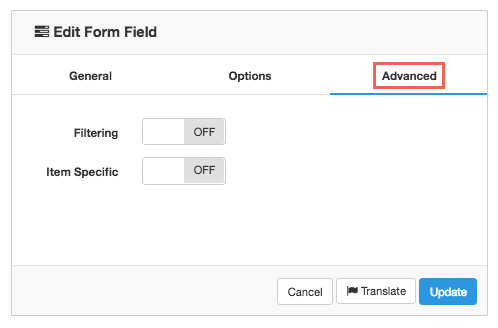 Filtering:
The filtering switch has two distinct functions when activated. It can be used as a trigger to show/hide other fields on the booking form, or, it can be used to determine whether the field is shown or hidden based on being triggered by another field. If that doesn't make perfect sense yet, read on to find out what we mean.
Let's begin by looking at a specific example. Imagine we've created a multiple choice radio button with the options yes and no. The question asks the customer if they have a pet.

The response chosen by the customer determines whether an additional question is triggered by the system. If the customer selects no, then a response is not triggered and no further action is required.
If, however, the customer selects yes, we might want an additional question to be triggered by the form. That question might ask for the pet's name.
The question 'Do you have a pet?' is the trigger question and must be added to the filter list. This is a list of the questions stored within the system that are used to trigger additional questions under certain circumstances. This list is not visible to you as a system user.
So, after turning on the filtering switch under the advanced tab, check the box labeled Add to 'Filter List'. You can see this in the screenshot above.
After clicking Update, this question is now added to the filter list mentioned above.
The next step is to create the question that is asked if the customer answers yes, they do have a pet.
Since, in our example, we have decided to ask what the pet's name is, we would simply create a single line text field.
In the advanced tab, turn on the filtering switch. This time, however, do not check the Add to 'Filter List' option.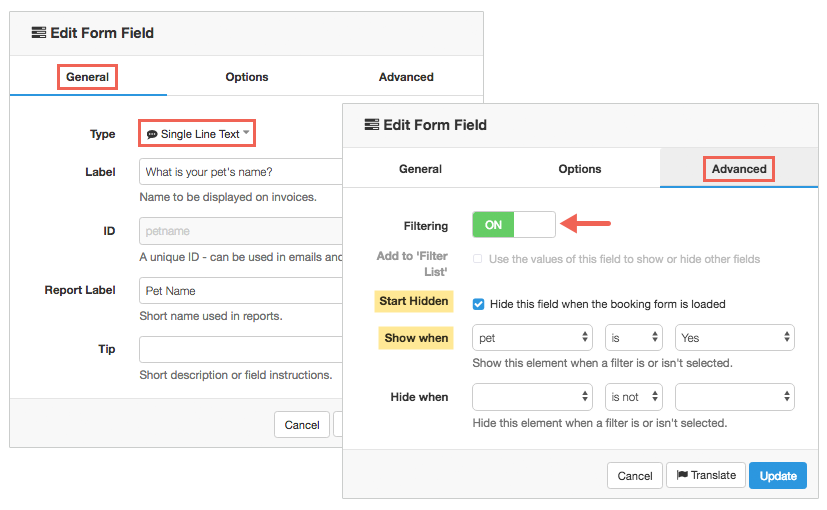 Instead, choose what happens when the trigger question is answered. Look for the field labeled Show when and choose your trigger question from the drop-down menu. We named ours 'pet' in the previous step. Please note that we also chose to start the question hidden so that the customer doesn't see it unless they choose the trigger option.
We show the question we are working on when the answer selected is yes. This is highlighted in the screenshot above.
Once you've clicked Update, the filter is complete.
So how does it work? Well, basically, if the customer were to select 'no' when asked if they had a pet, nothing would change and they would continue to fill out the rest of the form. If they choose 'yes', however, then the second question magically appears below it. See below for an example:

It's worth playing around a bit with the different options, as you could make the second question visible at first, and then disappear if a particular option is chosen by the customer. It really depends on what you're looking to do!
| | |
| --- | --- |
| | The Filtering Add to 'Filter List' trigger option can only be used with multiple-choice form field types, such as Multiple Choice Radio, Multiple Checkboxes, and Dropdown Select. |
Item or Product Specific:
On occasion, you may find that some of the items or products in your inventory require special customer details/instructions that other items or products don't. This is why we have created an option for item or product-specific fields.
Let's assume for a moment you're renting out kayaks. You may wish to ask your customers, during the booking process, what their level of experience is and do they require any on-site instruction. You could add these fields to your standard booking form, but they may look a bit out of place if a guest is simply booking accommodation for the night.
Item or product-specific fields enable you to create specialized booking form questions that can then be tied to a particular item(s) or product(s). To turn a booking field into an item or product-specific field, simply choose the item(s) or product(s) from the list provided in field edit mode.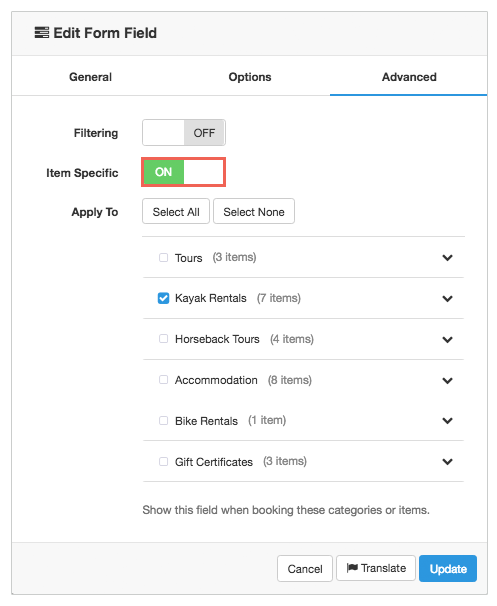 That field now only appears during the checkout process when the item(s) or product(s) is added to a booking. If no items or products are selected, then the field appears for all bookings as normal.

An item or product-specific field can be recognized in your Booking Manager by the label seen above.
---
< Booking Form & Field Editor: Options Tab | Booking Form & Field Editor: System Fields >
---