---
Below, is a list of the standard system field IDs that come with your Checkfront account. Before removing or editing any of these fields, please make sure you have read the important information in the box below.
Important!

Checkfront has a set of pre-defined booking form fields (system fields). These are used to populate information in your database that serve a specific role in the system. These are identified by their field ID. If you choose to remove these fields from your booking form, please note that certain functionality could be lost.

For example, if no customer_email is present, no emails will be sent to the customer. Some fields are auto-detected and pre-filled by the system. Specifically, the customer_country and customer_region are pre-filled using GeoIP detection. Likewise, the label of the customer_postal_zip is automatically changed based on the selected country. It's recommended that you do not replace these options. You may, however, remove them if not required (be sure your payment processor does not require them either).

Please note also that the system fields currently support English language strings only.
customer_prefix
Prefix to customer's name. Comes with Mr, Mrs & Miss by default, but more can be added if required
customer_name
Full name (first & last) of the customer
customer_address
Street address of the customer
customer_city
Customer city of residence
customer_email
Customer e-mail address. Used in notifications
customer_country
Customer country code. Dropdown with detected country auto-selected You may enter a default value for the country in the field provided. If you were to enter 'MX' for Mexico, this would automatically show to all customers, regardless of where they are located. They can, however, change this if required.
customer_region
Customer state or province. Dropdown with detected region auto-selected In order for the regions to appear in the drop-down, you must also be using the customer_country field. If you do not, the regions field will not populate properly. You may also choose a default value for the region by entering it in the field provided. This will show automatically to the customer, who can then change it if required.
customer_postal_zip
Postal or zip code
customer_phone
Phone number of customer
note
Note that can be created at the time of booking
customer_email_optin
The 'stay up-to-date on our newsletter' field is only displayed when either the Mailchimp or Constant Contact integrations are activated.
booking_language
The language of the booking. This is a special field that only appears on the booking form if you have activated additional languages in your system. It is visible to staff members only. This enables your staff to change the language of the notification that will be sent out to the customer when a booking is complete. Only the currently active languages will be displayed in the drop-down menu.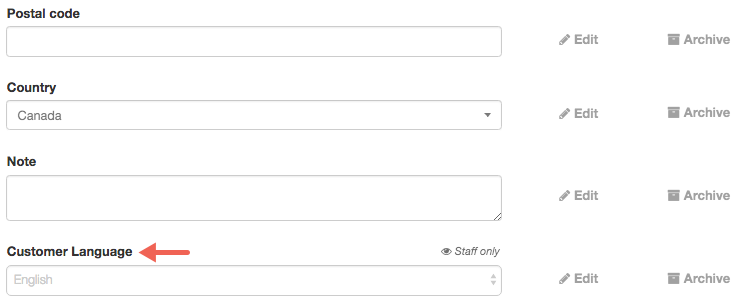 Guest Form Fields
The following fields are reserved by the system and therefore cannot be used as field IDs on the Guest Form.
guest_name
guest_first_name
guest_last_name
guest_email
guest_country
guest_region
guest_phone
guest_city
guest_address
guest_postal_zip
---
< Booking Form & Field Editor: Advanced Tab | Booking Form & Field Editor: Archived Fields >
---