---
If you no longer wish to use a field on your booking form, you can choose to archive it by clicking on the Archive link to the right of the field. 

With field archiving, you can safely remove a field from future bookings while preserving the state of old bookings. 
Restoring Archived Fields
Below your booking form fields, you will see a section labeled Archived Fields. Click on the arrow as highlighted in the screenshot below to reveal any fields you have previously archived.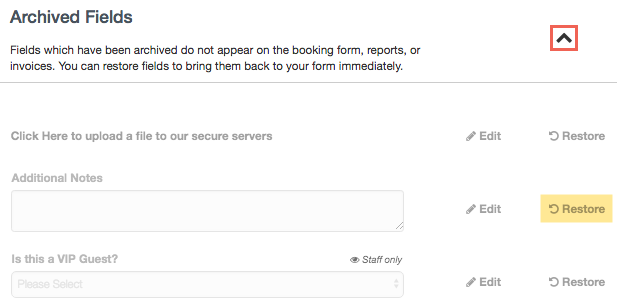 You can edit your archived field before restoring it to a live state by clicking the Edit link.
To restore the field to your booking form, click the Restore link as highlighted in yellow above. Doing so will immediately return the field to your live form and be instantly visible to customers.
Click the arrow again to close this section and hide your archived fields from view.
---
< Booking Form & Field Editor: System Fields     |     Booking Form & Field Editor: Resetting Fields >
---