---
Plan Availability: ✓ Soho | ✓ Pro | ✓ Plus | ✓ Enterprise | ✓ Flex
Locate: Manage > Layout > Invoice
Prerequisites:
Admin permissions to manage accounts.
The Invoice feature is available to both those using items (Inventory > Items), a key feature of our classic version of

Checkfront, and those using products (Inventory > Products), a key feature of our newest version

of

Checkfront.
New to Checkfront - Products ✨

Products (Inventory > Products) is the successor feature to (Inventory > Items) and is available in our newest version of Checkfront.

Not yet on our newest version and interested in upgrading? Please contact our Technical Support team for more information.

Discover more product-related help articles here: Products (New).
There are various options that can be selected to further customize your Invoice Layout for both Customers and staff.
With the following article, we review additional options for customizing your Invoice Layout.
---

Invoice Options vary, from the ability to customize print and payment preferences to the option to include further item or product details to the invoice, such as SKUs and Location.
---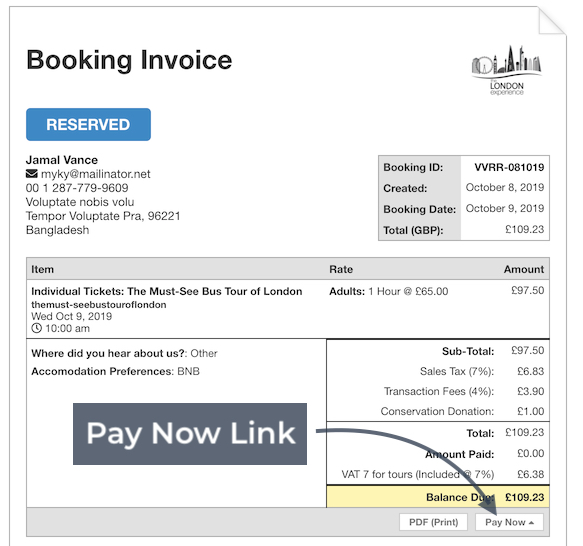 Adds a button to the Invoice which enables your Customers to click and pay any remaining balance on their Invoice. The button is located under the Balance Due on the Invoice.
The Pay Now button does not populate in the Staff or Customer PDF view of an invoice. Instead, the button populates when an invoice is embedded in an email to a Staff or Customer recipient.

Learn more about notifications and email variables here:
---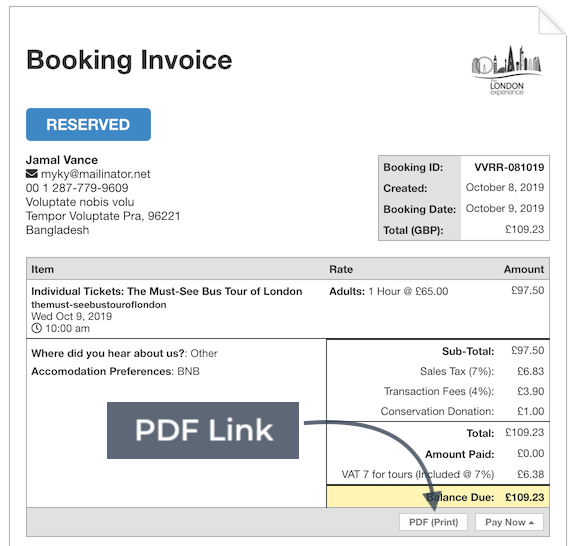 Adds a button that allows the Customer to create a PDF document of the Invoice for printing purposes.
---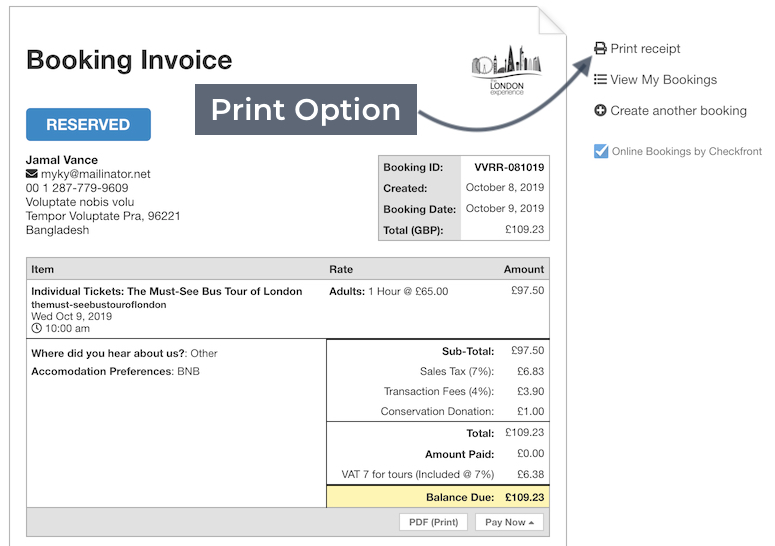 By default, the Invoice is converted to grayscale for printing. Selecting this option prints the Invoice in color instead. The logo remains in grayscale if you have chosen to include it.
---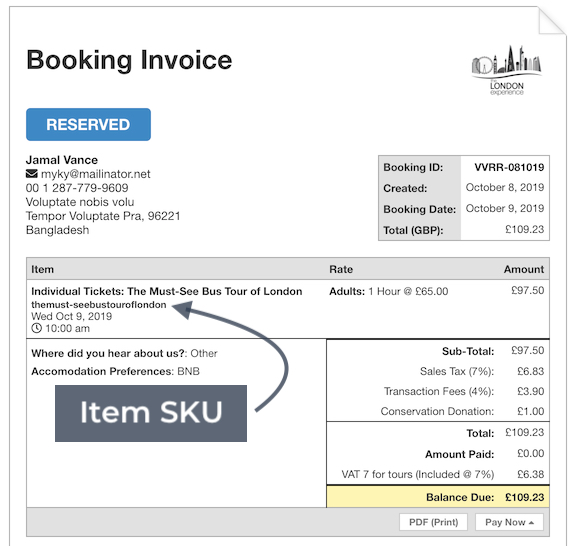 Selecting this option adds the item's or product's SKU directly beneath its title on the Invoice.
---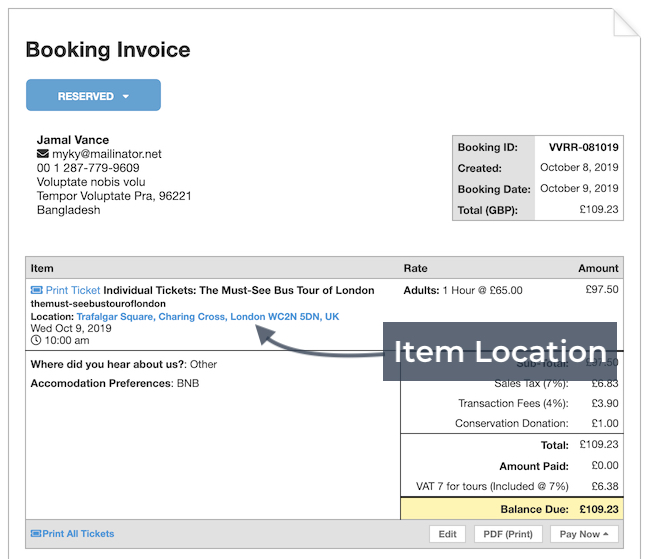 If you have entered the Location of an item in your inventory, then under the item's Media tab, you may choose to have this displayed on the Invoice. This is great for accommodation items or rental pickup Locations. Products do not include a Location option to display on invoices.
---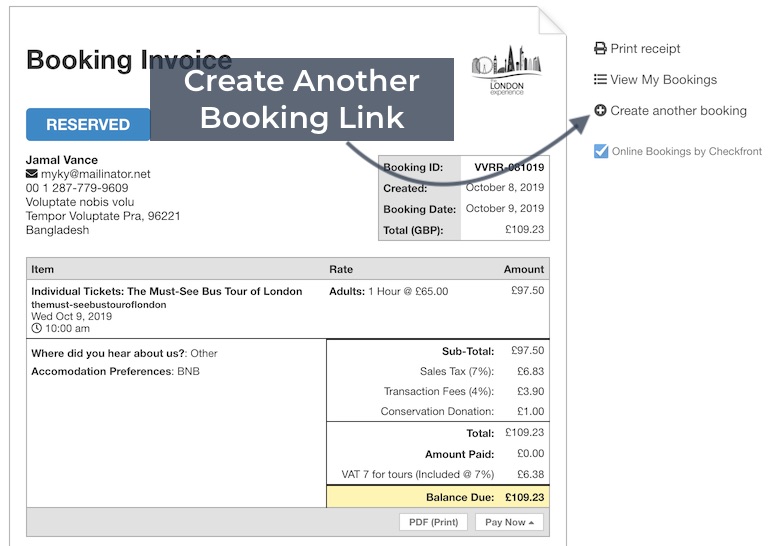 Check this option to enable a link that can be clicked on by a Customer to create another booking upon completion of their current booking. Once they have completed their booking through the online booking portal, a copy of the Invoice is displayed on the screen. The link is visible in the sidebar on the right.
---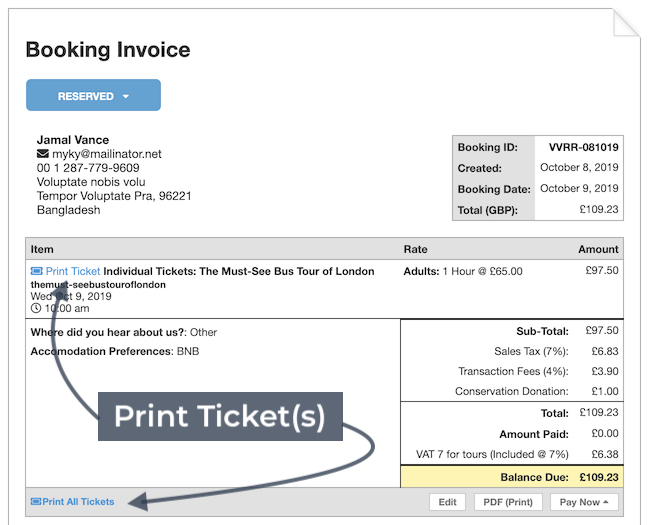 If you select this feature, then a link is added to the backend Invoices visible to your Staff Members. This link enables them to print a ticket that can then be given to the Customer.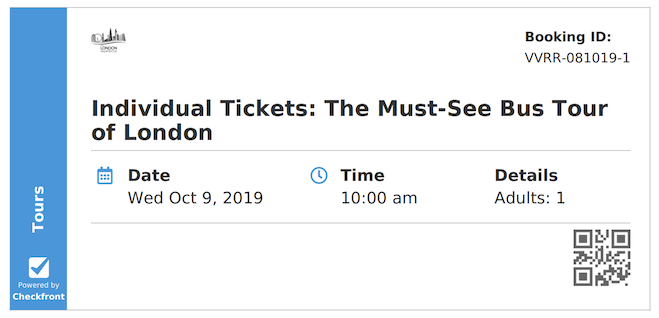 These tickets are great for tour operators with drop-in Customers who need a ticket to show the tour guide upon arrival at the meeting location.
If your QR Code integration is activated, then each ticket has one embedded in it. This can be scanned by a Staff Member to pull up the related Invoice and optionally check the guest in automatically.
---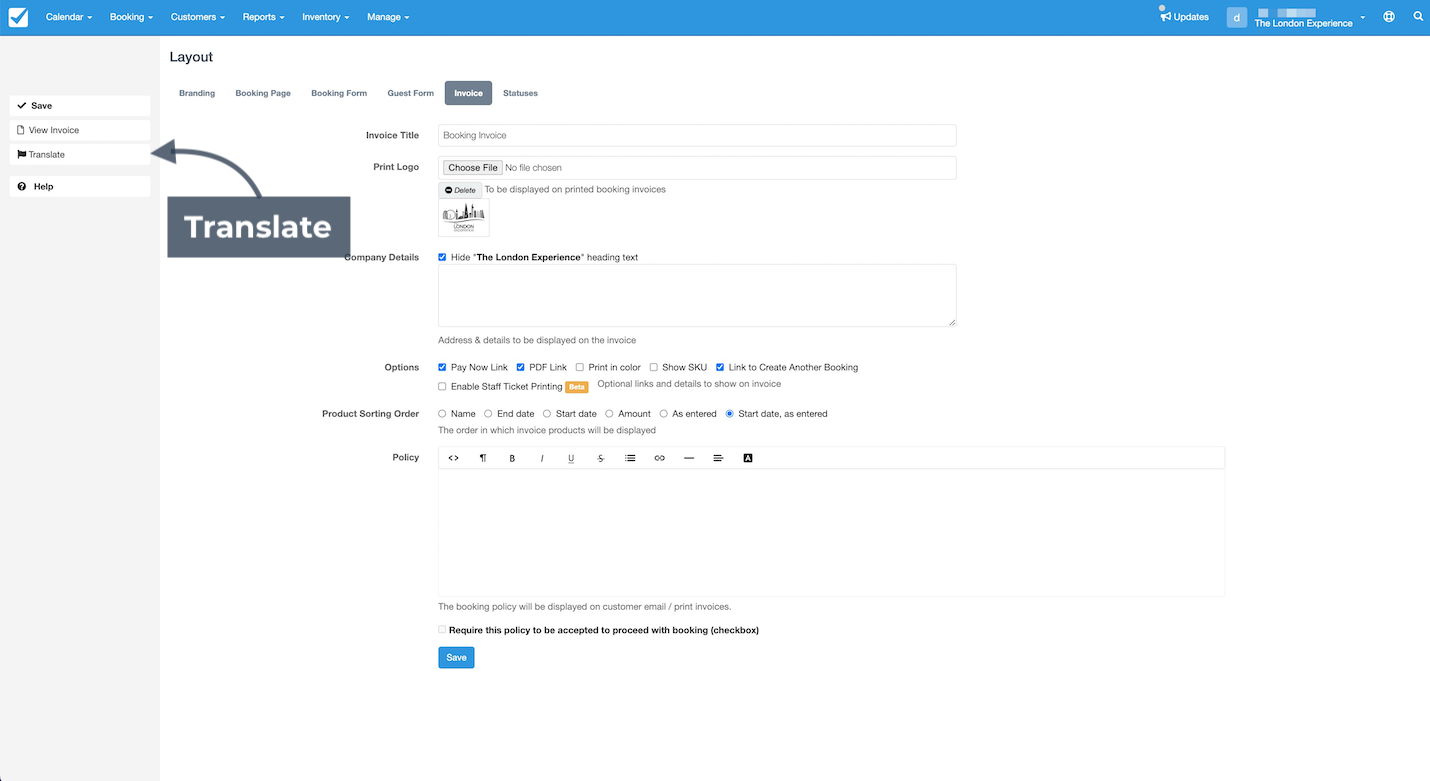 To translate the information in the Invoice Title, Company Details, and Policy fields, click on the Translate button in the left menu, as indicated above.
From here, you can select any language you have configured for use in your system.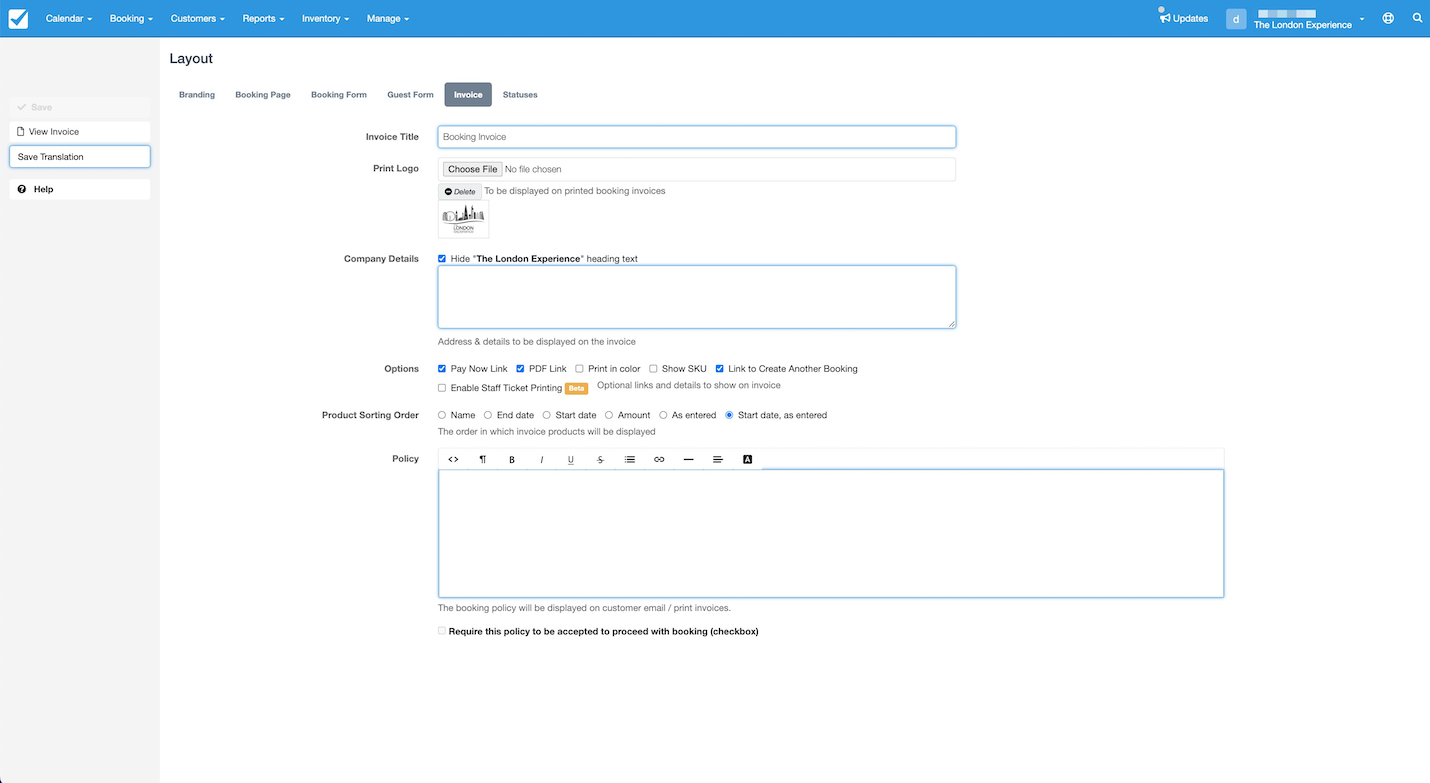 When the translatable fields are highlighted in blue after selecting a language, input your translations.
Click Save Translation to save your changes when you are done.
| | |
| --- | --- |
| | For more details on language translations, you can visit our guide here: |
In the next article, we take a look at the settings housed in the Policy section.
---
< Invoice: Company Details | Invoice: Policy
---