---
Prerequisites:
Customer Accounts are available to those using items (Inventory > Items), a feature of our classic version of Checkfront.
Interested in using the Customer Directory with products (Inventory > Products)? Your account must be a member of our

Early Access Program.
---
Customer account profiles can be managed and maintained in two ways, by the customer themselves or by a staff member in your organization.
A customer can manage their own profile by visiting your booking page and clicking on the Log in link in the top right corner. After successfully entering their login credentials, the customer is logged into the account and the Log in link will be replaced by their name.

Clicking on this link brings up a dropdown menu with a Profile link. Click on this to enter the profile edit mode. The customer account profile is divided up into 3 sections - Bookings, Account, and Saved Information.
Bookings Tab
This section enables your customer to view any bookings that are attributed to them. Clicking on the link in the Booking Code column opens up the invoice for a more detailed view.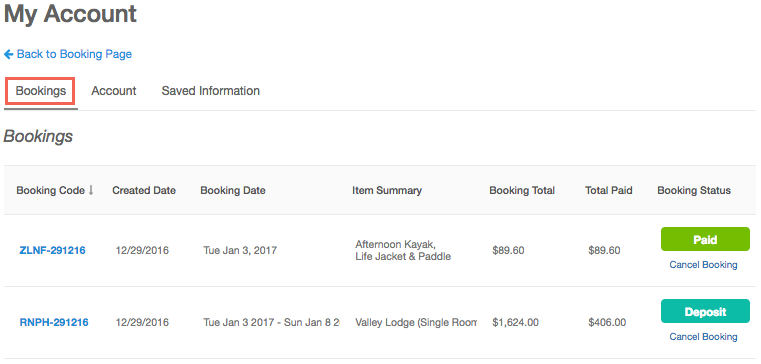 If you have opted to allow booking modifications and/or cancellations, and providing the current date is not outside the limits you configured, then additional links are visible to provide access to these features.
---
< Customer Accounts: Creating an Account | Customer Accounts: Booking Cancellation >
---