---
Plan Availability: ✓ Soho | ✓ Pro | ✓ Plus | ✓ Enterprise | ✓ Flex |
Locate: Manage > User Accounts > Customer Accounts
Prerequisites:
Your Checkfront account must be enabled for Customer Logins.
A Customer account must have been created by the Customer or Staff member.
The Customer Accounts feature is available to both those using items (Inventory > Items), a key feature of our classic version of

Checkfront, and those using products (Inventory > Products), a key feature of our newest version

of

Checkfront.
New to Checkfront - Products ✨

Products (Inventory > Products) is the successor feature to (Inventory > Items) and is available in our newest version of Checkfront.

Not yet on our newest version and interested in upgrading? Please contact our Technical Support team for more information.

Discover more product-related help articles here: Products (New).
In this article, we look at how Customers can update their account details, such as email addresses or passwords.
New to Customer Accounts and how they function? Be sure to read the first article in this series for an introduction!
Please read the full series of articles, accessed at the side and bottom of this page, to learn more about the full capabilities of the Customer Accounts feature.
---
Updating Customer details via the Account tab
Back to top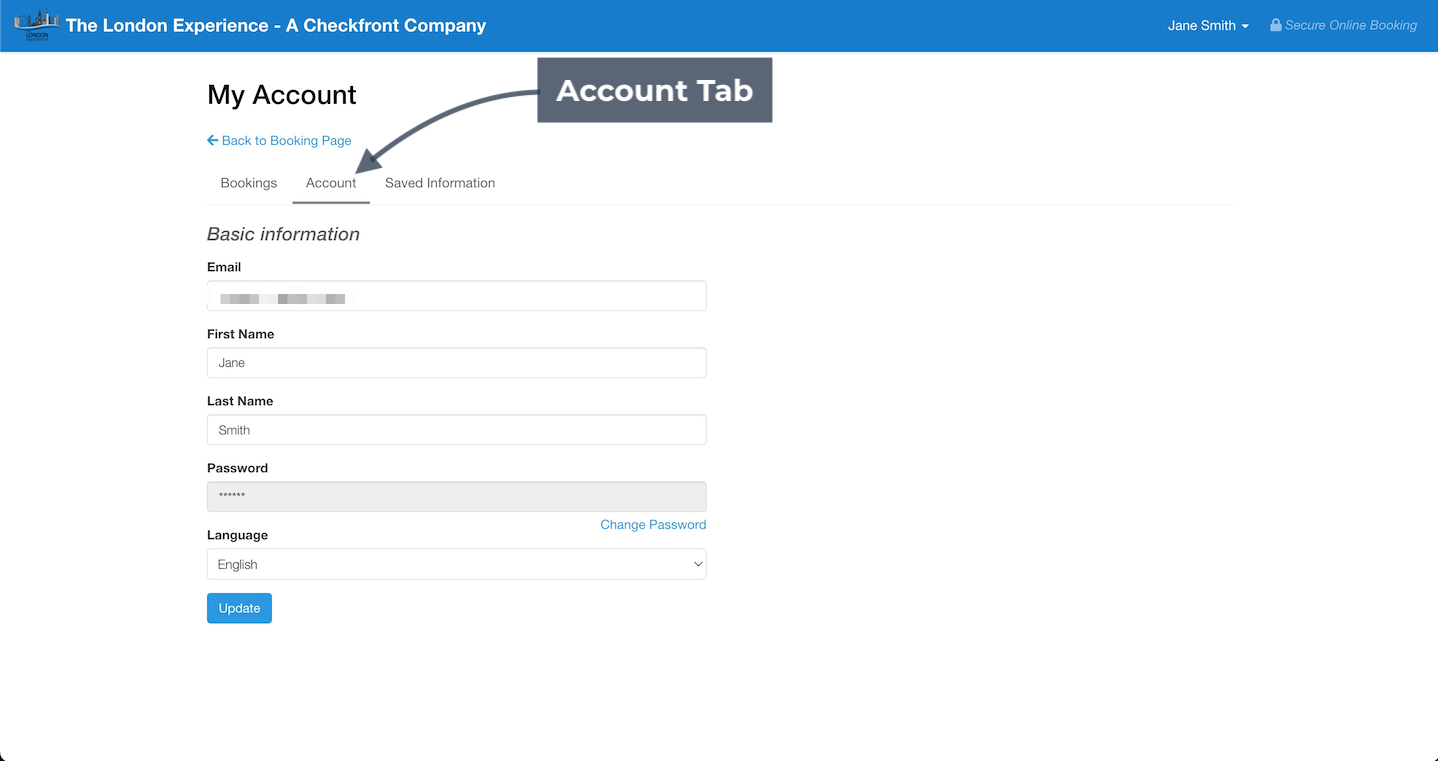 The Account tab is where a Customer updates their personal information such as their name, email address, account password, and language preference.
Any changes the Customer makes apply when the blue Update button is selected.
---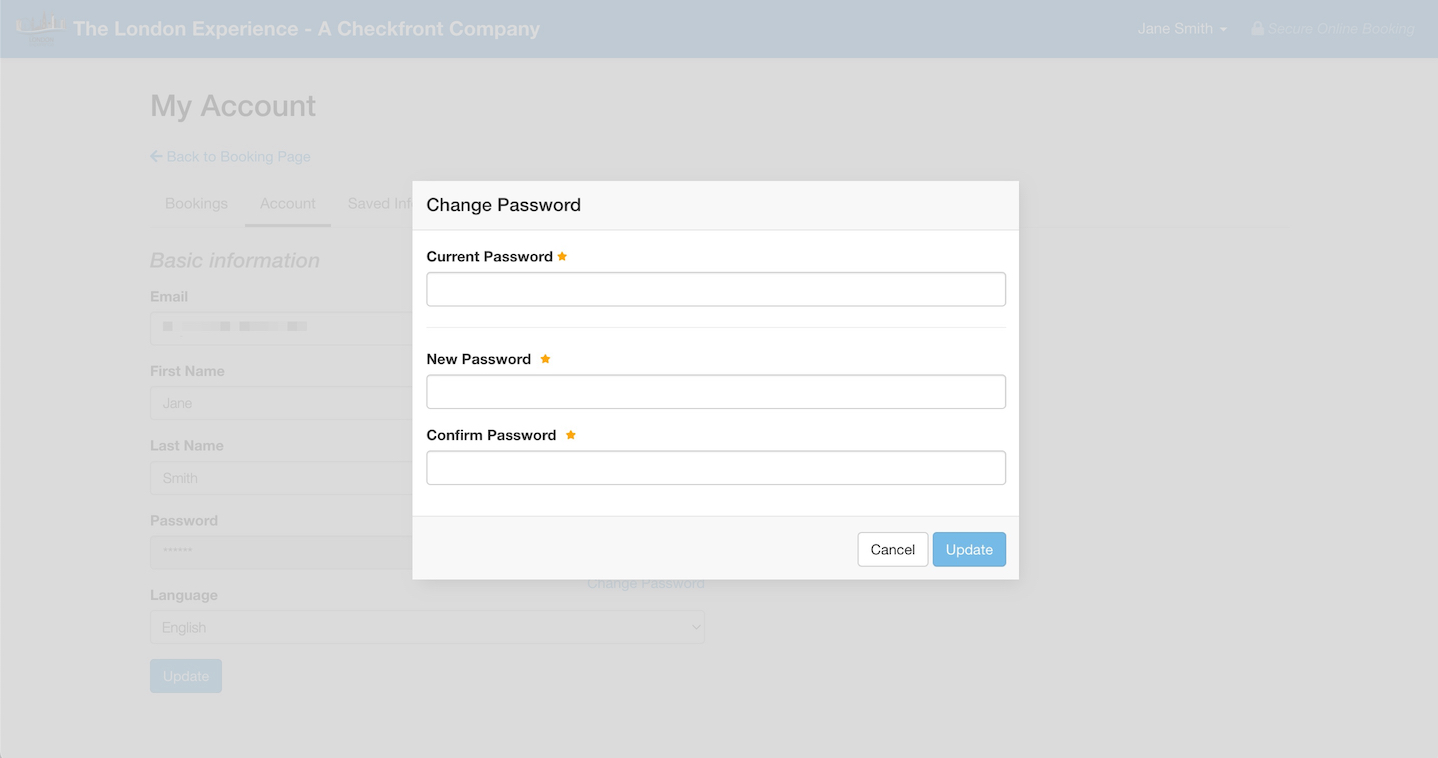 A Customer is able to change their account password at any time with the following steps:
The Customer logs in to their account and selects the Account tab from within their profile.
Underneath the Password field, they select the Change Password link.
In the resulting pop-up window, the Customer is required to fill out the Current Password, New Password, and Confirm Password fields.
When done, the Customer selects the Update button to apply the new password.
---
Updating autofill information via the Save Information tab
Back to top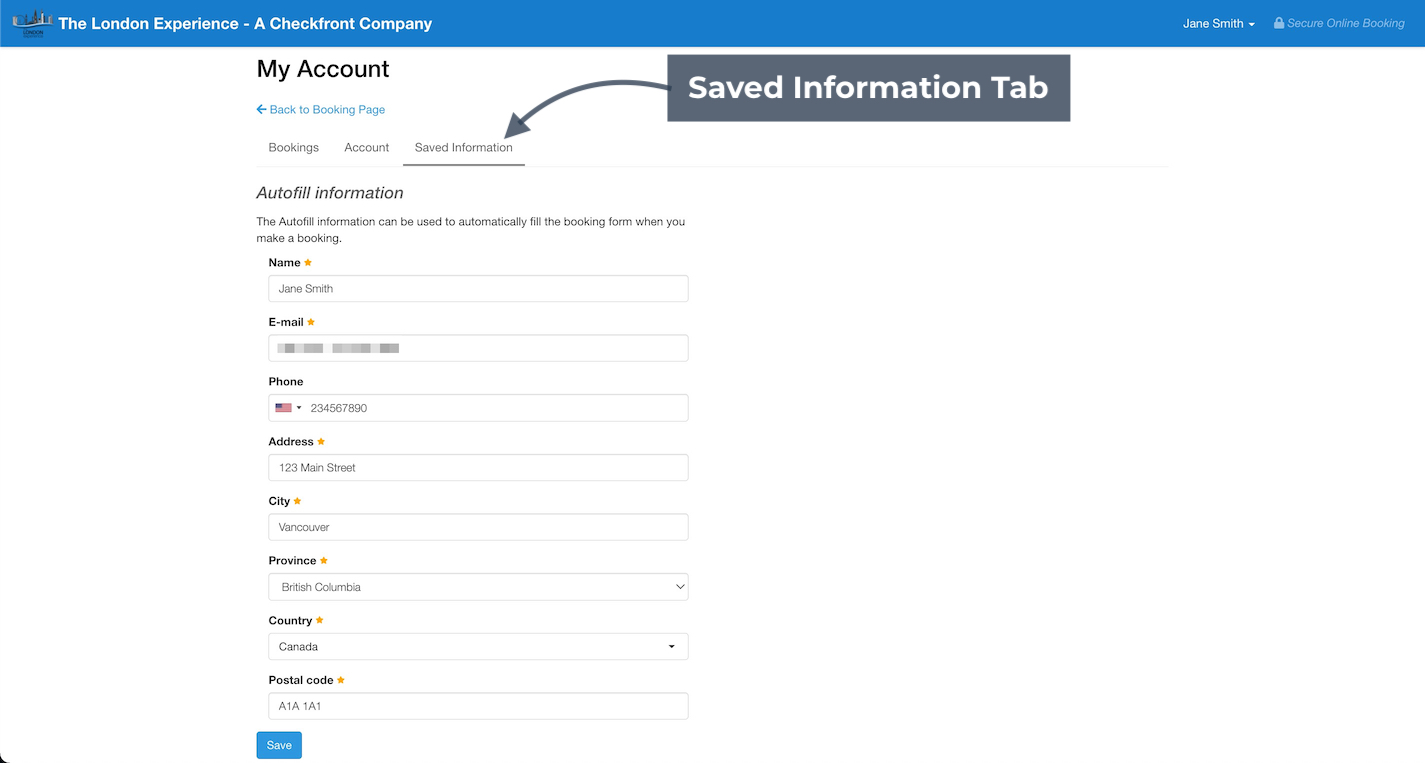 The Saved Information tab allows a Customer to enter their personal details for autofill during future bookings.
This saves the Customer time during future reservations, as they do not need to fill out the information each time.
---
< Modifying bookings via a Customer account | Managing saved payments via an account >
---