---
Learn how to work with the login settings for Customer Accounts once enabled, including requiring logins, showing pre-status bookings, allowing bookings to be modified or cancelled, and preventing booking edits.
New to Customer Accounts? You can read the first article in this series for an introduction to Customer Accounts.
---
What plan do I need to use this feature?
✓ Soho | ✓ Pro | ✓ Plus | ✓ Enterprise | ✓ Flex |


Where can I find this feature using the top menu?
Manage > User Accounts > Customer Accounts


What more do I need to use this feature?
Admin

permissions to manage accounts.


Which Checkfront version supports this feature - classic, new or both?
The Customer Accounts feature is available to both those using items (Inventory > Items), a key feature of our classic version of

Checkfront, and those using products (Inventory > Products), a key feature of our newest version

of

Checkfront.
New to Checkfront - Products ✨

Products (Inventory > Products) is the successor feature to (Inventory > Items) and is available in our newest version of Checkfront.

Not yet on our newest version and interested in upgrading? Please reach out to our Technical Support team for more information.

Discover more product-related help articles here: Products (New).
---
Requiring the use of Customer accounts and logins
Back to top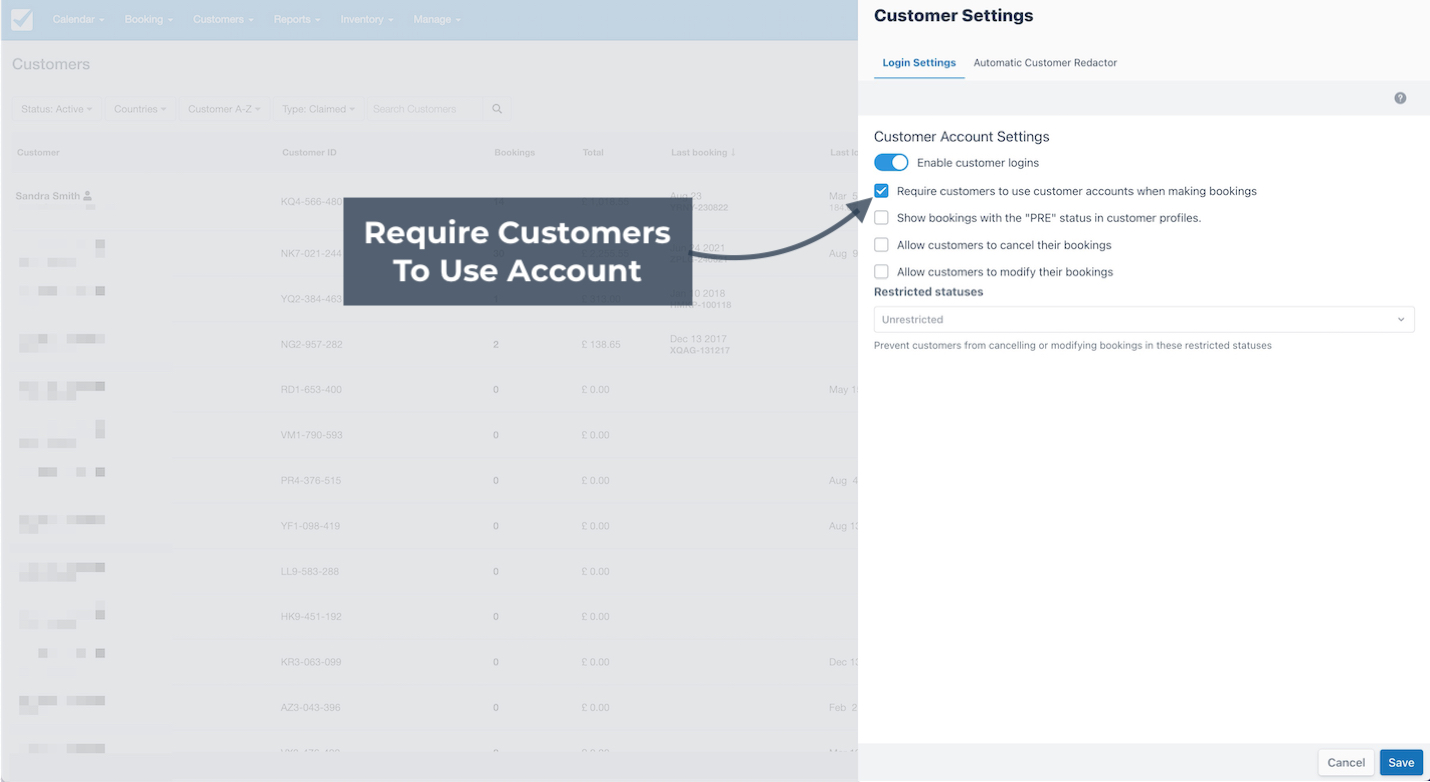 You have the option to require Customers to log into a Customer account when making a booking.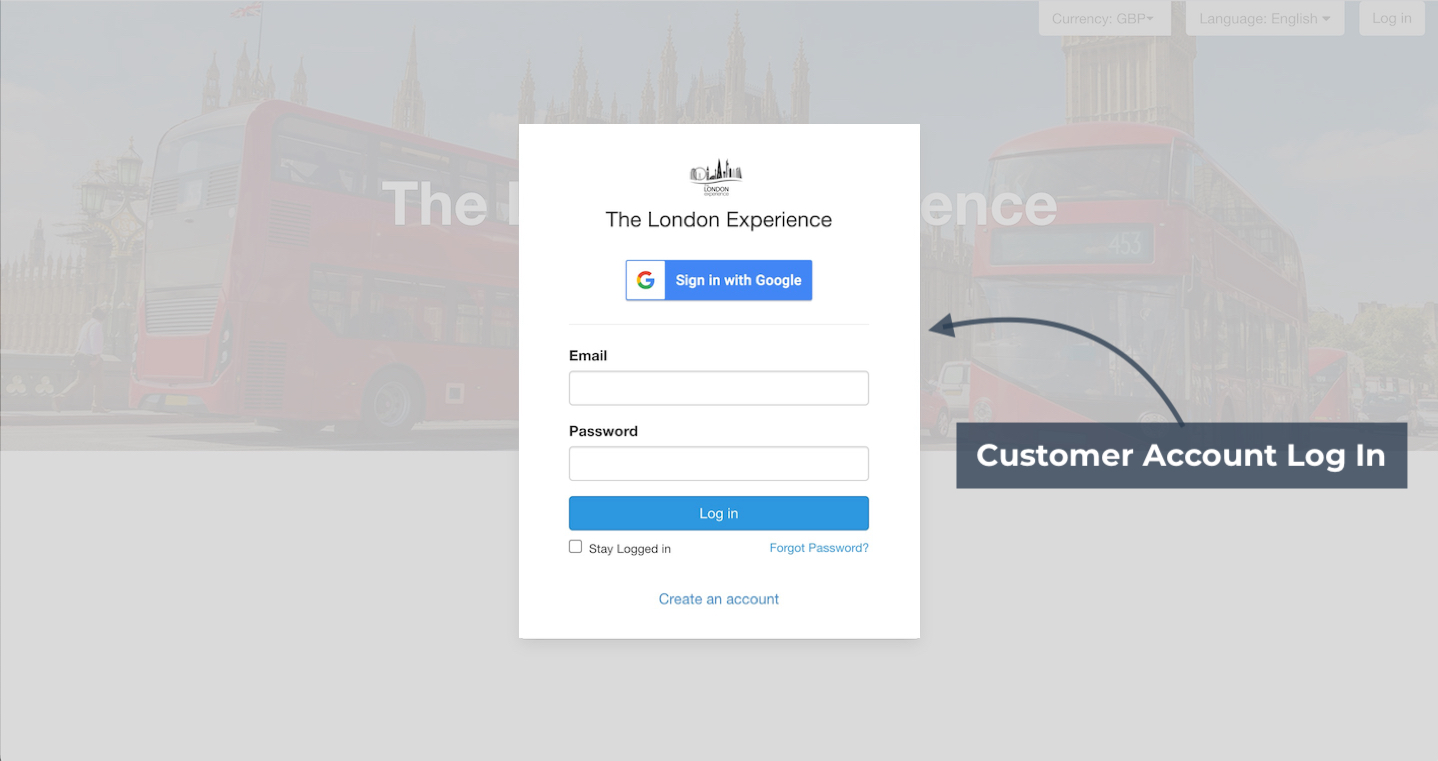 With this option checked, the Customer is asked to log in upon arriving at the booking page. Customers visiting your booking page can only book by signing into a Customer Account.
If this is their first visit, they can click on the Create an account button to proceed.
---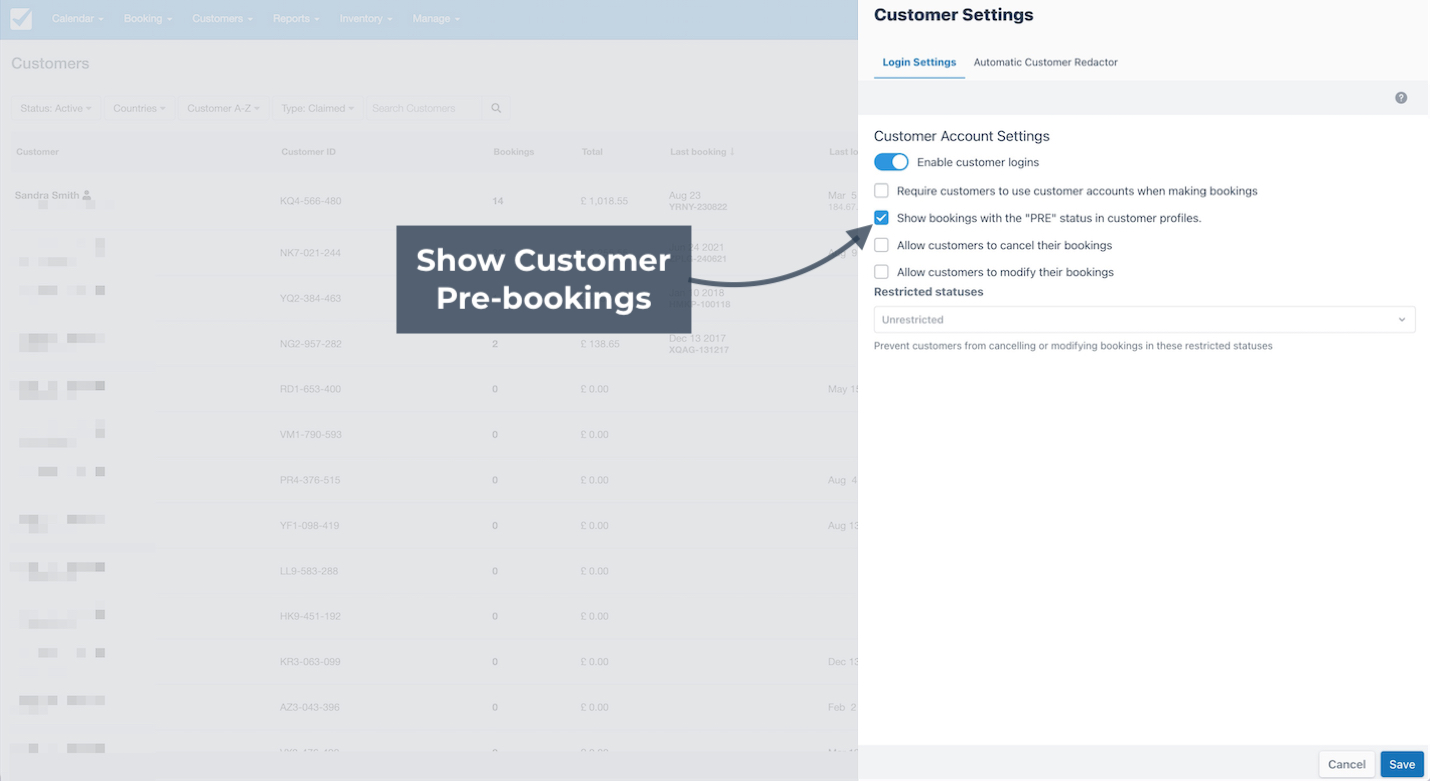 When a booking is incomplete, possibly abandoned by the Customer, it sits with the status PRE.
This means it is a pre-booking. If you want to show pre-bookings in Customer accounts, you can just check this option.
| | |
| --- | --- |
| | Learn more about booking statuses here: |
---
Allowing booking modification and cancellation
Back to top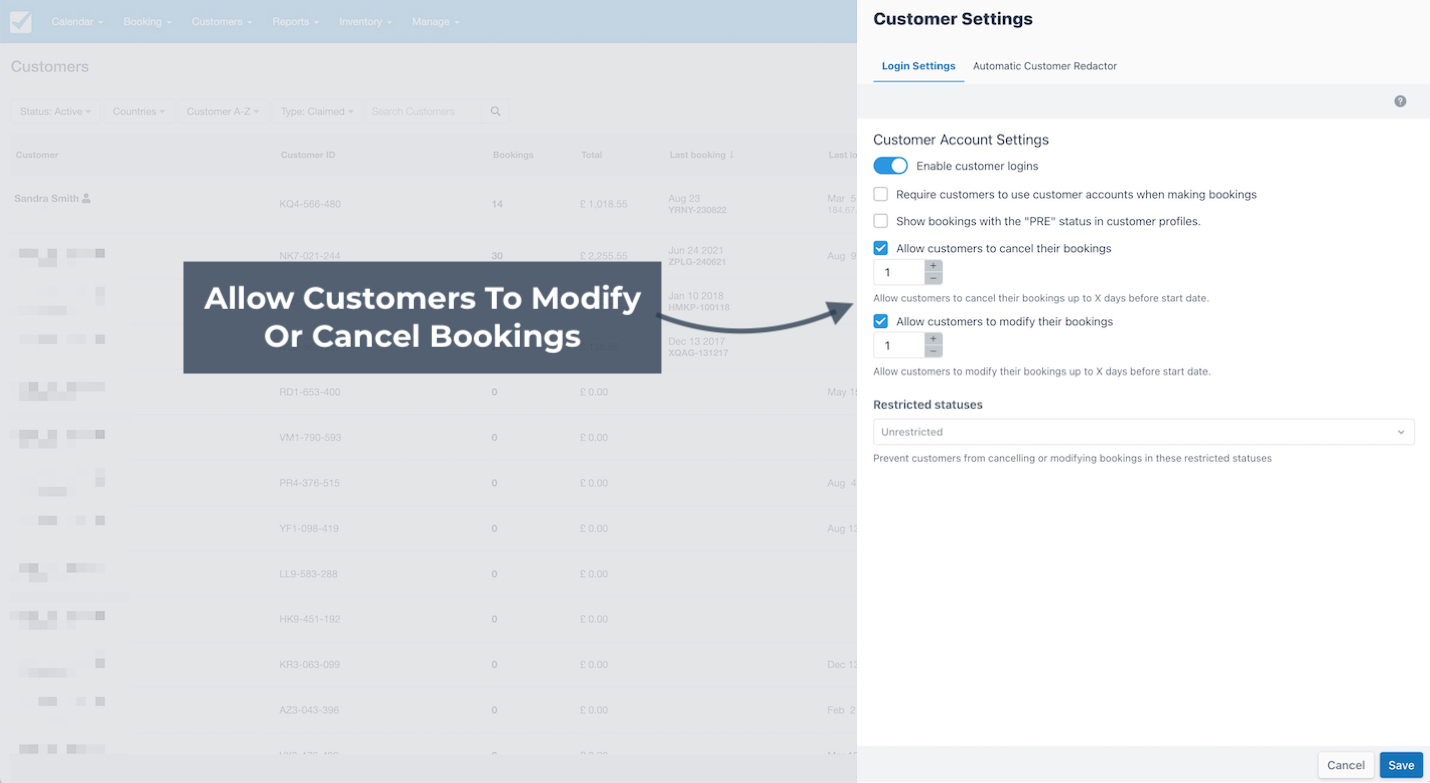 The flexibility you provide your Customers when it comes to modifying a booking is entirely up to you. You can allow them to modify a booking or even go ahead and cancel it.
If you want to allow Customers to perform either of these functions, then check the appropriate box(es) and select the number of days before the start date these actions are permitted.
For example, you can check the box to allow booking modifications and select a limit of up to 2 days before the booking date.
---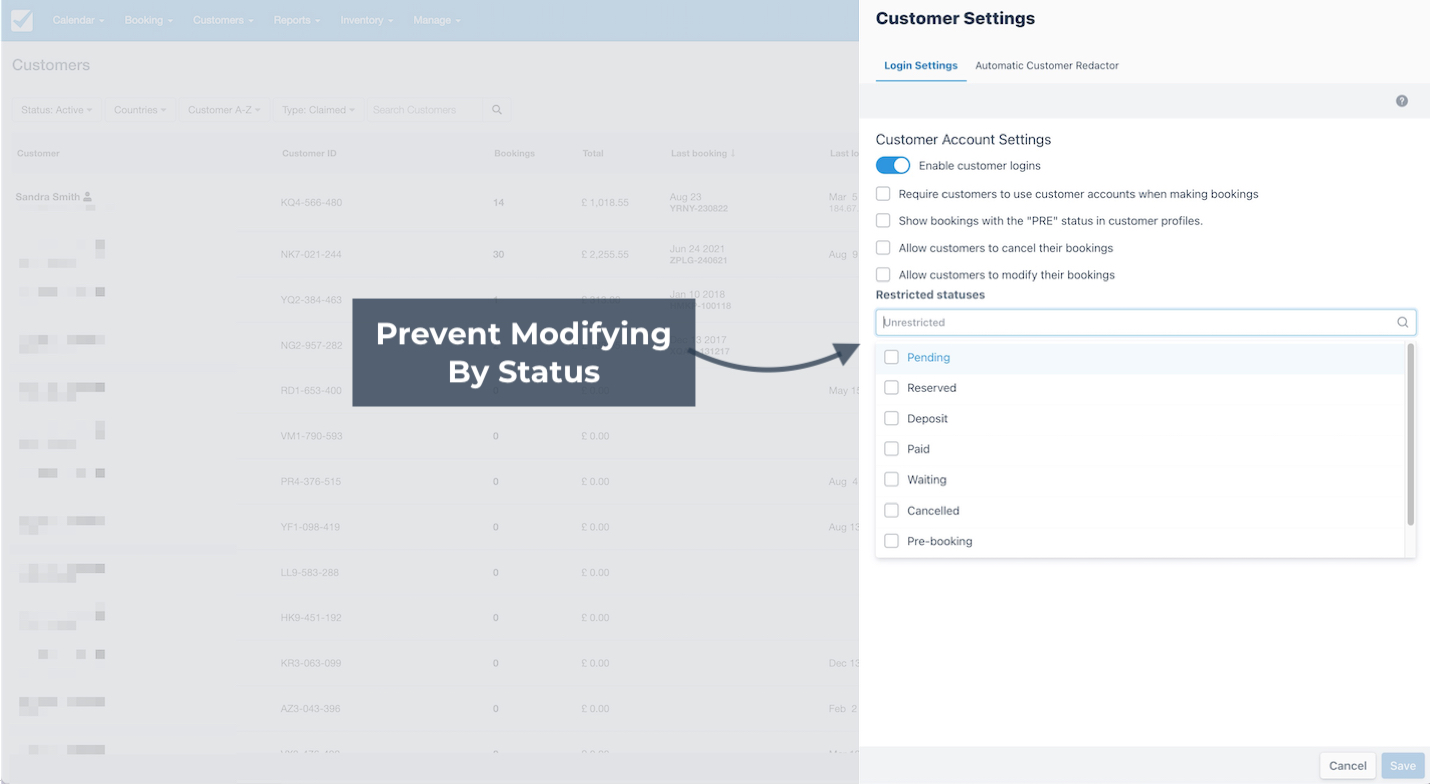 In addition to a time-based period, booking modifications can also be limited to status.
From the dropdown menu, check off the statuses that prevent a booking from being modified.
For example, if you check Paid, the Customer cannot modify or cancel any bookings with that status. In this case, they must contact you directly to make such changes through the backend.
| | |
| --- | --- |
| | Learn more about booking statuses here: |
The following article in this series reviews how to redact Customer booking information.
---
< Introduction to Customer Accounts | Creating a Customer account as a Customer >
---