---
Prerequisites:
Customer Accounts are available to those using items (Inventory > Items), a feature of our classic version of Checkfront.
Interested in using the Customer Directory with products (Inventory > Products)? Your account must be a member of our

Early Access Program.
---
There are two ways to create a new customer account in Checkfront, an account created by the customer themselves and an account created by you or your staff members.
Customer Created Account
In the previous step, we looked at how a customer can be
required
to create their own account prior to making their first booking with your business. If you don't have this requirement in place, then a customer can still create a new account for themselves by clicking on the
Login
link from the booking page and then
Create an Account
from the pop-up window.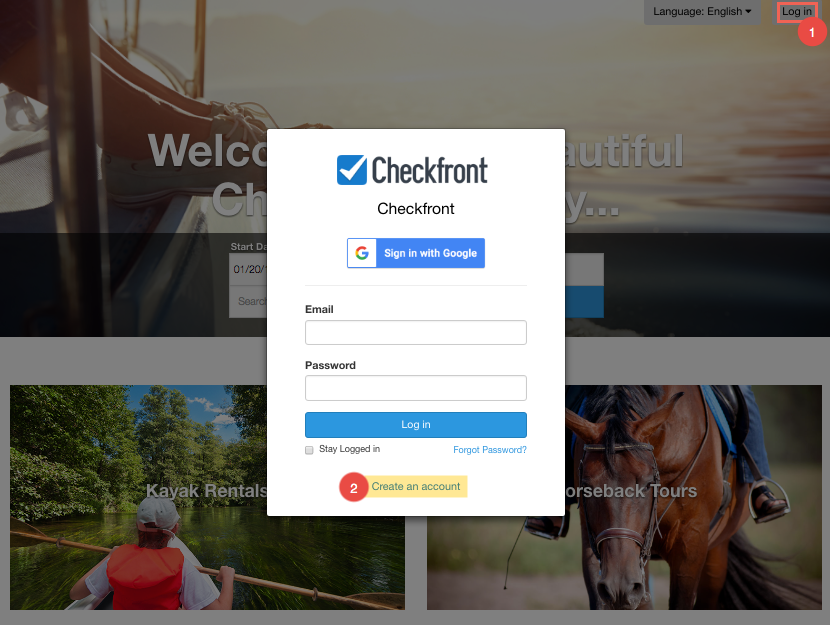 The customer needs to enter some basic information in order to create their account, including their first and last names, email address, and a password.
Alternatively, the customer can sign into their Google account via the button provided in the login window. Once logged in, Checkfront pulls in the customer's name from Google and an account is created. Any booking associated with that Google email address is attached to the customer's Checkfront account.
So that's how a customer can create their own account within your system.
Please Note:

Whenever a customer logs in through an embedded booking portal in your website, they are redirected to the Checkfront /reserve page to complete the process, unless the website is served over HTTPS with an SSL certificate. This is a security requirement.
There may be times where you would like to create a new account on behalf of the customer. To do that, navigate to the Customer Accounts homepage at Manage > User Accounts > Customer Accounts and click on the + New button on the top right side of the page.
Regardless of how the new customer account is created, the required credentials are the same.
The email address is used by the customer to log into their account. As a password is entered into the password field, a strength indicator tool appears to grade the quality of the password. The password must receive a rating of 50 or more to be accepted. A higher score is generated by the use of random letters, numbers, and symbols.

Once the customer account has been successfully created, it appears in the list of other customer accounts on the feature home screen.
Direct Customer Login:

When a customer wants to log in, they can either click on the Login link, as described earlier, or you can also point your customers directly to the customer account login modal using a custom URL on your website.

To do this, use the URL: https://demo.checkfront.com/reserve/?login=1. Just make sure you replace demo with your own account!
---
< Customer Accounts: Settings | Customer Accounts: Account Management >
---