---
Plan Availability: ✓ Soho | ✓ Pro | ✓ Plus | ✓ Enterprise | ✓ Flex |
Locate - Partner Reports:

Commission Report - Partner: Dashboard
Payout List: Booking > Payout List
Locate - Admin Reports:
Commission Report - Admin: Reports > Commission
Activity Log: Reports > Account Activity
Prerequisites:
Partner account (to access Partner Reports)
Admin permissions or restricted permissions to view reports from an Admin or Staff perspective.
New to the Partner Accounts? Please start with the first article in this series: Partner Accounts: Introduction.
---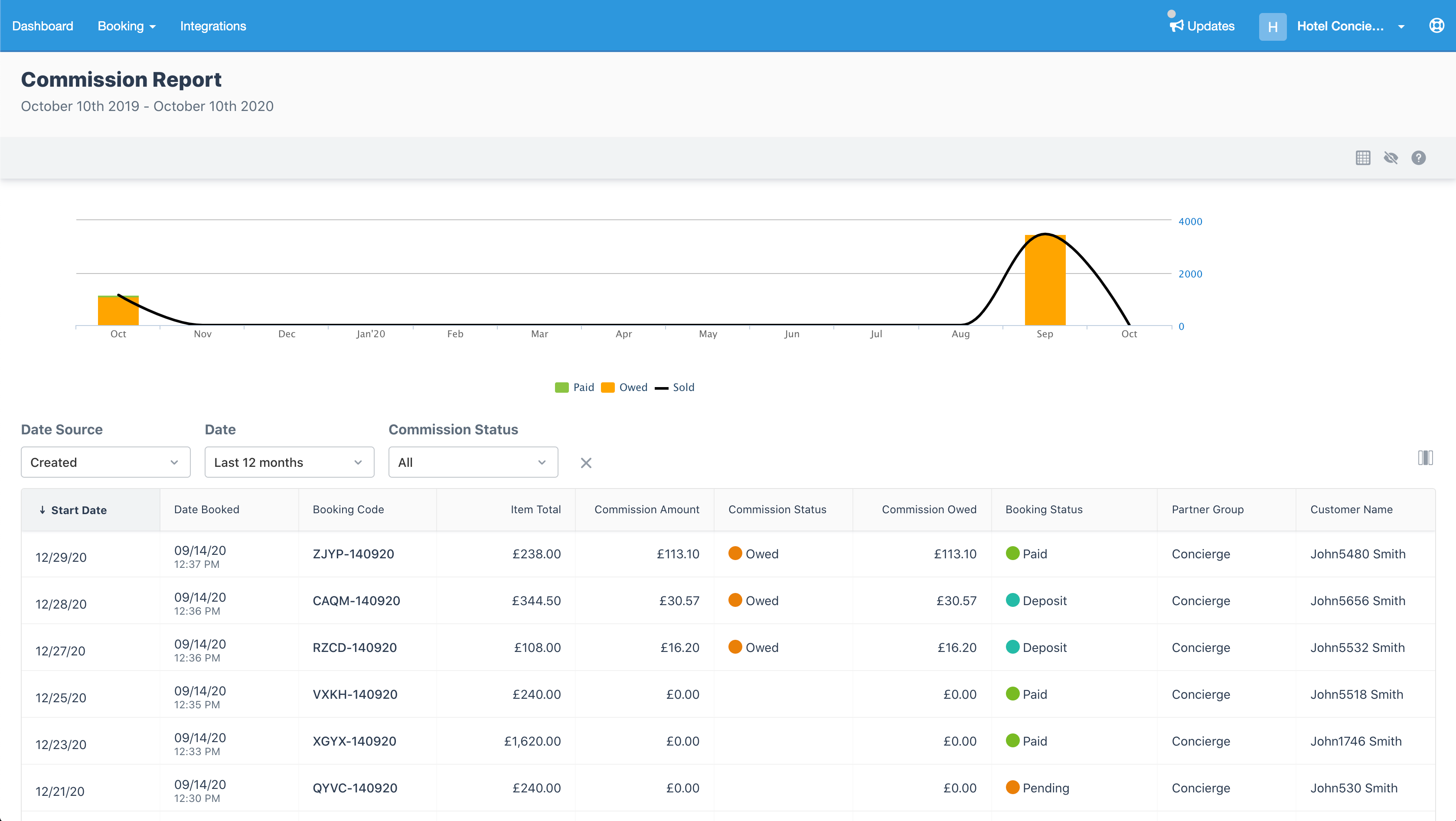 From their Dashboard, your Partner will be able to view all the bookings made with their unique Partner ID, including an up-to-date status on Payouts.
---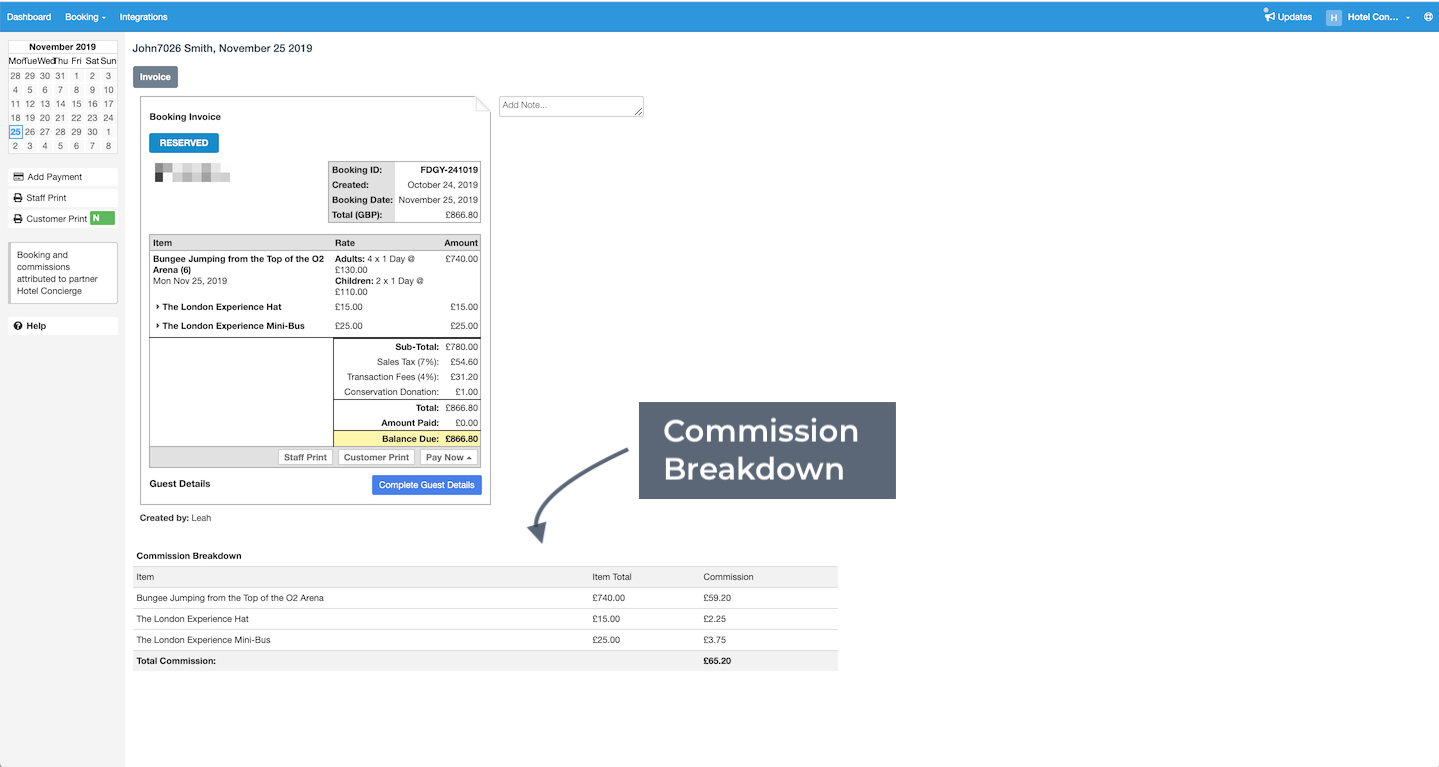 Partners can also select a booking from the list to view the invoice in greater detail including their Commission Breakdown.
---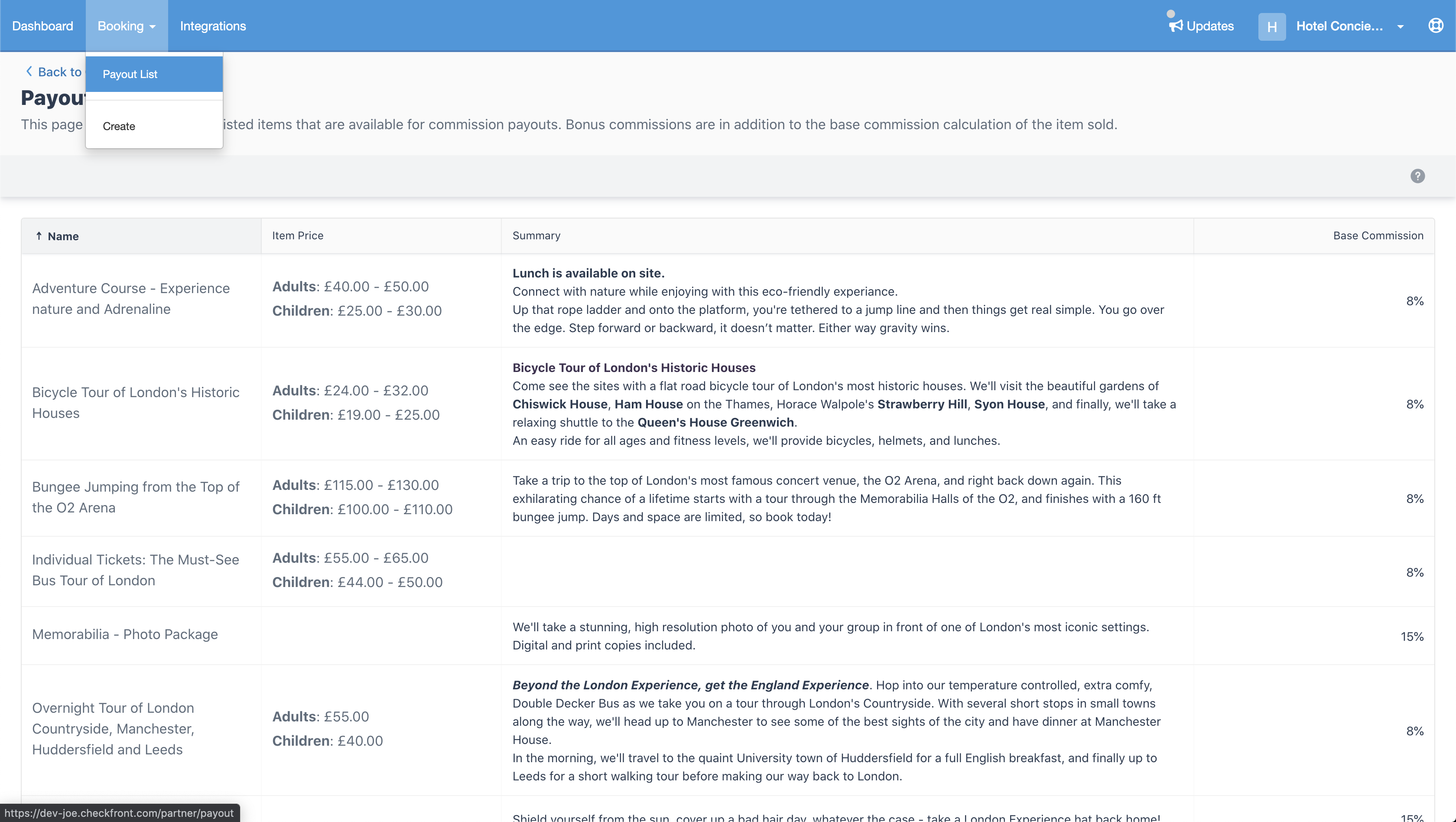 Visiting the Payout List (Booking > Payout List) will allow the Partner to view a list of Commission eligible items and the Payouts they can expect to receive.
---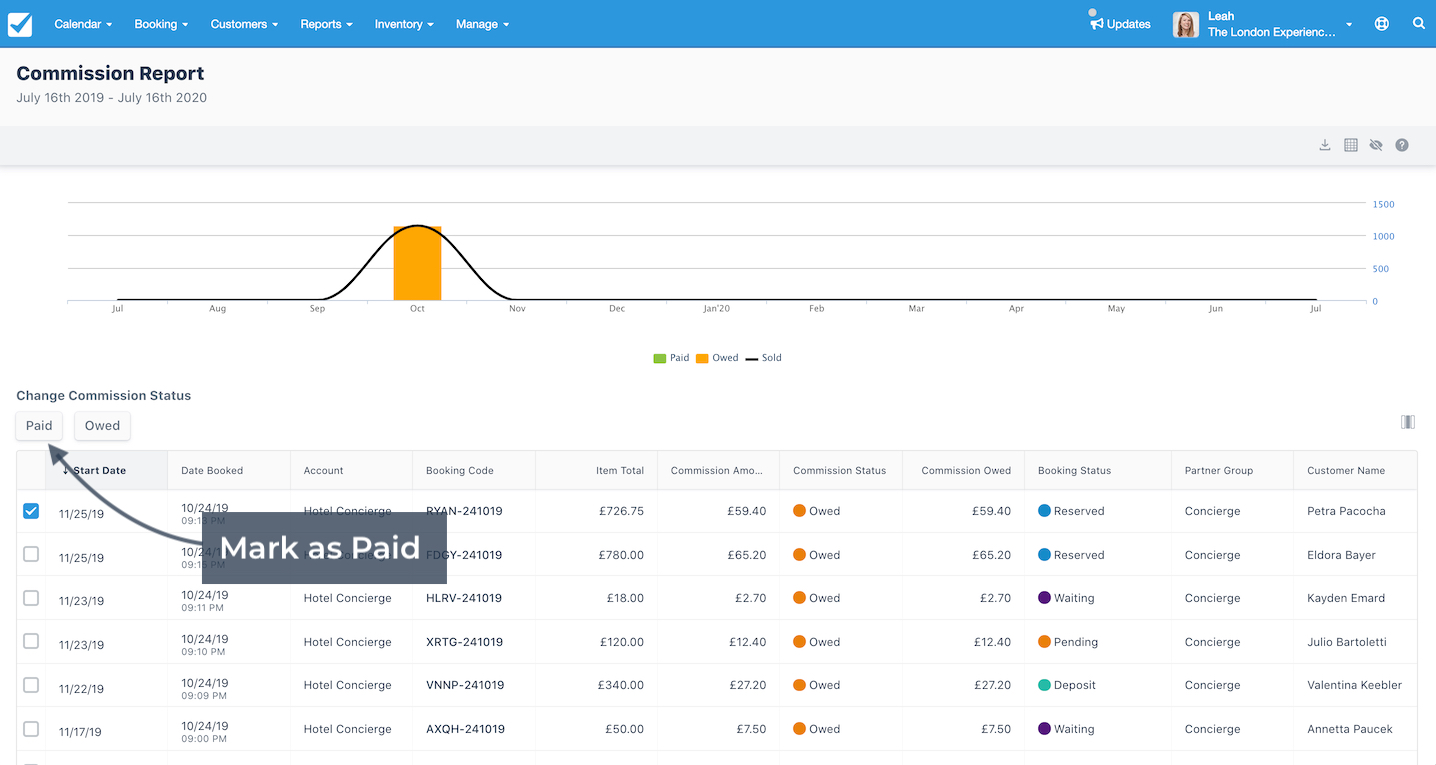 On the business end, a Commission Report (Commission Report) can be viewed from the main menu when logged in as an Administrator. The view is similar to that of the Partner's, but as a Business Owner you have the ability to mark a Commission as Paid.
To do this, first check off the bookings you wish to mark as Paid.
Next, click the Paid control to mark the Commission as Paid. This will update the Commission Status.
You can also do the reverse with the option to mark the Commission as Owed, if the status is updated in error.
| | |
| --- | --- |
| | Learn more about the Commission Report here: |
| | |
| --- | --- |
| | Please note, Commission payments must be handled outside of Checkfront, as there is not currently a feature for paying these directly through the system. |
---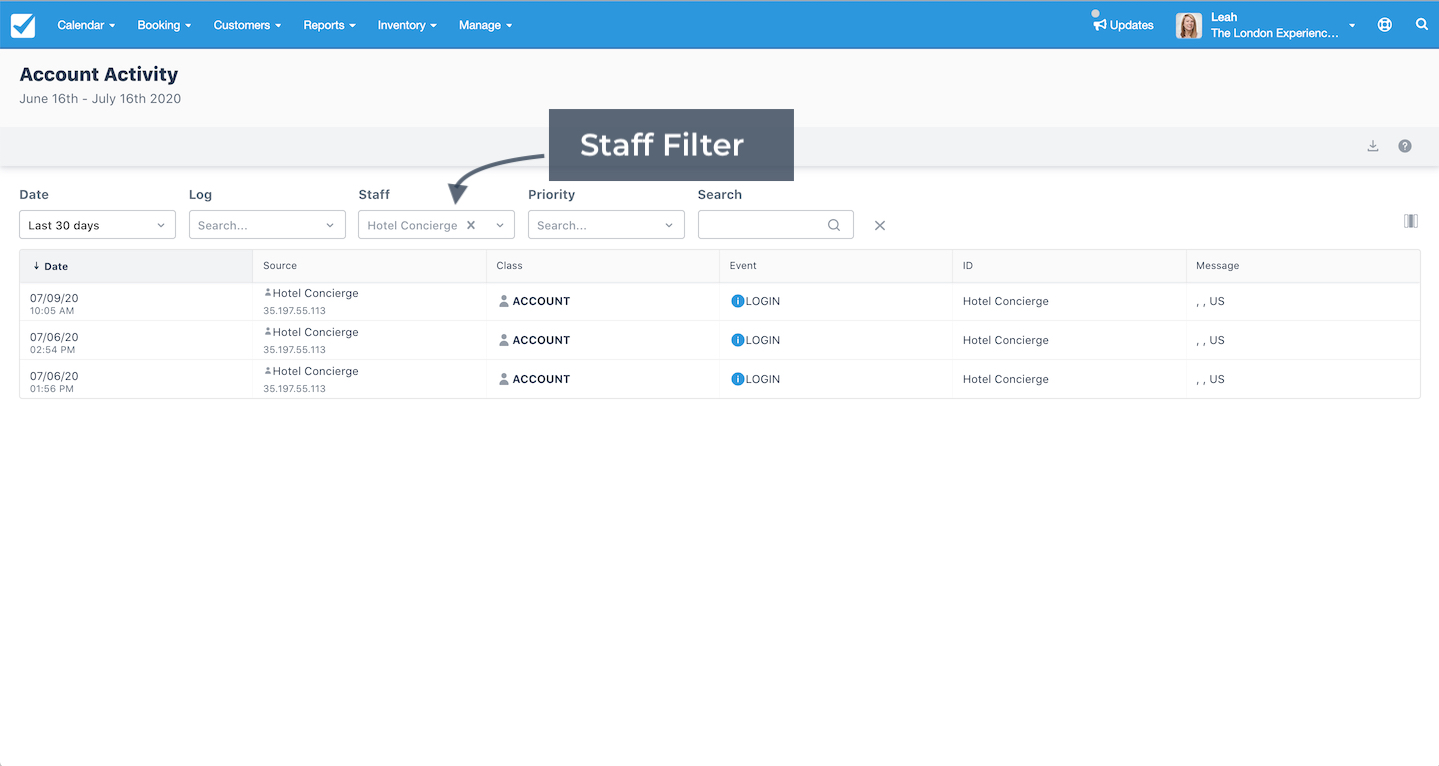 Finally, Partner activity can be monitored through the Account Activity report (Reports >Account Activity).
---
< Partner Accounts: Invoice & Commission Breakdown | Partner Accounts: Add Partner Attribution >
---