---
Learn how to access and configure options within the Calendar tab on the Setup page, including customizing hours and start of the week.
New to Setup? Read the first article in this series for an introduction to Setup.
---
Which plans include this feature?
Legacy:  Soho, Pro, Plus, Enterprise, Flex
New:  Starter, Growth (Subscription), Growth (Per Booking), Managed
→ Learn more about our new plans or how to change your plan.

Where can I find this feature using the top menu?
Manage > Setup > Calendar


What more do I need to use this feature?
An Admin account is required to view and access the Setup menu option.


Which Checkfront version supports this feature - classic, new or both?
This feature is available in both our classic version using items (Inventory > Items) and our newest version using products (Inventory > Products).  → Learn more about products
---
Configuring settings within the calendar tab
Back to top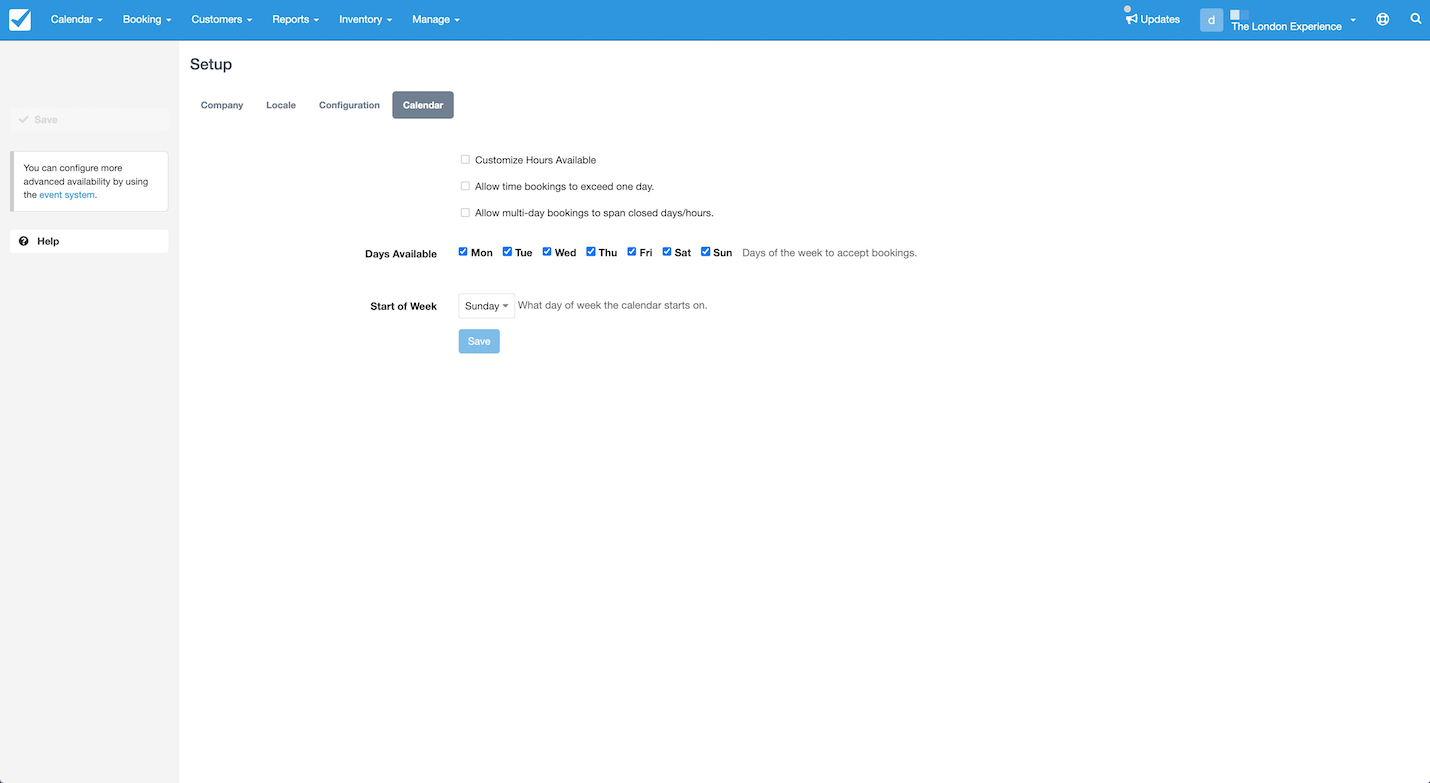 By default, the Calendar tab displays the Days Available setting (Mon, Tue, Wed, Fri, Sat, and/or Sun), allowing you to specify the days of the week you accept bookings.
Customizing hours available
With the Customize Hours Available option selected, you can specify the exact times of the day you accept bookings.
Custom hours only apply to Per Time allocation for items and Flextime availability for products.

They do not work with day, night, or timeslots item and product allocations.

Learn more about these topics here:
Allowing time bookings to exceed one day
The Allow time bookings to exceed one day option allows bookings to exceed 1 day.
To do this, the end time of the first day should be set to 11:00 PM. This is when the last bookable time slot of the day begins. The following day's schedule should then start at midnight.  
Allow multi-day bookings to span closed days/hours
Check this setting to allow multi-day bookings to span closed days.
This setting lets bookings through for a range of dates that may include an item/product closure, for example, from Friday to Monday, with Sunday being closed.
Setting which day starts the week
Specify which day of the week the calendar starts (Monday or Sunday) with the Start of Week setting.
Several factors further influence booking availability, including inventory levels and events. For more information, please see the following articles.



For those using items (inventory > Items):

For those using products (Inventory > Products):

 
---
< Setting up your account configuration
---