---
Prerequisites:
Booking Volume Allowance is available to those using items (Inventory > Items), a feature of our classic version of Checkfront and with products (Inventory > Products)? Your account must be a member of our

Early Access Program.
Early Access Program

The new product feature mentioned in this article is currently part of our Early Access Program, which means it is available to select Customers to try out and provide us with feedback.

To learn more about becoming part of our Early Access Program check out our related blog post or contact our Technical Support team.

Find our complete set of help articles related to the Early Access Program here: Early Access Program.
---
What is a "booking"?
Checkfront counts each single, unique invoice as a booking. The booking ID is what makes each booking unique. An invoice can contain many products (items), various dates, and can be modified at any time. We may use "booking" and "invoice" interchangeably.
How many bookings do I get?
The Annual Booking volume allowance is based on the plan you purchased. See https://www.checkfront.com/plans to view each plan's allowance per year.
Which bookings are counted? What if I have canceled bookings?
All bookings are counted regardless of status, including test, void, and canceled bookings. If a unique invoice has been generated, then it counts against the plan allowance.
Note, like voided invoices, voided bookings will be removed from the system within 30 days, but still count against your booking allowance.
How do I check the number of bookings I've used?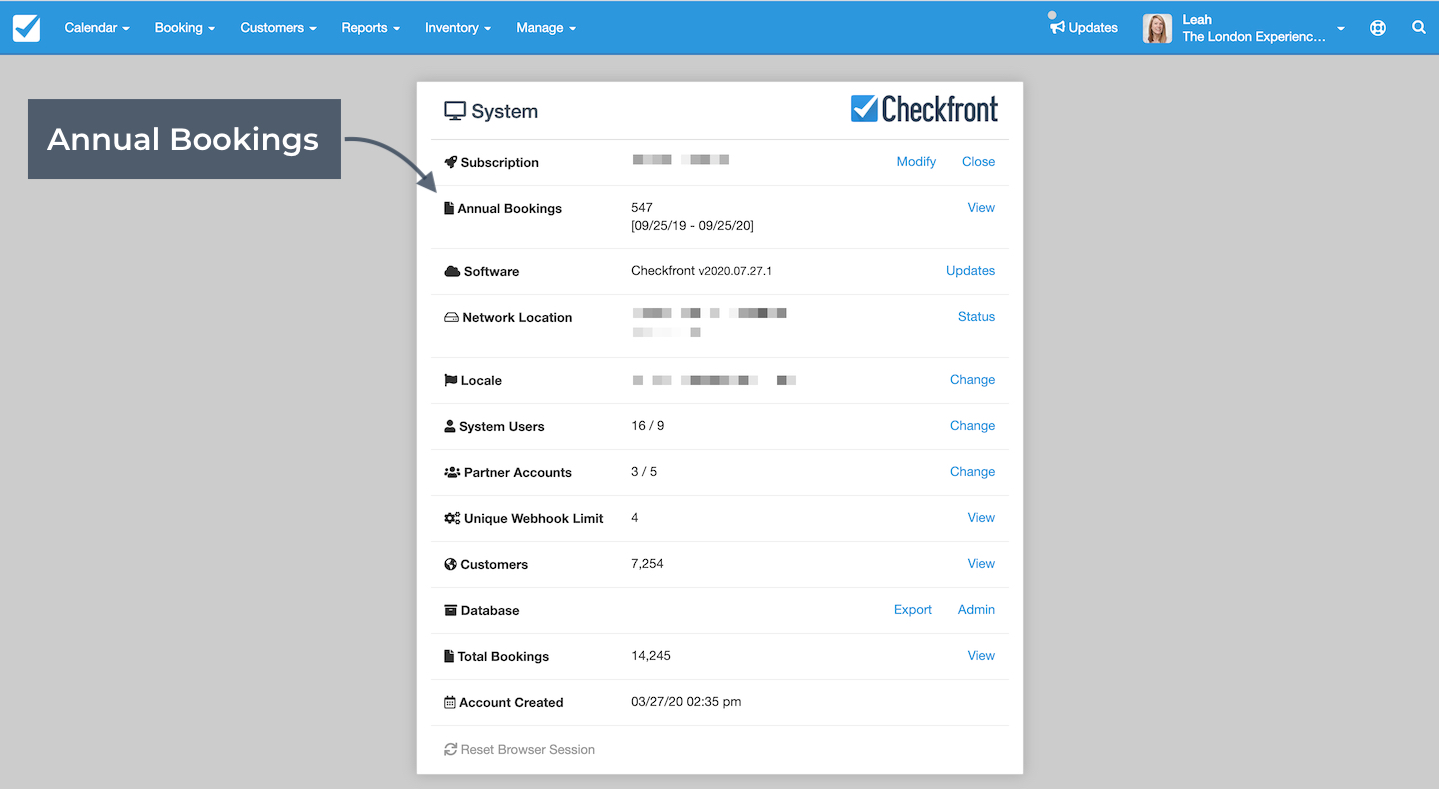 Go to the System information page (Manage > System)
Find the row labeled Annual Bookings
Note, the number of bookings processed is displayed along with the applicable booking volume period.
You can also View associated bookings to date within the Booking Index.


What if I created test bookings?
We give you 100 bookings for testing purposes every year. We will consider your allowance to be your plan amount +100. That means for Soho 1300, Pro 3100, and Plus 6100.
Tips on how to reduce the number of bookings/invoices:

When your Customer needs to make changes, you can

edit the existing booking

, rather than canceling the invoice and creating a new booking.

If your Customer wants to purchase several items/activities, then you can put them all onto one booking invoice by

adding

products (items)

to the existing invoice

.

Please do not use "fake" bookings to reduce your inventory to zero. Simply change the inventory directly through the Inventory Calendar by item, or create a closure event to make inventory unavailable for booking by date. Learn more about adjusting the Inventory Calendar here:
How do you count my "year"?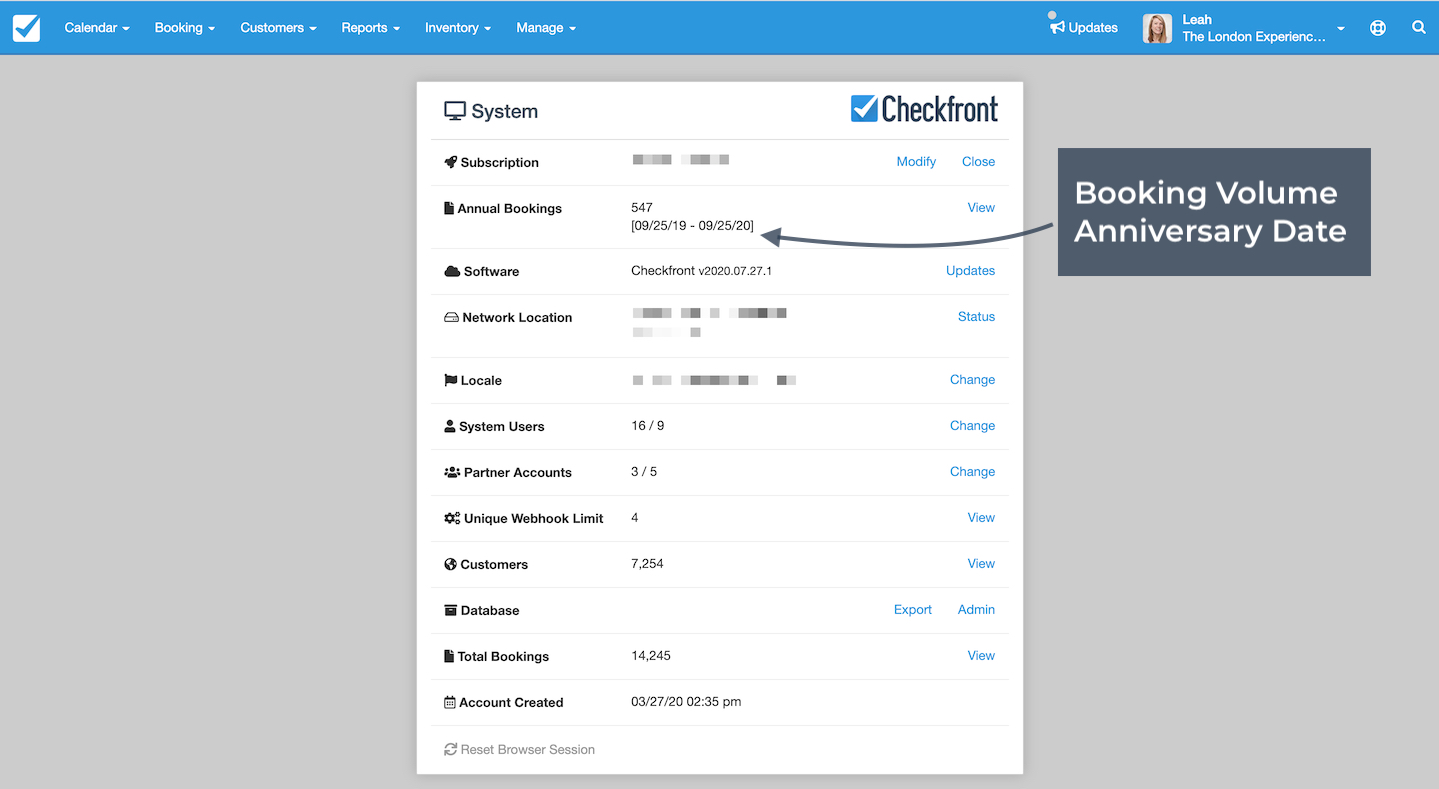 Your booking volume period and anniversary date can be found under Annual Bookings (Manage > System > Annual Bookings).
The year is a 12-month cycle, starting on the date you initially upgraded from trial to a paid plan. On your plan anniversary date, the booking count is reset to zero and you have the full allocation available again.
Please note, your booking volume anniversary date may differ from your billing date.

For example, you upgraded your trial to a paid monthly plan on March 2, 2019. On August 24, 2019, you switched to an annual plan. Your billing date each year would then be August 24, while your booking volume anniversary date would continue to be March 2.
To view your Next Billing Date, navigate to your Account menu (top right), and click on Billing within the drop-down menu.

For more information, please see the following help article:
What happens with my allowance when I upgrade to another plan?
Your current year's allowance is updated to the new plan quantity. The allowance does not reset until the account anniversary date.
When I reach my booking limit, will my subscription automatically upgrade, or do I need to upgrade manually?

When you reach your booking limit, you will receive an email from us with the steps to upgrade manually on the subscriptions page.

You can upgrade by selecting your Account menu (top right). From there, click on Billing from the drop-down menu to access your account's Billing page. Click on the Change Plan link within the side menu to view your upgrade options.
| | |
| --- | --- |
| | For more information about your Account and Billing, please see the following article. |
I have more questions about my booking volume, who do I contact?
Our friendly Billing team can be reached at accounts@checkfront.com.