---
Plan Availability: ✓ Soho | ✓ Pro | ✓ Plus | ✓ Enterprise | ✓ Flex |
Locate: Manage > Integrations > Productivity > QR Barcodes
Prerequisites:
Admin permissions to manage Integrations.
The QR Barcodes feature is available to both those using items (Inventory > Items), a feature of our classic version of

Checkfront, and those using products (Inventory > Products), a feature of our newest version

of

Checkfront.
New to Checkfront - Products ✨

Products (Inventory > Products) is the successor feature to Items (Inventory > Items) and is available in our newest version of Checkfront.

Not yet on our newest version and interested in upgrading? Please contact our Technical Support team for more information.

Discover more product-related help articles here: Products (New).
---
2D QR barcodes are a great way to quickly and efficiently check your Guests in upon arrival.
When activated, the QR code add-on places a booking-specific barcode into your Customer's invoice which can then be scanned by you or your Staff using a mobile device. This allows for a quick and easy way to check in and check out your Guests.
| | |
| --- | --- |
| | You need the Checkfront Mobile application to scan the QR Barcodes. Our mobile application is compatible with both iOS and Android devices. Please select the appropriate link below to learn more! |
---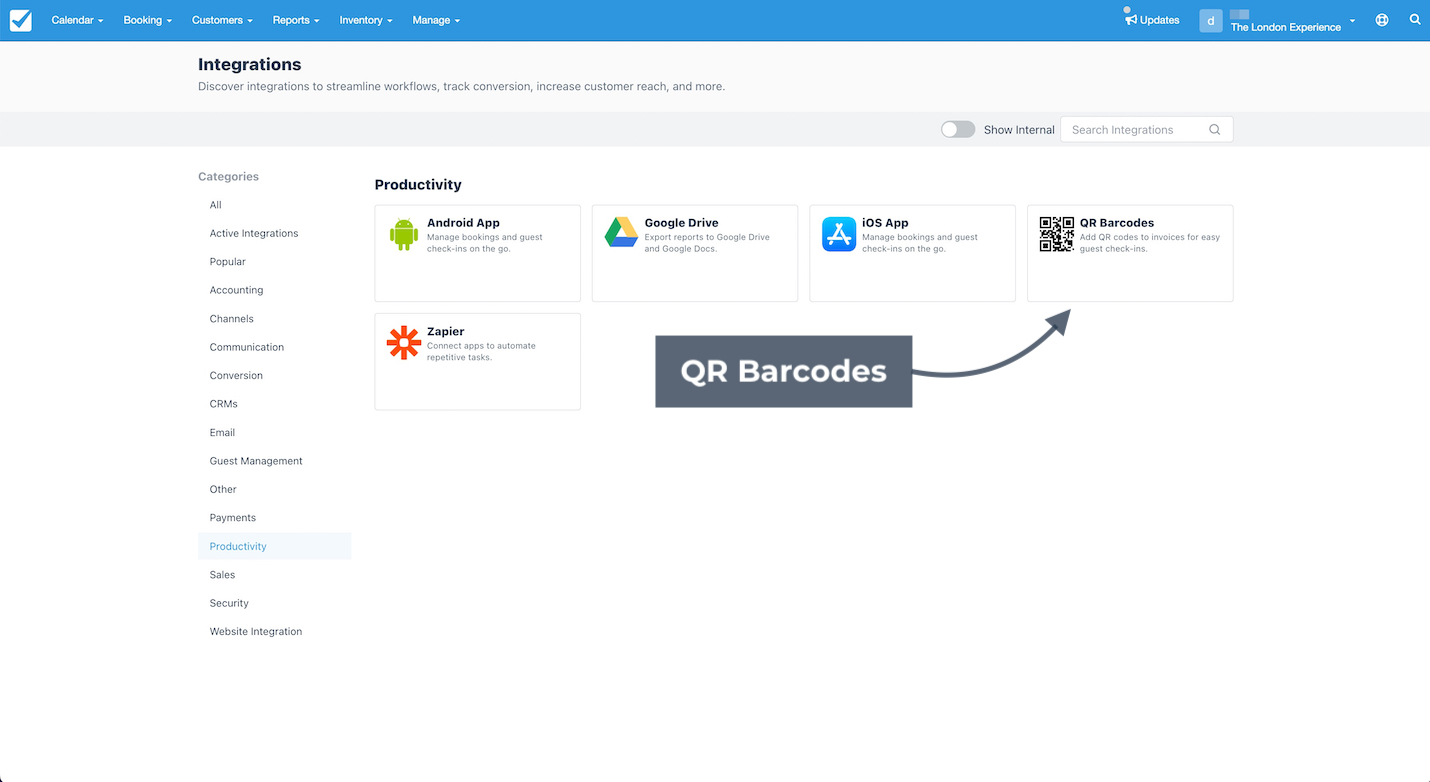 Navigate to Integrations (Manage > Integrations) in the top menu.
Scroll down to find the QR Barcodes tile under the Productivity category. Click on this tile to open up the setup window.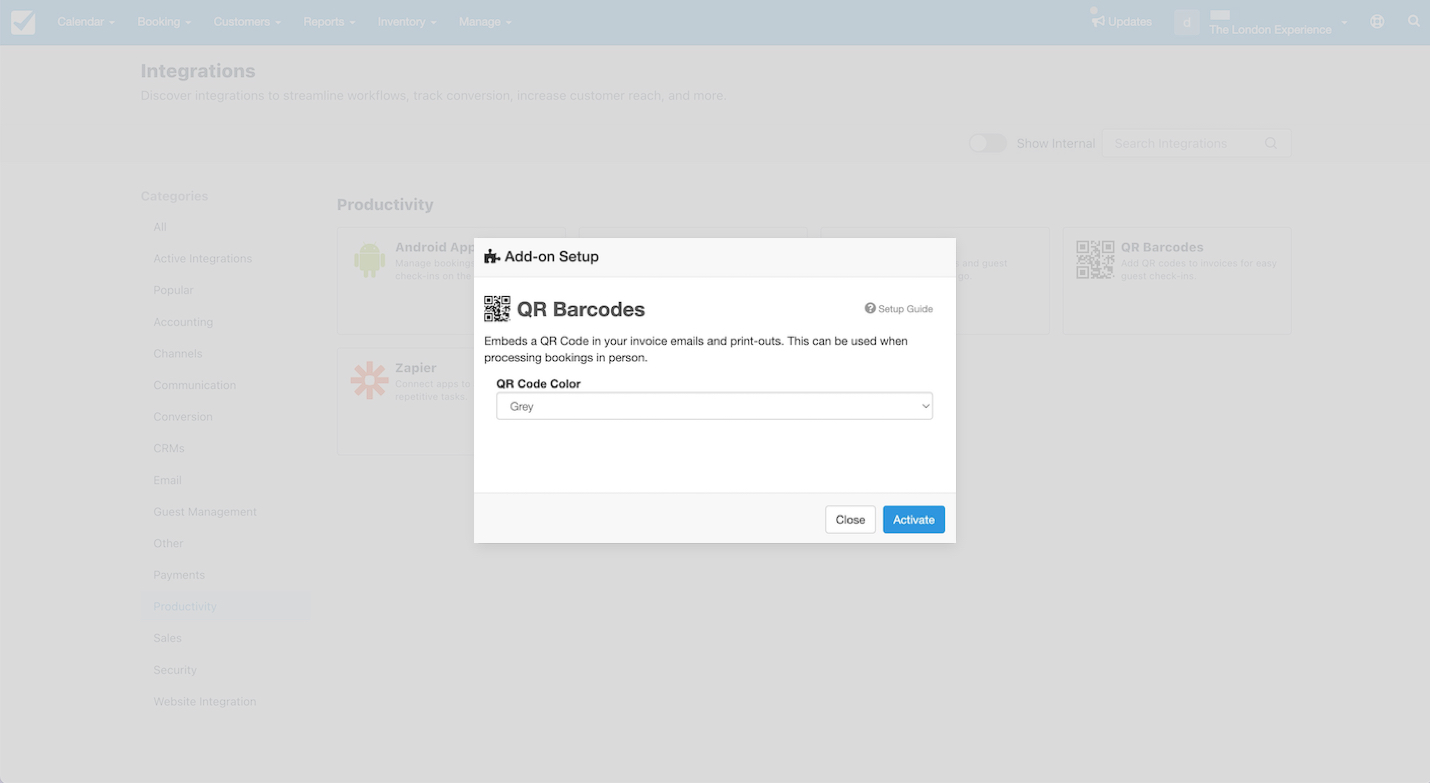 Decide if you want your QR codes to show up in Grey or Black and then click the Activate button. Your QR Barcodes are now activated!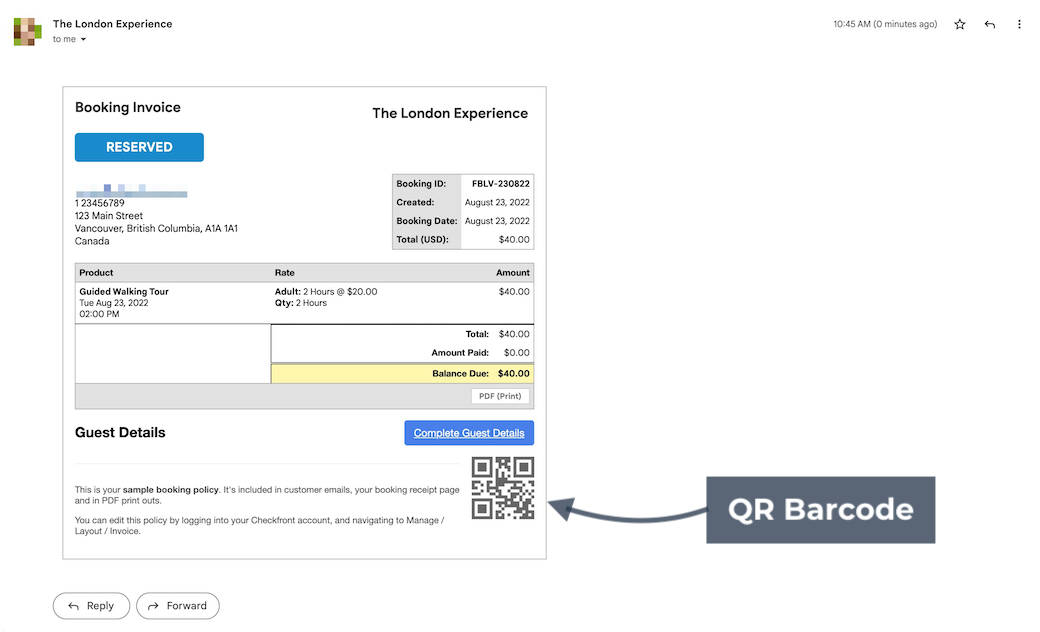 The QR codes display immediately on invoices, and you are able to scan in your Customers!
QR Barcodes can be embedded in an emailed Customer invoice by following these steps:

Create or edit an instant or scheduled notification in the Notifications area (Manage > Notifications).
In the notification body, include the {%EMBED_INVOICE} email variable, or you can include the {$BOOKING_QR_CODE} email variable if you want the barcode to show separately.

Learn more about notifications here:
| | |
| --- | --- |
| | While the QR Barcodes apply to the invoices immediately, the emails your Customers have already received are not updated. You need to send your Customers updated versions of the invoices that include the new barcodes. |