---
Plan Availability: ✓ Soho | ✓ Pro | ✓ Plus | ✓ Enterprise | X Flex |
Locate: Manage > Ecommerce Setup > Payment OR Manage > Integrations > Payments
Prerequisites: Admin permissions to manage Payment Providers.
---
PayPal is a truly global payments platform that is available to people in over 200 markets, allowing Customers to get paid in more than 100 currencies, withdraw funds to their bank accounts in more than 50 currencies and hold balances in their PayPal accounts in over 25 currencies.
PayPal Express Checkout is perhaps the quickest way to start accepting credit card payments for your bookings and reservations with Checkfront. Unlike most payment processors, Paypal Express Checkout for business requires no setup fees, no subscription fees, and no lengthy approval process. It does, however, require that users process transactions through the PayPal payment interface. This means that when it comes time to make a payment, your Customer will be redirected from Checkfront to PayPal and then back again once the transaction is complete.
PayPal Express Checkout does not include virtual terminal functionality and cannot be seamlessly integrated with the Checkfront payment page. As such, PayPal does not allow you to process credit cards on behalf of your Customers, in the Checkfront admin area. Payments can only be made via the Customer-facing booking portal.
Does PayPal Support my Country's Currency?

While PayPal supports many global currencies, not every currency is available. In order to take transactions, you will need to set your Checkfront account to a currency accepted by PayPal. You can double-check if your currency is supported in the documentation below.
---
To enable Paypal Express Checkout in Checkfront, login to your Checkfront account and navigate to PayPal Express Checkout (Manage > Ecommerce Setup > Payment or Manage > Integrations > Payments).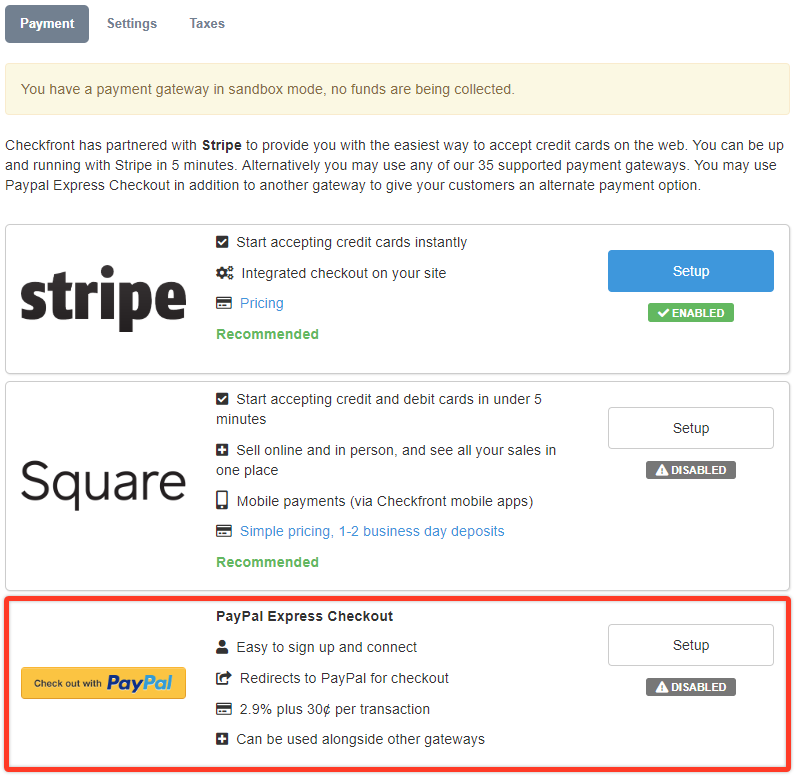 Select Paypal Express Checkout, which is probably recommended at the top of the page.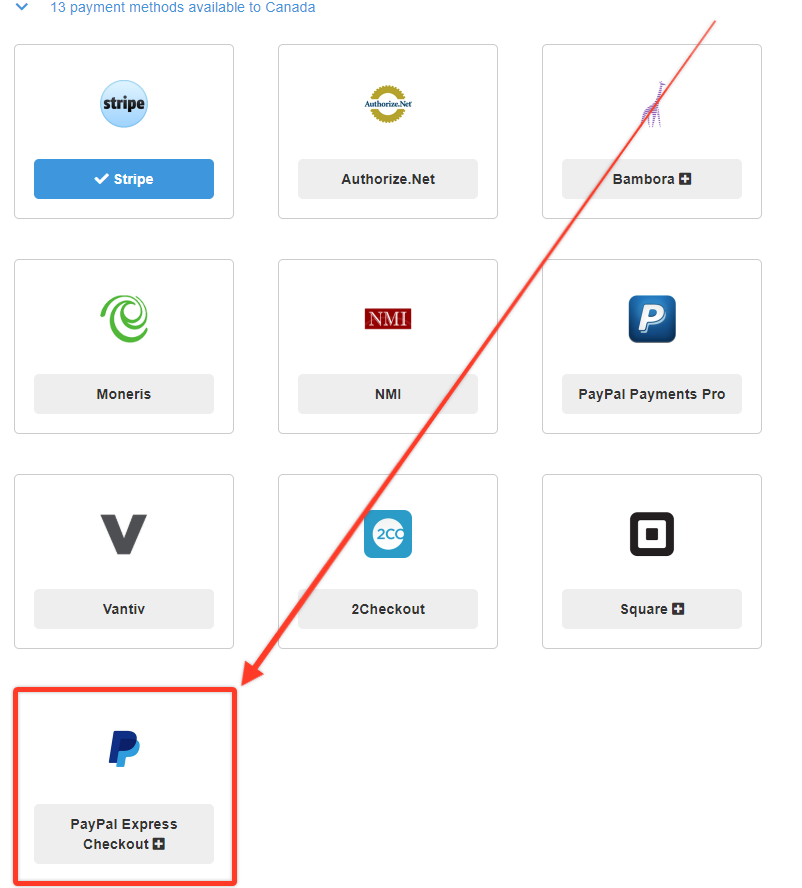 If you don't see the PayPal Express Checkout option beneath the Square option, you can also select the payment methods available in your country button to reveal the full list of Payment Providers available to you, and you will be able to select it there.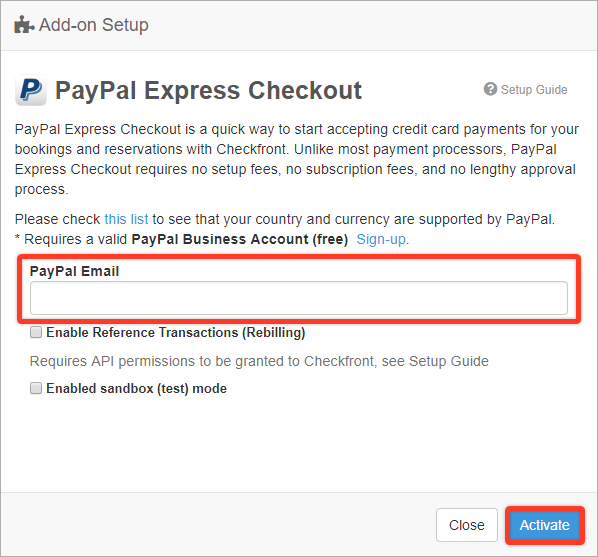 In the pop-up window for PayPal Express Checkout, enter the email matching the one on your PayPal account, and click Activate.
And that's it! Your PayPalExpress Checkout Payment Providers is now activated, and you're ready to take some payments.
---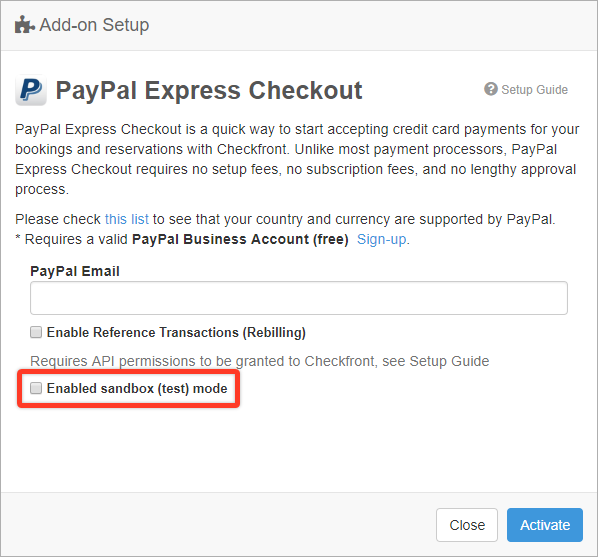 PayPal Express Checkout sandbox mode allows you to test end-to-end transactions using the PayPal sandbox, without needing a live credit card to process. During setup, check the Enabled sandbox (test) mode box after supplying your PayPal email address. Remember to turn this off again, when you want to start processing live transactions!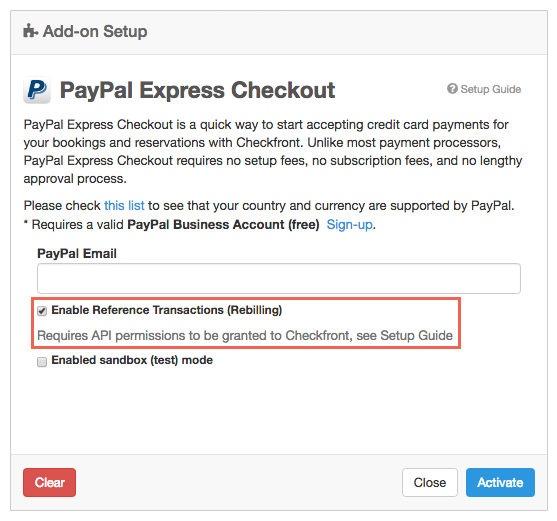 To activate re-billing for PayPal Express Checkout, make sure you check the box when configuring the Payment Provider in Checkfront.
In addition, you must ensure you have granted API permissions in PayPal, seen below.
Finally, when an end-user makes a payment for your services, they must also check a box during checkout to authorize re-billing.
---
To get started, you'll need a Paypal Business Account (free) or a Paypal Payments Pro Account. Once your Paypal account has been activated, you'll need to give Checkfront permission to add payments to your account at Checkfront. The following steps will show you how to do that: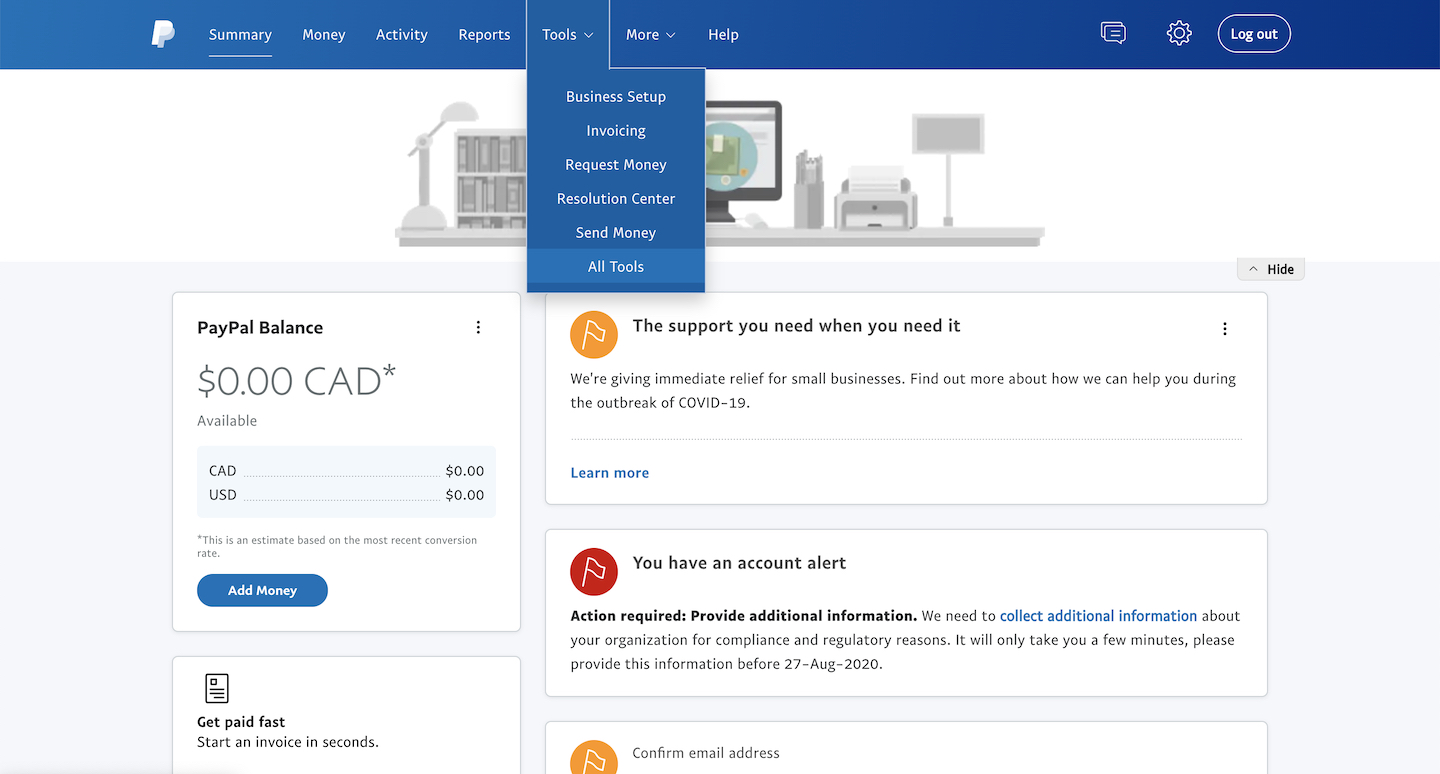 1. Login to your Paypal Business account.
2. Hover your mouse over the Tools menu and then select All Tools from the drop-down menu.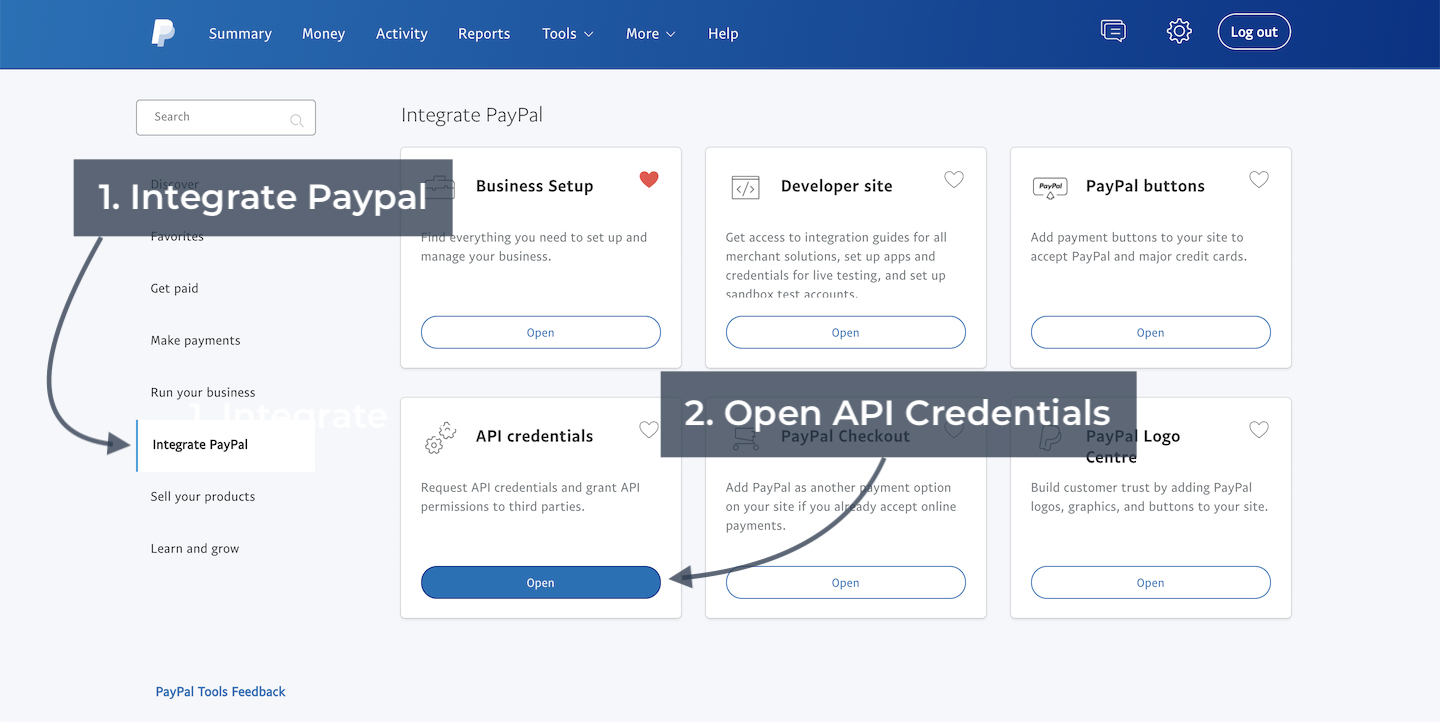 3. From the Tools page, locate the API Credentials (found by searching "API Credentials" in the search box, or under Integrate Paypal) and click on the Open link.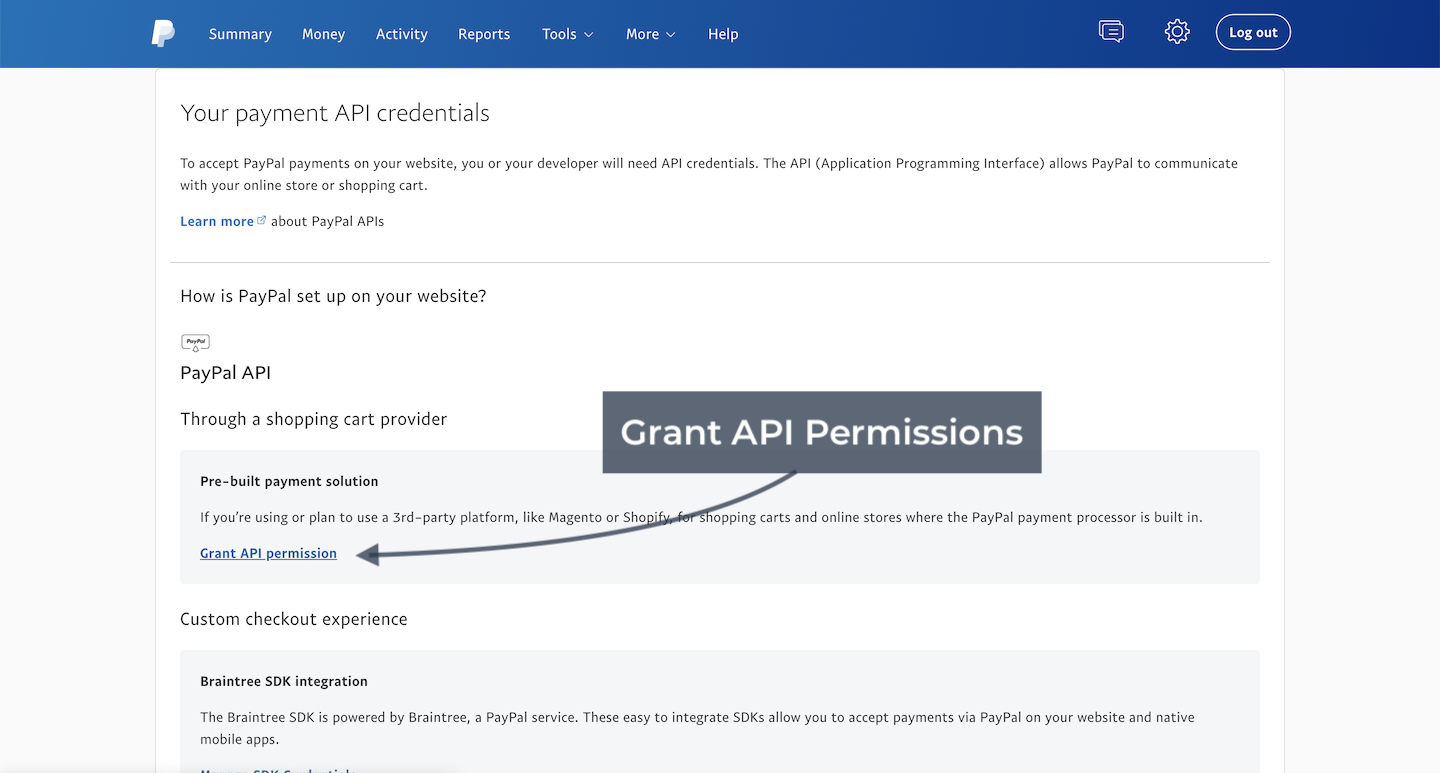 4. From the API Credentials page, Select Grant API Permission.

5. From the next page, supply the Checkfront API Username and click the Lookup button. The username is acct_api1.checkfront.com and not your Checkfront username.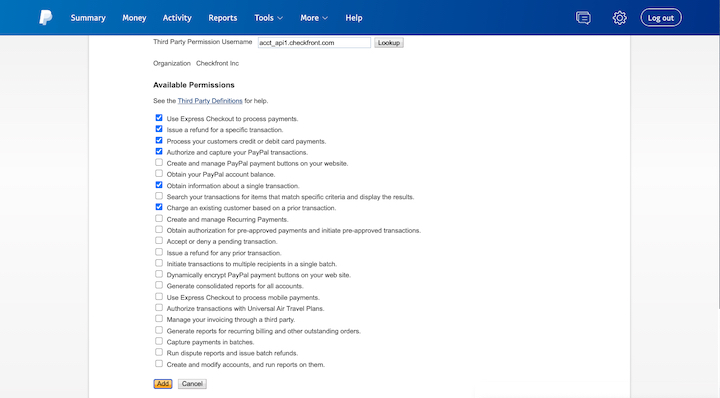 6. Next, you should set the permissions for Checkfront. For normal operation, we require the following permissions to be checked:
• Use PayPal Express Checkout to process payments
• Issue a refund for a specific transaction
• Authorize and capture your PayPal transactions
• Process your Customer's credit or debit card payments
• Obtain Information about a single transaction
• Charge an existing Customer based on a prior transaction
Once you've checked the relevant permissions, click the Add button underneath. You'll now receive a confirmation message, stating that the third-party application (Checkfront) has been successfully added.